Fortnite v12.61 patch made a secret change to storm circles
One of the unannounced changes in Fortnite v12.61 is an adjustment to storm circles.
The Fortnite v12.61 update is a small one, so most players thought that little had changed. We saw some aim assist adjustments – that many consider a buff – but little buzz other than that.
After a few hours of playing, however, players began to notice that there was a change to how the storm circles worked. The first circle, now, encompasses the entire map in most games. This storm phase ends quickly before the zone shrinks to be much smaller in phase 2 – similar to the size of the original, phase-one zone.
After that, the storm appears to close a bit quicker than it used to, although that is unclear. We used to have some downtime before the first circle appeared. Now, it appears as soon as the bus has finished its run.
The overall result appears to be a storm circle that closes a tiny bit slower than it did in previous updates. We have a Warzone-like circle to start the match before going back to the storm phases we're used to.
We'll need to complete more testing before we can give a final verdict on whether this slows down or speeds up engagement. At the moment, it appears that little has changed.
The objective appears to be slowing down the game so that there's more excitement in mid-game fights. A lot of the time, there's very little action between those early-game fights and late-game scenarios. Unfortunately, the new system is resulting in some circles like the one shown by AussieAntics.
The good news is that this isn't in competitive modes, just yet. Epic seem to be testing the new storm before Season 3 begins. If it works, then we can expect it in all modes this time next week.
Update: Some players, including popular YouTuber Ali-A, are suggesting that this is the work of Midas, controlling the Storm with the Doomsday Device. He could be onto something, especially when you look at the leaks surrounding the event.
This is probably an accurate assessment of what's going on but could also signify future changes to the storm circle in Season 3. The mid-game lull is an issue, which could be cleared-up with more mobility and quicker storm phases.
Epic could be weaving a change to the storm circle into a preexisting plotline, fitting everything into a nice, tight ending of the season. We'll have to see what happens after the event takes place on Saturday.
Fortnite nerfs the Visualize Sound Effects range in Season 3 update
The most broken feature of Chapter 3 has now finally received a nerf and players couldn't be happier. Here's the latest on that.
After a long wait, Epic finally fixes the most broken feature of Fortnite that sweats were just tired of ever since the beginning of Chapter 3. Visualize Sound Effects was a feature which was recently nerfed in an update where players got to experience it as they jumped into a Battle Royale match.
Fortnite has had a history of broken features and glitches that have been well exploited by the player community over the last few years. From XP Glitch Maps to weapons meta, players have been using these exploits to gain a gameplay advantage that sometimes ends up getting them banned for their actions.
While some actions or exploits get them banned, others are just bugs in the game that is an error from the developer's end that they take it casual enough to fix. One such exploit that was legit in the game was Visualize Sound Effects in sound settings.
When one enables the option, they can see visual cues of chests, gunfire, footsteps, reboot vans or even if someone is healing nearby. This then aids a player in judging the direction where the activity is happening and respond to it.
Ever since Chapter 3, this option was broken as players were able to hear the sound of gunfire, footsteps or even healing from afar which was an advantage to several sweats who always love to rush their opponents and engage in close combat. But in a recent update in Season 3, Epic finally decided to nerf it for good.
Epic nerfs Visualize Audio range as it's not broken anymore
In last week's update of v21.10, Epic nerfed the range of Visualize Sound Effects option as it was one of the most broken features in the game. Players weren't informed nor were aware of this major change that took place in Fortnite until they tried it out themselves.
The update has fixed the distance and the radius of the Visual Audio cues one gets upon going near Chests, hearing footsteps or gunfire. After the update, players will only be able to see visual cues if they are approx. 100m close to the objects or their opponents which is a major relief to casual players or campers.
While casual players or noobs enjoy this news, sweats are surely unhappy and so are players who basically need these hearing aid options in-game to help them orient their gameplay. Moreover, this major change by Epic in one of the oldest Fortnite settings was not announced in any of the patch notes or their official Twitter handle, which it should have, according to the player-base.
However, players think that this fix might be a random update as Visual Audio has always been messy in-game ever since it was added. From reboot vans sounding from miles away to footsteps being heard from a long distance, Epic still needs to put in some work to fix those audio issues.
Fortnite landmark Butter Barn now has three forms, thanks to Reality Tree
The map changes in Fortnite have been consistent lately. After Logjam Lumberyard, the Reality Tree has now affected Butter Barn.
Butter 'Bloom' is the newest location in Fortnite to be affected by the infamous Reality Tree. The landmark will now have three themes based on OG POIs like Coral Castle.
The mysterious Reality Tree in Fortnite Chapter 3 Season 3 is controlling the island in a manner that we've never seen before. Locations like Logjam Lotus and Butter Bloom now magically change themes, and it is hard to claim if this phenomenon is worth celebrating (from the storyline's perspective).
Here's everything players need to know about the latest map changes in Fortnite.
New Butter Bloom themes released in Fortnite Chapter 3
Butter Barn is now called Butter Bloom, and it will switch between the following themes:
Roman theme- Coliseum
Atlantis- Coral Castle
Neo Tilted
In its Neo Tilted form, Butter Barn will feature buildings like Peely's Banana Stand, the Pump Gym, and gas stations.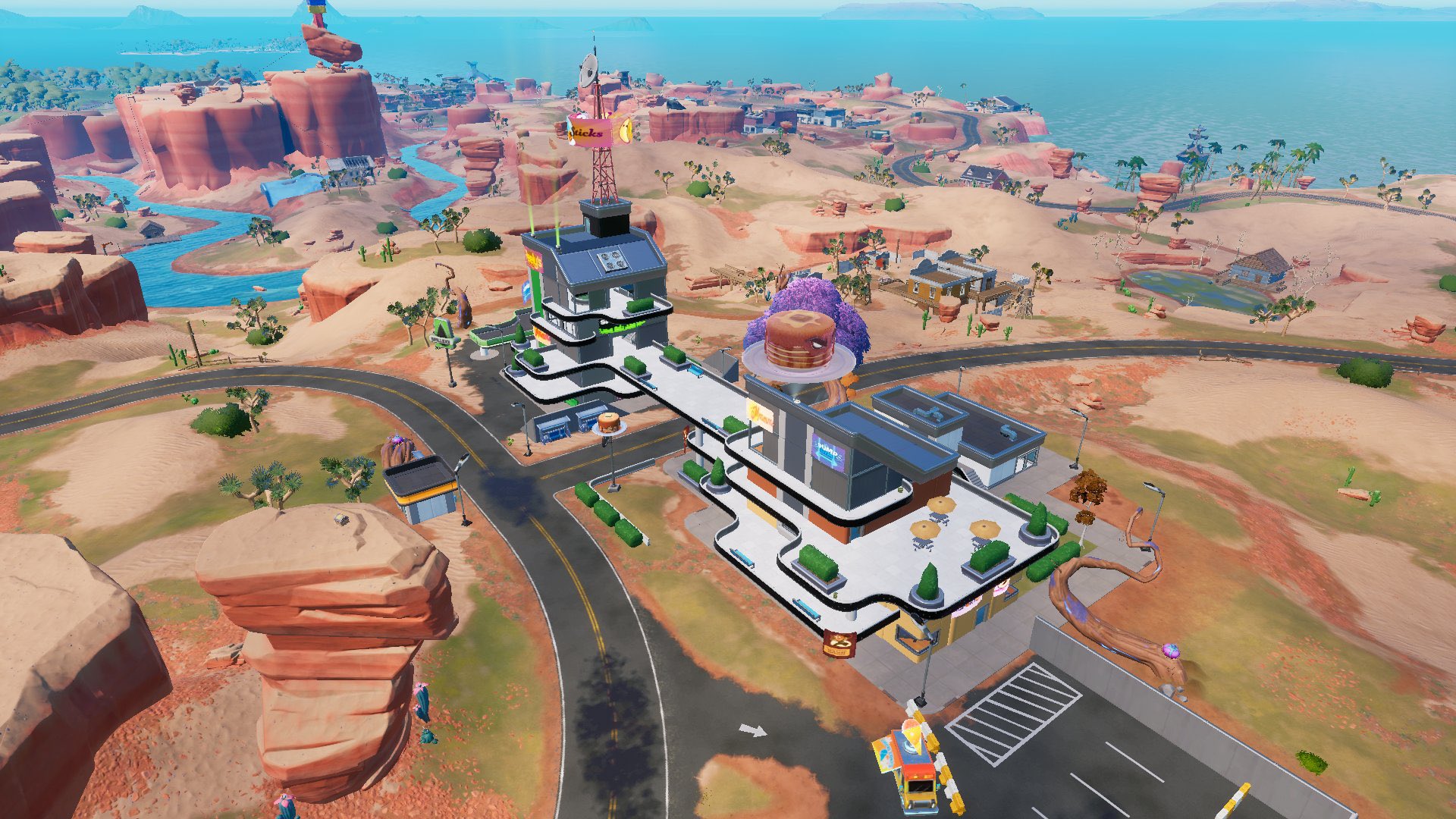 The Coliseum theme is similar to the one in Logjam Lotus.
The landmark gets fortified and the buildings represent Roman Architecture.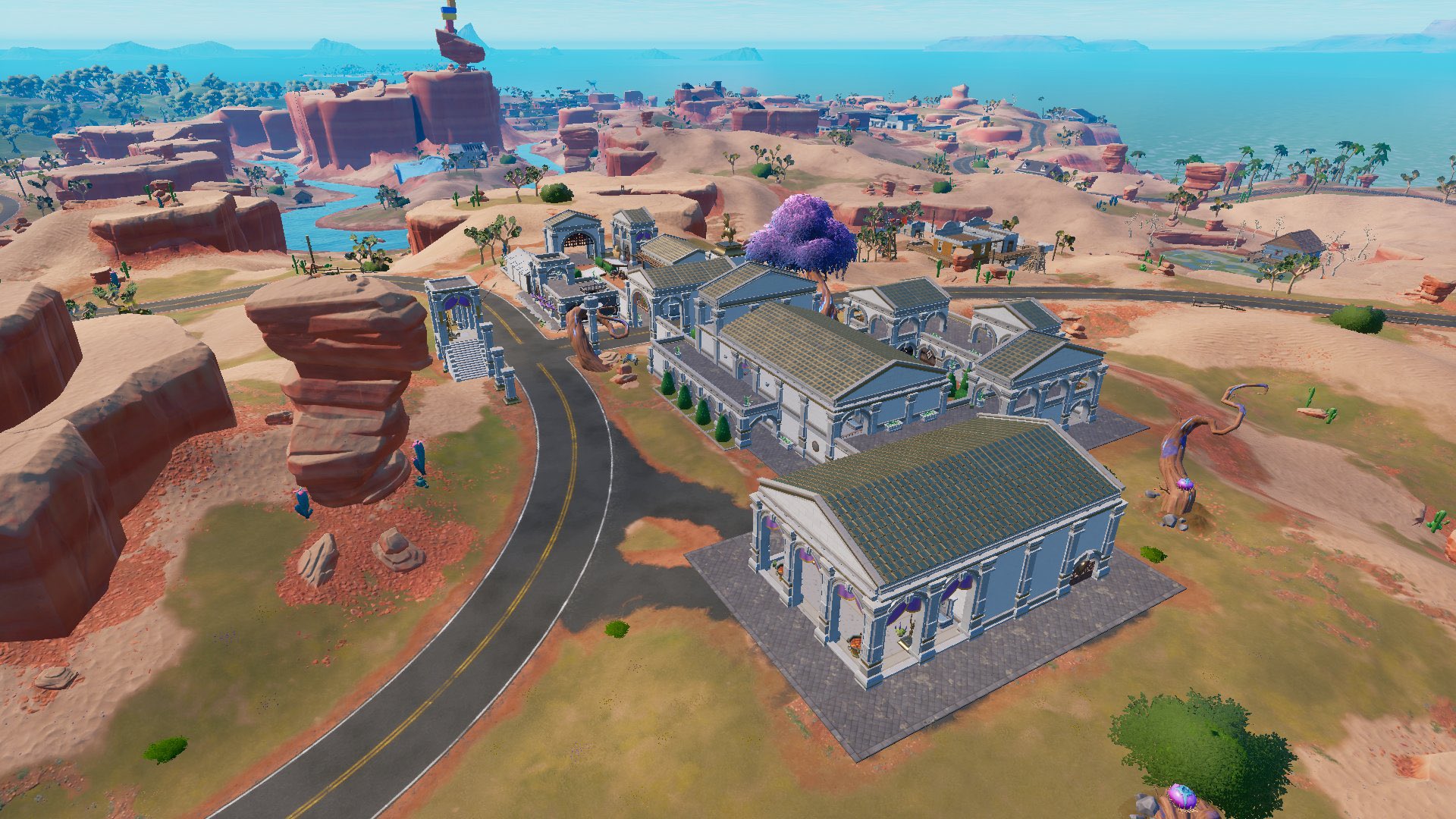 The final theme is Atlantis with which Butter Bloom turns into a miniature Coral Castle. Vintage dome-shaped buildings surround the region and there's a small pool as well.
Will Coral Castle finally become relevant in Fortnite?
The indirect return of Coral Castle has received a mixed response from the community. While some believe that Epic Games should have picked a more prevalent POI for Butter Bloom's Atlantis theme, others are elated that Coral Castle is now located in a much better position strategically.
Back in Chapter 2, it was the most despised location on the map (like Daily Bugle in Chapter 3). Even though there was good loot, players were ignorant due to its location which affected rotations, and the unusual landscape.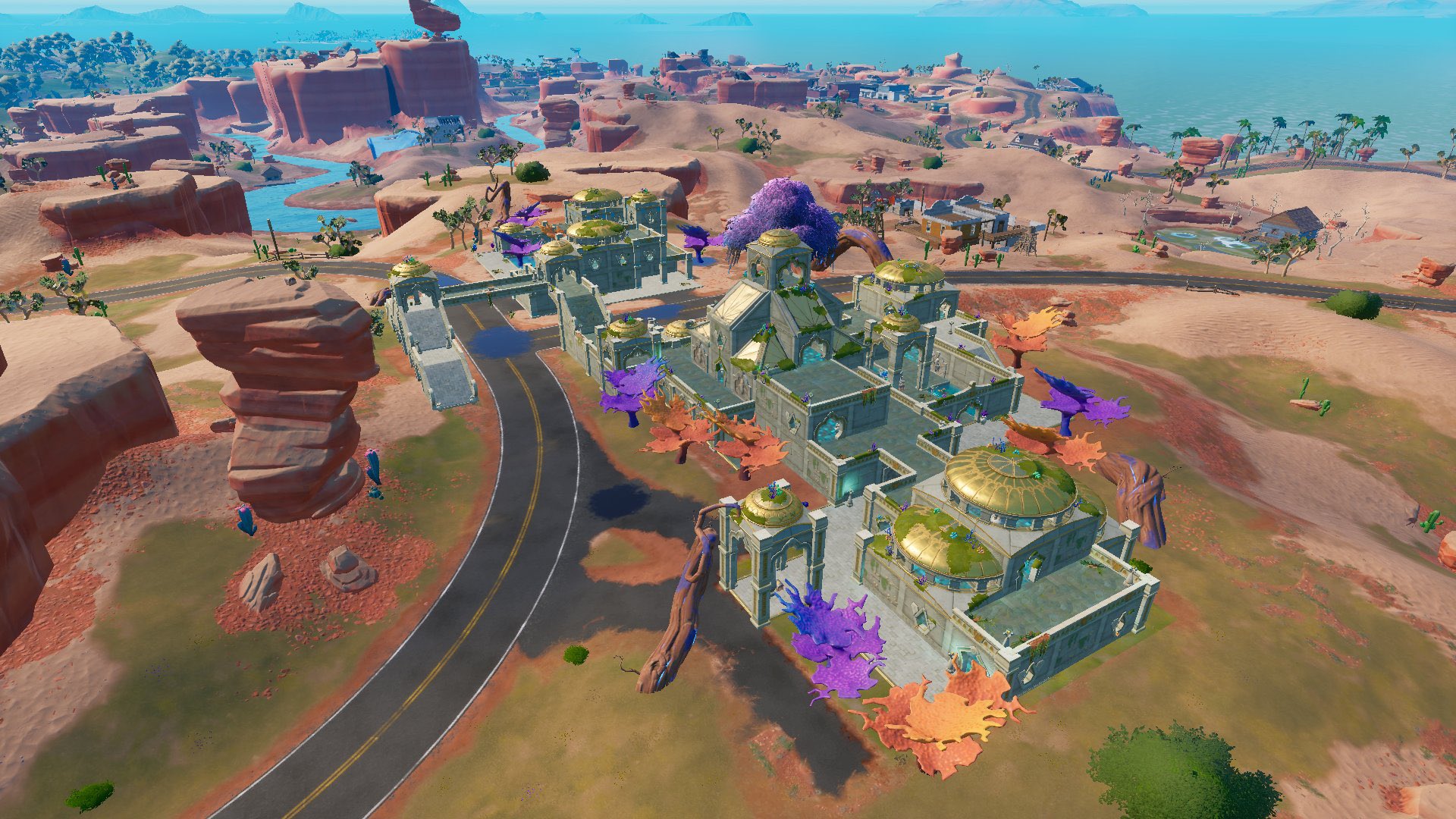 In contrast, Butter Bloom is a great spot in Chapter 3 and the Coral theme should not prevent players from landing here. To be fair, Coral Castle is one of the most beautiful locations in Fortnite history but loopers neglected it owing to its position on the map.
Hence, Coral Castle might get its well-deserved credit in Chapter 3.
It is worth noting that after turning Butter Barn into Butter Bloom, the Reality Tree's roots have already reached Temple Bloom. The landmark is located south of The Sanctuary, and we might witness similar map changes there as well.
Fortnite v21.10 update brings back classic POIs: Coral Castle, Tilted Town, more
Logjam Lumberyard in Fortnite Chapter 3 Season 3 will constantly change themes and feature Coral Castle, Lazy Lagoon, and other POIs.
With Fortnite v21.10, the Reality Tree has fully affected Logjam Lumberyard. It will now choose a random POI theme for every game which includes Tilted Town, Coral Castle, and others.
Fortnite players expect Epic Games to add map changes with every update. The developers have tried doing so in Chapter 3 and accordingly, the response towards the new chapter has been overwhelmingly positive.
Here's how the first major update for Fortnite Chapter 3 Season 3 has brought back OG POIs from Chapter 1 and Chapter 2 in the most unique way possible.
Everything to know about the updated Logjam Lumberyard in Fortnite v21.10
For the first time in history, we now have a location on the map that changes every game. As it turns out, Logjam Lumberyard will include elements from a wide range of locations from Chapter 1 and Chapter 2.
The community has discovered the following themes so far:
Neo Tilted/ Tilted Town (Wild West theme)
Coral Castle (Atlantis theme)
Colossal Coliseum (Roman theme)
Lazy Lagoon (Pirates theme)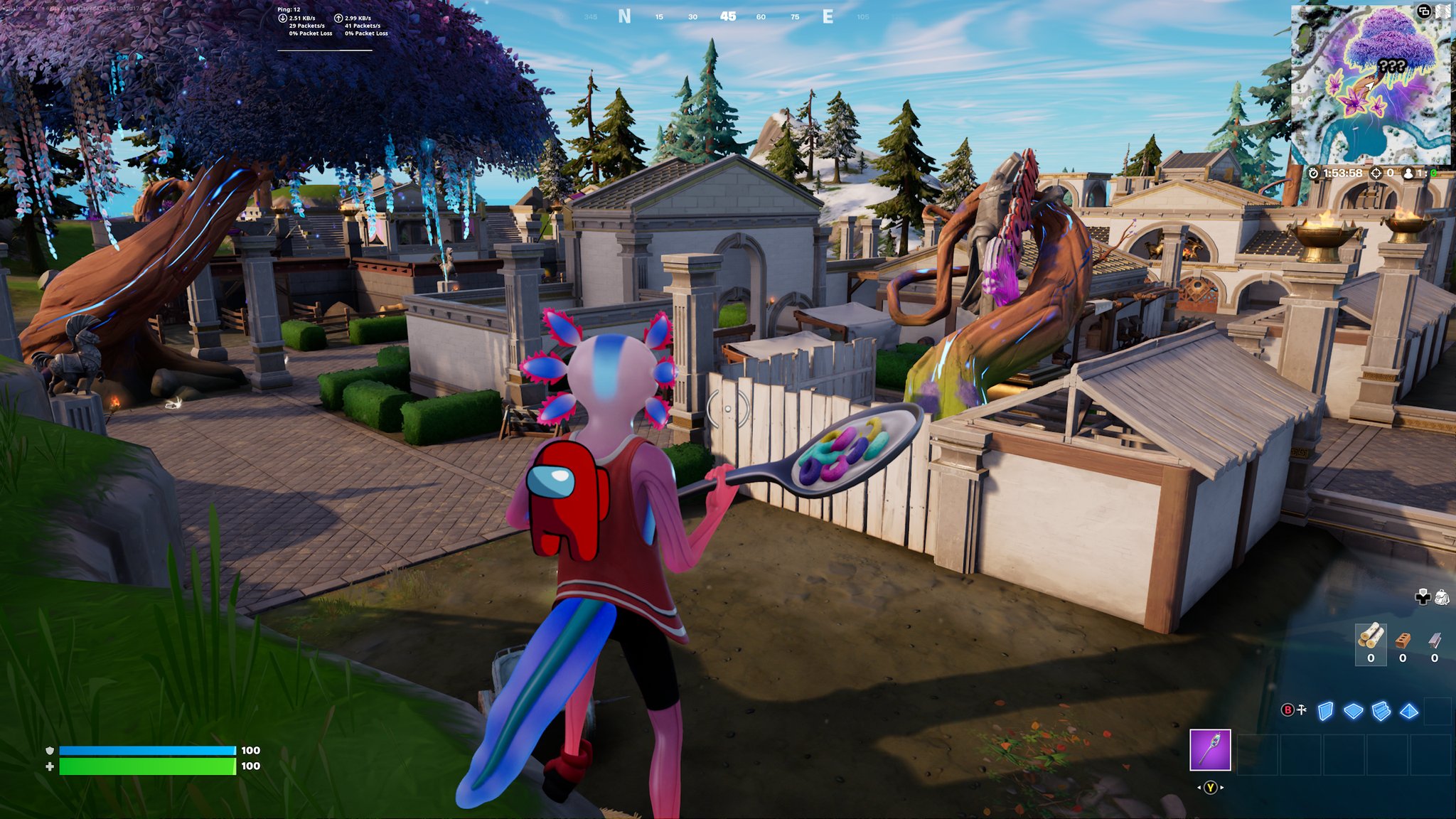 It wouldn't be an overstatement to say that with the 21.10 update, Logjam Lumberyard has become one of the best locations in Fortnite. While new players can finally explore the most prominent regions of Chapter 1 and Chapter 2 islands, veterans can recreate their memories.
Other map changes in Fortnite v21.10 explained
The popular Butter Barn landmark will now turn into a POI. With the latest patch, the developers have added buildings from Neo Tilted to Butter Barn and the landmark looks bigger and better than ever.
Last but not least, Darth Vader is now a boss and he spawns in random locations. Apparently, the Zero Point brought a Star Wars relic to the island which is why Vader is here. He can travel in his Lambda-Class shuttle and there's no definite location where players can find him.
It is no surprise that Darth Vader is a terrifying boss. He has a Mythic lightsaber and players will get 2,000 XP every team they defeat him.
All in all, Fortnite v21.10 is certainly brilliant in terms of map changes and gameplay. However, the same cannot be said for the No Sweat Summer event and the Nindo challenges.