Fortnite Season 6 unlimited health glitch revealed
Fortnite YouTuber, OrangeGuy, has found a Season 6 exploit that allows players to gain unlimited health. Here's how to do it.
Fortnite Season 6 has only been out for a week, but players have already found a way to continually generate health throughout an entire match.
Fortnite is no stranger to glitches. The past two seasons saw players learn how to make cars fly and turn themselves invisible. In fact, the Sand Tunneling feature of Season 5 was disabled for about half of the season due to a popular glitch.
It shouldn't be a surprise, then, to learn that players have already found a few glitches in Season 6. OrangeGuy, a popular Fortnite YouTuber, revealed an unlimited gold exploit at the beginning of the season. Now, he has one that will give you unlimited health.
Fortnite Season 6 unlimited health glitch
The Fortnite Season 6 unlimited health glitch is surprisingly easy. First, you'll need to grab some Slurp Mushrooms from the wild, a produce box, or from the garden in Slurpy Swamp (as shown in the video).
You'll also need a friend to help you complete the glitch. All you need to do is hit a Port-A-Potty to one-shot, eat a Mushroom, jump inside, and have your partner break the Port-A-Potty. The timing has to be perfect, but there are plenty of opportunities to pull it off.
This glitch isn't game-breaking, necessarily, but it gives you an unlimited pool of health. Opponents won't even be able to tell what you're doing, as they'll assume that you have some sort of healing item in your inventory.
With this exploit, you can completely negate the need to carry any healing items with you. All you'll need is some shields to top-off and you're good to go.
Once this exploit is on Epic's radar, we expect them to remove Slurp Mushrooms or Port-A-Potties while they work on a fix. You might as well use it while you can.
Fortnite bugs enable friendly fire, rebooting in Solos, and other bizarre features
While minor XP glitches and gameplay-related bugs have been common in Fortnite Chapter 3 Season 3, the game became unplayable recently.
The prominence of bugs and glitches has been a glaring issue in Fortnite Chapter 3 Season 3. Loopers recently reported a wide range of peculiar bugs that affected the core mechanics of every mode.
Even AAA titles like Fortnite cannot avoid bugs. However, coding errors are usually fixable and do not impact the meta. Unfortunately, this hasn't been the case in Chapter 3 Season 3 as loopers have come across a plethora of game-breaking glitches already.
From revealing the position of opponents to changing Solos matches into Duos, here's everything that Fortnite players have experienced in their recent matches.
Fortnite lobbies become non-functional due to a mysterious bug
Notable leakers and thousands of casual players have fronted following issues in Fortnite:
Loopers are able to see the locations of all enemies on the mini map. Apparently, the game puts all the players from the same region in a single team which is why they're able to see each other's whereabouts.
Random players join your team even when playing Solos.
People are eliminated randomly without taking any fights or damage.
You can get kicked out for cross-teaming.
You can edit an opponent's builds.
A leaker uploaded a clip on Twitter that will surely help readers in understanding the severity of the situation.
The player was able to notice the locations of several nearby opponents and a bunch of random players were added to their team. To make things worse, the game randomly eliminated them in the seventeenth position.
Countless such clips went viral on social media platforms in the past few hours. While some players discovered that friendly fire is back, others bagged Victory Royales with their opponents (we know, it makes no sense).
Last but not least, YouTuber gattu informed that Fortnite allowed players to use reboot vans in Solos.
Fortnite Chapter 3 Season 3 is now infamous for glitches and server issues
This isn't the first time that loopers have faced such game-breaking glitches in Fortnite Chapter 3 Season 3. From temporarily disabling Bushy's Bulb back bling to removing animals from competitive, Epic Games has repeatedly tried to improve the server's performance but all in vain.
It seems like the aforementioned bugs are no longer occurring and restarting the game has solved it for many players. Surprisingly, loopers loved this dreadful state of Fortnite, but only because it was temporary.
In hindsight, the current state of Fortnite is indeed unsettling. The developers have been releasing a ton of fresh content with every update, but it is usually accompanied by equally extraordinary bugs.
Why did Fortnite disable free Bushy's Bulb back bling in Season 3?
Bushy's Bulb backling is a free reward in Fortnite Chapter 3 Season 3 but Epic Games has temporarily disabled it from all playlists.
After handing out Bushy's Bulb backbling to the Fortnite community for free, Epic Games has blocked it from all modes for a rather unusual reason.
It wouldn't be an overstatement that Bushy's Bulb back bling has been one of the most popular cosmetics in Fortnite Chapter 3 Season 3. This is primarily because players can unlock it for free by completing certain quests.
Here's why loopers can no longer don the Bushy's Bulb back bling in Zero Build, Arena, or any other game mode.
Fortnite players have reported performance issues after unlocking Bushy's Bulb back bling
As it turns out, the Bushy's Bulb back bling has a negative effect on Fortnite's performance as soon as players unlock it. From constant glitches to crashes, they have reported a wide range of issues.
In a recent video, YouTuber Tabor Hill admitted that the Bushy's Bulb back bling has triggered performance issues. He said:
"Ever since I unlocked this back bling, my game has been nothing but glitched. I've had tons of frame issues, I've had tons of stuttering, and more importantly, I've had tons of crashes."
Countless players have reported similar problems related to FPS drops and crashes. Fortnite is known for offering great performance but Bushy's Bulb made it unplayable for many.
Having said that, Epic Games hasn't disclosed the reason behind disabling Bushy's Bulb officially. Also, you can still unlock it through the Vibin' quests.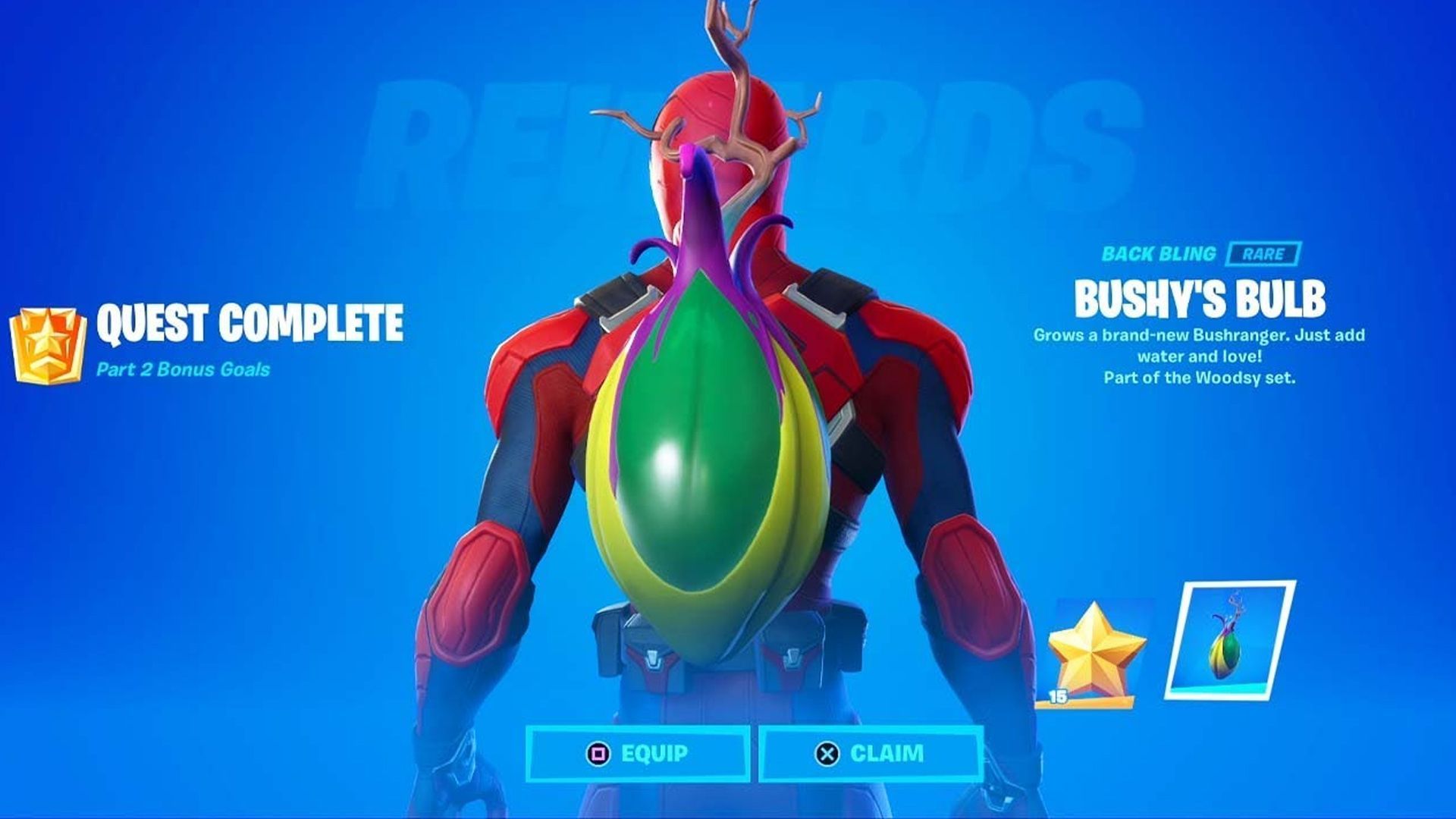 Bushy's Bulb is a reward for completing Part 2 of the Vibin' quests. These quests basically revolve around The Scientist who is actively trying to study the growth of the Reality Tree.
Considering that the performance issues were glaring as well as recurring, it is safe to assume that Bushy's Bulb won't be available in Fortnite for some weeks. The cosmetic is clearly game-breaking and needs a lot of improvement.
Fortnite glitch in Season 3 makes loopers invincible
Fortnite Chapter 3 Season 3 finally has a 'god mode' glitch that makes players immune to opponents, bullets, and all sorts of damage.
Fortnite players can use rideable animals like Boars and Wolves to become invisible and eventually, invincible. Here's a quick guide to performing this unusual glitch in Chapter 3 Season 3.
Even AAA titles like Fortnite struggle to get completely rid of bugs and glitches. The community has discovered a ton of bugs related to XP and other mechanics in Chapter 3 Season 3. The latest addition to this list can help players in winning every game with ease.
How to get invisible and unbeatable in Fortnite Chapter 3 Season 3?
YouTuber GKI recently confirmed that it's possible for loopers to get unstoppable in Fortnite by following these steps:
Tame an animal (boar/wolf) and start riding it. Animals become rideable as soon as you land on their back.
Enter a vehicle while sitting on the animal and keep it close to the boar/wolf. Switch to the passenger seat and choose the option to ride the animal without leaving the car.
Go away from the vehicle and after covering some distance, double jump.
It is worth noting that players on keyboard and mouse might not be able to move after moving from the passenger seat to the animal in the second step. Accordingly, GKI has used a controller to trigger the glitch.
After performing the double jump in the third step, you will levitate in the air and opponents won't be able to see you. However, holding the exit button will teleport the character back to the car.
As it turns out, there are many glitches related to cars and rideable animals in Fortnite Chapter 3 Season 3. If you switch car seats while riding an animal, the character glitches in a manner that opponents won't be able to spot their head.
Even though players won't be able to move when the aforementioned glitch launches them in the air, being unseeable is still a massive advantage in a Battle Royale title.
The glitch can be clearly exploited and loopers should try it at their own risk. If they ruin the experience of others in the lobby, there's a high possibility that Epic Games will ban them.