Fortnite reveals potential upcoming collabs through survey
Epic Games has sent another survey out to players to gauge their interest in potential upcoming Fortnite collaborations.
Epic Games has sent out another survey to some players asking which brands they would be most interested to see Fortnite collab with. This survey lists a number of shows, movies, and musical artists that could be upcoming Fortnite collaborations.
Fortnite sends out surveys every once in a while to gauge interest in upcoming content. The Monthly Crew Pack was one such project that was leaked before its announcement thanks to surveys. As well, players were recently sent potential skin designs to choose from.
Now, Epic has sent out another survey asking players to select which brands, superstars, athletes, and video game characters they are familiar with. This is likely to gauge the notoriety of each potential crossover. The options that have the most popularity could potentially be upcoming Fortnite collaborations.
Survey leaks potential Fortnite collaborations
The survey was originally leaked by Twitter user RyderFromGTA and a full list of potential collabs was posted by HYPEX. The survey was broken down into nine different sections each with its own theme. The sections were Professional Athletes, Video Game Characters, Pop Culture Characters & Brands, Professional Sports Clubs/Teams, Comic Book Characters, TV Shows, Movies, Content Creators, and Actors/Performers.
Each section housed a number of choices including several speculated or scrapped crossovers. Samus Aran, Family Guy, and Naruto all appeared on the list after having been leaked during the Fortnite vs Apple trial. There were also characters that have already appeared in-game such as The Mandalorian and Aloy from Horizon Zero Dawn.
Some off-the-wall options included South Park, Pewdiepie, and Pinky and The Brain. These options appearing on the list does not mean they are upcoming Fortnite collaborations. In fact, even some of the most popular options may not be feasible crossovers. However, this list does give players insight into what Epic Games could be planning for the future of Fortnite.
We would love to know which of these crossovers you'd like to see make it into Fortnite. Let us know by leaving a comment down below and maybe even the wildest crossovers will be a part of Donald Mustard's Metaverse.
Fortnite leaks reveal free Major Mancake skin coming in Chapter 3 Season 3
Fortnite leakers have just discovered a new Mancake skin in the files called Major Mancake that should be released in Chapter 3 Season 3.
Mancake, who is literally a man with a pancake head, is one of the most popular Fortnite characters. He is about to get a 'Major' upgrade in Chapter 3 Season 3.
Mancake and his unreal adventures in Butter Barn are quite famous among Fortnite players. The character has been on the island since Chapter 2 Season 5 and has played a significant role in the storyline repeatedly.
Here's a preview of the upcoming Major Mancake skin in Fortnite Chapter 3 Season 3.
How to get Major Mancake skin in Fortnite Chapter 3 Season 3
To be fair, the Major Mancake skin isn't a noteworthy upgrade to the original skin. There are minor differences in the the outfit's color scheme and the head is now more pancake-like.
Here's a comparison between the original Mancake skin and the leaked Major Mancake skin:
The decrypted Major Mancake set also has the following items:
Stacked! spray
Sweet Clementine pickaxe
Stacked with Love emoticon
Waffler backbling
Leakers have reported that the emoticon and the spray do not have a source, which hints at Major Mancake being a promotional cosmetic.
Considering that Epic Games is about to announce the Fall Guys crossover in a few hours, it is safe to assume that Major Mancake will be a free reward from the Crown Clash challenges.
There will be five Crown Clash challenges and loopers will have to play a total of 100 Fall Guys shows to avail of all five free rewards.
Why Major Mancake could be a free Fortnite x Fall Guys reward
Leakers have discovered that the upcoming Fall Guys challenge will have five stages and the Major Mancake set comprises five cosmetics. These skins, sprays, and emoticons do not have Item Shop assets, and the pickaxe appears to have a Promo source.
Having said that, it doesn't make a lot of sense for none of the Fall Guys x Fortnite rewards to be Fall Guys themed. Mancake is an original Fortnite character and has no relation with Mediatonic's Battle Royale game.
We'll make sure to update this article when Epic Games officially reveals Major Mancake and the procedure to get the skin.
Fortnite leak reveals Temple Bloom POI coming in v21.20 update
The Reality Tree in Fortnite has affected Logjam Lotus and Butter Bloom, and it seems like its next target is the Temple Bloom landmark.
The Fortnite island is literally blooming, all thanks to the Reality Tree. Leakers have revealed that a new Temple Bloom POI will arrive in the next update with a theme similar to Logjam Lotus and Butter Bloom.
Fortnite Chapter 3 Season 3 hasn't been the best in terms of server performance and XP, but the same cannot be said for map changes. A new biome was introduced at the season's launch, and ever since, two locations have already changed significantly.
Here's what we know about the upcoming Temple Bloom/The Tower POI in Fortnite Chapter 3 Season 3.
Fortnite players spot new Reality Root in Temple Bloom landmark
Soon after Butter Barn turned into Butter Bloom, loopers discovered a new Reality Root and a small pink tree in Temple Bloom. The landmark is located west of The Joneses and interestingly, the latest quests accidentally mark it as a named location.
From the looks of it, the Temple Bloom landmark is all set to become a major location. Prominent leaker HYPEX has also talked about a file codenamed The Tower. They first assumed that The Tower will be the new named location, but it is possible that it is just one of the themes that Temple Bloom will cater to.
What to expect from Temple Bloom POI in Fortnite Chapter 3 Season 3?
It is worth noting that the latest POIs in Fortnite have alternating themes such as Roman, Atlantis, and Neo. Classic POIs like Colossal Coliseum, Coral Castle, and Neo Tilted, are the inspiration behind these themes, respectively.
Hence, it wouldn't be a surprise if Temple Bloom also has multiple themes. As of now, there's no information on these themes apart from the fact that there will be a tower.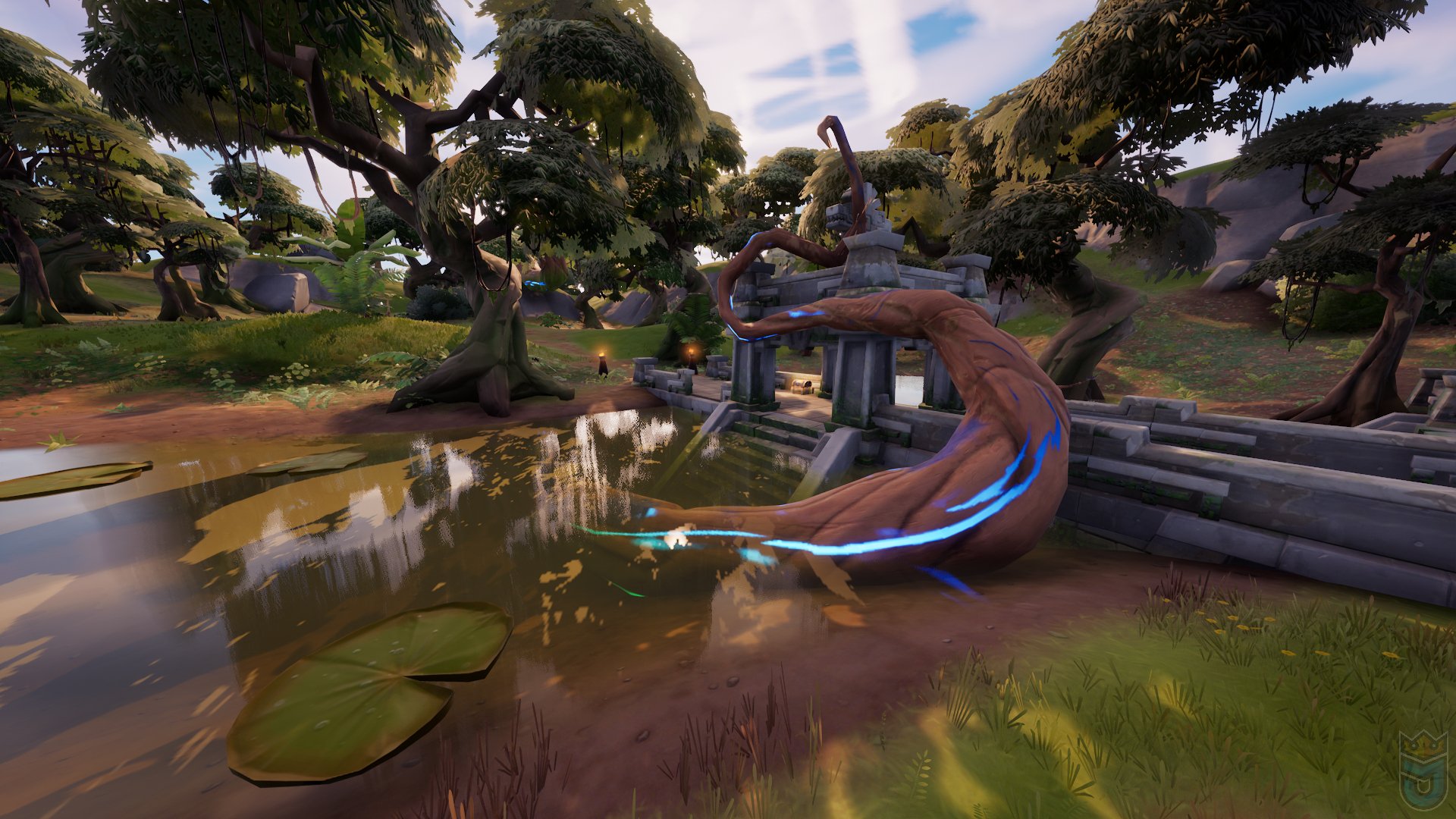 It is safe to assume that the Temple Bloom POI will become official in the v21.20 update that is expected to release on July 5, 2022.
The community, as usual, has already assumed what Temple Bloom will look like. While Fortnite veterans wish to witness the return of the OG Ranger Tower which used to be in Lonely Lodge, others are confident that the upcoming location will be tailor-made for Indiana Jones.
Indiana Jones is the secret skin in Chapter 3 Season 3 Battle Pass. The quests to unlock his cosmetics will be unlocked on July 7, 2022, and it makes sense for him to be a boss in Temple Bloom.
All in all, it is evident that Epic Games is focusing on map changes in Chapter 3 Season 3. The latest hotfix update also added the Firework Flare Gun to the loot poot, and loopers certainly have a ton of new content to explore.
Fortnite Fall Guys event leaked: How to complete Crown Clash challenges
A much anticipated collab between Fortnite and Fall Guys is finally coming to the looped Battle Royale with some rewards and challenges. Here's how you can do them.
Fall Guys is one of the most popular Battle Royale games that went viral ever since its release due to its healthy gameplay and exciting obstacle based games. Its collaboration with Fortnite has been teased for over a year and leaks show that it is finally arriving in the form of an in-game event with challenges that offer rewards to those who participate in it.
The collaborations between Fortnite and several video games always keeps the player base at their feet as they wait for their favorite characters to enter the loop. Moreover these collabs result in either in-game items, challenges or Item Shop cosmetics that loopers do not hesitate spending their precious V-Bucks on.
From Street Fighter to God of War, players have seen characters from various franchises arrive to the Gaming Legends series of cosmetics to the Item Shop. Most recently, players saw a brief collab with Among Us cosmetics, as the game finally arrived to Epic Games store a while ago.
However, the collab only consisted of a Back Bling and an emote which was rather disappointing but fans still bought the cosmetics from the Item Shop, given the game's popularity. Now that Fall Guys is free on Epic Games Store, the collab between the two is arriving in Fortnite with certain challenges that rewards the participants with in-game cosmetics.
How to complete Fall Guys Crown Clash Challenges in Fortnite Season 3
Fortnite x Fall Guys collab is set to enter Fortnite on June 29 in-game with the release of Crown Clash Challenges. The challenges will go on until July 11 which means players will have less than a couple weeks to complete all the challenges and claim their rewards.
Players would need to complete these challenges in 5 rounds. This might suggest that these challenges would take place in a Creative map rather than the traditional Battle Royale approach.
Loopers who complete these in Fortnite will get 5 free cosmetics right in their locker which will only be exclusive to those completing all the challenges. Moreover, if players have their Epic ID linked to their Fall Guys account, they will receive 3500 Kudos after the completion of these challenges, in their Fall Guys account to spend in-game.
However, the challenges also seem to affect the points one could get in Rocket League, as per the leaks. Although, this might be a possibility as Rocket League cars were spotted in a leak to appear soon in the Fortnite island back again.