Fortnite streamer destroys EVERYTHING on the map as a goodbye to Season 10
Fortnite Battle Royale content creator and expert 'TheSquatingDog' has decided to say farewell to Season 10 the best way he saw fitting – by destroying everything on the map.
The launch of Season 11 in Fortnite has a lot of players hyped for what lays in store for them once it kicks off.
While not a lot is currently known about the new season, there is a lot of speculation and rumors based on leaks that the current map will either be fundamentally changed or completely removed and replaced with a new one.
This has, of course, gotten many people excited, because nothing would inject life back into Fortnite more than a brand new map, or even a heavily altered one.
In fact, TheSquatingDog decided to start on the map renovations early, by wiping out everything that he possibly could.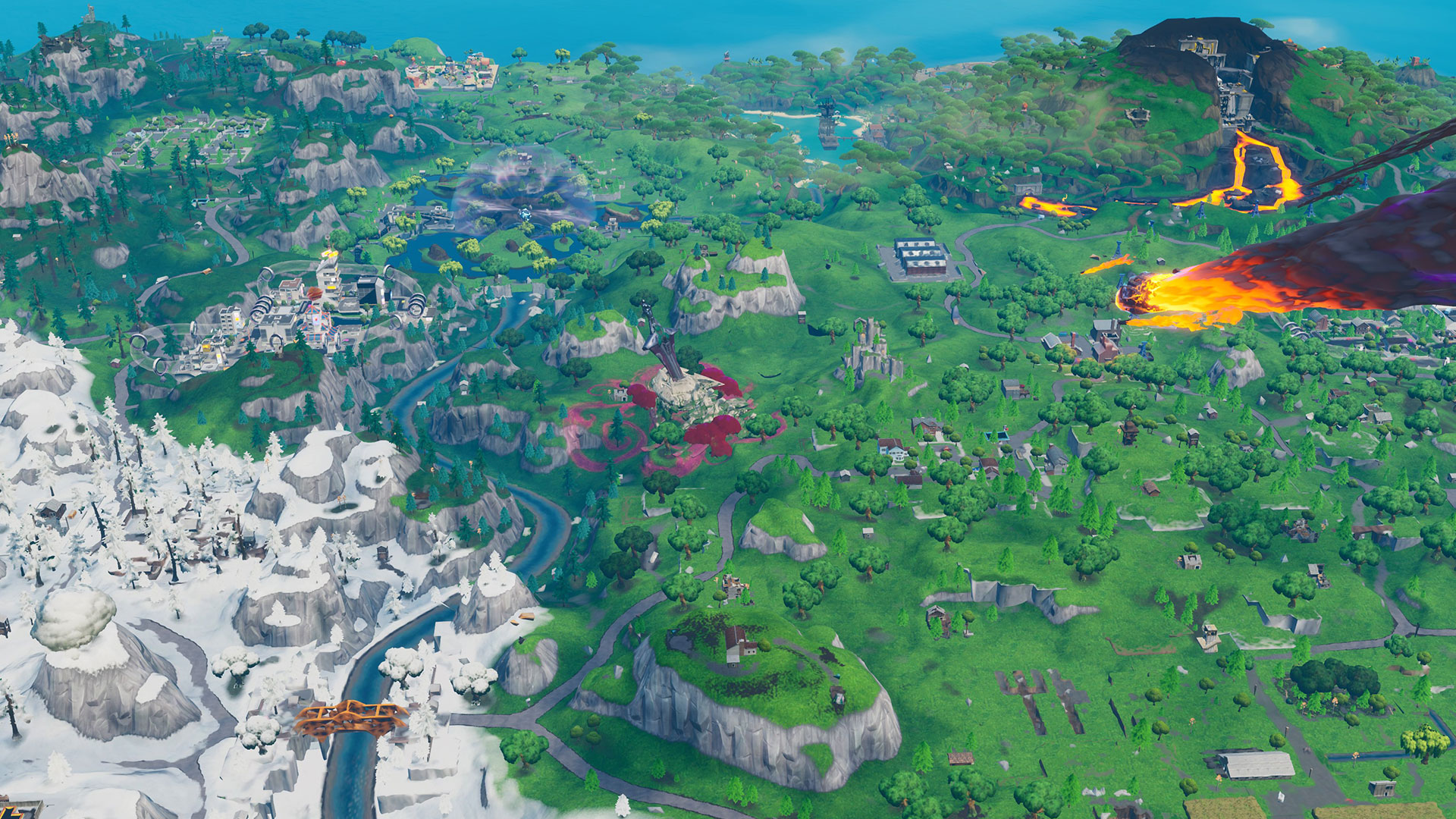 Rallying together some viewers from his stream, TheSquatingDog and his helpers ran through all four corners of the map and everything in between.
The video he posted on Reddit showed them going from POI to POI and destroying every collapsible structure they could find, including what was on the floating island.
The end result was, well, quite magnificent in its simplicity, as it looked like the map had been taken back in time to before the ability to construct anything existed.
The video ended with a tip of the cap to Season 10, as the streamer and his crew waved goodbye to the up-and-down 10th chapter of Fortnite.
There's no telling how long this project took to complete, considering how large the scope of it really was.
Now, as for how the map will really look once the new season launches remains a total mystery, so there's not really much anyone can do other than to just sit and wait for 'The End' event to kick off on October 13.
Why do fans think Fortnite X Thor is the next crossover?
The Avengers continue to invade Fortnite.
Recently, rumors have been swirling that Thor will be coming to Fortnite as the next in-game crossover. No, we're not talking about Relaxed Fit Jonesy, who bears a striking similarity to both Jeff "The Dude" Lebowski and Thor from Avengers: Endgame. We're talking about the real deal.
Recent rumors of a Thor crossover began on July 4, when Epic released their trailer for Captain America. When Cap landed, there was a noticeable marking on the ground, behind him. This rune looked an awful lot like the mark that The Bifröst leaves behind when Thor enters a scene.
This is only a small detail from a Fortnite trailer – and doesn't mean very much in isolation. More recently, however, we saw a few more leaks that point to Thor's potential inclusion in Fortnite.
The first leak relates to The Bifröst and the markings you see, above. A new "HighTower" event has been found in the game files, which is meant to kick off with a growing rift in the sky and strange markings around the map. Like the Captain America trailer, these markings look a lot like something that The Bifröst would create.
This could be a coincidence – something that has more to do with the Fortnite story than a hint to a Thor crossover. It's not the only clue that we have, however.
In v13.40, data miners also found mention of readable comic books coming to Fortnite. Hypex was able to match some of the blurry in-game images to a real-life Marvel comic. The subject of that comic? You guessed it: Thor.
When you combine all of this news with the recent announcement of the promotional deal with the Avengers video game, it seems all but certain that Thor will be coming to Fortnite.
This is everything we have, for now. It might not be concrete evidence, but these are some strong hints. Will Thor be the catalyst to usher-in Season 4? We don't know, just yet, but it's safe to assume that he'll be the Season 4 "secret" skin, at the very least.
Marvel fans will be happy to see Thor come to Fortnite – he was one of the core Avengers who was missing during the original Marvel crossovers. Classic Fortnite fans may be a bit disappointed, but additions like this one show how much Fortnite has grown. This is a shared universe where all of our favorite characters can come to play. We're excited to see where Epic take this.
Fortnite leaks point to the return of Getaway LTM & more
Fan-favorite Fortnite LTMs from Chapter 1 are rolling back in!
The Fortnite LTM rotation was the subject of some harsh criticism for the first two seasons of Chapter 2. LTMs were virtually nonexistent for months. Epic tried something new with the Spy Games modes in Season 2, but fans never took to them as they did to some of the older game modes.
When Epic announced the Summer Smash event, however, they told players that LTMs would be returning. Most of these modes were smash-hits – particularly, the Unvaulted LTM, which reminded players how fun these silly items and weapons are to use.
There are still some unique LTMs missing from the lineup. Fan-favorites like 'Floor is Lava' and 'Getaway' were never added to Fortnite Chapter 2. Well, that may change in the near future.
Fortnite data miner, VastBlast, found threads of several LTMs that received hotfixes in the live Fortnite client. These LTMs include a couple of new modes like 'Rags to Riches' and 'Tank Battle' along with one of the most beloved Fortnite LTM in existence: 'The Getaway.'
We don't know when any of these LTMs are coming to Fortnite – if at all. At the same time, any change to these modes signifies that they're probably returning soon. We could be seeing The Getaway come back to Fortnite for the first time since Chapter 1 Season 8.
Fans were delighted to hear that 'The Getaway' could be coming back. It's one of the only unique Fortnite modes that doesn't seem isolated to Chapter 1. We may never see games like 'Air Royale' or 'Floor is Lava' again, but there doesn't seem to be any reason that Epic can't release 'The Getaway.'
We'll keep you posted when we learn more about the release date of this long-awaited LTM. Follow us on Twitter @FortniteINTEL so you don't miss out on any Fortnite news.
Longtime Fortnite pro Saf signs with TSM
TSM announces their newest signing: Fortnite pro, Rocco 'Saf' Morales.
The Fortnite signings don't appear to be slowing down anytime soon. The past month has seen some of the biggest names in Fortnite scooped-up left and right. Luminosity had a massive signing day, Clix and Ronaldo signed to NRG, and Bucke, Clalc, and HazThaGreat signed with BBG.
Today, August 10, TSM announced the newest member of their team: former Ghost member, Rocco 'Saf' Morales. The organization and Saf, himself, announced the signing with a Tweet and a video.
Saf joins ZexRow. Commandment, Reverse2k, and Mackwood on the competitive Fortnite TSM roster. TSM doesn't have the largest roster in the game, but they have a collective of players who are always in the hunt to win any given tournament.
Unlike a lot of other pro players in the Fortnite community, Saf has been near the top for a long time. He and Zayt are one of – if not the – only duos left from the World Cup days, and both of them had been in the scene before that.
The continuous signings of Fortnite pros from tier-one organizations show that Fortnite – and the competitive scene – is alive and well. These organizations and players are in it for the long-haul. Fortnite isn't going anywhere. Congrats to Safaroonie.