Fortnite Soundwave Series: How to collect Gen Hoshino Concert Coin and get 40,000 XP
Gen Hoshino's show is live in Fortnite Chapter 3 Season 3 and apart from the amazing music, players can get 40,000 XP out of it.
The Fortnite Soundwave Series has returned and players can collect Gen Hoshino's Concert Coin to earn XP and other free rewards.
Japanese pop artist Gen Hoshino is currently performing some of his best songs in Fortnite Creative and countless players around the world have already witnessed it. While some attended the concert as music enthusiasts, others couldn't resist the 40,000 XP reward.
Here's how you can collect Gen Hoshino's Concert Coin as well.
How to watch Gen Hoshino's show in Fortnite Chapter 3 Season 3
Long story short, the Concert Coin is a reward for attending the entire show which implies that players can collect it towards the end.
There are two ways to watch Gen Hoshino perform in Fortnite. You can either enter the SOUNDWAVE SERIES: GEN HOSHINO tile in the Discovery menu (it will be under Epic's Picks section) or use the island code- 6831-7094-7130.
The concert has already begun and will be broadcasted repeatedly until June 12, at 8 AM ET. It will last for 20-25 minutes and towards the end, you will receive a thank you message.
During the concert, attendants will be able to use the Koi Dance emote that was popularized by Hoshino's hit single Koi. Unfortunately, the emote is event-exclusive and won't be available in the Item Shop later. Leakers have added that the emote doesn't even have audio and Epic Games doesn't have any plans to release it.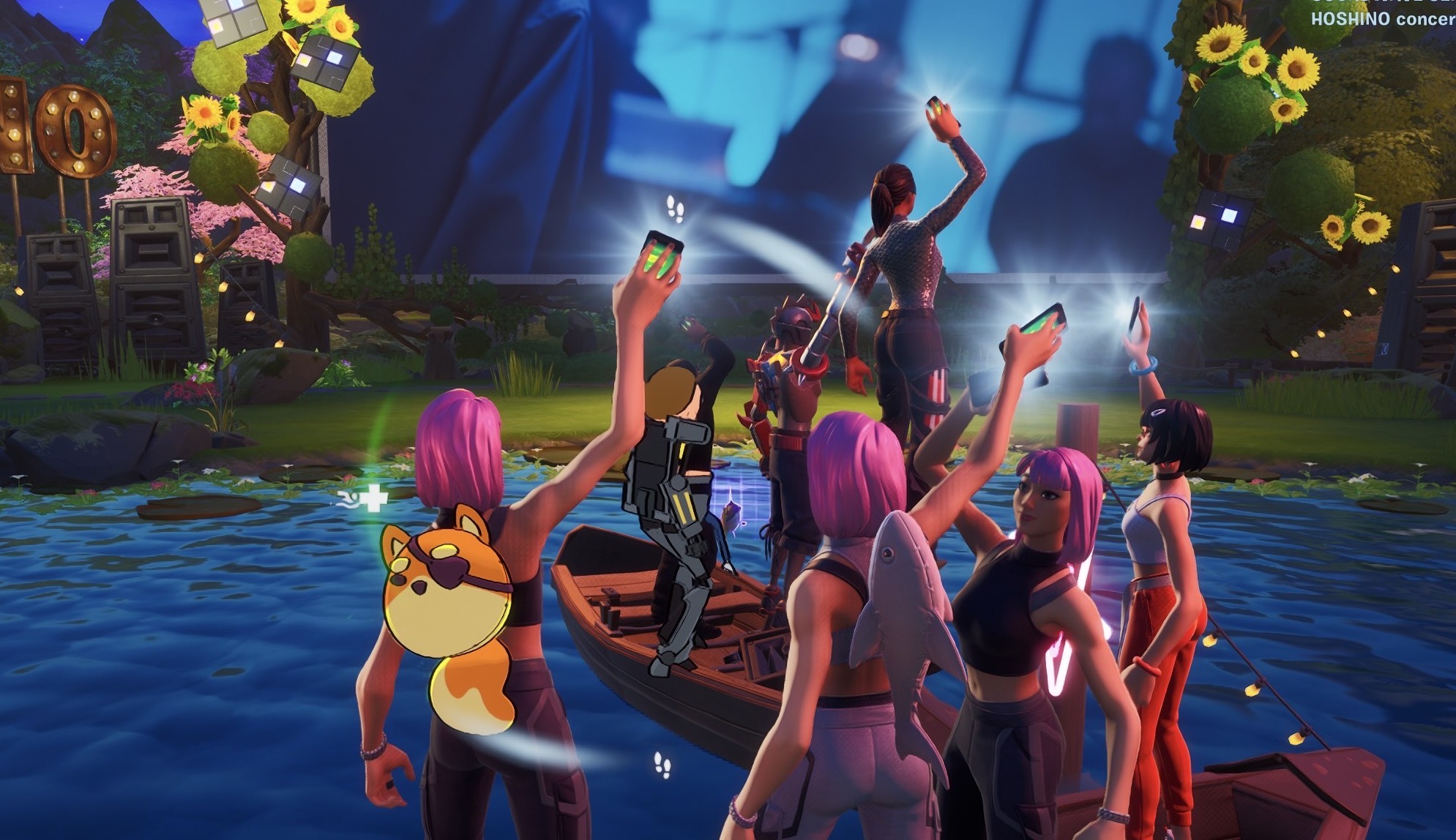 The final step is to collect the shining golden coin with the Fortnite icon placed in the auditorium and exit when the 'quest complete' pop-up shows up. The rewards not only include 40,000 XP, but also a Gen Hoshino spray.
Gen Hoshino's show receives a mixed response from the Fortnite community
Gen Hoshino is a prominent Japanese artist and he's gained worldwide recognition over the years. The 2022 anime series named Spy x Family was a big boost for his career as his song 'Comedy' is the series' anthem.
It is no surprise that fans of Hoshino loved the Soundwave show and had no complaints. On the other end of the spectrum, there were fans who entered only for XP and mercilessly bashed the singer for his music.
The outrageous urge to get XP in every way possible hints that the XP system in Fortnite Chapter 3 Season 3 needs improvement. A brand-new summer event should arrive with the 21.10 or the 21.20 update, and as per Epic Games, it will help loopers level up their Battle Pass easily.
Following Gen Hoshino, French singer Aya Nakamura will perform in Fortnite. More information regarding the same should be available soon.
Fortnite tournament bug grants $2000 and 1000 V-Bucks to every participant
A recently announced Fortnite tournament accidentally promised major rewards to each participant. Here's how it went down.
Fortnite hosts weekly tournaments that promise major rewards to their player base in the form of cash prizes or in-game cosmetics. A tournament that was recently announced for its European Player Base accidentally revealed rewards that were being promised to each participant.
The competitive side of Fortnite still grows stronger every day as the game introduces its player base to different modes and unique tournaments that offer some hefty rewards to winners. Players ranging from amateurs to sweats compete against each other to level up their skill and prove their mettle in the competitive community.
Newer pros emerge in every tournament who challenge these OG sweats and grab the victory royale right from their hands in neck-to-neck situations. While several veterans continue to crib about the game and what Fortnite used to be, the new generation of pros adapt to the game mechanics and evolve their skills with every tournament.
The launch of Zero Build in Fortnite Chapter 3, opened doors for the Zero Build tournaments and several such contests to appear in front of the competitive community. Amongst those, a test event which is currently listed in the compete tab for EU players, shows rewards being granted to each player bagging 1 point in the tournament.
Whiplash Test Event accidentally promises rewards to every player securing one point
Fortnite recently announced a bunch of tournaments for its player base ranging from Jewel Rush (Fives) to Money Wars (Solos), Whiplash (Duos), and Finest's Realistic 2v2 Event. Amongst those, a description of Whiplash Test Event promised rather bizarre rewards that the community was left in disbelief.
The rewards for the Test Event showed players who secure 1 point throughout the entire tournament will be rewarded with a whopping $2000 and 1000 V-Bucks in their Epic Account. Now even in the wildest of imaginations Epic would never reward the entire player base with such a hefty reward.
Upon seeing the news about this bug, the player base on Twitter went crazy and can only wish for this to be true. Moreover, they speculate that Epic will be removing these rewards and fixing the bug once v21.20 drops later tomorrow.
As tournaments continue to pile up on the compete tab, players can now gain rewards from Arena by leveling up with their Hype points. The rewards range from wraps to emoticons that can be secured by Arena players as they tier up amongst the league in their competitive journey.
Fortnite fan creates amazing in-game Spotify player concept and players want it
An amazing concept between Fortnite and music streaming service Spotify has fans go crazy. Here's more details on that.
Fortnite concept artists are always one step ahead of the ideas that the developers think of and bring popular fan requests to life with their art. Recent concept art shows a music player in the game linked to Spotify that has stirred a conversation amongst the player base.
Ever since Fortnite added new features to the game like Party Tags, the expectations of players have gone through the roof for developers to add more to the game. However, Epic does not usually make a major change to the game every month until the launch of a new season.
While certain gameplay features that were newly added, Sprint and Mantle have been quite famous among the Zero Build community, the Gyro and Flick Stick were not received well after their launch. As new players are joining the loop every day and getting themselves familiar with the game, Epic Games are trying its best to make the UI of the game simpler.
However, a recently surfaced concept art created by a Fortnite fan went quite viral as it shows an in-built music player linked to Spotify that would be a cool feature in the game if added. Here's how the community reacted to it.
Spotify Player concept in Fortnite goes viral
Famous Fortnite leaker FNBRIntel recently tweeted a concept of a built-in Spotify music player in the game menu that can play any song the user desires. This would then eliminate the need for Lobby Tracks or Music Packs Fortnite provides its player base within their lockers.
Using this option would enable players and content creators to play copyrighted audio and their favorite songs in the game while they are queueing up in the lobby or playing a match with their friends, much like Rocket League has it. However, this would in turn cause major distractions to pros and sweats who even turn off radios in Fortnite vehicles.
Another player added a concept of a free Spotify-themed wrap that can be given out to those who link their Spotify accounts to Epic. Moreover, this would also increase the number of users on the streaming platform.
While PC players can play songs on Spotify using the multitasking feature, PlayStation players also enjoy the same with a built-in player on their PS menu. This allows them to play their favorite music while playing any game on their consoles.
As this concept would be a really cool feature for Epic to add, it would end the value of Lobby Tracks the game sells in the Item Shop or provides its players via the Battle Pass or certain limited events. Another major drawback would be to streamers and content creators who cannot use copyrighted audio on their streams to keep their content fair on a specific platform.
Rare Fortnite clip shows Darth Vader boss killing a Loot Llama
The Sith Lord hunts down a rather unexpected target across the island. Here's what went down when Vader chased a Llama.
Fortnite is known for creating rare moments every once in a while where the player community is usually left in disbelief. One of those rare moments was witnessed recently by a player where the Darth Vader NPC chased down a Loot Llama and started slaying it with a lightsaber.
There are several moments in Fortnite that have been popular over the years amongst the player community. From Ninja's Rocket Rides to Muselk's The Rescue of Chappadoodle, the game has given the world some of the most unique clips ever seen in gaming.
Most of these clips are rare and are witnessed at least once every season where either a bug in the game causes it or just the foolishness of a player that takes place. Recently, a bug in-game forced the Sith Lord roaming the island, Darth Vader, to go against a Loot Llama.
Here's what really went down in the now-viral clip and how the community reacted to this rare moment.
Darth Vader vs Loot Llama: A battle Fortnite never saw coming
Loot Llamas in-game have been pretty annoying ever since Fortnite decided to bring them to life in Chapter 2 Season 7. When a player goes after a Llama, the amount of ammo that's wasted in shooting it down is not worth it.
Moreover, the location of the player is easily revealed to their opponents as the player chases down the Llama. This is the reason why mainly a lot of players do not even bother to chase down a Loot Llama on the map anymore.
As players refused to entertain the Llama in the game anymore, the newly added NPC in the game, Darth Vader decided to take the matter into his own hands. In a clip posted on Reddit by u/iluvwilliam, Darth Vader chases down a Llama and continues to slash it down with Lightsaber throws and strikes.
Even after multiple strikes, the Llama refuses to be killed and instead rifts away, taking Vader along with him. Well, this surely shows that even Vader cannot bring the mighty animal down after all the might of his Mythic Lightsaber.
One of the players commented on a famous line from the Star Wars Episode V: The Empire Strikes Back, giving it their own hilarious twist as Vader goes after the Loot quoting:
"Loot. I am your Father."
Another player expressed their concerns with the current Loot Llama and how Fortnite can actually take steps to fix them. From lowering their health to increasing the countdown before it rifts away, these suggestions actually would fix the issue players have with the creature.
Whatever the scenario might be, the player community still can't express enough grief about the current situation with Llamas as they are shifting to Reality Saplings to get good loot. Moreover, the Llamas were only good for farming a huge number of materials which is not needed anymore as the majority of the player-base shifts to Zero Build mode.