Do you need some help completing all the Season 8, Week 2 Fortnite challenges? We have you covered with a full map of all the locations!
Week 2 of Fortnite Season 8 has kicked off and with it comes a new set of challenges for players to complete.
Some of these challenges are relatively easy but some might require a little more work than expected.
If any of the challenges have you stumped or confused, you can follow this guide below to help you easily complete them.
Like the Seasons before, weekly challenges are split between 'Free' and 'Battle Pass' categories, with a 'Reward Item' available after completing any four challenges.
'Battle Pass' challenges are exclusive to Battle Pass owners while the 'Free' challenges are open to everyone.
The addition of Party Assist in Season 8 allows players to complete challenges with teammates, which is a huge change in how streamlined the challenges can be now.
These challenges aren't particularly difficult but they can be time-consuming if each member of your squad has to do them, which is where the Party Assist comes in.
Doing 100 damage with a Pirate Cannon, for example, will certainly be a lot easier to do with a squad than four times separately.
The full Fortnite Season 8, Week 2 challenge Cheat Sheet can be viewed below, courtesy of @thesquatingdog.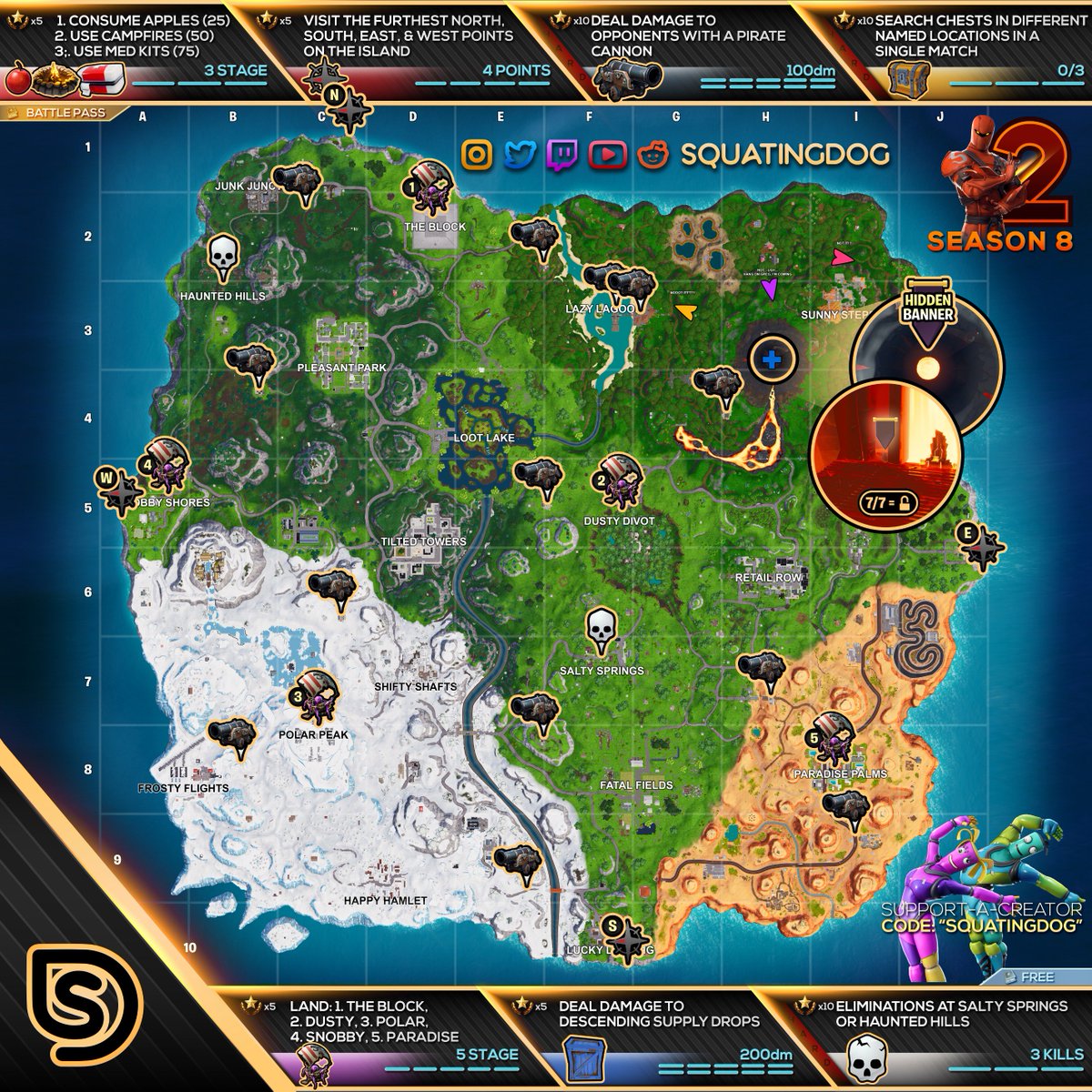 Free Challenges
Stage 1: Land at the Block (dusty divot, polar peak, snobby shores and paradise palms) 1 Battle Star per stage
Deal damage to descending supply drops (0/200) 5 Battle Stars
Eliminations in Salty Springs or Haunted Hills (0/3) 10 Battle Stars
Battle Pass Challenges
Stage 1: Gain health from apples (0/25) 1 Battle Star per stage
Visit the furthest north, south, east and west points of the island 5 Battle Stars
Deal damage to opponents with a pirate cannon (0/100) 10 Battle Stars
Search a chest in different named locations in a single match (0/3) 10 Battle Stars