Fortnite Season 6 patch notes: New weapons, Pump returns & more
Season 6 is nearly here and we've got everything you need to know ahead of the huge Fortnite patch.
Fortnite's major Season 6 update is upon us and it's shaping up to be another huge patch. From new weapons to potential map changes and plenty more, here's an early rundown on everything we know.
With Season 5 now over, all eyes are on the Season 6 update in Fortnite. Following a crossover-filled season with nonstop additions to the battle royale, fans are anxiously waiting to see how Season 6 can go one step further.
We already know that the new season will be opening with a bang.
The Zero Crisis Finale event is set to kick things off as soon as players are able to load in. Where that leads up, no one yet knows for certain.
From new weapons to fresh NPCs around the map, early leaks have hinted at a ton of unique content. Here's everything you need to know to be on top of Fortnite's Season 6 update ahead of the release.
New Map
The most exciting part of any new Fortnite season is exploring the new map, and Season 6 delivered on that front. So far, we know about the following new POIs added to Season 6:
Colossal Crops
The Spire
Boney Burbs
As you can see from the image below, there will be a lot more to explore once we jump into the new season.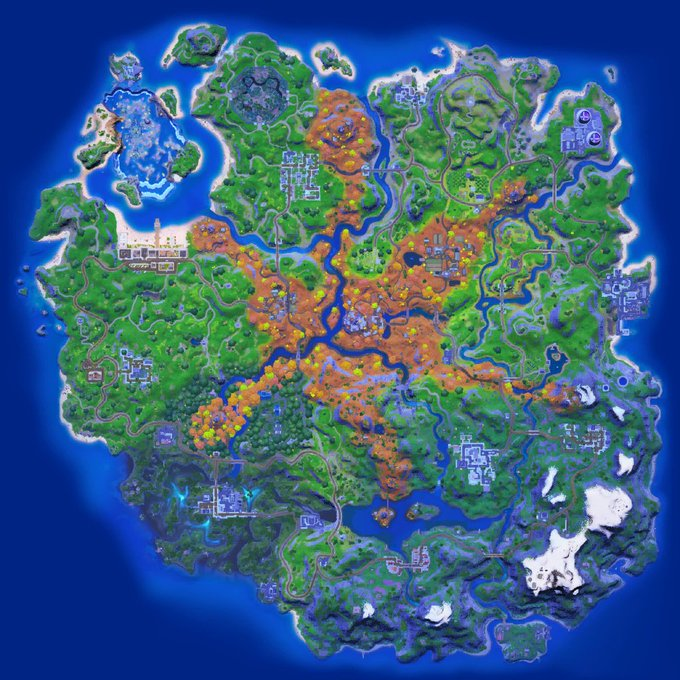 New items
According to the early leaks, we'll be getting a huge list of items coming to the game. It's too early to tell what all of these items will do, but we can be sure that we'll be playing an entirely different Fortnite when we finally load-up Season 6.
One thing that we do know is that the Pump should be returning in Season 6. This will make a lot of players happy. Here are all of the reported new and returning items coming to Fortnite Season 6.
Makeshift Rifle
Primal Shotgun
Wolf Meat item
Cuddle Fish
Makeshift Shotgun
Makeshift Submachine
Gun Primal
SMG Boar
Spire Guardian items
Stink Sacs
Makeshift Revolver
Primal Flame Bow
Mechanical Shockwave
Bow Mechanical
Explosive Bow
Primal Stink Bow
Primal Rifle
Mechanical Bow
Items you can craft with Animal Bones
Chicken items you can craft with Mechanical Parts
Makeshift Bow
Frog Primal Pistol
Primal Bow
Stink Fish
Hunter's Cloak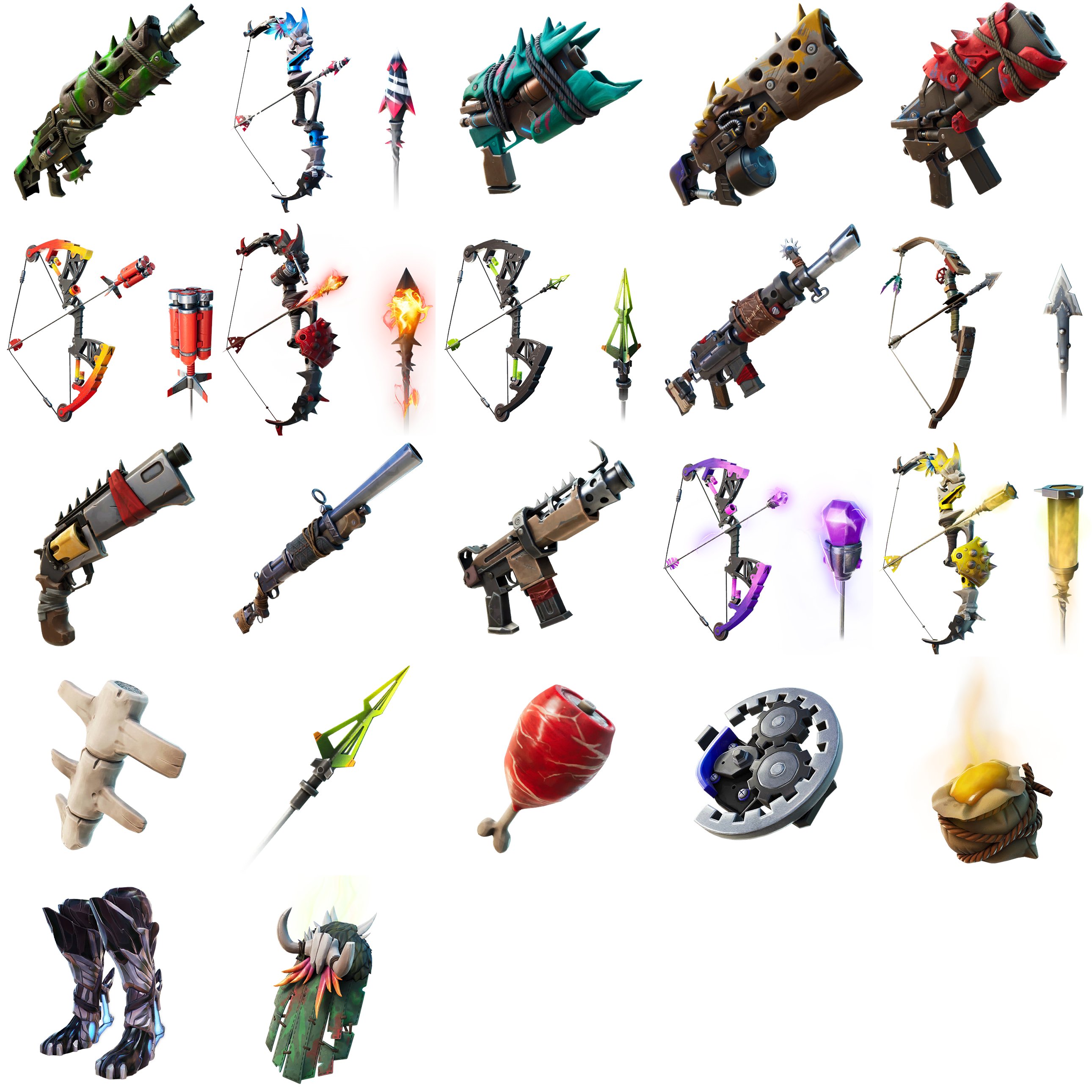 Vaulted & Unvaulted items
Unvaulted
Pump Shotgun
Revolver
Burst AR
Vaulted
Sniper
Tac AR
Heavy AR
Charge Shotgun
Tac Shotgun
Lever-Action Shotgun
New animals
One of the new mechanics of Fortnite Season 6 will be animals. So far, we don't know a ton about how these will work, but we can assume that we'll be able to interact with and ride some of these.
We know that we'll be able to gather bones to craft items and meat to tame wolves. If we had to guess, we can probably ride all of these animals, or eliminate the prey animals to help us tame the predators.
Fortnite Season 6 bug fixes
Last but not least, a handful of key bug fixes will also be deployed in the Season 6 update as well. The full list can be found below.
General
Balloons item temporarily disabled.
Unable to edit color Styles for the Phantasmic Pulse Pickaxe in the Locker.
Battle Royale
Inventory menu selector appearing on multiple slots.
Creative Mode
Pressing the default key in pre-game lobby starts the game.
Main Player rift can sometimes show as a Seasonal Rift.
Save The World
The Val Defender doesn't have perks when unlocked from the Valor Questline.
Balance Changes
Zipline speed adjustments

Maximum uphill speed increased by 61%
Maximum downhill speed decreased by 40%
Downhill acceleration increased by 14%

Magazine size reduction

Shells: 150
Light Bullets: 500
Medium Bullets: 500
Heavy Bullets: 50
That's a complete overview of everything there is to know about Season 6 thus far. We'll be sure to update this article with any further information as it becomes available.
Fortnite v18.10 Patch Notes: XP Update, Super Styles, "Tilted Towers", and more
The Fortnite v18.10 Patch Notes are here and a lot has been added to the game. Check out a new POI, weapons, items, and more!
The Fortnite v18.10 patch adds a ton of content to the game, and here are the latest patch notes!
This week's Fortnite update is a massive one adding a ton of new content. There are new weapons, characters, and an upcoming POI similar to Tilted Towers.
As well, Epic Games has made some changes to Fortnite Season 8's XP system. This season's Super Styles have been revealed and can now be unlocked. And there's a bunch of new Toona Fish styles that can be earned.
All of these changes and more are detailed in the Fortnite v18.10 Patch Notes below.
Table of Contents
Fortnite Season 8 Super Styles and XP Changes
The v18.10 Patch Notes added the Fortnite Season 8 Super Styles. As well, this update made some major changes to the XP system. Players haven't been happy with this season's XP, and Epic promised to make the necessary changes with this update.
The Cubes have corrupted even the Battle Pass! (But in a good way.) Bonus Styles for Chapter 2 Season 8 Outfits have been available for players who progress past Level 100. But now: this Season's Super Level Styles have been added! Progress past Level 140 this Season and start unlocking new runic Styles for Charlotte, Kor, Fabio Sparklemane, J.B. Chimpanski, and Torin.

To help you get there, we've made improvements to XP earned through Battle Royale:
XP earned from your Daily Punchcard missions has been greatly increased.
We've added XP to all Shared Quests. (They still reward Bars too.)
All new and future Character Punchcards have substantially increased XP rewards.
Weekly Punchcard XP has been slightly reduced. This was done to lessen the setback of not completing them.
New "Tilted Towers" POI
Players have been asking Epic to add Tilted Towers back to Fortnite for several seasons. Well, the actual Tilted Towers may not be returning, but Epic Games is adding a new large POI that is similar.
According to leaker HYPEX, Fortnite will add a new POI called Cube Town. Its a very large city-style POI with lots of loot chest spawns.
Fortnite v18.10 New Weapons and Items
Epic Games added a few new weapons and items to this update as well. The OG Chug Splashes have returned alongside a new variant called the Chili Chug Splash. The Chili Chug Splash functions the same way as the OG, but it also gives players a speed boost.
As well, the Dual Fiend Crossbows are making their debut. The Fortnite Season 8 trailer showed off these dual-wielded crossbows. However, they are now in-game.
Even more Toona Fish styles
New Toona Fish Quest Styles have been added! Ink up your Toona Fish with new Styles inspired by even more of your favorite Fortnite characters. Complete themed Quests to copy Mancake's drip, resemble regular Fishstick, and more. With 20 new styles to collect immediately (and one we can't talk about just yet), there's a ton more options to color Toona Fish your way!  
The final style is the Cube Queen style which is also this season's secret skin. However, this update did not reveal the secret skin.
Balance Changes and Bug Fixes
As always, the Fortnite v18.10 patch notes include a series of bug fixes, but Epic Games has also made some balance changes. These will make rounds fairer during the late game by disabling slipstreams. Here are all of the balance changes and bug fixes:
Slipstreams will disable at the final Storm circle in core playlists.
Slipstreams will disable at phase 5 of the Storm in competitive playlists.
Chug Cannons are no longer available from Loot Llamas. In the Chug Cannons' place are the spicy Chili Chug Splashes. 
In competitive playlists, Sideways Anomalies will despawn earlier than they did previously.
The Rail Gun has been removed from competitive playlists.
Fixed an issue involving vehicles taking heavy damage when colliding with Mothership wreckage pieces.
Donation Boards displaying items in English even when another language was selected has been fixed.
Fixed an issue involving voice chat on Nintendo Switch not connecting to party chat after the player left and rejoined the party.
Fortnite Season 8 Patch Notes: new weapons, punch cards return, & more
Fortnite Season 8 is here which means there's a ton of new content to explore. Check out everything that Fortnite Chapter 2 Season 8 offers.
Following one of the wildest seasons to date, Fortnite Season 8 takes players even further into the unknown. Here's everything new in Fortnite Season 8.
Fortnite Season 7 was out of this world… literally. The season featured an ever-changing alien invasion that was quite unpredictable. It also offered a variety of weapons, vehicles, and crossovers.
However, if you thought an invasion was strange, wait until you see what Season 8 has in store. The theme for Fortnite Season 8 is "Cubed" and it focuses on the return of Kevin. Not just one Kevin, but a lot of Kevin's scattered around the map.
Season 8 not only features the return of one of Fortnite's most beloved characters. This season brings a slew of new weapons, hostile zombie creatures, and the return of some fan-favorite features.
Fortnite Season 8 New Map
Of course, with every new season comes a new map. Despite the massive Mothership explosion, the map is relatively unscathed. With a couple "new" POIs, players might be a bit underwhelmed. Here are the new POIs:
Sludgy Swamp (Formerly Slurpy Swamp)
Corny Crops (Formerly Corny Complex)
And that's it. However, there are various new biomes dotted around the map. As you can see below, these biomes are quite large. They are likely where different Kevin Cubes are placed.
Season 8 New Weapons and Items
While the map doesn't offer many changes, there are a lot of new weapons and items. These new weapons can be found inside chests, including a new chest variant.
Like last season, there is a new variety of weapons. These weapons are called Sideways weapons, and they are very powerful. The Sideways is similar to Stranger Things' Upsidedown. It is a mysterious place but produces some seriously powerful equipment.
Sideways Rifle
Sideways Minigun
Shadow Flopper
Dual Crossbows
Port-a-Portal
Carnage Symbiote Mythic
Venom Symbiote Mythic
Sideways Chest
Cube Monster Parts
Sideways Light Blade
Armored Wall
"Spicy Soda"
Rainbow Ink
Color Bottles
Sideways Shotgun (upcoming)
Sideways Scythe (upcoming)
Battle Stars, Toona Fish, Punch Cards, and more!
Fortnite Season 8 features the return of some fan-favorite systems. These include the Battle Stars which was present during Season 7. As well, Toon Fishstick is this season's customizable skin.
Outside of what was present last season, players can also enjoy the return of Punch Cards and Quest Sharing. Punch Cards allow players to earn XP faster by rewarding players more often. As well, Quest Sharing allows players to work together to complete quests.
Additionally, players will get to decide which new weapons will be added to Fortnite during this season. Players will also get to vote for which fan-favorite weapons will be unvaulted! The voting process will be revealed at a later date.
Fortnite Season 9 Bug Fixes
When Epic Games releases the official patch notes, we will update this story with the new bug fixes. Stay tuned for more news as information is made available!
Fortnite v17.50 Patch Notes: Corny Complex abducted, Island Games challenges, live event countdown
Here are the Fortnite v17.50 patch notes for the final update of Season 7. With only two weeks left in the season, here's even more content.
The final update of the season has gone live, and here are the biggest changes in the Fortnite v17.50 Patch Notes.
Fortnite Season 7 is just about over, but not before another content update. The final update of the season contains the Fortnite v17.50 patch notes. There may not be any new items of weapons, but it's still a big one.
Each update this season has truly affected the game unlike a few seasons prior. During Season 7, new content was added almost weekly, and it's going to stay that way until the very end.
From a new abduction site to multiple in-game events, here is what players can expect from the last update of Season 7.
Corny Complex Abduction – Fortnite Patch Notes
Following the abduction of both Slurpy Swamp and Coral Castle, a third POI is going to be removed from the map. This will happen in three stages, and then the POI will appear in the Mothership.
Thanks to dataminers, we already know which POI will be abducted next. Corny Complex, one of the biggest POIs is next up. It has been a hot drop this season, and is one of the new POIs from Season 7.
Island Games challenges and rewards
There is also a new limited-time event taking place in-game. Starting at 9 a.m. EST on August 31, players can participate in the Island Games. The Island Games are Creative challenges that require players to play specific maps.
There are six exclusive cosmetics players can earn from the challenges. With 18 challenges total, these are a great way to rack up XP and free items.
Live event countdown for Season 8
As expected, there will be a live event to end Season 7. What this event entails is still unknown, but we do know when it will take place. The countdown timer is slated to appear in-game this Friday.
Season 7 will end on September 12 right after the event takes place. Immediately after, downtime for Fortnite Season 8 will begin. When the downtime ends, Season 8 will begin.
For more Fortnite, check out every Alien Artifact location in Season 7 and stay tuned for more news and guides.