Fortnite Season 6 patch notes: New weapons, Pump returns & more
Season 6 is nearly here and we've got everything you need to know ahead of the huge Fortnite patch.
Fortnite's major Season 6 update is upon us and it's shaping up to be another huge patch. From new weapons to potential map changes and plenty more, here's an early rundown on everything we know.
With Season 5 now over, all eyes are on the Season 6 update in Fortnite. Following a crossover-filled season with nonstop additions to the battle royale, fans are anxiously waiting to see how Season 6 can go one step further.
We already know that the new season will be opening with a bang.
The Zero Crisis Finale event is set to kick things off as soon as players are able to load in. Where that leads up, no one yet knows for certain.
From new weapons to fresh NPCs around the map, early leaks have hinted at a ton of unique content. Here's everything you need to know to be on top of Fortnite's Season 6 update ahead of the release.
New Map
The most exciting part of any new Fortnite season is exploring the new map, and Season 6 delivered on that front. So far, we know about the following new POIs added to Season 6:
Colossal Crops
The Spire
Boney Burbs
As you can see from the image below, there will be a lot more to explore once we jump into the new season.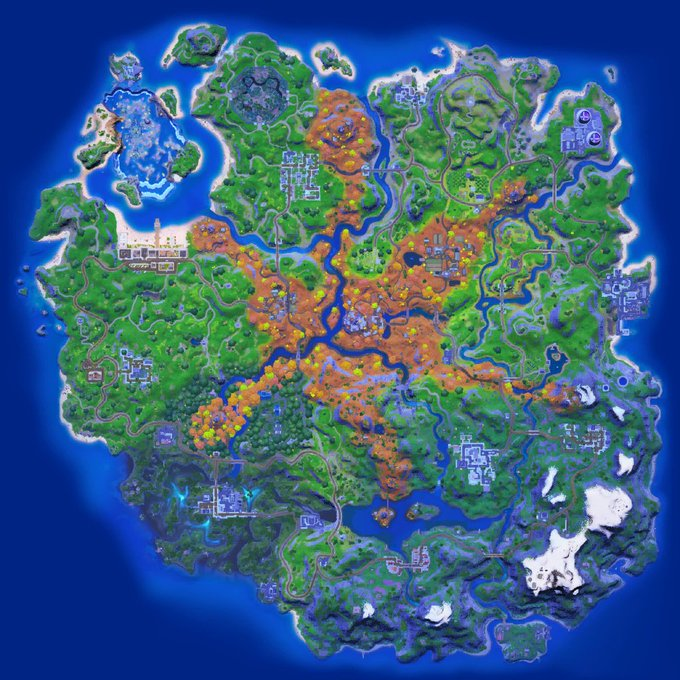 New items
According to the early leaks, we'll be getting a huge list of items coming to the game. It's too early to tell what all of these items will do, but we can be sure that we'll be playing an entirely different Fortnite when we finally load-up Season 6.
One thing that we do know is that the Pump should be returning in Season 6. This will make a lot of players happy. Here are all of the reported new and returning items coming to Fortnite Season 6.
Makeshift Rifle
Primal Shotgun
Wolf Meat item
Cuddle Fish
Makeshift Shotgun
Makeshift Submachine
Gun Primal
SMG Boar
Spire Guardian items
Stink Sacs
Makeshift Revolver
Primal Flame Bow
Mechanical Shockwave
Bow Mechanical
Explosive Bow
Primal Stink Bow
Primal Rifle
Mechanical Bow
Items you can craft with Animal Bones
Chicken items you can craft with Mechanical Parts
Makeshift Bow
Frog Primal Pistol
Primal Bow
Stink Fish
Hunter's Cloak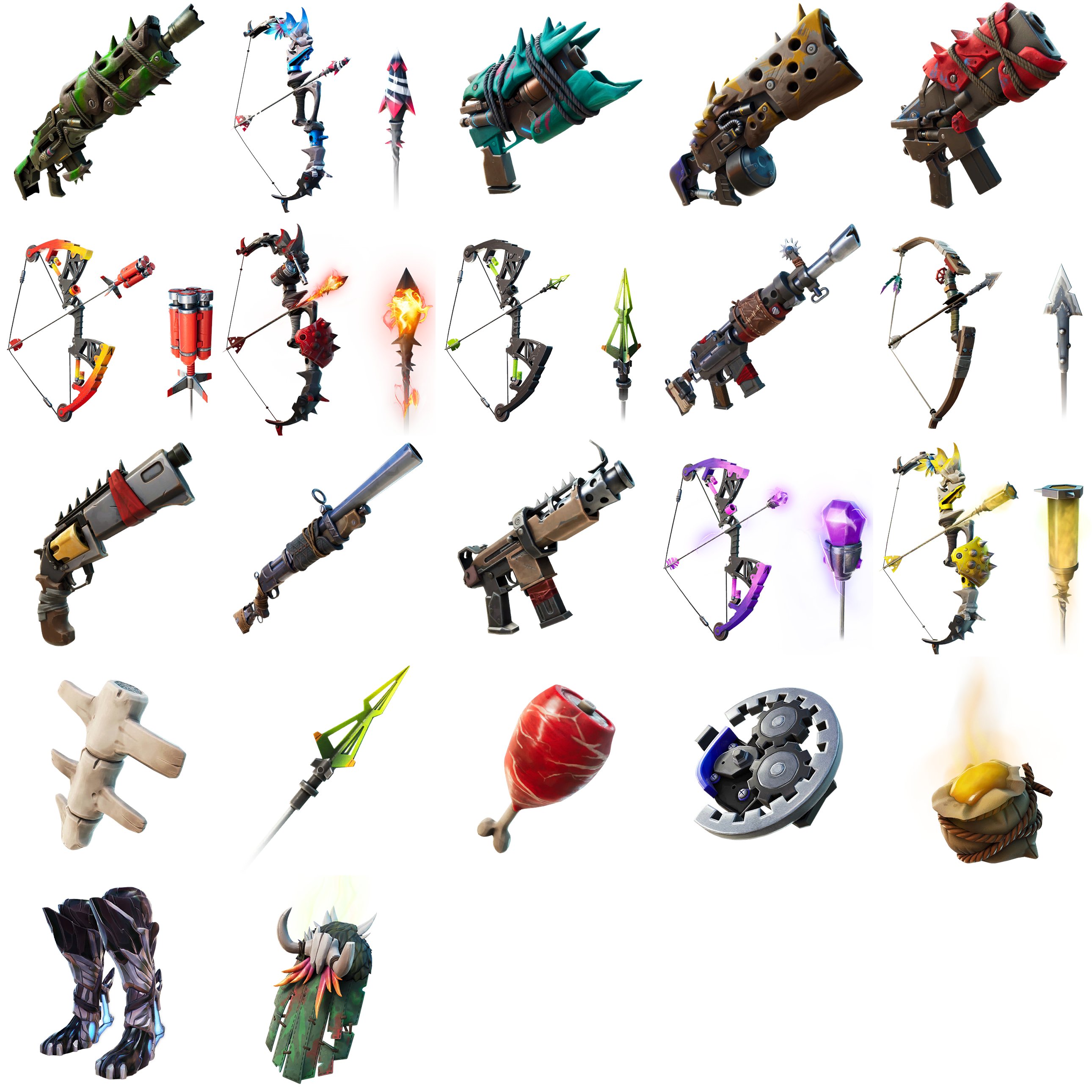 Vaulted & Unvaulted items
Unvaulted
Pump Shotgun
Revolver
Burst AR
Vaulted
Sniper
Tac AR
Heavy AR
Charge Shotgun
Tac Shotgun
Lever-Action Shotgun
New animals
One of the new mechanics of Fortnite Season 6 will be animals. So far, we don't know a ton about how these will work, but we can assume that we'll be able to interact with and ride some of these.
We know that we'll be able to gather bones to craft items and meat to tame wolves. If we had to guess, we can probably ride all of these animals, or eliminate the prey animals to help us tame the predators.
Fortnite Season 6 bug fixes
Last but not least, a handful of key bug fixes will also be deployed in the Season 6 update as well. The full list can be found below.
General
Balloons item temporarily disabled.
Unable to edit color Styles for the Phantasmic Pulse Pickaxe in the Locker.
Battle Royale
Inventory menu selector appearing on multiple slots.
Creative Mode
Pressing the default key in pre-game lobby starts the game.
Main Player rift can sometimes show as a Seasonal Rift.
Save The World
The Val Defender doesn't have perks when unlocked from the Valor Questline.
Balance Changes
Zipline speed adjustments

Maximum uphill speed increased by 61%
Maximum downhill speed decreased by 40%
Downhill acceleration increased by 14%

Magazine size reduction

Shells: 150
Light Bullets: 500
Medium Bullets: 500
Heavy Bullets: 50
That's a complete overview of everything there is to know about Season 6 thus far. We'll be sure to update this article with any further information as it becomes available.
Fortnite v18.40 Patch Notes: Naruto collab, Crew Pack bonus styles, and B.R.U.T.E.S. mechs
Fortnite v18.40 is the final update of Season 8, and it's looking to be a big one with Naruto, Mechs, and new weapons coming.
The Fortnite v18.40 patch is coming, and it will be the last patch of Season 8. Here is everything you can expect from the Final Season 8 update.
Many players are still asking when Fortnite Season 8 is actually going to start. But believe it or not, this season is almost over. However, one last update could really make Fortnite Season 8 one for the books.
Outside of Halloween skins and spooky items, Fortnite Season 8 has been a snooze. The map has changed minimally, the loot pool hasn't been very diverse, and collaborations have been the only thing keeping this season afloat.
However, the final Season 8 patch could be a real game-changer. A long-awaited collab is coming, more weapons are being added, and a divisive vehicle is on the way. Can Fortnite v18.40 save the season?
Naruto x Fortnite collaboration
The highly anticipated Naruto x Fortnite collab has finally arrived as a part of v18.40. Players can purchase four skins including Naruto, Sasuke, Kakashi, and Sakura.
As well, players can find a Mythic Explosive Kunai on the island. And there is a Naruto-themed creative hub to commemorate the collab. Players can also find Kakashi as an NPC on the map.
Sept. – Nov. Crew Pack Bonus Styles
Those that have purchased the September, October, and November Crew Pack will start receiving their exclusive bonus styles following the v18.40 update. This was revealed in the latest Crew Pack blog post.
However, it's unclear whether players will receive all three bonus styles at one time. The blog post states, "Subscribed players who've assembled all three of The First Shadows will receive a bonus Style for each starting with v18.40."
The use of the word "starting" makes it seem as if the styles will be spread out over multiple updates.
B.R.U.T.E.S. return to wreak havoc
If you played during Fortnite Season X, you remember B.R.U.T.E.S. These beefy robots were a menace, and they had to be nerfed several times. But despite their overpowered nature, players loved the chaos they brought.
Well, it seems that mechs have been added with this final update. Epic Games has tweaked the code for Mechs all season long and even included a new design for them in Fortnite's files.
Players needed to fund the mechs using the new funding stations. However, it didn't take long for players to reach the funding goal to bring mechs back to the Island.
We will update this article when Epic Games releases the official patch. As for now, these are the biggest changes we expect to see when Fortnite v18.40 drops at 4 AM EST on November 16.
For more Fortnite, check out the best controller settings, and stay tuned for more news and guides.
Fortnite v18.21 Patch Notes: Cube Town POI, Fortnitemares begins, pumpkin launchers return
The Fortnite v18.21 Patch Notes add fan-favorite weapons, a new POI, and kick off the Fortnitemares 2021 event in style.
The fourth update for Fortnite Chapter 2 Season 8 is here, and these are the V18.21 Patch Notes!
Fortnite Season 8 has been a bit of a snooze. Even with the Fortnitemares event kicking off at the start of October, it's been pretty eventless. But now, Epic Games is kicking things up a notch.
With the Cubes converging on the center of the map and the Fortnitemares event officially starting, players are in for some exciting content. Maybe it will finally feel like Fortnite Season 8 has started.
Only a few more updates remain before Season 8 ends. Here are the Fortnite v18.21 Patch Notes.
Fortnitemares 2021: Wrath of the Cube Queen
With the Fortnite v18.21 Patch Notes, Fortnitemares 2021 has officially begun. This year's Fortnitemares event is titled Wrath of the Cube Queen.
The event kicks off with a new spooky lobby and plenty of new quests. As well, Jumpscare Zombies have been added to public lobbies (not Arena).
Similar to previous Fortnitemares events, the map has seen some significant changes. Instead of fog, this year's map features widespread cube corruption.
There are also several Fortnitemares quests that can be completed. These quests will reward players with free limited-time cosmetics.
Massive Cube Town POI
After being revealed a couple of weeks ago, the Cube Town POI is finally coming to Fortnite. However, the new POI is actually named The Convergence. Players have watched as the Cube's roll around the map, and they've finally made their way to the center.
The center has been a crater since the start of Season 7. However, that crater is going to be filled with a Tilted Towers-esque POI. The new city will be made entirely of cubes. It will also change its shape over time.
Pumpkin Launchers & Brooms return
The annual tradition of bringing back the Pumpkin Launcher continues. They have been found inside the Fortnite v18.21 Patch Notes, and will be activated either this week or next.
For those who aren't familiar, Pumpkin Launchers are a Halloween variant of the Rocket Launcher. Instead of launching rockets, they launcher an explosive pumpkin. The Pumpkin Launcher is a fan-favorite item and it will be in-game soon.
As well, players can ride around the map on Brooms. These are vehicles similar to the hoverboard. Unlike cars and boats, Brooms don't require fuel.
Fortnite Season 8 Cube Queen revealed
Each Fortnite season has a secret Battle Pass skin. The most recent seasons have kept the skin hidden until late into the season. And that's the case for Fortnite Season 8's Cube Queen.
As a part of the Fortnite v18.21 Patch Notes, the Cube Queen skin has been revealed. This was to be expected since the Fortnitemares 2021 event focuses on the Cube Queen.
Additionally, Cube Queen has brought with her a monster called the Caretaker. These massive beasts are hard to take down, but they also drop a ton of loot!
New Mythic Sideways Scythe
The long-awaited Sideways Scythe is finally in-game. This melee weapon can be found inside Sideways Anomalies and can be upgraded to Mythic Rarity.
As well, it grants healing to the player on elimination. This will bring siphon to public lobbies if players are skilled enough to kill other players with a melee weapon.
These are all of the highlights from the Fortnite v18.21 Patch Notes. For more Fortnite, check out how to get every Mythic Weapon in Season 8, and stay tuned for more news and guides.
Fortnite v18.10 Patch Notes: XP Update, Super Styles, "Tilted Towers", and more
The Fortnite v18.10 Patch Notes are here and a lot has been added to the game. Check out a new POI, weapons, items, and more!
The Fortnite v18.10 patch adds a ton of content to the game, and here are the latest patch notes!
This week's Fortnite update is a massive one adding a ton of new content. There are new weapons, characters, and an upcoming POI similar to Tilted Towers.
As well, Epic Games has made some changes to Fortnite Season 8's XP system. This season's Super Styles have been revealed and can now be unlocked. And there's a bunch of new Toona Fish styles that can be earned.
All of these changes and more are detailed in the Fortnite v18.10 Patch Notes below.
Table of Contents
Fortnite Season 8 Super Styles and XP Changes
The v18.10 Patch Notes added the Fortnite Season 8 Super Styles. As well, this update made some major changes to the XP system. Players haven't been happy with this season's XP, and Epic promised to make the necessary changes with this update.
The Cubes have corrupted even the Battle Pass! (But in a good way.) Bonus Styles for Chapter 2 Season 8 Outfits have been available for players who progress past Level 100. But now: this Season's Super Level Styles have been added! Progress past Level 140 this Season and start unlocking new runic Styles for Charlotte, Kor, Fabio Sparklemane, J.B. Chimpanski, and Torin.

To help you get there, we've made improvements to XP earned through Battle Royale:
XP earned from your Daily Punchcard missions has been greatly increased.
We've added XP to all Shared Quests. (They still reward Bars too.)
All new and future Character Punchcards have substantially increased XP rewards.
Weekly Punchcard XP has been slightly reduced. This was done to lessen the setback of not completing them.
New "Tilted Towers" POI
Players have been asking Epic to add Tilted Towers back to Fortnite for several seasons. Well, the actual Tilted Towers may not be returning, but Epic Games is adding a new large POI that is similar.
According to leaker HYPEX, Fortnite will add a new POI called Cube Town. Its a very large city-style POI with lots of loot chest spawns.
Fortnite v18.10 New Weapons and Items
Epic Games added a few new weapons and items to this update as well. The OG Chug Splashes have returned alongside a new variant called the Chili Chug Splash. The Chili Chug Splash functions the same way as the OG, but it also gives players a speed boost.
As well, the Dual Fiend Crossbows are making their debut. The Fortnite Season 8 trailer showed off these dual-wielded crossbows. However, they are now in-game.
Even more Toona Fish styles
New Toona Fish Quest Styles have been added! Ink up your Toona Fish with new Styles inspired by even more of your favorite Fortnite characters. Complete themed Quests to copy Mancake's drip, resemble regular Fishstick, and more. With 20 new styles to collect immediately (and one we can't talk about just yet), there's a ton more options to color Toona Fish your way!  
The final style is the Cube Queen style which is also this season's secret skin. However, this update did not reveal the secret skin.
Balance Changes and Bug Fixes
As always, the Fortnite v18.10 patch notes include a series of bug fixes, but Epic Games has also made some balance changes. These will make rounds fairer during the late game by disabling slipstreams. Here are all of the balance changes and bug fixes:
Slipstreams will disable at the final Storm circle in core playlists.
Slipstreams will disable at phase 5 of the Storm in competitive playlists.
Chug Cannons are no longer available from Loot Llamas. In the Chug Cannons' place are the spicy Chili Chug Splashes. 
In competitive playlists, Sideways Anomalies will despawn earlier than they did previously.
The Rail Gun has been removed from competitive playlists.
Fixed an issue involving vehicles taking heavy damage when colliding with Mothership wreckage pieces.
Donation Boards displaying items in English even when another language was selected has been fixed.
Fixed an issue involving voice chat on Nintendo Switch not connecting to party chat after the player left and rejoined the party.