Fortnite Season 6: how to get the Mythic Spire Jumpboots
Are you wondering how to get your hands on the powerful Mythic Spire Jumpboots in Fortnite Season 6? Here's a guide for you.
The Mythic Spire Jumpboots are one of two Mythic items currently in Fortnite Season 6. Here's what you need to do to get your hands on them.
Fortnite Season 6 is here, and players are still combing through the new content that Epic added to the game. We have new NPCs, new locations, a crafting system, and a whole lot more.
Of course, Epic added some new weapons and items to the game as well. One of those items is the Mythic Spire Jumpboots, and they're pretty difficult to get your hands on. Here's what you need to do.
How to get the Mythic Spire Jumpboots
The first step in your quest to obtain the Spire Jumpboots is to visit and eliminate one of the Guardians around the map (not including the one guarding The Spire). You'll find these Guardians at the small spires around the map.
You can see the Guardians' general locations on the map below, but they're hard to miss in-game. If you land at one of the smaller spires, one will be waiting for you.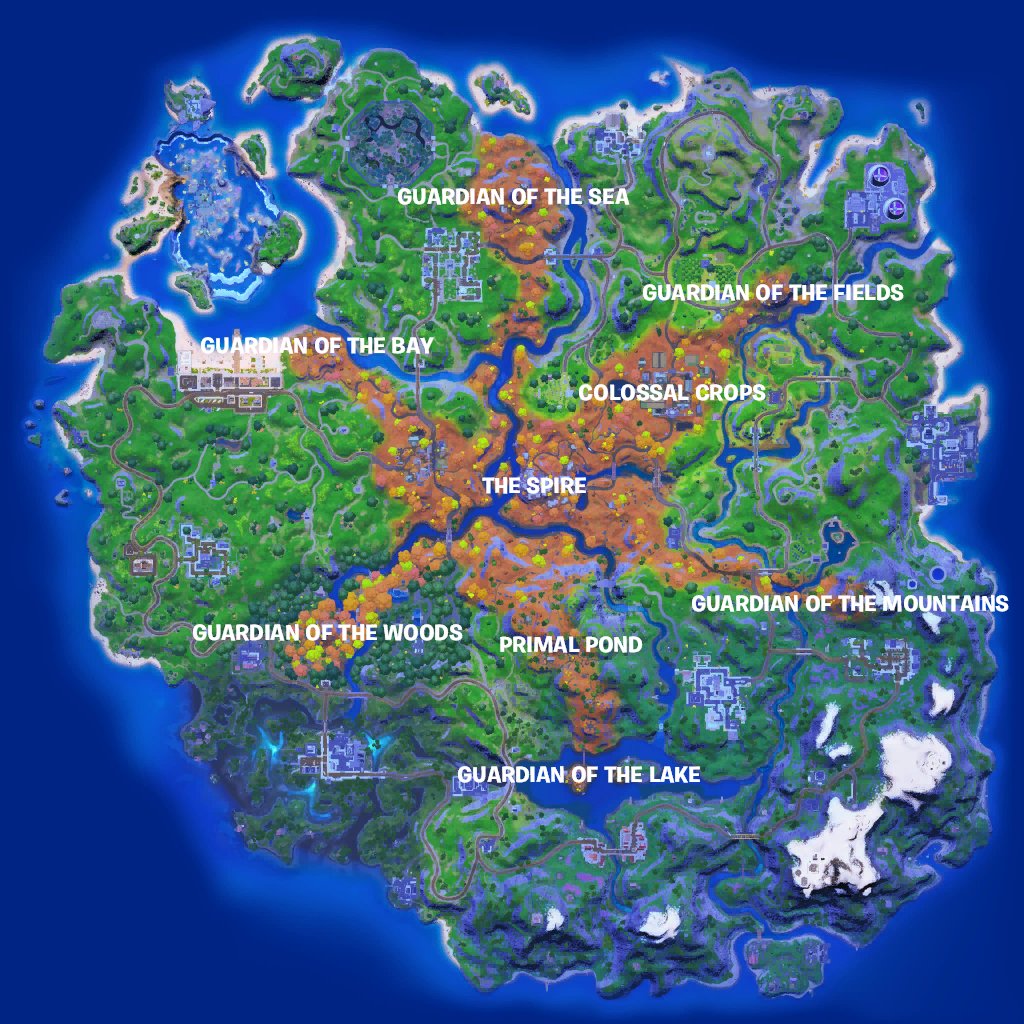 If you've already eliminated one of these Guardians, then you probably noticed that they drop a strange orb. You can carry the orb, but can't do much else with it.
If you look closely, however, there's a beam coming off of the orb, drawing you to The Spire and the Zero Point. If you take one of these orbs all the way to The Spire and put it inside the crystal waiting there, the Mythic Spire Jumboots will pop out for you. Here's the full process:
Eliminate a Guardian
Carry the Orb to The Spire
Insert the Orb into the circular crystal
These Jumpboots take up an inventory slot but are incredibly powerful. A double-jump with the boots prevents fall damage, and a triple-jump allows you to re-deploy your Glider.
As powerful as these boots are, they're even more difficult to get. You'll have to carry one of these orbs all the way from a Guardian outpost, then hope that The Spire is uncontested – a long-shot at any point in the season.
The good news is that you can sit in the passenger's seat of a car with the Orb, making it easier to transport. Still, this is a tall task for players. Good luck!
How to enable Performance Mode in Fortnite
Performance Mode is the newest way to improve your Fortnite experience. Here's how to enable the setting and get the most out of it.
Fortnite recently introduced Performance Mode to the game, which high-level and pro players seem to be loving. Here's how to enable it and get the most out of the new feature.
Performance Mode is the newest render setting in Fortnite, allowing players on lower-end PCs to get the most out of their hardware without sacrificing FPS. Players on even the cheapest gaming rigs will be able to achieve 144 FPS with this new setting.
If you've watched any Fortnite pros stream the game since the update in early February, then you probably notice that their structures look a bit strange. That's because they're using the new-and-improved Performance Mode.
Even high-end PCs can benefit from this new setting. Fortnite is notorious for having FPS drops on PC. Performance Mode will eliminate that issue. Here's how to use it.
How to enable Performance Mode
You can find the Performance Mode setting under Advanced Graphics in your Video settings. There, you'll see Rendering Mode, which will be set on DirectX 11 or 12, depending on which one you use.
All you need to do is switch this to Performance (Alpha) and restart your game. When you load in, you'll be on Performance Mode.
After you jump back into the game, you may notice that it looks blurry. Epic appear to lower your 3D models by default when you first switch, so make sure to bump that back to 100.
You will also want to put your Meshes on High under Graphics. Having this on low limits your ability to see through them, on top of making your walls look like you're playing on mobile.
Some players are having issues with some assets – including full structures – failing to load in Performance Mode. This could be because of the High Resolutions Texture setting. To turn this off, Navigate to Epic Games Launcher > Fortnite > Three Dots > Options > uncheck High Resolution Textures.
The Texture Quality in-game doesn't matter very much, so you can keep this on High if your GPU can handle it. In fact, most players find that having Textures on High actually improves their FPS.
Performance Mode won't make you a pro player overnight, but it will help you get the leg-up in a lot of instances – especially when there's a lot going on around you. We've been using it for a couple of days and have gotten used to the strange "bubble wrap" builds that have become the norm.
All Fortnite NPC locations in Season 6
Fortnite Season 6 is here, and the NPCs have shuffled around the map. Here are all NPC locations for the new season.
NPCs returned in Fortnite in Season 6. Here are all of the NPC locations in the new Fortnite season, along with which ones offer upgrades, prop disguises, bounties, and more.
Fortnite first introduced NPCs in Season 5, with the large-scale overhaul of the economy. NPCs are back in Season 6, although they don't have the same spotlight that they did last season. Instead, the crafting system is getting the most attention.
After the novelty wore off, the crafting system became a part of the game. Now, it might be more important than ever to learn where the NPCs are located.
Fortnite NPC locations
Luckily, the folks at Fortnite.GG have an interactive map of all of the NPCs in Season 6.
Here's a map of all of the NPCs in Fortnite. We'll keep this updated over the course of the season as more appear or are found around the map. Bigfoot, for instance, is missing from this list. We're not sure whether that's because he isn't there or just hasn't been found yet.
Target: offers a bounty
Green icon: can hire the NPC
Yellow arrow: weapon upgrade
Disguised man: offers a prop disguise
Blue weapons: can duel the NPC
Pink Rift: allows you to activate a Rift
There are a lot of new faces around the map in Season 6, around with some returning NPCs in new places. We have a lot to explore, especially with the realization that some NPCs give players free items just for talking with them.
Fortnite split-screen: how to play with friends
Epic introduced the ability to play split-screen Fortnite in Chapter 2 Season 1. Here's how to enable the setting.
Epic introduced the ability to play split-screen Fortnite back in Chapter 2 Season 1. Here's how to enable it so you can play locally with a friend.
Fortnite has always had a focus on playing with friends, but that always meant you had to play online. Even if you were in the same house as your friend or family member, the two of you had to play on two separate devices.
This changed back in the v11.30 update in Chapter 2 Season 1. Epic introduced split-screen capabilities on consoles for the first time. It wasn't perfect when it first came out, but it's since gotten a lot better.
How to use the Fortnite console split-screen feature
Initiating split-screen is simple. All you have to do is connect two controllers to your Xbox or PlayStation. Split-screen still isn't available on mobile, PC, or Nintendo Switch. Here are the steps you need to follow:
Start Fortnite
Connect a second controller to the console and turn it on
Hit 'Main Menu'
Player 1 will need to invite Player 2 with their Epic account
Player 2 will need to sign into their account
Player 2 will join and split-screen will automatically initiate
You can even save another player's information on another account on your console, making split-screen easier and quicker to complete.
The feature still isn't perfect and doesn't replace the feeling of playing online. You'll only have access to half of your screen, so you're going to miss a few things that normal players will see. Still, playing split-screen is far more preferable than switching off with your friend or family member game after game. Enjoy!
Image Credit: Epic Games/u/SmonkYT