Fortnite Season 6: all major map changes
Fortnite Season 6 is now live! Take a look at all of the major map changes, places to explore, the new map, and more.
Fortnite Season 6 is here, and you know what that means. There's a whole new map to explore with your squad. Before jumping in, take a look at all of the major map changes in Fortnite Season 6.
The most exciting part of any new Fortnite season is jumping in and exploring the new map. Season 6 has brought a ton of new content to the game, and the map is no exception.
Ahead, we'll give you an overview of all of the biggest map changes in the new season. There are a ton of small changes, however, so the best way to get to know the new map is to jump in and experience it for yourself.
Colossal Crops
Colossal Crops is, as the name suggests, a cross between Fatal Fields from past seasons and Colossal Coliseum from Season 5. It looks like most of the Coliseum has been decimated, but Fatal was always a fan-favorite landing spot.
While this will probably be a popular landing spot in Season 6, it won't hold a candle to some of the other new locations this season.
The Spire
The Spire has replaced the Zero Point at the center of the map. The area appears to be a bit of a mix between The Agency/Authority and the Zero Point.
One thing's for sure: The Spire will have a massive impact on the Fortnite Season 6 plotline. The end of the season will probably focus on The Spire and everything that comes out of it.
Boney Burbs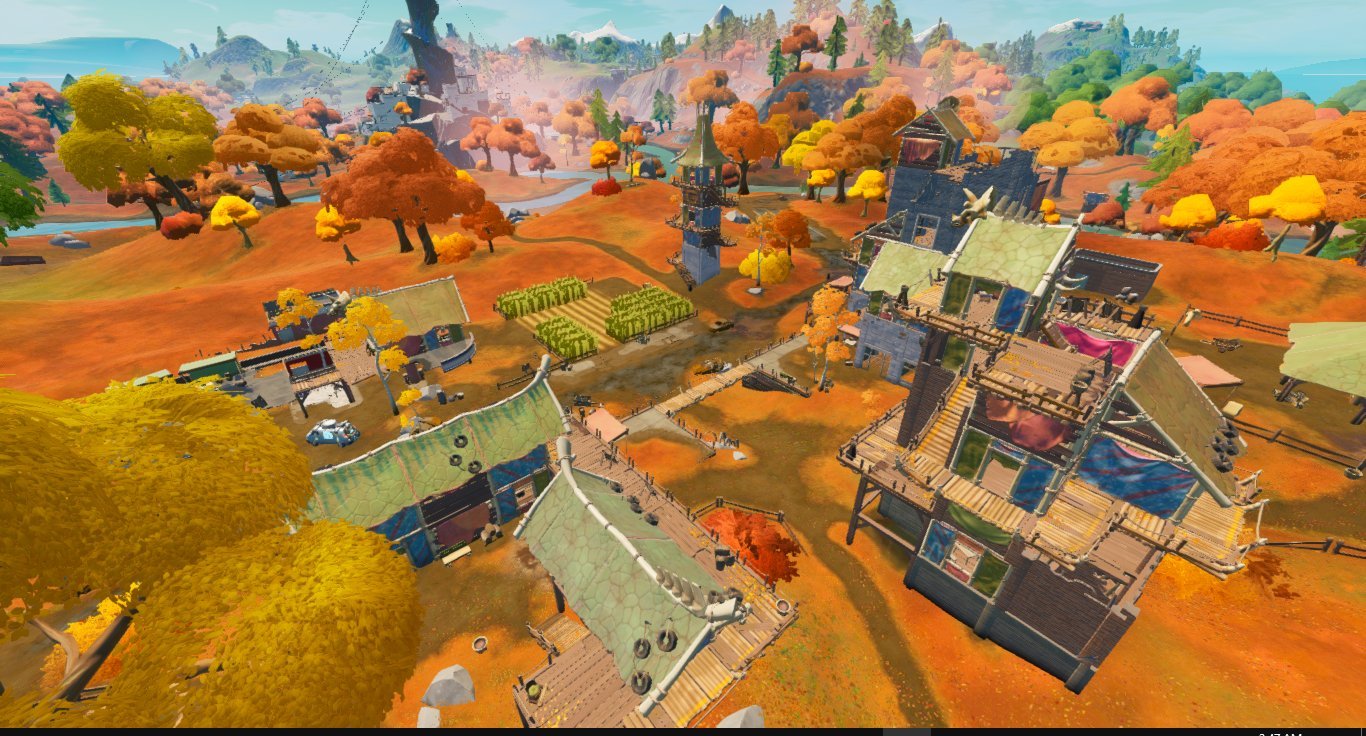 Salty Towers got a complete rework in Season 6, losing almost all of the aesthetic of Season 5. The location is unrecognizable when you compare it to any iteration of the Chapter 2 POI, but it will undoubtedly still be a hot spot for players to land.
There doesn't appear to be as much loot in this area as there has been in the past, but that's never stopped anyone from landing here. Salty Springs, notoriously, had far more players than it had loot in the early days of Chapter 2.
Guardians
Guardians appear to be the Fortnite Season 6 bosses. They spawn at smaller spires around the map with one in each quadrant.
It's still early, and we're not exactly sure what these Guardians do. When you eliminate them, they drop a ball that you can carry over your head for a nerfed Hop-Rock effect. They also drop Purple Primitive Rifles, which have a fast fire-rate but no first-shot accuracy. We'll undoubtedly learn more about The Guardians as we play more.
Where will you land in Season 6? There are plenty of new places to choose from. Let us know your new favorite landing spot on Twitter @FortniteINTEL.
Image Credit: Epic Games, VastBlast
Fortnite v16.30 patch notes: Neymar Jr, new mythic weapons & more
The Fortnite v16.30 patch notes bring some major changes to the Battle Royale. Here's everything players need to know about this update.
Fortnite v16.30, the third major Season 6 patch, is live. This week's update introduces Neymar Jr., a couple of Mythic bows, and some explosive changes to the casual and competitive loot pools.
Fortnite's last major update (v16.20) added the long-awaited grappler bow and a new set of off-road tires. These additions focused on mobility and made traveling across the map a lot easier.
Update v16.30 focuses more on enhanced firepower and adds Neymar Jr. to the season. Here's everything you need to know about Fortnite v16.30.
Bug Fixes
Players receiving a Quest from Jonesy The First that does not grant rewards
Storm visual effects appearing outside of the Storm
"Recent Islands" list does not update in Creative
Flag does not respawn when flag carrier leaves game
Small white boxes appears on Consumable thumbnails
"Allow Spectate Other Team" setting not working
The "Bad Clams"/"Destroy Fungus" quest in Scurvy Shoals have a low spawn objective rate in Save the World.
While all of these bugs may have been fixed, players are already noticing a glaring issue with vehicles that causes them not to render until they are right next to them. Hopefully, this issue will be resolved soon as it's causing a lot of unintentional wrecks.
Neymar Jr. Skin
The Season 6 secret skin was revealed to be pro footballer Neymar Jr. at the beginning of the season, and now players can complete special challenges to unlock him. Similar to Predator in Season 5, there are additional challenges that can be completed to unlock more Neymar-themed cosmetics.
To unlock Fortnite's Neymar Jr. skin, you will need to complete five challenges given by soccer player characters. They are found on the soccer fields at Pleasant Park, Dirty Docks, and Holly Hedges.
New Mythic Bows
Fortnite v16.30 also adds two new Mythic bows into the rotation of weapons. Players can no longer craft the Mechanical Explosive Bow but can get Raz's Mythic Explosive Bow by defeating the mini-boss at The Spire. The Unstable Bow can be purchased from the Raven NPC located on a hill northwest of Sweaty Sands.
Raz's Explosive Bow is identical to the non-mythic variant but deals more damage. The Unstable Bow switches randomly between fire, stink, explosive, and shockwave arrows after every shot.
This update isn't as impactful as v16.20 in terms of overall gameplay, but it does add some cool cosmetics to the game. As well, the reintroduction of the Explosive Bow in competitive matchmaking may ruffle a few players' feather.
Fortnite Season 6 April 15 balance update: comp changes & weapon buffs
Fortnite Season 6 received a surprisingly large balance update on April 15. Here are all of the buffs and changes in the patch notes.
Epic Games released a surprise balance update on April 15, making changes to the Bow, Recycler, Makeshift AR, and more.
Fortnite Season 6 introduced some major changes to the loot system. The introduction of crafting also brought Makeshift weapons to the game, which are considerably weaker than their Primal and Mechanical counterparts.
Since Epic added so many new weapons in Season 6, it's no surprise to learn that there were some balance issues at the start of the season. The most glaring problem came with the Primal Shotgun, which could shred enemies at close range and gives them little time to react.
The new Recycler was on the other end of the spectrum. It's a relatively weak weapon and doesn't see much use outside of niche situations. After all, you only have three shots before you need to start sucking trees for more ammo.
The most recent April 15 balance update attempted to address some of the issues with weapons in Season 6. Epic raised the spawn rate of Primal and Classic weapons to match that of Makeshift weapons, making the Crafting system a bit more optional.
Epic also buffed a ton of weapons, including the Makeshift AR and Revolver, Recycler, Bow, SMGs, and more. Here are all of the changes made in the April 15 balance update:
Doubled Crafting Parts in floor loot stacks
Makeshift AR & Revolver accuracy
Bow headshot dmg and arrow speed
Recycler junk bomb speed
Primal Pistol dmg and fire rate
Stats for all SMGs
Most, if not all, of these changes will be met with a warm reception from the player base. The SMG buff might not be super necessary, but it's a fan-favorite weapon that will always be a part of the meta.
On April 16, Epic made further adjustments to the meta – this time focusing on competitive. They removed three explosive items: Rocket Launchers, Cuddlefish, and the Mechanical Explosive Bow.
More than anything else, these updates show that Epic are listening and reacting to community feedback. We've been through some Fortnite seasons where it feels like the developers aren't listening to us, but Season 6 won't be one of them.
Fortnite v16.20 patch notes: vehicle mods, new weapons & more
The Fortnite v16.20 patch notes are here. Take a look at all of the major changes in the newest Fortnite patch.
The Fortnite Season 6 v16.20 patch is live. Take a look at all of the biggest changes that have come to the new Fortnite update.
We're only a few weeks into Fortnite Season 6 and have already seen two major updates. The v16.20 patch was the latest of the two, bringing new weapons, vehicle mods, and bug fixes to the game.
Ahead, we'll cover all of the major changes in the patch notes so you know what to expect. Let's get into it.
Bug Fixes
Cannot create system-level parties between PS5 and PS4 when playing Fortnite.
Code Green Wrap not appearing correctly.
Arena playlist issues.
Storm visibility is clear when using Performance Mode.
Collection Book Character #17 not appearing on the Island.
Slurpshrooms and Coconuts temporarily disabled.
(Creative) Start with 'Pickaxe' Creator setting still spawning with a Pickaxe.
(Creative) Vehicles not moving properly in Creative.
(Mobile) Cosmetics in Lobby appearing blurry on Nintendo Switch.
(Mobile) 3D resolution reset itself even if the player saved the settings.
Vehicle Mods
Vehicle modes were teased at the beginning of Fortnite Season 6 and were leaked even before that. Finally, in v16.20, we have our first mod to vehicles in the form of Chonkers tires.
These are off-road tires that allow players to speed on grass and even climb steep surfaces that you'd typically have to build over. For now, you can only find them in the garage at Catty Corner, although more locations may pop up in the future.
New Weapons
We now have two new upgraded bows in Fortnite: The Grappler Bow and Splinter Bow. These bows will be added to the bow-centric loot pool alongside the Stink Bow, Shockwave Bow, and Explosive Bow.
We don't know the crafting materials needed for these bows just yet, but you should also be able to purchase them from NPCs. We'll update you when we know more.
This was a relatively big update for Fortnite Season 6, only a few weeks after the new season began. We can only hope that Epic will keep up the pace this season, especially when it comes to vehicle and weapon mods.