Fortnite Season 6: all major map changes
Fortnite Season 6 is now live! Take a look at all of the major map changes, places to explore, the new map, and more.
Fortnite Season 6 is here, and you know what that means. There's a whole new map to explore with your squad. Before jumping in, take a look at all of the major map changes in Fortnite Season 6.
The most exciting part of any new Fortnite season is jumping in and exploring the new map. Season 6 has brought a ton of new content to the game, and the map is no exception.
Ahead, we'll give you an overview of all of the biggest map changes in the new season. There are a ton of small changes, however, so the best way to get to know the new map is to jump in and experience it for yourself.
Colossal Crops
Colossal Crops is, as the name suggests, a cross between Fatal Fields from past seasons and Colossal Coliseum from Season 5. It looks like most of the Coliseum has been decimated, but Fatal was always a fan-favorite landing spot.
While this will probably be a popular landing spot in Season 6, it won't hold a candle to some of the other new locations this season.
The Spire
The Spire has replaced the Zero Point at the center of the map. The area appears to be a bit of a mix between The Agency/Authority and the Zero Point.
One thing's for sure: The Spire will have a massive impact on the Fortnite Season 6 plotline. The end of the season will probably focus on The Spire and everything that comes out of it.
Boney Burbs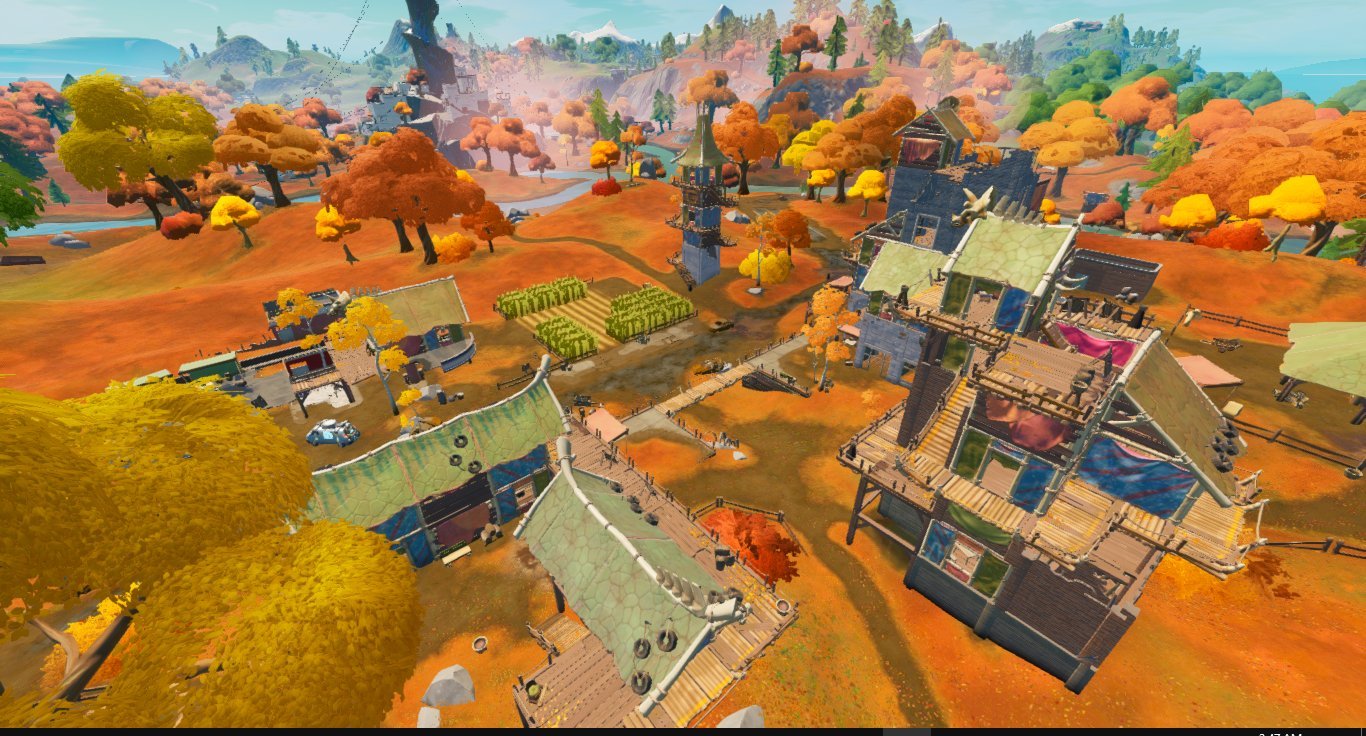 Salty Towers got a complete rework in Season 6, losing almost all of the aesthetic of Season 5. The location is unrecognizable when you compare it to any iteration of the Chapter 2 POI, but it will undoubtedly still be a hot spot for players to land.
There doesn't appear to be as much loot in this area as there has been in the past, but that's never stopped anyone from landing here. Salty Springs, notoriously, had far more players than it had loot in the early days of Chapter 2.
Guardians
Guardians appear to be the Fortnite Season 6 bosses. They spawn at smaller spires around the map with one in each quadrant.
It's still early, and we're not exactly sure what these Guardians do. When you eliminate them, they drop a ball that you can carry over your head for a nerfed Hop-Rock effect. They also drop Purple Primitive Rifles, which have a fast fire-rate but no first-shot accuracy. We'll undoubtedly learn more about The Guardians as we play more.
Where will you land in Season 6? There are plenty of new places to choose from. Let us know your new favorite landing spot on Twitter @FortniteINTEL.
Image Credit: Epic Games, VastBlast
Fortnite v17.20 Patch Notes: Gravity Gun, Wrap Skins, new loadout settings
The Fortnite v17.20 Patch Notes are here, and players can expect a new weapon, some cool new skins, and quality of life improvements.
After almost an entire month without a major content update, here are the Fortnite v17.20 Patch Notes.
It's been a few weeks since Fortnite v17.10 was released, and that's because of Epic Games' summer break. Now that the employees are back in the office, players are being given the second major content update of Fortnite Season 7.
However, this patch is a little more underwhelming than expected. The Fortnite v17.20 Patch Notes include a few new skins, quality of life improvements, and a new gravity gun. While players expected there to be huge map changes and more alien tech, it seems this update is on the lighter side in terms of content.
Grabitron Gravity Gun
At the start of the season, a gun that allows players to pick up and toss large objects was teased. Players had given this gun the name "Cowinator", but now it has an official name. The Grabitron is a new alien tech weapon added during the Fortnite v17.20 patch.
Players can expect to see this new gun in-game either this week or next. As shown in the season trailer, players will be able to use the gun to pick up rocks, vehicles, and other items on the map. These items can then be hurled at opposing players to deal a considerable amount of damage.
Reactive Wrap Skins
A new set of customizable skins allows players to equip wraps that change the style of the skin. There are four different character models in the set, and each has a different style of clothes. However, these skins are the first of their kind.
As seen in the Tweet from HYPEX below, players can customize the skin with different wraps. Wraps are usually used on weapons and vehicles, and now they can be used on certain skins. Once equipped, the pattern on the skin's clothing will change to the style of the wrap.
Preferred Loadout Settings
As promised by Epic Games earlier this month, a new preferred loadout setting has been added to Fortnite v17.20. This new setting allows players to customize what typed of items go in which inventory slot. Instead of swapping weapons and meds on the go, they will go into the specified slots automatically.
Fortnite v17.10 Hotfix adds Alien Nanites, new Ray Gun, and changed POIs
The Fortnite v17.10 Hotfix adds new alien technology, a powerful Mythic weapon, and makes minor changes to some of the POIs.
There's no massive content update this week, but the Fortnite v17.10 Hotfix is adding a bit of new content to the game.
Fortnite updates come in different forms and sizes. A seasonal update will massively change Fortnite's map, loot pool, and storyline. A content update will add new weapons or POIs to a season. These updates can also add encrypted files to the game that can be opened at a later date.
When these encrypted files are decrypted (or opened) those updates are referred to as a hotfix. Encrypted files can be anything from upcoming skins, new items/weapons, or even small map changes. Today's hotfix update contains new weapons, items, and map updates.
Alien Nanites added
Alien Nanites were teased before the start of the season, and now they're here as a part of the Fortnite v17.10 Hotfix! These multi-purpose items can be used like nuts and bolts to upgrade weapons. If a player has an SMG, Assault Rifle, or Sniper of rare or greater rarity, it can be combined with Alien Nanites to make an alien weapon.
As well, Alien Nanites can be thrown like a grenade will also generate an alien biome. These areas have low gravity that allows players to "swim" through the air. Exiting the biome will also give players the no-fall damage effect. Alien Nanites can be found in chests, but are more likely to be found aboard Abductors and the Mothership.
Zyg and Choppy's new Mythic Ray Gun
These two extraterrestrial buds were added to the game prematurely after the last update, but now they've been added for good. Zyg and Choppy can be found patrolling Hydro 16 which is east of Slurpy Swamp. If a player eliminates them, they will drop the new Mythic Ray Gun. Be warned, Hydro 16 is crawling with Alien Parasites.
Holly Hatchery and other map changes
Holly Hedges has been overrun by Alien Parasites and has been renamed Holly Hatchery. Alien Biomes have started to form in the small neighborhood, and it isn't as friendly as place as it used to be. However, it isn't the only POI to change during the Fortnite v17.10 Hotfix.
The non-stop block party at Believer Beach has finally come to an end. All that remains is the trashed decor and skeleton of a party that once was. It seems that the longer the Aliens overstay their welcome, the more the map will change to reflect just that.
Fortnite v17.10 early patch notes: Mothership changes, Arena Hype Points reset, more
Here's the complete rundown on all the early v17.10 patch notes.
Fortnite Season 7's weekly updates continue as Epic Games has locked in early details surrounding the v17.10 patch. Here's a complete overview of everything there is to know.
With Season 7 now underway, we've already been treated to an assortment of new content in Fortnite. From drastic map changes to new weapons and everything in between, there's been plenty of excitement to kickstart the new season.
Weekly updates have continued on, as expected, and we've already got plenty of early intel on the upcoming v17.10 patch; from when downtime starts, to what new Season 7 content we can expect, here's everything you need to know about the June 22 update.
Fortnite v17.10 downtime
As per usual, Fortnite will be taken offline soon for a regular period of maintenance. During this brief window, players won't be able to start up any new matches.
This time around, Fortnite maintenance is expected to begin at roughly 12:30 AM PST / 3:30 AM ET /07:30 UTC on June 22.
Downtime typically only lasts for an hour or two, so expect the v17.10 update to follow a similar pattern. We'll be sure to keep you updated here if there are any major delays.
Fortnite v17.10 early patch notes
Entering the Mothership
In this weekly update, Fortnite's ongoing storyline is set to continue in an intriguing direction. Rather than a subtle teaser or a mysterious easter egg, Season 7's alien invasion narrative could be giving us a new area to explore already.
"A new surprise descends," Epic said in a June 21 tweet. "A way inside the Mothership?"
Based on this teaser alone, it certainly sounds as though players will be able to make their way through the alien Mothership.
Fortnite Arena Hype Points
If you fancy yourself a competitive Fortnite player, you might want to get some final games in quickly. With the latest patch, Epic is completely resetting the standings and starting anew.
Arena Hype Points will be to zero across the board, meaning players will have to earn their way back up the rankings.
Fortnite v17.10 bug fixes
Along with all of the fresh content and gameplay tweaks, the latest Fortnite patch also brings an assortment of bug fixes. As usual, these range from small Creative issues to some bigger Battle Royale problems.
Below is the full list of bug fixes set for the v17.10 Fortnite update.
General
Item Shop update notice not clearing
Battle Royale
Taking damage through cars while in motion.
Ability to change loot pools in Battle Lab temporarily disabled.
Character Collection Book incompletable due to missing entries.
Saucers may become inoperable if a beamed-up object falls on it.
Bunnywolf and LLion Sets temporarily disabled.
One-handed Pickaxes continue to perform extra swings.
Creative
Rounds not reporting correct placements.
Hud Controller Device join in progress
Images are cut off in the Discover tab.
Player can encounter infinite loading screen when flying out of Island.
Save the World
Melee hits aren't registering on Melee Weapons for PC.
Saurian Vigor perk stops working after respawn.
Mobile
No indicator on mobile/Nintendo Switch for the Saucer boost cooldown and charges.
Nintendo Switch players unable to gift cosmetics, Bundles, or Battle Pass on controller.