Fortnite Season 5 patch notes: New Shotguns, Bounty System & more
Fortnite Season 5 brought a ton of changes to the game. Take a look at all of the new, returning weapons, and vaulted weapons/items.
Fortnite Season 5 is finally here. Take a look at everything that's changed.
Zero Point – AKA Fortnite Season 5 – has the potential to be the best season of Chapter 2. The new season comes with an awesome Battle Pass, huge map changes, new items, and a massive shake-up to the existing meta.
We're writing this before the season officially goes live, so players still need to dig-in and find out what's changed. Thankfully, Fortnite Twitter has data miners like Hypex, FortTory, FireMonkey, and others who are able to tell us what's new before the patch even releases.
Let's take a look at what's changed.
Bug Fixes
All Fortnite patches come with a few bug fixes – even the new seasons. The bad news is that major patches typically bring bugs with them, so we'll likely be facing a batch of new bugs once players get their hands on this update.
With this being a new season, it's understandable that there aren't too many bug fixes, here. These are all of the bugs set to be fixed in v15.00:
Huntress Outfit appearing as Ramirez or another Outfit.
Impossible to bind the same key to different actions with Keyboard.
Bash Burner Pickaxe temporarily disabled in competitive playlists.
New Items
Dragon Shotgun
Shadow Tracker
New Floppers

Tiger Zero Fish
Leafy Zero Fish
Skull Zero Fish
Rift-To-Go Flopper
Sandstorm Rift Flopper

Bounty Board
Gold Bars & Safe
Boom's Sniper Rifle (Mythic)
Amban Sniper Rifle (Mythic)
Mandalorian's Jetpack (Mythic)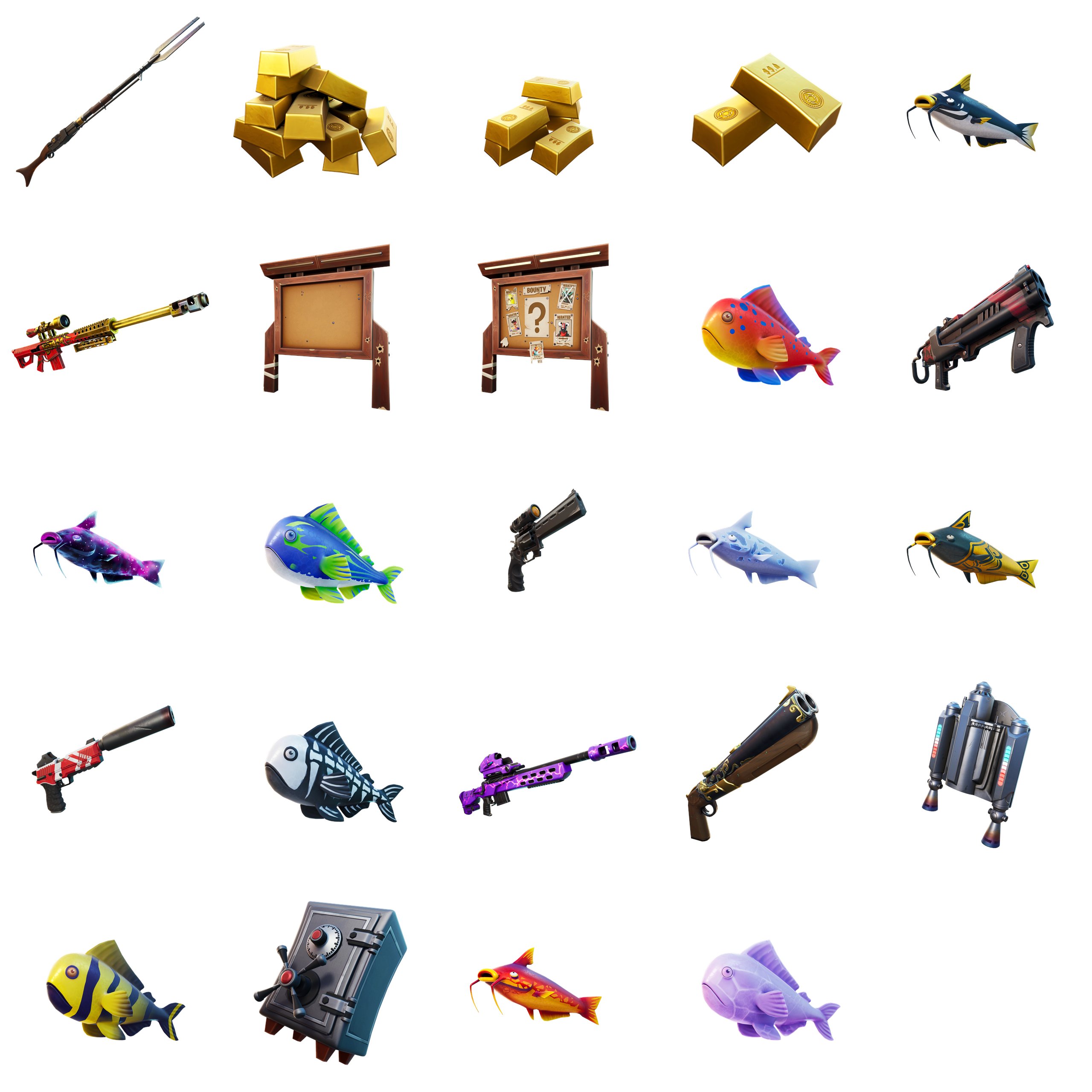 Vault
Unvaulted
Charge Shotgun
Double Barrel
P90
SMG
Storm Scout Rifle
Tac Shotgun
Balloons
Heavy AR
Vaulted
Revolver
Fire Trap
Scoped Assault Rifle
Epic/Legendary Pump Shotgun
Legendary Combat Shotgun
Scar
Epic/Legendary Tac SMG
Other Changes
Tactical Shotgun damage buff
Locker Presets expanded to 50
Heavy AR fire rate increased
We'll be updating these patch notes over the course of the day as more players find changes across the new Fortnite season. With no official patch notes, this may take some time.
If you want to jump in and try things for yourself, go right ahead! Report back with anything you find on Twitter, @FortniteINTEL.
Fortnite v15.21 update patch notes: Predator, Mythic Item, New Quests
Fortnite's v15.21 update has shaken things up again, adding Predator and a brand new Mythic Item to the mix.
Today's Fortnite v15.21 update has shaken things up again in the battle royale game, adding Predator and a brand new Mythic Item to the mix.
The game has been subject to weekly updates for a long time now, meaning content is given a slight refresh some weeks, and on others things can change a bit more dramatically.
On January 20, after the latest patch was rolled out, it's fair to say that not a lot of things have been tweaked.
In the absence of official patch notes, which have been vaulted since before Chapter 2 even began, we've rounded up the changes confirmed already by players and leaks.
Fortnite v15.21 patch notes
Predator
Predator is the latest crossover character to arrive in Fortnite, now available to fight at the Stealthy Stronghold location. The skin is also coming to the Fortnite Item Shop, along with some cosmetics – such as a pickaxe.
New Mythic Item: Predator Cloak Device
One of the biggest, and most exciting, elements of Predator's arrival is the new Mythic Item it adds to the game. The Predator Cloak Device is now active in-game, and once it's been found and activated, players can use it to turn invisible.
To get one, check out our complete guide here. It's fairly easy to achieve.
New Quests
More Quests have been added to the Battle Pass for Season 5, following the v15.21 update.
The full list of these can be seen below, courtesy of HYPEX.
Bug fixes and other changes
According to the official Fortnite Trello board, a number of things have changed – including general issues and things specifically impacting the BR mode.
General Top Issues
When playing Fortnite, players cannot create system-level parties that include players on both PS5 and PS4.
The Jumpshot Outfit is missing its facial hair.
The Banner menu may be unresponsive to controller inputs, causing players to have difficulty editing their Banner with a controller or the Banner not updating properly.
We're investigating an issue that is causing players to experience a long loading screen after completing a session on PlayStation and Xbox consoles.
The sound effect of certain actions, such as opening a Chest or hitting a Weak Point, may be delayed.
Battle Royale
In competitive playlists, players do not have access to their persistent stash of Bars. Instead, they are granted a set amount at the beginning of each match. This is intended. However, your end total of Bars in competitive playlists may appear in the Lobby in place of your persistent stash. This is a visual issue only.
The weekly Legendary Quest to 'Get Headshots' is not always visible after completing the first stage of the quest.
Players may receive damage mid-air when falling inside a car.
Players and Spectators may notice inconsistent camera behavior or stuttering after being near a Car they recently drove then exited.
Total Bars appearing as 0 in a match.
Assets appearing invisible in Performance Mode alpha.
Game freezing when going to the Compete tab on PlayStation/Xbox.
Sand Tunneling temporarily disabled.
As is the case every week with these unofficial patch notes, it's an ever changing beast. If we find something that's changed and not been included here in the Fortnite v15.21 patch notes, we'll update you as quickly as we can.
Until then, jump in and see for yourself! Remember to thank the bus driver…
Fortnite v15.20 patch notes: Hop Rock Dualies, New & Unvaulted weapons
Epic Games have rolled out Fortnite patch v15.20, with a whole host of changes.
Epic Games have rolled out Fortnite patch v15.20, with a whole host of changes. While official patch notes are hard to come by these days, we've rounded up all of the new content.
The last few weeks in Fortnite have went by without many big tweaks to the gameplay experience, and certainly a lack of new skins and cosmetics compared to times gone by.
However, a whole host of new outfits have been leaked and that's just the tip of the iceberg for this weekly update. A new Predator crossover has also been uncovered by dataminers, meaning Predator could soon arrive in-game – with a new ship, banner, and spray leaked.
Those are, of course, unconfirmed changes though, so let's take a look at everything we're certain of.
Fortnite v15.20 patch notes
Hop Rock Dualies
A new set of dual pistols have arrived in Fortnite, as seen below in a tweet from VastBlast.
New & Unvaulted weapons/items
There's four new weapons and items coming into the loot pool (well, unvaulted as well) – seen below. This was also confirmed by VastBlast.
Legendary Tactical Assault Rifle
Rare Tactical Assault Rifle (All Rarities)
Lever Action Shotgun
Uncommon Snowy Flopper
At first, the leaker thought this Sawed Shotgun was going to be headed solely for Save the World, but it's since been confirmed to be part of the update.
Pre-edit changes
Some adjustments have been made to the Pre-Edits Option. Now, with 'Disable Pre-Edits On,' all player-built structures can't be edited until they're placed.
Fortnite v15.20 bug fixes and changes
According to the official Fortnite Trello board, here's all of the bug fixes and changes to be implemented in the latest patch.
General
Sound effect audio delay.
Flip Rest Lobby Track inadvertently removed from players' Lockers.
Multipoint Edge Glider deforming midair.
Michonne Outfit visual issues with cape Back Blings.
Battle Royale
Game freezing when going to the Complete tab on PlayStation and Xbox.
Sand Tunnelling temporarily disabled.
Total Bars appearing as "0" in a match.
Hypernova Outfit appearing as a different Outfit in the Lobby and in-match.
Rebooted players may see an already completed Bounty.
Save the World
Quest progress not instantly updating in the HUD and Quest Log.
Broken Pickaxe animations.
Mobile Top Issues
Voice chat issues on Android.
The player loses all movement after jumping through Zero Point.
Fortnite v15.20: what to expect
Fortnite v15.20 is expected this week. Take a look at all of our predictions for the next Fortnite update.
The Fortnite v15.20 update is expected this week. Here's what we'll see when the update goes live.
With the Operation Snowdown event ending last week, most players assumed that a new patch would come to Fortnite. As we learned, that never happened. Surely, we won't go another week without a Fortnite update, so we're doubling-down on an update coming on January 12.
Once again, we're writing this prediction before any official announcement, but are confident that we'll see v15.20 coming this week – if not tomorrow. Here's what we expect to see included in that update.
Bug Fixes
Every Fortnite update is accompanied by a list of bug fixes, and v15.20 is no different. Here are all of the bugs listed in "Fixed in Next Game Update" on the Fortnite Community Issues Trello Board.
Total Bars may rarely appear as 0 in a match.
Rebooted players may see an already completed Bounty.
Total Bars may rarely appear as 0 in a match.
Michonne Outfit visual issue with Cape back blings.
Leaked Exotics
Now, we're getting into the pure speculation part of the update. It's been a while since the last update, which means Epic could have some new content in store for us.
There have been a couple of Exotic weapons leaked, including a Run Gun SMG and a Freeze AR – a winter-themed Assault Rifle that gives opponents the effect of Chiller Traps.
It would seem reasonable for Epic to add one or both of these items in v15.20, but we won't know for sure.
A New Bounty Hunter
It's been a couple of weeks since Epic added a crossover skin as a part of the Bounty Hunter theme of the season.
We don't know which hunter this would be, although there have been rumors about Predator joining the lineup.
If we had to guess, we'd say that data miners will find the next bounty hunter in the game files and will release this information to the public ahead of the Item Shop change.
We' probably see some unpredictable additions to Fortnite when v15.20 goes live as well. For all of those, stay tuned for our breakdown, coverage, and more.