Fortnite Season 4 "God Mode" glitch makes players invincible
How to trigger the God Mode glitch in Fortnite Season 4.
Fortnite Season 4 brought us a fresh new theme and meta that helped to revitalize a relatively stagnant chapter. Of course, the new season didn't launch bug-free. You'd be hard pressed to find any video game that releases a major patch without any issues.
To Epic's credit, however, the bugs in Fortnite Season 4 are almost all under the surface. In other words, there's a very small chance that you'll trigger any of these bugs by accident. You'd have to be seeking out an exploit to cause one of these game-breaking problems.
There's one particular bug in Fortnite that's a bit too powerful to stay in the game for too long. We're talking about a "God mode" exploit. We've seen this in Fortnite before, and we have another one for Fortnite Season 4.
Unlike similar glitches from other seasons, however, this bug is far less useful than it might sound. Glitch King – one of the YouTubers to showcase the bug – starts his video by writing, "This is one of the most broken glitches. It have [sp] been out for more than 3 days and still didn't get patched!" This statement is hyperbolic, though, because using the glitch forces you to stand in place.
We've seen similar glitches to this one, before. To do it, all you need to do is find a haystack and bring it to one-shot. Now, jump into the stack from a few floors above and shoot it right before entering – making it disappear. Make sure you have a car next to you, as you'll now only be able to move while driving the vehicle.
As you can see, this glitch isn't as useful as Glitch King makes it sound. Yes, you're invulnerable to enemy fire, but not to storm damage. If you don't have a car, you're stuck in one spot and will eventually die. Glitch King also showcases the flying ability that happens if someone destroys your car. What he doesn't mention is that you'll continue to fly until you reach the storm ceiling and die.
This glitch seems like an interesting way to freak people out but not a great way to win. You're probably better off playing a normal match rather than standing in a single spot – unable to move without the help of a nearby car or chopper that someone could easily destroy.
The glitch will likely get fixed but doesn't seem to cause much of a problem in-game. We don't think that this one will be ban-worthy, but complete the glitch at your own risk. Again, you'll probably have a better shot at actually winning if you play a normal match.
Fortnite Creative Mode could be getting a huge expansion
Fortnite Creative Mode could bring a massive update to truly simulate end-game scenarios, according to a recent leak.
Fortnite Creative Mode could bring a massive update to truly simulate end-game scenarios.
Creative Mode was one of the most innovative additions that Epic has made to Fortnite. You don't even have to play the base game mode to enjoy Fortnite, anymore. You can play Search and Destroy, deathruns, Zone Wars, Trivia, boxfights, and a lot more.
Competitive Fortnite players have taken to Creative Mode the most. Zone Wars gives you a simulated end-game and boxfights let you practice the most important element of high-level competitive play.
Fortnite Creative beta
Over a year ago, way back in, Fortnite v12.10, files were added to the game that we assumed would bring a massive change to Creative Mode. According to the game files, Creative can now support up to 50 players.
A year after we first heard the news about an updated Creative Beta, we still have yet to see this in practice. Since it's been so long, many players forgot that it was even on the horizon.
After the v15.50 update, however, data miners found some new files that relate to the Creative Mode expansion. According to them, Epic are testing a beta of Creative that should support 50 players.
Such a change would be a massive step for the game. You could truly play a mini-BR game with your friends if this change went through. YouTube creators and streamers could also manage private matches a lot easier, as there's no chance of a code leak or an unwanted intruder.
The best part of this additional player count is the ability to truly simulate competitive end-game situations. Zone Wars is good practice for a lot of us, but not for those at the highest level.
Anyone who has ever watched a tournament knows what we're talking about. The end-game in professional Fortnite matches routinely has 40+ players in the final few zones. It's pure chaos, and a 50-player Zone Wars lobby will be able to capture this.
Of course, the expansion also opens the door to a ton of other possibilities including massive boxfight battles and more. Epic will be focusing on the Creative side of things for the future of Fortnite, and an increased player count is an excellent first step.
Image Credit: Epic Games
Fortnite leaked skins & cosmetics from v15.50 update
Epic Games have rolled out their first update in a few weeks, with the arrival of Fortnite patch v15.50, and a number of skins and cosmetics have leaked as a result.
These weekly updates were never missed in times gone by, however Fortnite Chapter 2 has been a lot more inconsistent in that sense. Some weeks there is a huge update with map changes, new crossovers and challenges – while others will just make very minor bug changes.
You can always read about what to expect from the patch here on Fortnite Intel, and alongside those patch notes, let's run through some of the game's unreleased outfits.
On March 2, once the downtime began, a number of leakers started looking into the game's files to see what had changed. To their surprise, with just two weeks left in the season, not much had been tweaked in terms of content.
However, we do have some leaked skins and cosmetics to dig through – courtesy of Lucas7Yoshi and VastBlast.
Fortnite leaked skins and cosmetics from v15.50 update
Bundles
Midas female GoldenTouch bundle
Emotes
So, there you have it! Those are all of the newest unreleased skins in the Fortnite world, some of which may actually roll out following the latest update.
Keep an eye out on the Fortnite Item Shop and you never know, one or two may appear there in the near future.
All Fortnite Season 5 Exotic Weapon locations
Fortnite Season 5 brought Exotic weapons to the game to replace Mythics. Here's where to find all of them.
Fortnite Season 5 introduced Exotic weapons to the game instead of Mythics, giving more players access to them. Here's where you can find them.
There's no shortage of new mechanics in Fortnite Season 5, with the addition of NPCs, quests, and a whole lot more.
Mythics have returned to the game in Season 5 but in a limited capacity. The only classic Mythic items in Fortnite Season 5 include The Mandalorian's Jetpack and sniper rifle, both available from the bounty hunter himself.
The other items in the game are classified as Exotics. There's only one of each Mythic item in each game, but can be multiple Exotic weapons.
You can purchase these Exotic weapons from specific NPCs across the map. Of course, this means you'll need to save up your Gold Bars to afford them.
Twitter user @MikeDulaimi created an easy-to-follow guide on how to locate all of the Exotic weapons in Fortnite. You can purchase them from NPCs in the areas surrounding Hunter's Haven, The Zero Point, Dirty Docks, Craggy Cliffs, and Stealthy Stronghold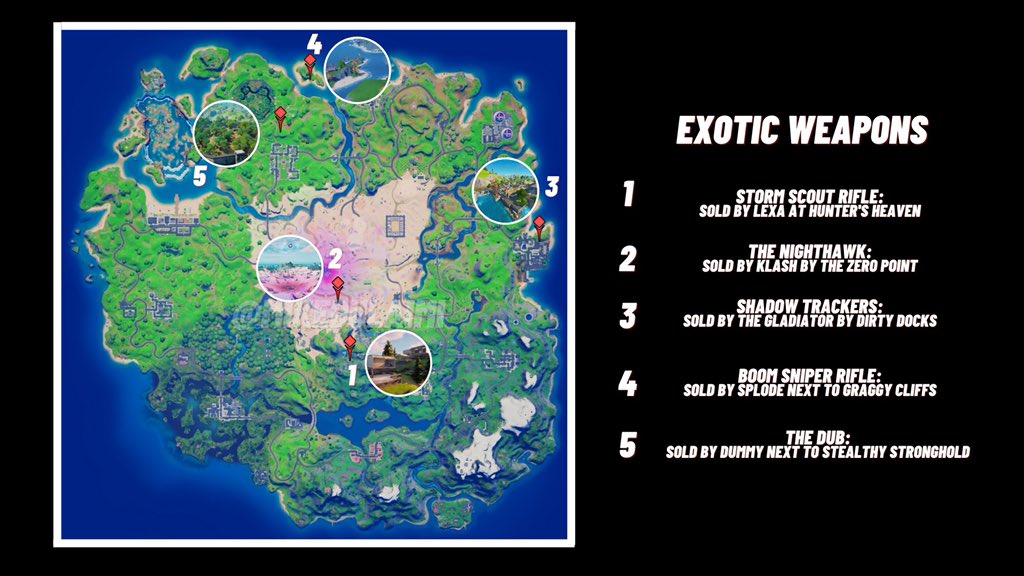 Mythic items were relatively controversial for the past few seasons of Fortnite – especially in competitive modes. Doom's Mystical Bomb and Kit's Shockwave Launcher dominated tournament play for the past two seasons, and the competitive community largely called for them to be removed.
We're curious to see how this community treats Exotic weapons. They're more widely available and aren't as powerful as Mythics, making them more balanced than the latter – that is, until a player eliminates the NPC selling them.
Newly-added Exotics (Update)
February 24 Exotic Shuffle (Update)
On February 24, Epic shuffled some of the original and new Exotic weapon locations, giving them to new NPCs across the Fortnite map. The Storm Scout Sniper, Nighthawk Revolver, and Hop Rock Dualies now have new homes. You can view them on the map, below.
We wouldn't be surprised to see Epic shuffle the locations once again, so we'll update this map and article if we see any more changes.
Image Credit: Epic Games, Fortnite.GG