Fortnite Season 4 FNCS Week 1 final results
Week 1 of the Season 4 FNCS has concluded. Take a look at all of the teams who qualified in EU, NA-East, and NA-West.
Week one of the Fortnite Season 4 FNCS qualifiers is in the books, as 15 teams from each region move onto the next stage. This is only the first of three qualification weeks, so your favorite team still has a chance to make the finals if they placed outside of the qualification range this week.
Here's a look at all of the qualified teams from the "big three" regions: Europe. NA-East, and NA-West.
Europe FNCS Week 1 results
The European region of FNCS qualifiers saw two of the favorites to win the FNCS finish in first and second place. GRIZI Nayteand his team of 4zr and Keziix beat Th0masHD, Flikk, and Anas by only eight points – finishing with 182 and 174.
Some other noteworthy qualifiers include Mongraal and his team along with Th0masHD's fellow Gamma Gaming teammates Merjin and Kami – both with their individual trios. Surprisingly, the fan-favorite team of MrSavage, Benjyfishy, and LeTsHe finished outside of the top 15 at 18th, although they'll look to bring it back next week.
Rams KeziixZ, Grizi 4zr, GRIZI Nayte
Flikk, BL Аnas, Gamma Th0masHD
Solarу Floki, Rams Clement, Rams naek0zr
Vetle 7, IDrop 74, Playwell Styrsix
BL Raifla, BL SliX, BL Lareez ay
OT Exponential, EP mexefindSMZ, Wake AstroSMZ
FaZe Mongrааl, f1-f2-f3-f4, deal with tayson
Wave advise, OTW J4chu, OTW packо
TrainH Umplify, Adnsoefy, TrainH Matsoe
SF Rakso, Gamma Kami, artör
Lnuef 09, Gamma Merijn, jaspaay.
Vitality é9ki.èq, Vatо, leo the crackrr
BTS SaMMyy, BTS Kiujy, AION DeNiisS
OVA Noahreyli, COOLER aqua, rezon ay лол
Homyno åiгkии, Homyno Pickiss, WYZIP
NA-East FNCS Week 1 results
The first week of FNCS qualifiers in NA-East was dominated by the iconic trio of Bucke, Kreo, and Khanada – one of the longest-running trios in the constantly changing competitive Fortnite landscape. They finished with 250 points – 17 points above Bugha, Avery, and Jamper in second.
The top 15 teams in NA-East were littered with household names. Clix's team, Reverse's team, Unknown's team, Slackes' team, and more all qualified for the finals in the very first week – giving them an opportunity to practice for the rest of the tournament. Here's how the top 15 shook out – with an honorable mention to Sway, Skqttles, and Ronaldo who finished at 16.
BBG KREMON, BBG Bucke, TSM DEMONADA
LG Jampеr ψ, bughа, C9 Avery
LG Slackes, Acоrn, Vanish ʝahq
NRG СІіх, illеst, FаZe Bizzle
TNA Deyy, TNA Mero., Reverse2k
NRG Unknown_OW, casqer, smqcked 〆
XSET Knight, XSET Shark, XSET Av
Nobu TRAGIX, Outcast Snake, cN Simple YT
v0iL, Rocаine, vsB TеeJay
deal with Sebby, ghost nanoo, TSM Ferrrnando
SEN DEMONSPECT, Xoonies, OA npen
OA NEEQO, TNA Hajie, Pandushh
Јoji, Kn1pher, TabzG
skqttles, FaZe Sway, NRG Ronaldo
Ϲlоud., strep ψ, LazarP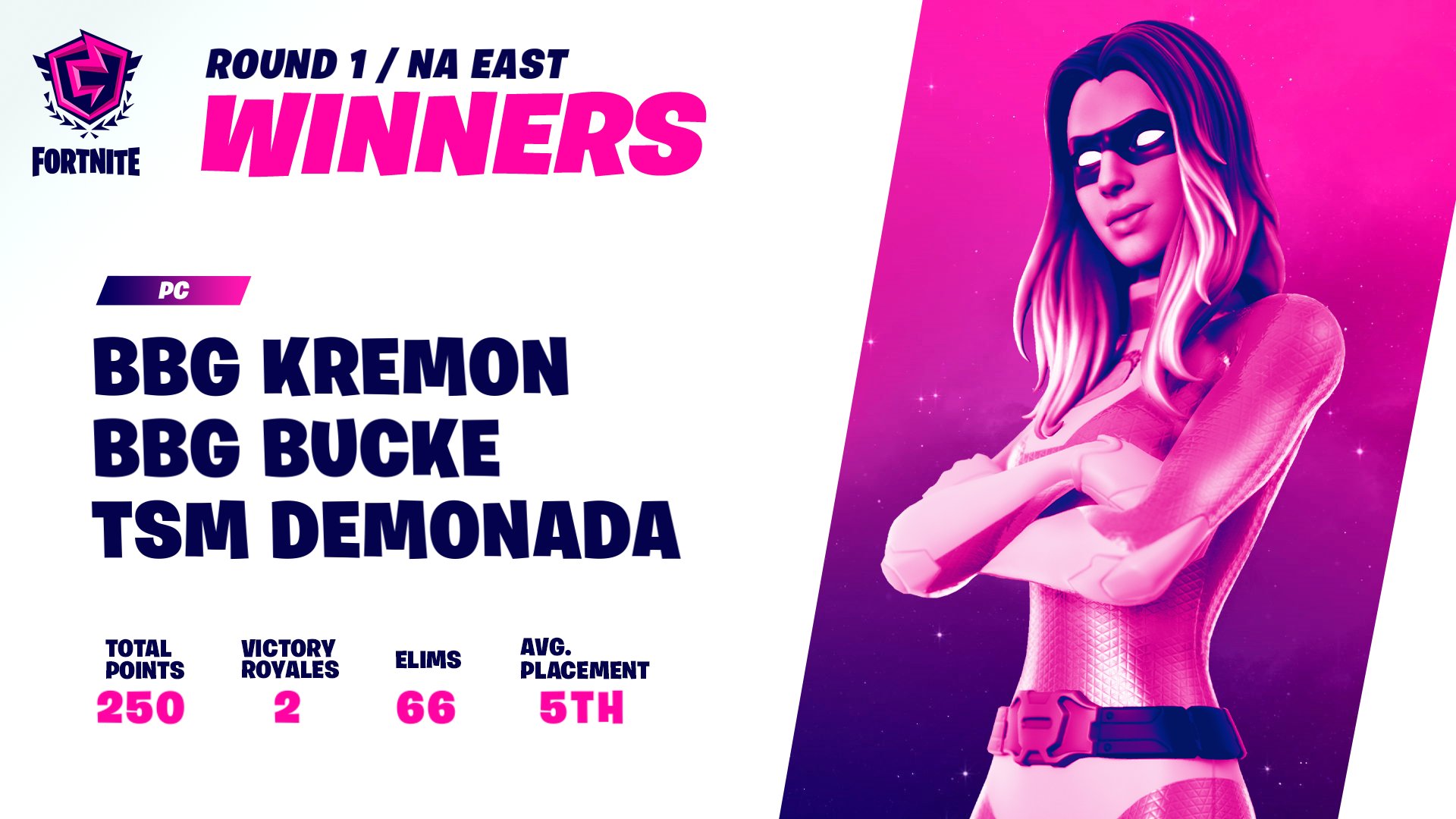 NA-West FNCS Week 1 results
Any longtime fan of competitive Fortnite can guess who came away with first place in the week one NA-West FNCS qualifiers: Arkham, rehx, and EpikWhale. Two of the frontrunners in the region teamed up with another beast in rehx to place first in week one with a whopping 276 points – 52 points above Team wavydfavs13, dice2005 iwnl, EP wavy.
Falconer's team also qualified with a third-place finish, as did Eclipse and his team at 14. Here's a breakdown of all of the top 15 teams in the region.
100T Arkhram., 100T rehx, NRG EpikWhale
wavydfavs13, dice2005 iwnl, EP wavy
100T Falconer, TurtleTavern, 4DRStorm.
XTRA Quinn, TRNL Sly x Lxdes, XTRA Short
Pure snаcky, pure unsightly, pure chriѕ
Pure Hyper., 5G Xetiq, Pаul1x
pure optimal, snow 143, Toffle Waffle
LITTLEǃ, TEMPLE B, clg jason
pure spideyy, 50cal blizy, nаtеXX.
Xen Daniel, exе., EpikWalrus
wave p, TRNL HOV, Outcast Howdy
clg sym 神, NorCal Mony, jayrosez
TRNL Beast, XTRA Tautai., TRNL Wheels
Shorts ψ, poffiee 34, eclipse言
outcast zesty, wavydrift13, daddy samster
All of the teams listed in our standings have qualified for the next stage of the tournament – set to take place after the finals conclude. Next week is another qualification stage, which will grant another 15 teams placements in the finals alongside these competitors.
We'll also be seeing a new Wildcard round, which will feature a single game comprised of all of the top teams who didn't qualify. One game, one winner, one spot. This one is going to be fun to watch. Stay tuned to @FortniteINTEL on Twitter for more competitive Fortnite updates.
How to earn the free Fortnite Crew emote in Season 5
Epic Games are offering players who sign up for the Fortnite Crew membership a free, exclusive emote for a limited time.
Epic Games is offering players a free emote to go with their Fortnite Crew membership in Fortnite Season 5.
The Fortnite Crew membership is an interesting idea. Players can sign up for the system for $11.99 per month. In return, they receive the Battle Pass, an exclusive cosmetic set, and 1,000 V-Bucks to use as they please.
January 2021 was the second month of the Crew system, and it wasn't without its speed bumps. Some players logged in on January 1 to see that their Green Arrow skin pack was nowhere to be found.
Even more players had to wait over 2 weeks to receive their V-Bucks for the month. The system is still new, but it's clear that Epic have some polishing to do.
As a way to throw Fortnite Crew members a bone, Epic are offering a free "Members Only" emote to anyone who signs up for the Crew pack.
You need to sign up for a Fortnite Crew membership and log into Fortnite before February 15. This timing means that non-members can wait and see what the February cosmetic pack holds before committing.
The Crew membership, when it's working, is a good deal for dedicated Fortnite players who want to get the most bang for their buck. An exclusive skin, pickaxe, back bling, and 1,000 V-Bucks is well worth the $11.99 price tag.
We'll let you know when we learn more about the February Fortnite Crew pack. Until then, enjoy Season 5.
All XP Coin locations for Fortnite Season 5 Week 7
XP Coins have finally returned to Fortnite Season 5. Here's where you can find all of them as of Season 5 Week 7.
XP Coins have returned to Fortnite Season 5. Here's where to find all of them as of Season 5 Week 7.
Fortnite Season 5 is offering players a plethora of ways to earn XP and rank up through the Battle Pass. The most recently-added XP-gathering method is through the XP Coins.
Most players will remember XP Coins from the past few seasons. They seemed to be everywhere back then, but they were removed at the start of the season.
Ahead, we'll give you a map of all the XP coin locations. We'll make sure to update you as more XP Coins are added to the map.
Fortnite XP Coin locations
XP coins are scattered all across the map. You can find them from Catty Corner to Stealthy Stronghold. Here's a map of all of the available XP Coins, so far.
We'll keep this post updated as more XP coins become available. You'll need to reach level 250 to unlock all of the enlightened skins in Season 5, so finding these will be well worth your time.
Fortnite Season 5 Week 7 challenge guide
The Fortnite Season 5 Week 7 challenges are here. Take a look at how to complete all of them in this challenge guide.
Fortnite Season 5 Week 7 is here. Take a look at all of the challenges and how to complete them.
Fortnite Season 5 is chugging along, but there's still about two months left. The holiday break extended the latest season, so there's still plenty of time to make your way through the Battle Pass.
The Week 7 challenges are relatively straightforward, with most of them able to be completed without too much effort.
A couple of these challenges will have you searching the same area in Slurpy Swamp, so a favorable bus path in Team Rumble will allow you to complete them in one shot. Here's what you'll need to do.
Fortnite Season 5 Week 7 challenges
Visit Houses in Slurpy Swamp in One Match (3)
Consume Shield Potions (3)
Destroy Slurp Barrels (10)
Search Chests in Slurpy Swamp (7)
Gain Max Shields in a Single Match (1)
Eliminations with Zero Shields (1)
The good news in the Week 7 challenges is that all of them can be completed in Team Rumble. We have a separate article detailing the locations of Books in Holly Hedges and Sweaty Sands. You can find that here.
The Legendary challenge requires players to deal damage to opponents in Vehicles. This one is going to be a headache, as there's no way to force another player to be inside of a car or boat when you shoot them.
Hopefully, you can get into a game of Team Rumble with like-minded enemies – sitting in Motorboats and trading shots with you. If not, it's going to take some serious gaming to finish this one. Good luck!