Fortnite Season 4 FNCS Week 1 final results
Week 1 of the Season 4 FNCS has concluded. Take a look at all of the teams who qualified in EU, NA-East, and NA-West.
Week one of the Fortnite Season 4 FNCS qualifiers is in the books, as 15 teams from each region move onto the next stage. This is only the first of three qualification weeks, so your favorite team still has a chance to make the finals if they placed outside of the qualification range this week.
Here's a look at all of the qualified teams from the "big three" regions: Europe. NA-East, and NA-West.
Europe FNCS Week 1 results
The European region of FNCS qualifiers saw two of the favorites to win the FNCS finish in first and second place. GRIZI Nayteand his team of 4zr and Keziix beat Th0masHD, Flikk, and Anas by only eight points – finishing with 182 and 174.
Some other noteworthy qualifiers include Mongraal and his team along with Th0masHD's fellow Gamma Gaming teammates Merjin and Kami – both with their individual trios. Surprisingly, the fan-favorite team of MrSavage, Benjyfishy, and LeTsHe finished outside of the top 15 at 18th, although they'll look to bring it back next week.
Rams KeziixZ, Grizi 4zr, GRIZI Nayte
Flikk, BL Аnas, Gamma Th0masHD
Solarу Floki, Rams Clement, Rams naek0zr
Vetle 7, IDrop 74, Playwell Styrsix
BL Raifla, BL SliX, BL Lareez ay
OT Exponential, EP mexefindSMZ, Wake AstroSMZ
FaZe Mongrааl, f1-f2-f3-f4, deal with tayson
Wave advise, OTW J4chu, OTW packо
TrainH Umplify, Adnsoefy, TrainH Matsoe
SF Rakso, Gamma Kami, artör
Lnuef 09, Gamma Merijn, jaspaay.
Vitality é9ki.èq, Vatо, leo the crackrr
BTS SaMMyy, BTS Kiujy, AION DeNiisS
OVA Noahreyli, COOLER aqua, rezon ay лол
Homyno åiгkии, Homyno Pickiss, WYZIP
NA-East FNCS Week 1 results
The first week of FNCS qualifiers in NA-East was dominated by the iconic trio of Bucke, Kreo, and Khanada – one of the longest-running trios in the constantly changing competitive Fortnite landscape. They finished with 250 points – 17 points above Bugha, Avery, and Jamper in second.
The top 15 teams in NA-East were littered with household names. Clix's team, Reverse's team, Unknown's team, Slackes' team, and more all qualified for the finals in the very first week – giving them an opportunity to practice for the rest of the tournament. Here's how the top 15 shook out – with an honorable mention to Sway, Skqttles, and Ronaldo who finished at 16.
BBG KREMON, BBG Bucke, TSM DEMONADA
LG Jampеr ψ, bughа, C9 Avery
LG Slackes, Acоrn, Vanish ʝahq
NRG СІіх, illеst, FаZe Bizzle
TNA Deyy, TNA Mero., Reverse2k
NRG Unknown_OW, casqer, smqcked 〆
XSET Knight, XSET Shark, XSET Av
Nobu TRAGIX, Outcast Snake, cN Simple YT
v0iL, Rocаine, vsB TеeJay
deal with Sebby, ghost nanoo, TSM Ferrrnando
SEN DEMONSPECT, Xoonies, OA npen
OA NEEQO, TNA Hajie, Pandushh
Јoji, Kn1pher, TabzG
skqttles, FaZe Sway, NRG Ronaldo
Ϲlоud., strep ψ, LazarP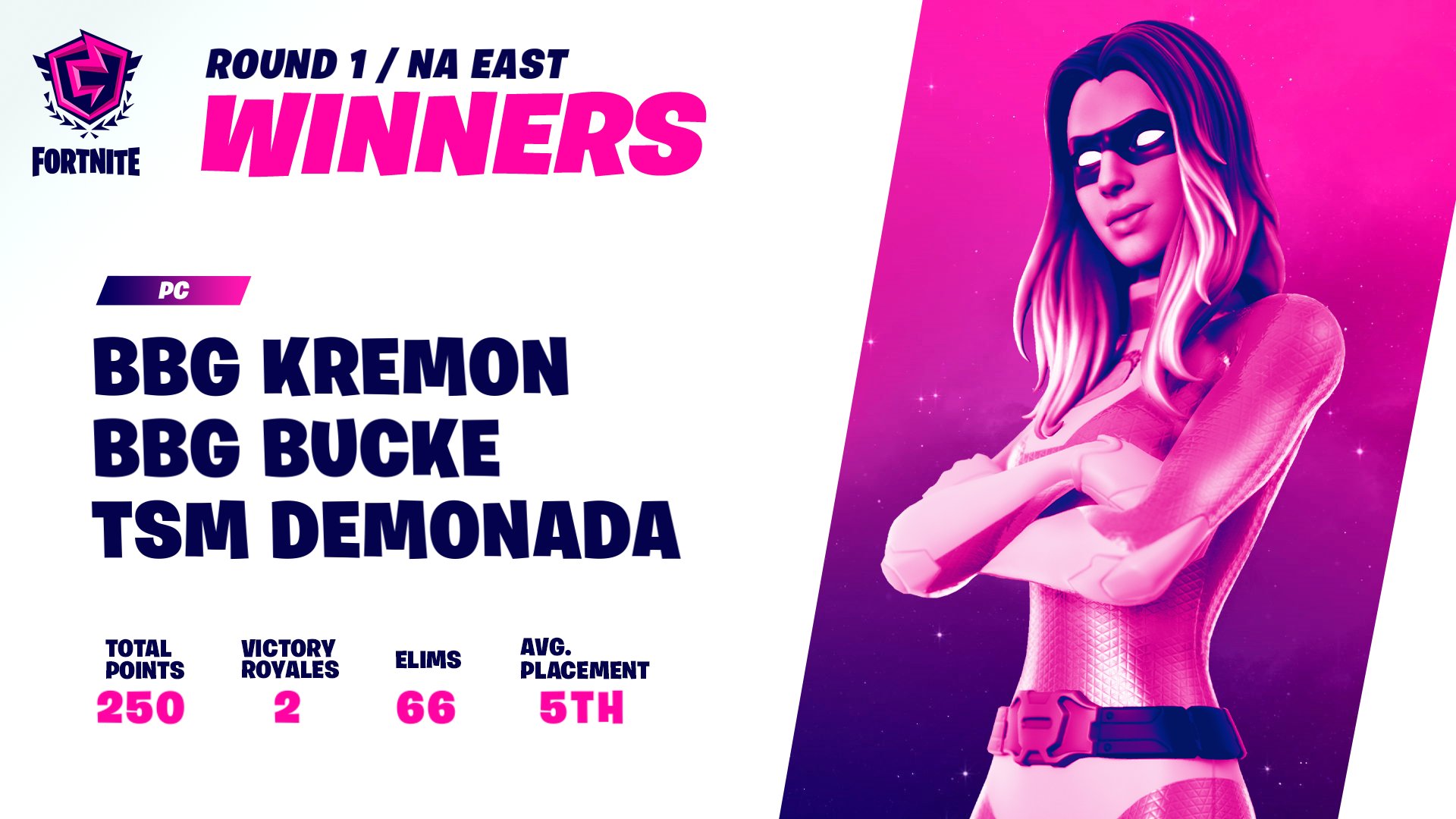 NA-West FNCS Week 1 results
Any longtime fan of competitive Fortnite can guess who came away with first place in the week one NA-West FNCS qualifiers: Arkham, rehx, and EpikWhale. Two of the frontrunners in the region teamed up with another beast in rehx to place first in week one with a whopping 276 points – 52 points above Team wavydfavs13, dice2005 iwnl, EP wavy.
Falconer's team also qualified with a third-place finish, as did Eclipse and his team at 14. Here's a breakdown of all of the top 15 teams in the region.
100T Arkhram., 100T rehx, NRG EpikWhale
wavydfavs13, dice2005 iwnl, EP wavy
100T Falconer, TurtleTavern, 4DRStorm.
XTRA Quinn, TRNL Sly x Lxdes, XTRA Short
Pure snаcky, pure unsightly, pure chriѕ
Pure Hyper., 5G Xetiq, Pаul1x
pure optimal, snow 143, Toffle Waffle
LITTLEǃ, TEMPLE B, clg jason
pure spideyy, 50cal blizy, nаtеXX.
Xen Daniel, exе., EpikWalrus
wave p, TRNL HOV, Outcast Howdy
clg sym 神, NorCal Mony, jayrosez
TRNL Beast, XTRA Tautai., TRNL Wheels
Shorts ψ, poffiee 34, eclipse言
outcast zesty, wavydrift13, daddy samster
All of the teams listed in our standings have qualified for the next stage of the tournament – set to take place after the finals conclude. Next week is another qualification stage, which will grant another 15 teams placements in the finals alongside these competitors.
We'll also be seeing a new Wildcard round, which will feature a single game comprised of all of the top teams who didn't qualify. One game, one winner, one spot. This one is going to be fun to watch. Stay tuned to @FortniteINTEL on Twitter for more competitive Fortnite updates.
5 updated Fortnite Zone Wars codes you have to try
Want to try out some of the newest Fortnite Zone wars maps? Take a look at these five options here.
Want to try out some of the Fortnite Chapter 2 Zone Wars maps? Take a look at these five options here.
Zone Wars is one of the most popular Creative Mode map genres in Fortnite – so much so that Epic included a Zone Wars playlist during Chapter 2.
We probably won't see another official Zone Wars lineup while Chapter 2 is still fresh, but here are five updated map codes for some of the best Fortnite Chapter 2 Zone Wars maps for your Playground Fill matches.
Make sure to get to the Hub as fast as you can so you can avoid the Red vs. Blue battle.
Realistic Solos (XA)(Pack 1): 1234-0621-9943
Realistic Solos (XA)(Pack 1) by Prettyboy may not have "zone wars" in the name, but it is an authentic competitive experience that can get intense quickly. Two to 16 players spawn in random locations across various well-crafted maps. With randomized loadouts, players race to be the last one standing.
Nuketown 2025 Zone Wars: 1149-4422-7888
Nuketown 2025 zone wars by Clapzfn is more of a novelty than anything. It's very cool to revisit this highly detailed recreation of a Call of Duty classic. Some of the buildings have invisible barriers at the top, and the storm always pushes to the center of the map. Regardless, it's a ton of fun to be the last player standing in Nuke Town.
Desert Zone Wars Chapter 2: 1811-9621-1739
Those who have been playing zone wars maps for a long time are probably familiar with Jotapegame's desert zone wars maps. However, this is the latest installment in the series that incorporates the changes made in Chapter 2. Enjoy the classic desert-themed zone wars with modern weapons and items.
Area 51 Alien Zone Wars: 9843-7754-8806
Area 51 Zone Wars by Dropnite is one of the most aesthetically pleasing zone wars maps available. From the way it spawns players in to all of the decorative pieces, it really makes you feel like you're in Area 51. It also offers a fantastic competitive experience that's sure to get players ready for the final moments of FNCS tournaments.
50 Player Zonewars: 6167-1882-6710
50 Player Zonewars is one of the most intense creative maps once the lobby is full. The loot pool changes regularly to match Arena Mode, and there are plenty of different maps. For the higher skill tourneys that have 50 or more people in the endgame, this mode is perfect for realistic practice.
Leave us some codes in the comments if we missed your favorite Fortnite Chapter 2 Zone Wars maps!
All Fortnite Season 6 Exotic Weapon locations
Fortnite Season 6 is here, and only a few Exotic weapons made it. Here are all Exotic weapon locations for the new Fortnite season.
Fortnite Season 6 marked the return of Exotic weapons to Fortnite. Not all of the Season 6 weapons are there, however, and they've moved locations.
There's no shortage of new mechanics in Fortnite Season c, with the addition of crafting, the map changes, and a whole lot more.
Mythics have returned to the game in Season 6 but in a limited capacity. The only classic Mythic items in Fortnite Season 5 include the Spire Jumpboots and the Spire Assassin's Primal Shotgun.
What's more, Epic added craftable items to the game that allow players to create unique weapons out of existing parts. For instance, a Mechanical Bow and two Shockwave Grenades make the Shockwave Bow – a massive upgrade from both weapons.
Fortnite Season 6 Exotic weapon locations
Exotic weapons have returned to Fortnite Season 6, but not as many as we had in Season 5. These will be supplementary items rather than the focus of the season, which appears to be on the new crafting mechanic.
Many of the NPCs who sold these items in Season 5 have also either moved locations or don't sell them anymore, so a new guide is needed. Here's a map of all of the Season 6 Exotic weapon locations.
As you can see, there are seven Exotic weapons and items currently available in Fortnite Season 6. These are the:
Hop Rock Dualies: sold by Gutbomb in Logjam Woodworks
Chug Cannon: sold by Slurp Jonesy in Slurpy Swamp
Shadow Tracker Pistol: sold by Power Chord in Dance Club Cabin
Marksman Six Shooter: sold by Deadfire northwest of Lazy Lake
Unstable Bow: sold by Rebirth Raven northwest of Sweaty Sands
Raz's Mythic Explosive Bow: dropped after eliminating Raz at The Spire
The good news is that, unlike last season, all of the NPCs that sell Exotics only spawn in one location – at least, so far.
We'll keep this post updated as Epic add more Exotics to Fortnite Season 6. We expect to see them takes things further as the season goes on, so stay tuned to more news on Exotic weapons.
Image Credit: Epic Games, Fortnite.GG
May 2021 Fortnite Crew pack includes Save The World and Spotify Premium
The May 2021 Fortnite Crew pack includes the exclusive Deimos skin set, the original Save The World mode, and three months of Spotify Premium.
Fortnite revealed the upcoming May 2021 Crew Pack which comes with a membership exclusive skin, the game's original Save The World mode, and Spotify Premium.
Epic Games introduced the Fortnite Crew Subscription service during Chapter 2 Season 5. For $11.99 USD a month players would receive an exclusive skin set, 1,000 V-Bucks, and instant access to the current season's Battle Pass.
As Fortnite has continued the service, it has also sweetened the deal by including memberships to other subscription services like Disney+. For the month of May, subscribers are being offered more for their money than ever before.
The May Fortnite Crew Pack will offer the Deimos skin set which comes with a pickaxe, back bling, and weapon wrap. This also includes Deimos' green skin variants and a loading screen background. Fortnite's Deimos is a modernized depiction of the Greek god of dread.
Deimos will also be introduced as a playable character in Fortnite's original Save The World game mode. Fortnite launched in 2017 with only the Save The World mode but was popularized when the Battle Royale mode launched a few months later. May Fortnite Crew members will also gain permanent access to Save The World.
Subscribers are also being offered three months of Spotify Premium for free. However, this offer is only available to new Spotify Premium customers. Existing or previous customers will have to create a new account if they want to redeem this offer. The offer expires on June 30, 2021 at 8 p.m. EST.
The May Crew membership comes with the normal monthly benefits such as access to the Battle Pass and 1,000 V-Bucks. Epic Games stated that every Thursday during the month of May, Fortnite Crew members would receive special in-game bonuses.
While the weekly benefits remain a mystery, it will be interesting to see what Fortnite has in store for players. The May Fortnite Crew pack is offering the best deal yet and weekly challenges/rewards will only add more value. We'll keep you posted about the weekly Crew bonuses whenever they're announced.
Image Credits: Epic Games