Fortnite Season 4 FNCS Week 1 final results
Week 1 of the Season 4 FNCS has concluded. Take a look at all of the teams who qualified in EU, NA-East, and NA-West.
Week one of the Fortnite Season 4 FNCS qualifiers is in the books, as 15 teams from each region move onto the next stage. This is only the first of three qualification weeks, so your favorite team still has a chance to make the finals if they placed outside of the qualification range this week.
Here's a look at all of the qualified teams from the "big three" regions: Europe. NA-East, and NA-West.
Europe FNCS Week 1 results
The European region of FNCS qualifiers saw two of the favorites to win the FNCS finish in first and second place. GRIZI Nayteand his team of 4zr and Keziix beat Th0masHD, Flikk, and Anas by only eight points – finishing with 182 and 174.
Some other noteworthy qualifiers include Mongraal and his team along with Th0masHD's fellow Gamma Gaming teammates Merjin and Kami – both with their individual trios. Surprisingly, the fan-favorite team of MrSavage, Benjyfishy, and LeTsHe finished outside of the top 15 at 18th, although they'll look to bring it back next week.
Rams KeziixZ, Grizi 4zr, GRIZI Nayte
Flikk, BL Аnas, Gamma Th0masHD
Solarу Floki, Rams Clement, Rams naek0zr
Vetle 7, IDrop 74, Playwell Styrsix
BL Raifla, BL SliX, BL Lareez ay
OT Exponential, EP mexefindSMZ, Wake AstroSMZ
FaZe Mongrааl, f1-f2-f3-f4, deal with tayson
Wave advise, OTW J4chu, OTW packо
TrainH Umplify, Adnsoefy, TrainH Matsoe
SF Rakso, Gamma Kami, artör
Lnuef 09, Gamma Merijn, jaspaay.
Vitality é9ki.èq, Vatо, leo the crackrr
BTS SaMMyy, BTS Kiujy, AION DeNiisS
OVA Noahreyli, COOLER aqua, rezon ay лол
Homyno åiгkии, Homyno Pickiss, WYZIP
NA-East FNCS Week 1 results
The first week of FNCS qualifiers in NA-East was dominated by the iconic trio of Bucke, Kreo, and Khanada – one of the longest-running trios in the constantly changing competitive Fortnite landscape. They finished with 250 points – 17 points above Bugha, Avery, and Jamper in second.
The top 15 teams in NA-East were littered with household names. Clix's team, Reverse's team, Unknown's team, Slackes' team, and more all qualified for the finals in the very first week – giving them an opportunity to practice for the rest of the tournament. Here's how the top 15 shook out – with an honorable mention to Sway, Skqttles, and Ronaldo who finished at 16.
BBG KREMON, BBG Bucke, TSM DEMONADA
LG Jampеr ψ, bughа, C9 Avery
LG Slackes, Acоrn, Vanish ʝahq
NRG СІіх, illеst, FаZe Bizzle
TNA Deyy, TNA Mero., Reverse2k
NRG Unknown_OW, casqer, smqcked 〆
XSET Knight, XSET Shark, XSET Av
Nobu TRAGIX, Outcast Snake, cN Simple YT
v0iL, Rocаine, vsB TеeJay
deal with Sebby, ghost nanoo, TSM Ferrrnando
SEN DEMONSPECT, Xoonies, OA npen
OA NEEQO, TNA Hajie, Pandushh
Јoji, Kn1pher, TabzG
skqttles, FaZe Sway, NRG Ronaldo
Ϲlоud., strep ψ, LazarP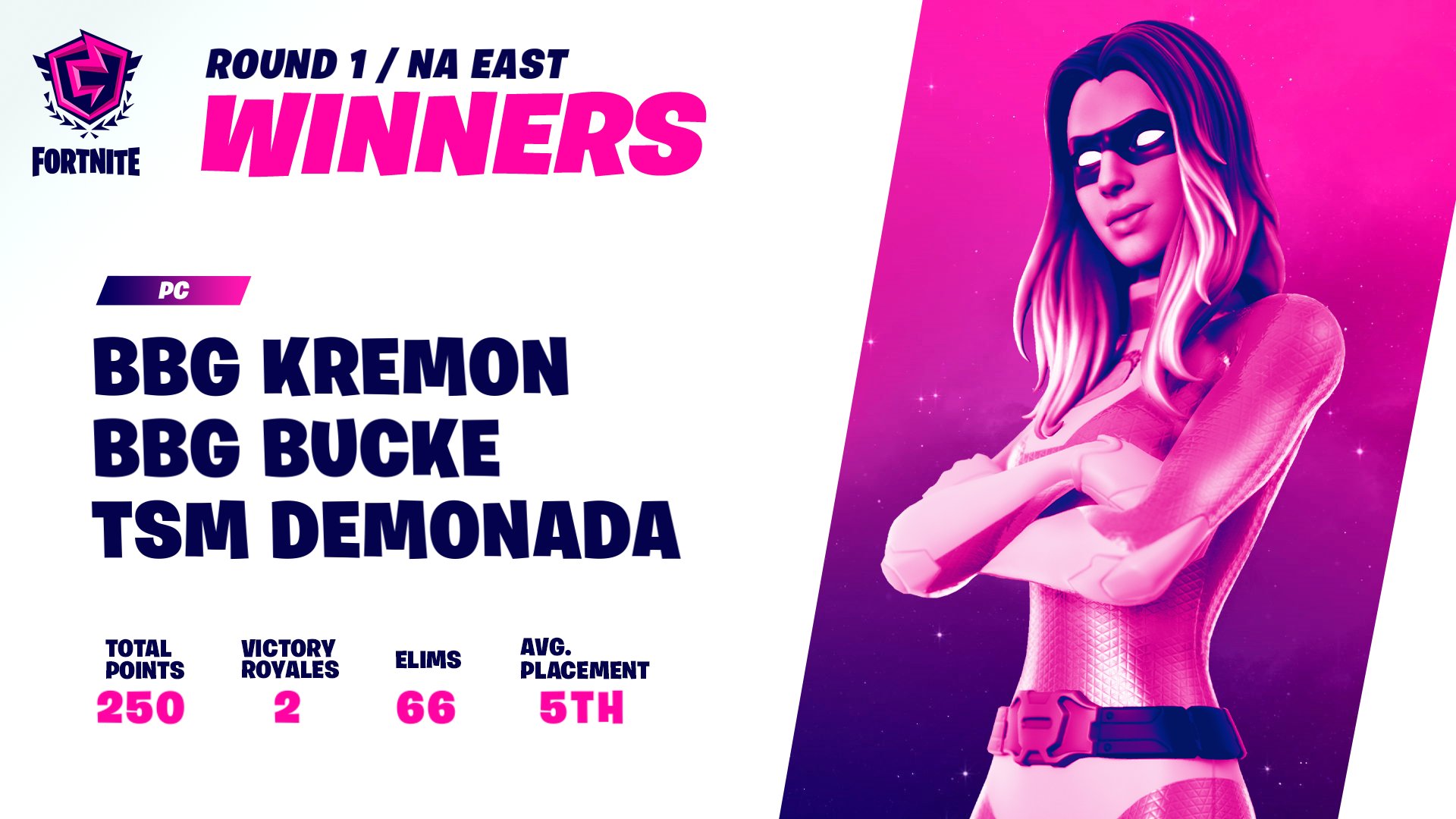 NA-West FNCS Week 1 results
Any longtime fan of competitive Fortnite can guess who came away with first place in the week one NA-West FNCS qualifiers: Arkham, rehx, and EpikWhale. Two of the frontrunners in the region teamed up with another beast in rehx to place first in week one with a whopping 276 points – 52 points above Team wavydfavs13, dice2005 iwnl, EP wavy.
Falconer's team also qualified with a third-place finish, as did Eclipse and his team at 14. Here's a breakdown of all of the top 15 teams in the region.
100T Arkhram., 100T rehx, NRG EpikWhale
wavydfavs13, dice2005 iwnl, EP wavy
100T Falconer, TurtleTavern, 4DRStorm.
XTRA Quinn, TRNL Sly x Lxdes, XTRA Short
Pure snаcky, pure unsightly, pure chriѕ
Pure Hyper., 5G Xetiq, Pаul1x
pure optimal, snow 143, Toffle Waffle
LITTLEǃ, TEMPLE B, clg jason
pure spideyy, 50cal blizy, nаtеXX.
Xen Daniel, exе., EpikWalrus
wave p, TRNL HOV, Outcast Howdy
clg sym 神, NorCal Mony, jayrosez
TRNL Beast, XTRA Tautai., TRNL Wheels
Shorts ψ, poffiee 34, eclipse言
outcast zesty, wavydrift13, daddy samster
All of the teams listed in our standings have qualified for the next stage of the tournament – set to take place after the finals conclude. Next week is another qualification stage, which will grant another 15 teams placements in the finals alongside these competitors.
We'll also be seeing a new Wildcard round, which will feature a single game comprised of all of the top teams who didn't qualify. One game, one winner, one spot. This one is going to be fun to watch. Stay tuned to @FortniteINTEL on Twitter for more competitive Fortnite updates.
The 5 most hated skins in Fortnite
The Fortnite community is no fan of these skins.
Fortnite skins have taken on a life of their own since the game came out. Back in the early days, we couldn't imagine spending money on a free game. Now, hundreds of dollars later, we're still padding our lockers as collectors of in-game cosmetics.
Some skins tell a lot about the player wearing them. A Peely? They're just trying to goof around and have some fun. A Dynamo? Sweat is probably pouring onto their keyboard at all times.
Today, we're taking a look at the most hated skins in Fortnite – the skins that elicit an immediate reaction from opponents. You better be ready for some backlash if you post a clip while wearing one of these skins.
5. Female Soccer Skins
Female Soccer Skins have been hated ever since they first came out. This might have been the first "sweaty" skin to come to Fortnite, and it remains in the category to this day. However, it's been made available in the Item Shop quite frequently so everyone from sweats to casuals owns it.
"Soccer skin" means more than just the skin that someone is wearing, at this point. It's a term that longtime Fortnite players will likely remember for the rest of their gaming careers. However, because of its frequent item shop appearances, it's last on the list.
4. Custom Superhero Skins
These skins have cause quite a stir with players and have disrupted the competitive scene on more than one occasion. The actual name of these skins is Boundless, and they are among the most customizable skins in the game. Many players bought them for their versatility at first, but they were quickly abused by competitive players.
Players could set their skins to have an all-black or all-white color scheme which would make them harder to see. These color combos were banned from the game, but players still found a way to make their skins harder to see. This lead to these sweaty skins being banned outright in all competitive play.
3. Anime Skins
This category of skins is pretty new since "anime" skins were introduced in Chapter 2 Season 5. A bundle of anime skins was also released during Season 6 which contains some of the sweatiest and most hated Fortnite Skins.
Chigusa, Megumi, and Yuki are part of the Cyber Infiltration bundle, and Lexa was given to players who reached a certain level of the Season 5 Battle Pass. For some reason, players hate these cell-shaded skins and would rather face off against Soccer Skins.
2. Surf Witch
When we asked Twitter which skins they hated the most, a large number of responses included Surf Witch. It seems this skin is hated because it's used by "sweats" and also because of its lackluster design.
Surf Witch's design isn't much different from many of the other female skins. In fact, she has a very similar design to Haze, a preexisting skin. Many players think that Surf Witch is a cheap rip off of Haze, and their hate is derived from their similarities.
1. Dynamo
Dynamo is – by far – the most hated skin in Fortnite, at the moment. If you post a clip while wearing the Dynamo skin, you're guaranteed to see the bulk of your replies consist of something along the lines of, "Dynamo, ew."
We're not exactly sure why Dynamo has its status as the most hated skin in Fortnite. Perhaps, it's because Dynamo a very sweaty skin that isn't difficult to get. Unlike Crystal and Aura, a lot of players think Dynamo is, simply, a bad skin on top of the fact that it's incredibly sweaty.
Whatever the reason, wearing a Dynamo skin puts a target on your back. If you hit the island wearing Dynamo, then you better be as good as the skin suggests you are.
Does this list mean that you shouldn't be wearing these skins in Fortnite? Absolutely not. In fact, a lot of players like playing the role of an antagonist in all sorts of games. It can be fun. Wear whatever you want – these are just some of the skins that are in the community's crosshairs at the moment. We're sure that it will change in the future. Wear what you want and have fun!
How to get Fortnite Inflate-A-Bulls and how to use them
Epic Games have added another disguise to Fortnite Season 8 following the v17.10 update, and they're called Inflate-A-Bulls.
If you ever wanted to tip-toe around the Fortnite world hidden in a cow costume, well, now is your chance!
On July 13, 2021, Epic posted a new update on their official live blog, confirming the Inflate-A-Bull has been added to the game.
Now, you're going to need to know how to use it, and where to find them – because they look like a lot of fun.
How to use Fortnite Inflate-A-Bull
Fortnite Inflate-A-Bulls can be attached to your back and can be – shock horror – inflated to bounce or roll away from dangerous scenarios.
Essentially, they may save your life during close gunfights.
Quick tips!
Even if a player shoots your way and pops the inflatable, you will be protected from the damage.
Epic have also released a quick tip for players to follow as well, to get the most out of this strange disguise. They posted: "Tip: Rolling downhill with an Inflate-A-Bull is a LOT faster than just running downhill".
Where to find Fortnite Inflate-A-Bull
These pesky disguises can be found in two ways: IO Chests and normal Chests.
However, there is one NPC on the Fortnite island selling these as well – Rick Sanchez. For those who don't know, Sanchez can be found at the IO Base east of Weeping Woods (seen above).
Fortnite LeBron James skin: Release date, price, trailer & more
A LeBron James Fortnite skin is reportedly being added to the game during the next update, and he will come with exclusive quests.
NBA superstar LeBron James has officially joined Fortnite's ICON Series skin set, with two outfits coming to the Fortnite Item Shop.
During the first day of the Epic Games vs. Apple trial, multiple planned or scrapped Fortnite crossovers had been leaked. The crossover information came from a Quarterly Business Review document for Epic Games. Among these leaks were planned crossovers with Naruto, Metroid, Dwayne "The Rock" Johnson, and more.
A crossover with LeBron James was also found in the court documents. The still image of LeBron James included the Icon Series logo. Players assumed a LeBron James Fortnite skin would be released during the Fortnite x NBA The Crossover event, but a set of customizable skins was released instead.
Epic Games put rumors to bed with an announcement on their official blog page on July 12, confirming the date NBA's MVP would be arriving in the world-famous Battle Royale.
He joins a list of celebrities to now have their own character in-game, including Marshmello, Ninja, Loserfruit, and more.
When is Fortnite's LeBron James skin coming out?
On July 14, 2021, LeBron James will be given his very own Fortnite Battle Royale skin, as part of the ICON Series.
How much is Fortnite's LeBron James skin?
Fortnite ICON Series skins usually cost around 1,500 V-Bucks individually, with a price point of between 2,500 or 3,000 V-Bucks for the full bundle.
What does the King James Gear Bundle include?
The Lion Pickaxe
Wingspan Glider
Quiet the competition with LeBron's emphatic on-the-court celebration, The Silencer.
A new trailer dropped as part of the announcement, too, as seen below.
Fortnite LeBron James skin trailer
Leaks
A number of these details were revealed before Epic Games had the chance to do a full press release, too.
ShiinaBR on Twitter was the first to break the news stating: "LEBRON JAMES WILL BE THE NEXT ICON SERIES SKIN."
HYPEX quote retweeted Shiina's announcement with more information. They stated that the LeBron James Fortnite skin will come with an exclusive quest line called King's Bling.
And now LeBron James will be added to the game right before the release of Space Jam: A New Legacy.
For basketball fans, this is an exciting addition to Fortnite. Not only can players equip their own custom basketball skins, but now they can play as one of the greatest to ever play the game of basketball. Let us know down below if you are excited about the collab and if you plan to purchase the LeBron James Fortnite skin.