Fortnite Season 2 Week 9 Challenges Leaked
The challenges for Fortnite Season 2 Week 9 have been leaked.
The challenges for Fortnite Season 2 Week 9 have been leaked.
Week 9 is here and we're only one day away from unlocking Midas' room in the Battle Pass tab. Thanks to several Fortnite data miners, we already got a good look at what's inside.
Apparently, Midas is collecting gold masks and skins from past seasons of Fortnite. Has he been in the mix all along? We may never know.
The v12.40 patch also brought us the Week 9 Challenges one day early. Finishing these will be the quickest way to max-out the gold variants of each skin.
Here is all of the Chapter 2 Season 2 Week 9 Challenges courtesy of @iFireMonkey on Twitter.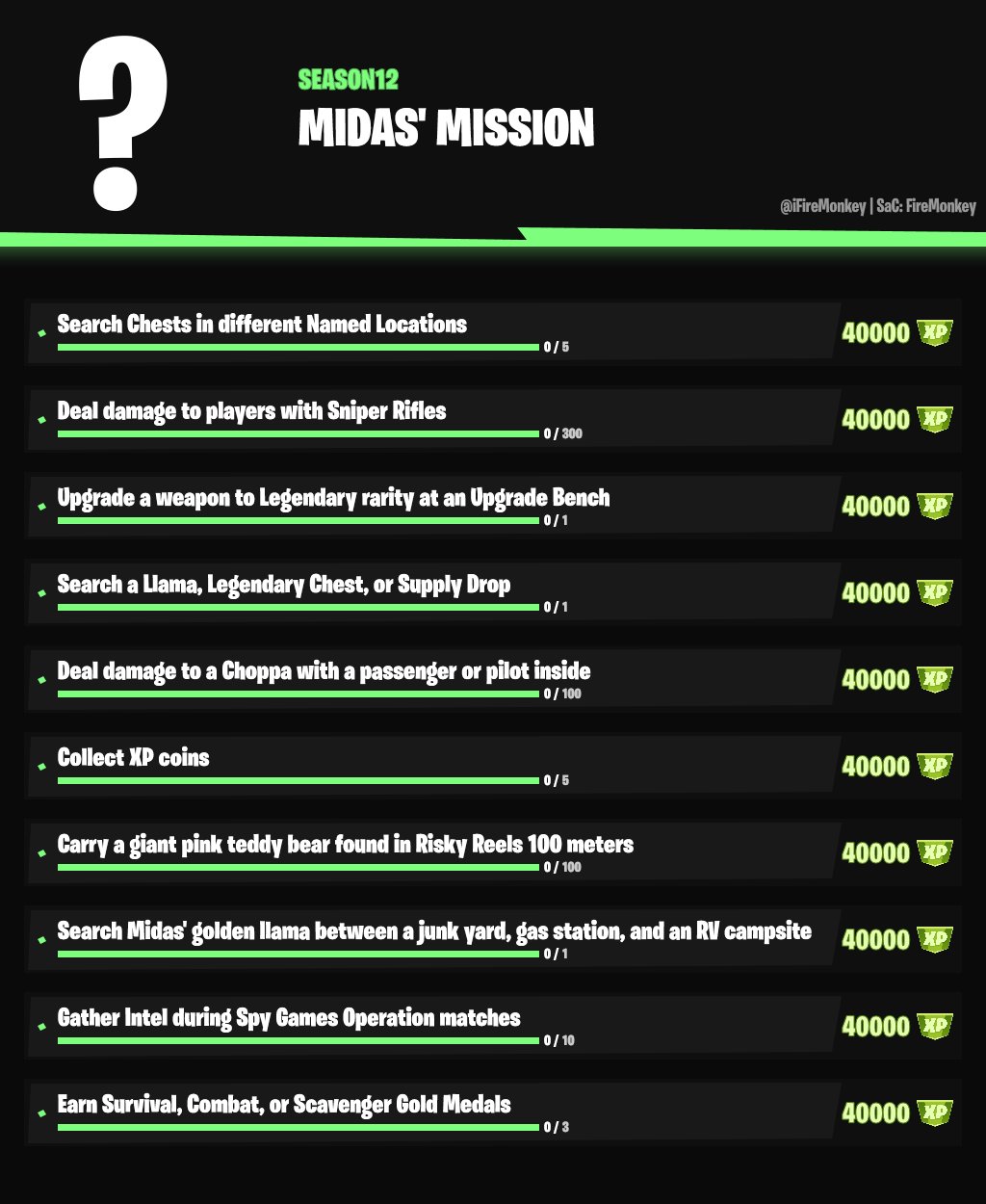 The challenges require you to:
Search Chests in different Named Locations (0/5)
Deal damage to players with Sniper Rifles (0/300)
Upgrade a weapon to Legendary rarity at an Upgrade Bench (0/1)
Search a Llama, Legendary Chest, or Supply Drop (0/1)
Deal damage to a Choppa with a passenger or pilot inside (0/100)
Collect XP coins (0/5)
Carry a giant pink teddy bear found in Risky Reels 100 meters (0/100)
Search Midas' golden llama between a junk yard, gas station, and RV campsite (0/1)
Gather Intel during Spy Games Operation matches (0/10)
Earn Survival, Combat, or Scavenger Gold Medals (0/3)
Most of these challenges are relatively easy. The only challenge that will require a guide will be the golden llama challenge. We'll make sure to have you covered with this guide along with some XP coin locations and where to find the giant pink teddy bear.
Fortnite adds new movement mechanics to Save The World with v21.20 update
Finally Epic Games have added major updates to its PvE Save The World campaign with the latest v21.20 update. Here's the latest on that.
After a long time finally, Fortnite's PvE campaign Save the World receives major updates with v21.20 and players cannot be happier. It has been almost a year since the game received an update with the latest game mechanics and things are looking good for the game mode more than ever.
Save The World campaign has been around in Fortnite ever since its initial days. Some OG players would say that the game mode itself was the actual Fortnite and still is due to its originality in the storyline and the classic graphics it boasts.
During Chapter 2 of the Battle Royale game mode, players slowly parted ways with Save The World, once it came out of Early Access and was accessible to anyone who bought a special cosmetic pack from the Item Shop. As a result, Epic also stopped updating the game mode with the latest mechanics and features and instead shifted its focus to Battle Royale.
But ever since the launch of Chapter 3, when Epic decided to add animals to the PvE campaign, players were hoping to finally get some latest Sprint, Mantle, and Crouch mechanics to the game mode soon enough. Looks like the day has finally arrived and Epic has indeed added some major updates to the game mode.
Epic adds new Movement Mechanics to Save The World in the latest update
Save The World game mode has just received a major update in the form of the latest movement mechanics as Sprinting, Sliding, Mantling, Crouching, and Shoulder Bashing Doors gets added to it. Now players can use the latest movement mechanics they have been using in Battle Royale game mode in Save The World and fight the Husk Monsters in their own unique way.
Fortnite also posted some clips on their official blog alongside the Homebase Status report v21.20 of how players can use the Ninja hero in their loadout and climb greater heights by combining the mantle feature with a double jump.
In addition to these features, Epic also added Fennix as the next hero to enter the PvE campaign and has given a dedicated questline called Flight of the Fennix to the character. Players can now jump in the game and complete quests linked to Fennix to acquire the hero in their loadout and use its ferocious powers to Save The World.
As Epic continues to improve the stability of its Battle Royale and Creative game modes, it is surely pleasing to see that finally Save The World is receiving a similar treatment with major changes being made to improve its gameplay experience. Nevertheless, the player base speculates in the coming days the PvE will also receive the popular Overshield feature as they experience in Zero Build as well as some new weapons added to their loadout.
Fortnite tournament bug grants $2000 and 1000 V-Bucks to every participant
A recently announced Fortnite tournament accidentally promised major rewards to each participant. Here's how it went down.
Fortnite hosts weekly tournaments that promise major rewards to their player base in the form of cash prizes or in-game cosmetics. A tournament that was recently announced for its European Player Base accidentally revealed rewards that were being promised to each participant.
The competitive side of Fortnite still grows stronger every day as the game introduces its player base to different modes and unique tournaments that offer some hefty rewards to winners. Players ranging from amateurs to sweats compete against each other to level up their skill and prove their mettle in the competitive community.
Newer pros emerge in every tournament who challenge these OG sweats and grab the victory royale right from their hands in neck-to-neck situations. While several veterans continue to crib about the game and what Fortnite used to be, the new generation of pros adapt to the game mechanics and evolve their skills with every tournament.
The launch of Zero Build in Fortnite Chapter 3, opened doors for the Zero Build tournaments and several such contests to appear in front of the competitive community. Amongst those, a test event which is currently listed in the compete tab for EU players, shows rewards being granted to each player bagging 1 point in the tournament.
Whiplash Test Event accidentally promises rewards to every player securing one point
Fortnite recently announced a bunch of tournaments for its player base ranging from Jewel Rush (Fives) to Money Wars (Solos), Whiplash (Duos), and Finest's Realistic 2v2 Event. Amongst those, a description of Whiplash Test Event promised rather bizarre rewards that the community was left in disbelief.
The rewards for the Test Event showed players who secure 1 point throughout the entire tournament will be rewarded with a whopping $2000 and 1000 V-Bucks in their Epic Account. Now even in the wildest of imaginations Epic would never reward the entire player base with such a hefty reward.
Upon seeing the news about this bug, the player base on Twitter went crazy and can only wish for this to be true. Moreover, they speculate that Epic will be removing these rewards and fixing the bug once v21.20 drops later tomorrow.
As tournaments continue to pile up on the compete tab, players can now gain rewards from Arena by leveling up with their Hype points. The rewards range from wraps to emoticons that can be secured by Arena players as they tier up amongst the league in their competitive journey.
Fortnite fan creates amazing in-game Spotify player concept and players want it
An amazing concept between Fortnite and music streaming service Spotify has fans go crazy. Here's more details on that.
Fortnite concept artists are always one step ahead of the ideas that the developers think of and bring popular fan requests to life with their art. Recent concept art shows a music player in the game linked to Spotify that has stirred a conversation amongst the player base.
Ever since Fortnite added new features to the game like Party Tags, the expectations of players have gone through the roof for developers to add more to the game. However, Epic does not usually make a major change to the game every month until the launch of a new season.
While certain gameplay features that were newly added, Sprint and Mantle have been quite famous among the Zero Build community, the Gyro and Flick Stick were not received well after their launch. As new players are joining the loop every day and getting themselves familiar with the game, Epic Games are trying its best to make the UI of the game simpler.
However, a recently surfaced concept art created by a Fortnite fan went quite viral as it shows an in-built music player linked to Spotify that would be a cool feature in the game if added. Here's how the community reacted to it.
Spotify Player concept in Fortnite goes viral
Famous Fortnite leaker FNBRIntel recently tweeted a concept of a built-in Spotify music player in the game menu that can play any song the user desires. This would then eliminate the need for Lobby Tracks or Music Packs Fortnite provides its player base within their lockers.
Using this option would enable players and content creators to play copyrighted audio and their favorite songs in the game while they are queueing up in the lobby or playing a match with their friends, much like Rocket League has it. However, this would in turn cause major distractions to pros and sweats who even turn off radios in Fortnite vehicles.
Another player added a concept of a free Spotify-themed wrap that can be given out to those who link their Spotify accounts to Epic. Moreover, this would also increase the number of users on the streaming platform.
While PC players can play songs on Spotify using the multitasking feature, PlayStation players also enjoy the same with a built-in player on their PS menu. This allows them to play their favorite music while playing any game on their consoles.
As this concept would be a really cool feature for Epic to add, it would end the value of Lobby Tracks the game sells in the Item Shop or provides its players via the Battle Pass or certain limited events. Another major drawback would be to streamers and content creators who cannot use copyrighted audio on their streams to keep their content fair on a specific platform.