Fortnite Season 2 Faction Wars event leaked
As many expected, we'll be seeing a faction war in Fortnite Season 2. Here's what to expect from the leaks.
As many expected, we'll be seeing a faction war in Fortnite Season 2. Here's what to expect from the leaks.
Fortnite Season 2 has expanded on the 'faction' idea from Season 1. We had ALTER and EGO, and now we have Ghost and Shadow.
The terminal in the Battle Pass screen promised more to come between the two factions over the course of Season 2. It appears as though this will culminate in an event.
Fortnite data miner @iFireMonkey found some files that point to a Faction War coming to Fortnite in the near future. The description reads, "#TeamGhost or #TeamShadow? Pick your team from the PC and fight to upgrade your Faction intel level! This Faction v Faction event isn't your ordinary event, as you can switch factions any time you want!"
As you can see from the second tweet, you will be rewarded for having a high faction level – although there's no news as to what the rewards will be. I'm guessing that we'll see some XP and, possibly, a new skateboard back bling variant.
There's no news on when this event will start, how long it will last, and what exactly the objective will be. The v12.00 files aren't complete, so more news will likely come out of the next patch.
An easy guess would be that you choose a faction, play Fortnite, get kills and placements, and earn faction points. There could be another mechanic involved, though.
The element of being able to switch faction is a bit confusing. If you can switch factions at any time, then everyone could switch to the winning faction at the end of the event.
Hopefully, there's a way to mitigate this. We could even see Faction Wars lasting for seasons, with each season crowning a new winner. The LTM – or event – is exciting, and we're looking forward to hearing more.
Skins & exclusive console cosmetics leaked for Fortnite Season 5
Fortnite leaks reveal upcoming skins including a new Renegade Raider and Fishstick style.
We're just over the halfway mark in Fortnite Season 4, but fans are already looking ahead to what the next season will hold. Today, October 1, the Fortnite data miner, Hypex, gave us the first small pieces of information about Fortnite Season 5.
These leaks include some confirmed and unconfirmed information that he received from an anonymous source. We assume that this is the same source that leaked Hypex some early – and accurate – information about Fortnite Season 4, so we're leaning toward trusting this leak.
So far, Hypex has confirmed a "Ginger Renegade Raider, and an exclusive PS5 skin. He's also speculating about a skin from concept artist Sharktoofs1 (creator of skins such as the Cozy Chomps and Boxy skins) along with an exclusive Xbox S skin.
A Ginger Renegade Raider skin would make sense for the next Fortnite season, as Season 5 will almost certainly run into the Christmas season. Renegade Raider is one of Fortnite's most popular skin variants, and Epic have been giving it more attention, of late.
The concept comes from @Fercho_UwU and is about what you'd expect: Renegade Raider with some Gingerbread clothing.
The other skin concept that's rumored to be coming to the game is "Giddy-Up Fishstick" from @sharktoofs1. That's right; it looks like we're going to get yet another Fishstick skin in Fortnite.
As we covered, above, Sharktoofs already has several popular skins in Fortnite, so we wouldn't be surprised to see another one come into the game. This one is, simply, Fishstick riding the inflatable llama from the Giddyup skin.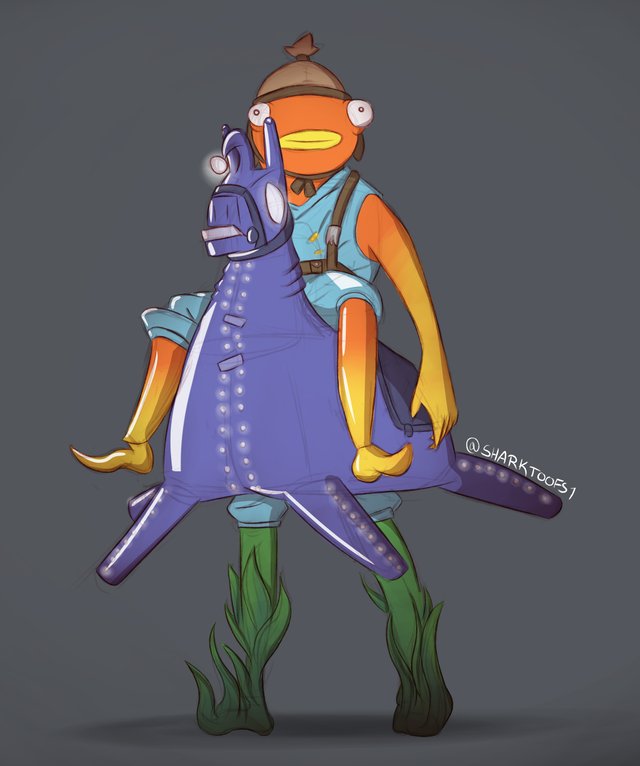 As for the exclusive Xbox and PlayStation skins, these remain to be seen. Of course, these are only leaks and might not come to fruition. If this is the same source that Hypex had for his Season 4 leaks, however, there's a good chance that they're legitimate.
We'll keep you posted when we learn more about all of these skins, although we'll probably have to wait for a patch or two before data miners find them in the game files.
Fortnite Season 4 Week 6 Challenge guide
The Fortnite Season 4 Week 6 challenges are here! Take a look at how to complete them.
It seems like just yesterday that we were staying up all night, waiting for the new season of Fortnite. Surprisingly, we're already into Week 6 with another batch of challenges to help carry us through the Battle Pass.
Although weekly challenges offer a lower amount of XP this season, it seems like we're working through the Battle Pass quicker than normal. Even still, we have a long way to go before we unlock all of our holographic variants, so we'll be grinding away at these challenges.
The week's challenges are pretty straightforward. All we need to do is consume some foraged items, deal some damage, and search some chests. Here are the challenges for Week 6:
Search Chests at Weeping Woods (7)
Eliminations at Misty Meadows (3)
Collect Stone from Coral Castle (300)
Consume a Legendary Fish
Consume Foraged Items at Holly Hedges (10)
Ride a Zipline from Retail Row to Steamy Stacks
Deal damage after knocking an opponent back with Black Panther's Kinetic Shockwave (1,000)
Deal damage to opponents at Slurpy Swamp (500)
The inclusion of a challenge involving Black Panther's ability suggests that we could see it come into the base game this week, but we don't know that for sure. Epic could be pushing us toward the Marvel-based LTMs that have been rotating in and out of the game. We'll know more when these challenges go live, tomorrow.
Collecting foraged items at Holly Hedges is as easy as taking some damage in Team Rumble and eating the Cabbage that is growing in the backyards of a few houses.
If you're having trouble catching a legendary fish, take a look at our fishing guide for Season 4. You should be able to catch one if you hit a fishing hole with a Pro Fishing Rod – but this one will take a bit of persistence.
There's a zipline network that connects Steamy Stacks and Retail Row, so you just have to ride this once and be done with it.
Apart from that, the rest of these challenges are straightforward. Of course, you'll also need to land at Weeping, Slurpy, and Misty to get your chests, damage, and elimination. Good luck!
New esports org Gamma Gaming makes splash with Fortnite roster
A new organization, Gamma Gaming, has entered the professional Fortnite arena with some huge signings.
Fortnite is, again, the driving force behind the creation of an esports organization – this time, in the European market. Gamma Gaming – established by Arsenal FC player, Sead Kolašinac – made a splash on the EU Fortnite scene by announcing the acquisition of six Fortnite players on September 27.
The announcement included some of the hottest professional free agents in the region: Th0masHD, Kami, Tschinken, and Merijn along with content creators Obitoo and Mambo.
The most noteworthy of these acquisitions is, likely, Th0masHD who qualified for the Fortnite World Cup, placed 4th in the recent Solo FNCS, won the BenjyFishy Cup, and, most recently, placed first and second in two of the FNCS Warmup competitions.
Going into the Season 4 Trios FNCS, he and his team are one of the top picks to win it all.
Gamma Gaming's model follows that of another new organization, One Percent, which has built its foundation on the back of their professional Fortnite lineup. The young org will, undoubtedly, branch out from here, but they're starting with solid EU Fortnite talent.
With some strong European players on their team, it will be interesting to see where these new Gamma Gaming recruits land when the FNCS competition comes around. We have a new organization to keep our eyes on.