Fortnite Reality Tree forms a new root system in Logjam Lumberyard
The Reality Tree in Fortnite Chapter 3 Season 3 is continuing to grow in Logjam Lumberyard as players have now spotted a new root system.
Fortnite Chapter 3 Season 3 introduced a Reality Tree which is responsible for adding a new biome to the map and turning Greasy Grove into a hub of mushrooms. The tree is now expanding its roots and you can witness the effects in Logjam Lumberyard.
While the Zero Point rests under Loot Lake, the Reality Tree is controlling the Fortnite island. At the outset of Chapter 3, leakers revealed that the tree will grow further and impact other parts of the island.
Now that we're getting closer to the first major update for Chapter 3 Season 3, players have discovered a new root system in Logjam Lumberyard.
Logjam Lumberyard might turn into Lucky Landing in Fortnite Chapter 3 Season 3
Ahead of the upcoming hotfix update for Chapter 3 Season 3, a new root has emerged in Lojam Lumberyard. This time around, it's right beside the several piles of logs.
Previously, loopers noticed two roots in the lake in Logjam Lumberyard. One root is located in between the lake and the other stands tall at the lake's edge.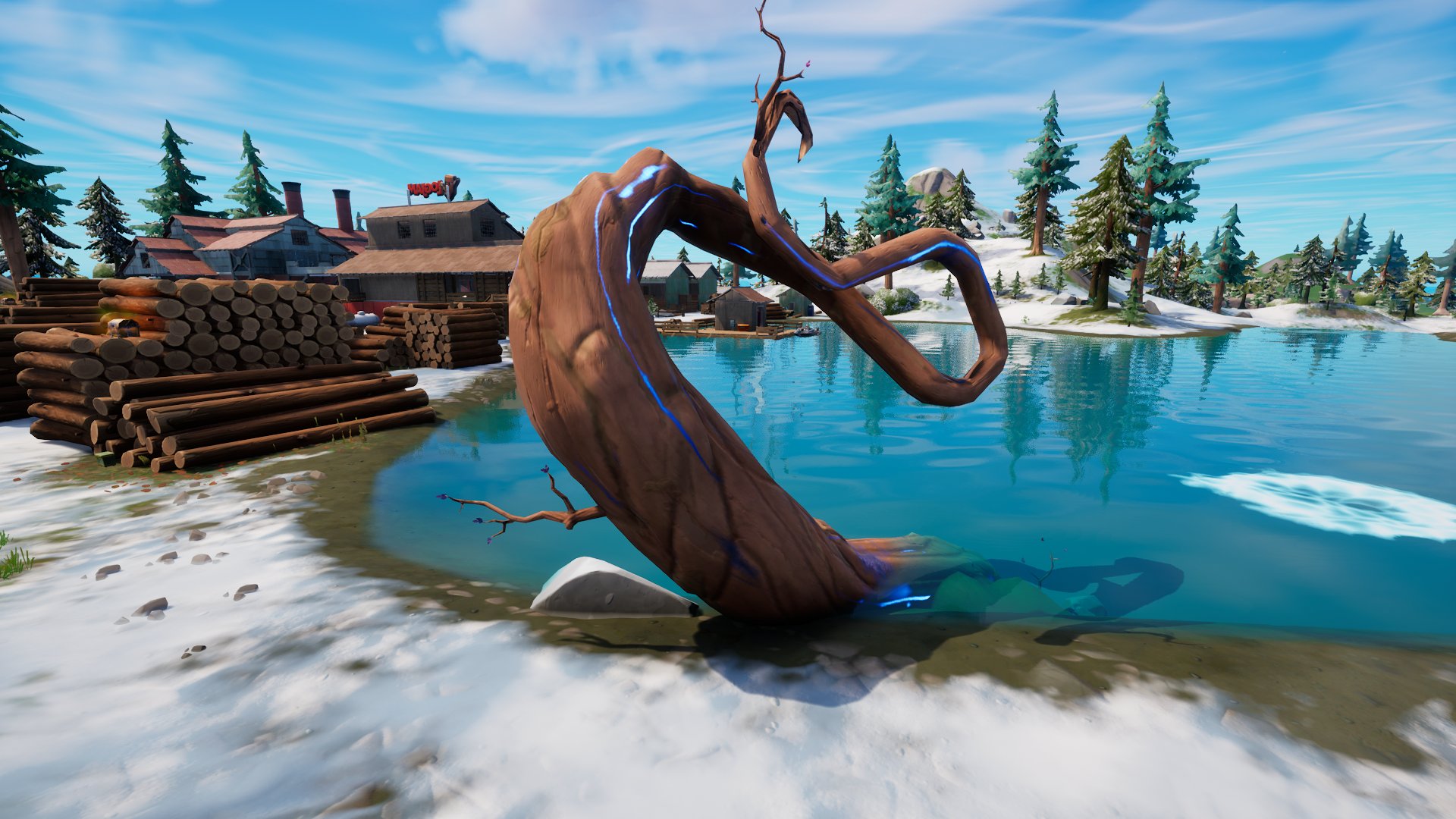 The third root is different from the existing roots because there's a small pink tree on top of it. It is no surprise that fans have already come up with theories related to this change. While some believe that this is a reference to Lucky Landing (an OG POI from Chapter 1), others feel that the pink tree will eventually turn into another Reality Tree.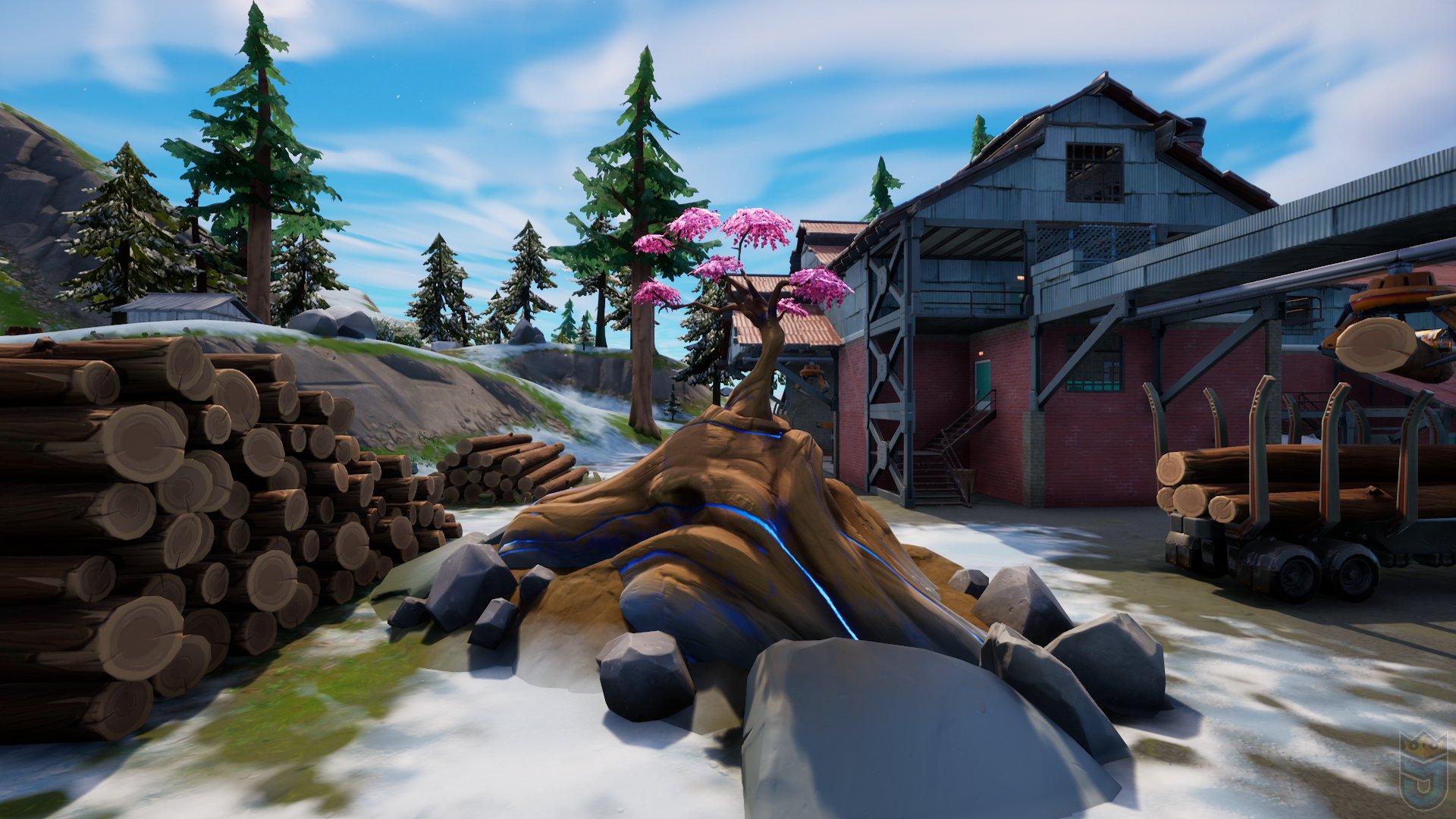 Leakers have revealed that the plants and vegetation around Logjam Lumberyard are changing as well. Instead of the standard green color, they are now blue/purple and vibrant which is similar to the flora in Reality Falls and Greasy Grove regions.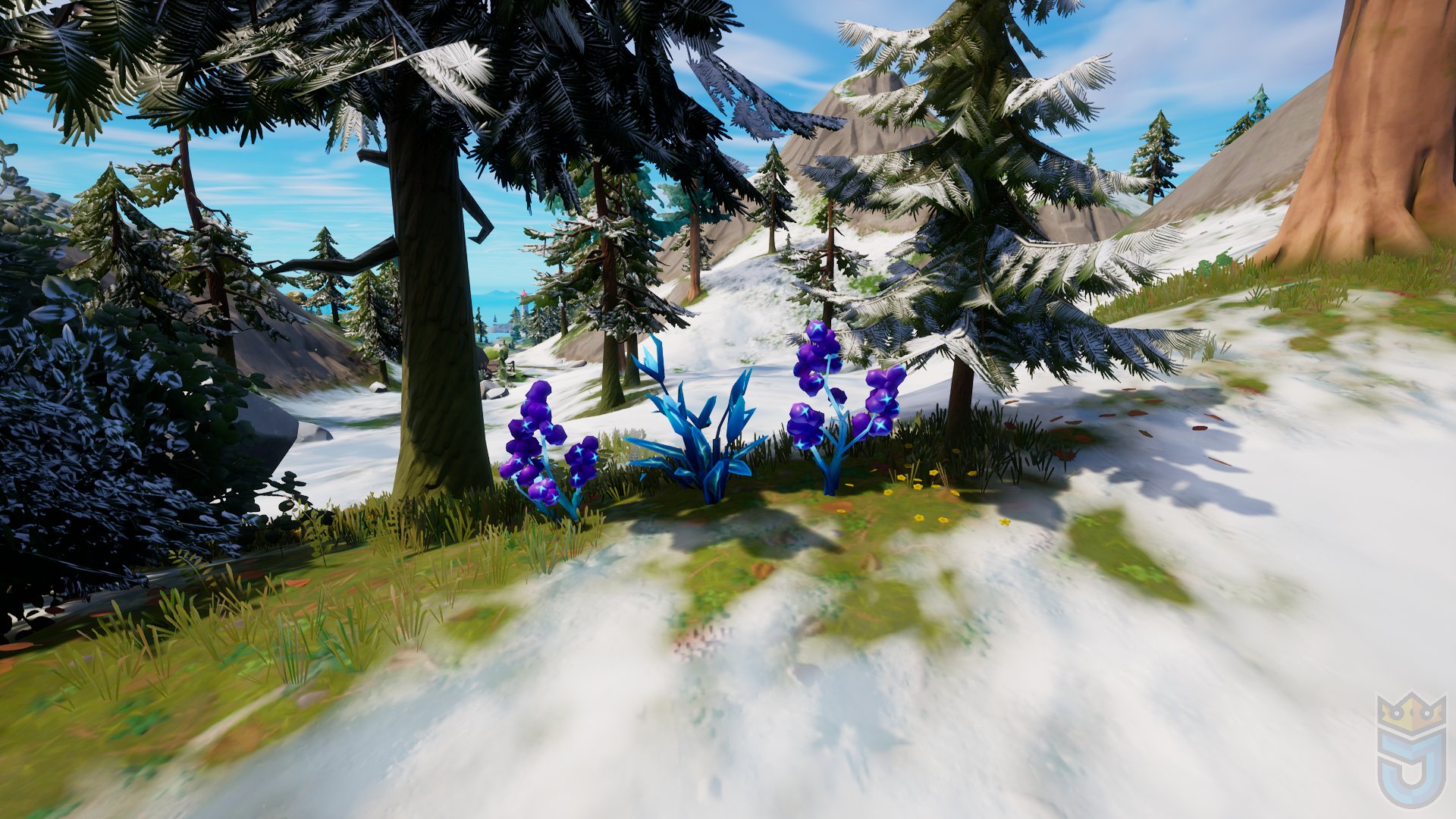 Which locations will the Reality Tree impact in Fortnite Chapter 3 Season 3?
According to leaks, the Reality Tree is supposed to grow a total of three roots in Logjam Lumberyard, one at the ancient temple near Condo Canyon, and one near Butter Barn.
This is similar to the Cube corruption we witnessed in Fortnite Chapter 2 Season 8. From the looks of it, the Reality Tree will control the entire map towards the end of Chapter 3 Season 3.
As of now, it is hard to judge if the spread of the Reality Tree is beneficial for loopers or not. However, based on the storyline so far, it won't be an overstatement to say that chaos is always one step away from the island.
How to knock down Timber Pines with Ripsaw Launcher in Fortnite
Fortnite recently added the Ripsaw Launcher and we already have a weekly quest that requires players to cut Timber Pines with it for 15,000 XP.
Fortnite Chapter 3 Season 3 Week 4 challenges are here. Here's a quick guide to finding the Ripsaw Launcher and knocking down Tumber Pine trees with it.
Amidst game-breaking bugs and glitches, Epic Games released the latest weekly challenges which will help players level up their Battle Pass in Fortnite Chapter 3 Season 3. The XP system is not at its best at the moment, so loopers desperately wait for new quests and challenges.
One of the weekly challenges is based on the newly introduced Ripsaw Launchers.
Where to find the Ripsaw Launcher in Fortnite?
The Ripsaw Launcher is now available as a standard loot item. Players can search for it on the floor, in chests, and in supply drops. The odds of getting the weapon are purely based on luck, but finding it in major locations like Logjam Lotus, Tilted Towers, Rave Cave, and Coney Crossroads, among others, should be not a struggle.
There's also a fixed spawn location for the Ripsaw Launcher in Chapter 3 Season 3. There's a Chop Shop near Logjam Lotus with an abundance of launchers. Even though this location can be highly contested at times, you should be able to get at least one Ripsaw Launcher.
Where to find Timber Pines in Fortnite?
The next step to completing the weekly challenge is to find Timber Pine trees. Here's what they look like:
Timber Pines are basically the tallest trees on the map with narrow brown trunks, and players can find them in the snow biome which contains POIs like Logjam Lotus and Rave Cave.
The aforementioned Chop Shop is located right beside some Timber Pine trees, and it is best if players collect a Ripsaw Launcher from the shop. Using a Ripsaw Launcher is quite straightforward. Just hold the aim button and point it towards the desired tree.
You can either shoot ferocious sawblades that will tear through the wood or hold the aim button to use the Ripsaw Launcher as a melee weapon.
Completing this Fortnite Chapter 3 Season 3 Week 4 quest will grant you 15,000 XP and will also help in unlocking some bonus XP rewards.
Darth Vader in Fortnite has a ton of Easter Eggs
Fortnite introduced Darth Vader as a boss in Chapter 3 Season 3. Here are some easter eggs that Star Wars fans must know about.
Darth Vader is one of the biggest highlights of Fortnite Chapter 3 Season 3. True to its nature, Epic Games has included several Star Wars easter eggs with The Chosen One.
Even though Fortnite Chapter 3 Season 3 didn't turn out to be a Star-Wars themed season, fans were finally able to witness Darth Vader. He is a tier 100 reward in the current Battle Pass and is also a boss.
Darth Vader is rightly one of the most terrifying bosses in Fortnite history. However, this is not the only thing that makes this crossover genuine and detailed.
Fun facts about Darth Vader in Fortnite
Over the past few weeks, the community has discovered these hidden details about Darth Vader:
Darth Vader boss doesn't spawn in the island's desert biome
Darth Vader doesn't like sand. In a famous Attack of the Clones scene, he says:
"I don't like sand. It's coarse, rough, and irritating, and it gets everywhere."
In addition to that, it is practical enough for someone in a robotic suit to avoid sand. This might be why Darth Vader doesn't spawn in the desert biome of Fortnite island. In contrast, the boss has two spawn locations in the snow biome, two in the forest, and one in the latest mushroom-themed region.
Hence, Darth Vader's hatred for sand seems to be the reason why he avoids the desert biome in Fortnite.
Darth Vader's breathing sound
Darth Vader's breathing is somehow quite popular among fans. It signifies that the character was once human, and creates an intimidating atmosphere even during silence.
There's a trick to activate Darth Vader's breathing in Fortnite. If you go to the Audio settings and 'Mute All' the Licensed Audio from the 'Creator Options', the Imperial March emote will only play a breathing sound.
Darth Vader takes a knee
Darth Vader is not allowed to die for legal reasons. Fortnite cannot be an exception to this rule, which is why when players defeat the boss, he takes a knee and disappears. This is also a reference to the Star Wars Battlefront game.
Defeating Darth Vader is challenging owing to his overpowered Melee abilities. However, you can refer to our guide and try out this easter egg.
Epic Games didn't have to add any of these easter eggs to make Darth Vader better. The boss and the skin are great regardless but the community always appreciates such attention to detail.
Fortnite Chapter 3 Season 3 NPC hints at the return of Klombo
Loopers can still not get over the sudden disappearance of Klombo in Fortnite Chapter 3. Here's why their return could be closer than ever.
The war between the Imagined Order and The Seven in Fortnite had disastrous consequences including the expulsion of Klombo from the island. However, Haven is curious about the mysterious vanishing of the species.
Klombo is undoubtedly one of the most adorable features in the history of Fortnite. The giant dinosaurs roamed around the island on the new Chapter 3 island and provided players with loot, jump boosts, and countless memories.
However, we haven't seen Klombo since Chapter 3 Season 2. Just like every other looper, Haven is worried about the dinosaurs and looks forward to their return.
What happened to Klombo in Fortnite?
Even though Klombo wasn't present on the map during Fortnite Chapter 3 Season 2, loopers could still discover Klombo mounds. Accordingly, it seemed safe to assume that they were simply avoiding the war and will return soon.
There is a Klombo skeleton on the Chapter 3 Season 3 island which naturally shattered all expectations regarding their return. Having said that, anything and everything is possible in Fortnite, thanks to the Zero Point.
Here's what Haven says when players interact with her while wearing special skins like Indiana Jones (to be released) and Mecha team leader:
I followed some Klombo tracks here, but they disappear.
The Klombo disappeared in the same strange flash of light that brought them here.
Have you seen any Klombo on your travels?
It is evident that Haven cannot digest how Dr. Slone managed to get rid of Klombo. She believes that the unstable Zero Point is the real reason behind their extinction which is why she also mentions a 'strange flash of light'.
Epic Games was working on Klombo before putting them in the vault
A few weeks back, leakers revealed that Epic Games is not done with Klombo. In fact, the developers have been trying to make the dinosaurs killable and make them drop a ton of great loot.
Another leak disclosed that Klombo will soon be able to dance when players emote near them. Hence, it makes no sense for Fortnite to work on a wide range of features and then remove them altogether.
Moreover, the majority of the Fortnite community absolutely loves Klombo and their return will be highly appreciated. Content in Chapter 3 has been based on the player base's demands, and to be fair, permanently removing Klombo is not desirable at all.
For now, loopers cannot do much but wait for new information on Klombo. However, we can assure you that the dinosaurs will return in Chapter 3 with the help of Haven and Zero Point.