Fortnite 'Party Royale' map, minigames, items & more leaked
Fortnite data miners have found a new 'Party Royale' mode in the game files. Here's everything you need to know.
Party Royale will, reportedly, be Fortnite's first non-combat game mode. Select members of the Fortnite media received an email from Epic Games explaining as much.
This mode will focus on chilling and having fun with your friends. Building and the use of weapons are, reportedly, turned off. This is all of the information Epic released to the public.
Of course, data miners got their hands on the game files and found out a whole lot more about what will be coming. Here's what to expect.
New Map
According to the Fortnite leaks, the Party Royale mode will include a new map. This will be smaller than the base map for fewer players.
We don't know exactly how many players will join each Party Royale mode. It seems likely that Epic will expand their player count from the 16-cap in Creative.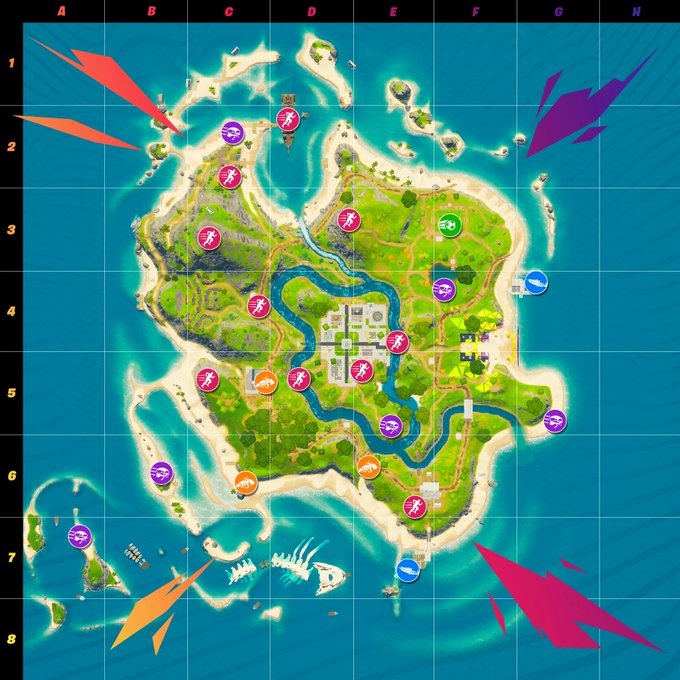 Minigames
Part of the Party Royale experience will be several minigames scattered around the map. As you can see from the image above, there will be several markers where you can find minigames to play alone or with friends.
We've seen twelve unique markers leaked, so far, as well as a Deadpool/Peely minigame that appears to play as an 8-bit video game.
Exclusive items & emotes
Epic have also provided us with some exclusive items and emotes to use in Party Royale. According to @iFireMonkey, these emotes will only be available for use in Party Royale.
We can assume that these will be used in the same way as the event emotes during the Astronomical concert. They'll likely appear on your front wheel for easy access.
We'll also be getting some exclusive items and weapons in Party Royale. Instead of killing one another, these items will focus on moving around and splashing friends with paint.
So far, we've seen the Paint Launcher, Plunger Bow, Tomato Grenade, and many other items linked to Party Royale. We'll also, reportedly, be able to use the Quad Crasher, Boat, and Choppa.
According to the Epic Games press release, they'll start testing Party Royale this Friday at 9:00 PM EST. There's no better time for a virtual party than right now, after all.
We can probably expect this mode to be another longstanding Fortnite game mode, similar to Battle Lab and Team Rumble. Epic may even host some of their events, here.
It's exciting to see Fortnite take further steps into becoming a social landing spot rather than a strict Battle Royale game. With the addition of Party Royale and Creative Mode, we now have countless ways to enjoy Fortnite without even having to play the base game.
Fortnite Winter Trials event & rewards leaked
Epic Games quickly added and removed a webpage that revealed a new Fortnite event: Winter Trials. Here's everything we know so far.
Epic Games released a new website, announcing the Fortnite Winter Trials. They have since removed the site, leading fans to believe it was leaked early.
Most of the time, when we're discussing Fortnite leaks, we're talking about data miners finding files in the game that relate to certain events, skins, etc. In rare cases, Epic let something slip a bit early. That's what we have here.
On January 25, Epic released the Fortnite Winter Trials webpage, showcasing free rewards, an influencer tournament, community voting on events, and more.
The website was quickly removed after it was added, but data miner Hypex was able to record some of the contents before it went down.
The details of the event are still limited, but it appears as though players will be earning badges for logging in, voting for challenges, and playing Fortnite.
Over the course of the rest of the season, your playtime and badges will reward you with free cosmetics. Most of them are hidden, but we know about a spray, emoticon, and weapon wrap from the images on the website.
We should see an official announcement of the event soon. Since Epic were the ones who jumped the gun, we expect to see them announce the event as soon as tomorrow – if not later tonight.
We'll update this post when we learn more about the event, along with additional details on how to earn free cosmetics. Stay tuned.
Fortnite tease new Drift Crew skins
Epic Games are dropping some cryptic hints relating to the iconic Drift character in Fortnite, and speculation suggests it's all leading to a new Drift Crew skin.
On January 24, Epic Games posted a series of mysterious tweets, to get the community guessing.
Their first post referenced Drift directly, saying: "Drift? Drift. Come in. Do you read me?" A series of messages followed, asking for help – presumably Drift's help.
The Fortnite account has since deleted the tweets, but here's a screenshot of all of them from iFireMonkey.

Data miner HYPEX was quick to highlight that these teasers are almost certainly connected to the upcoming new Drift Skin, which appears to be a female version of the fan-favorite skin.
Fortnite Crew is the monthly subscription service, and it's expected that this new Drift skin will be included in the February edition of the subscription rewards.
The subscription grants players each new Battle Pass, plus 1,000 V-Bucks, in addition to the cosmetic rewards.
We'll have to wait and see confirmation about the new Drift skin as we put January in the rearview mirror and move into February.
Fortnite v15.21 update patch notes: Predator, Mythic Item, New Quests
Fortnite's v15.21 update has shaken things up again, adding Predator and a brand new Mythic Item to the mix.
Today's Fortnite v15.21 update has shaken things up again in the battle royale game, adding Predator and a brand new Mythic Item to the mix.
The game has been subject to weekly updates for a long time now, meaning content is given a slight refresh some weeks, and on others things can change a bit more dramatically.
On January 20, after the latest patch was rolled out, it's fair to say that not a lot of things have been tweaked.
In the absence of official patch notes, which have been vaulted since before Chapter 2 even began, we've rounded up the changes confirmed already by players and leaks.
Fortnite v15.21 patch notes
Predator
Predator is the latest crossover character to arrive in Fortnite, now available to fight at the Stealthy Stronghold location. The skin is also coming to the Fortnite Item Shop, along with some cosmetics – such as a pickaxe.
New Mythic Item: Predator Cloak Device
One of the biggest, and most exciting, elements of Predator's arrival is the new Mythic Item it adds to the game. The Predator Cloak Device is now active in-game, and once it's been found and activated, players can use it to turn invisible.
To get one, check out our complete guide here. It's fairly easy to achieve.
New Quests
More Quests have been added to the Battle Pass for Season 5, following the v15.21 update.
The full list of these can be seen below, courtesy of HYPEX.
Bug fixes and other changes
According to the official Fortnite Trello board, a number of things have changed – including general issues and things specifically impacting the BR mode.
General Top Issues
When playing Fortnite, players cannot create system-level parties that include players on both PS5 and PS4.
The Jumpshot Outfit is missing its facial hair.
The Banner menu may be unresponsive to controller inputs, causing players to have difficulty editing their Banner with a controller or the Banner not updating properly.
We're investigating an issue that is causing players to experience a long loading screen after completing a session on PlayStation and Xbox consoles.
The sound effect of certain actions, such as opening a Chest or hitting a Weak Point, may be delayed.
Battle Royale
In competitive playlists, players do not have access to their persistent stash of Bars. Instead, they are granted a set amount at the beginning of each match. This is intended. However, your end total of Bars in competitive playlists may appear in the Lobby in place of your persistent stash. This is a visual issue only.
The weekly Legendary Quest to 'Get Headshots' is not always visible after completing the first stage of the quest.
Players may receive damage mid-air when falling inside a car.
Players and Spectators may notice inconsistent camera behavior or stuttering after being near a Car they recently drove then exited.
Total Bars appearing as 0 in a match.
Assets appearing invisible in Performance Mode alpha.
Game freezing when going to the Compete tab on PlayStation/Xbox.
Sand Tunneling temporarily disabled.
As is the case every week with these unofficial patch notes, it's an ever changing beast. If we find something that's changed and not been included here in the Fortnite v15.21 patch notes, we'll update you as quickly as we can.
Until then, jump in and see for yourself! Remember to thank the bus driver…