Fortnite 'Party Royale' map, minigames, items & more leaked
Fortnite data miners have found a new 'Party Royale' mode in the game files. Here's everything you need to know.
Party Royale will, reportedly, be Fortnite's first non-combat game mode. Select members of the Fortnite media received an email from Epic Games explaining as much.
This mode will focus on chilling and having fun with your friends. Building and the use of weapons are, reportedly, turned off. This is all of the information Epic released to the public.
Of course, data miners got their hands on the game files and found out a whole lot more about what will be coming. Here's what to expect.
New Map
According to the Fortnite leaks, the Party Royale mode will include a new map. This will be smaller than the base map for fewer players.
We don't know exactly how many players will join each Party Royale mode. It seems likely that Epic will expand their player count from the 16-cap in Creative.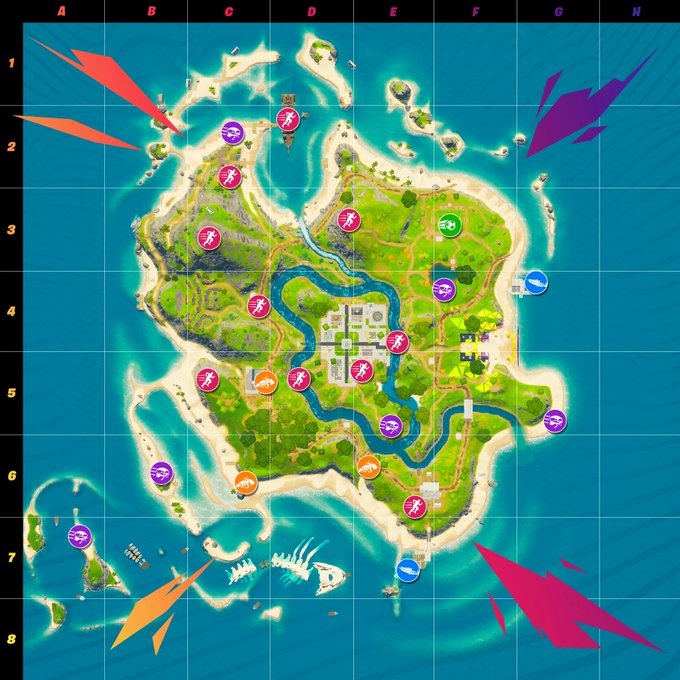 Minigames
Part of the Party Royale experience will be several minigames scattered around the map. As you can see from the image above, there will be several markers where you can find minigames to play alone or with friends.
We've seen twelve unique markers leaked, so far, as well as a Deadpool/Peely minigame that appears to play as an 8-bit video game.
Exclusive items & emotes
Epic have also provided us with some exclusive items and emotes to use in Party Royale. According to @iFireMonkey, these emotes will only be available for use in Party Royale.
We can assume that these will be used in the same way as the event emotes during the Astronomical concert. They'll likely appear on your front wheel for easy access.
We'll also be getting some exclusive items and weapons in Party Royale. Instead of killing one another, these items will focus on moving around and splashing friends with paint.
So far, we've seen the Paint Launcher, Plunger Bow, Tomato Grenade, and many other items linked to Party Royale. We'll also, reportedly, be able to use the Quad Crasher, Boat, and Choppa.
According to the Epic Games press release, they'll start testing Party Royale this Friday at 9:00 PM EST. There's no better time for a virtual party than right now, after all.
We can probably expect this mode to be another longstanding Fortnite game mode, similar to Battle Lab and Team Rumble. Epic may even host some of their events, here.
It's exciting to see Fortnite take further steps into becoming a social landing spot rather than a strict Battle Royale game. With the addition of Party Royale and Creative Mode, we now have countless ways to enjoy Fortnite without even having to play the base game.
Lazy Lake Floating Ring locations for Fortnite Week 3 challenges
How to collect floating rings at Lazy Lake for the Season 3 Week 3 challenges.
The Fortnite Season 3 Week 3 challenges are here, which means we're getting closer and closer to unlocking the second half of the Season 3 Battle Pass. Most of the challenges have been relatively easy this season, with only one weekly challenge requiring us to search in a particular area.
Last week we were looking around The Yacht. This week we're venturing across the map over to Lazy Lake, where we'll need to collect floating rings.
These four rings are scattered around Lazy Lake, making it difficult to complete this challenge in one shot – at least, if you're doing it in a regular Battle Royale match.
As always, we recommend opting for Team Rumble. It makes things easier, and you may even be able to finish your eliminations challenge from last week if you haven't already. Here's a map of all of the Floating Ring locations at Lazy Lake:
The most obvious ring is located next to the gas station. You should be able to jump on an umbrella to grab it. After that, make your way to the intersection and look on top of the tree. The third ring is in the street at the entrance to Lazy, and the final ring is in between the towers of the No Sweat Insurance building.
Here's a video from HarryNinetyFour that shows you exactly where you'll need to visit.
You can take a look at the full list of challenges here, but the rest of them are easy enough to complete on your own. You may be sitting in the cornfield at Frenzy for a while, but that comes with the territory.
Lazy Lake fireworks location for Fortnite Captain America challenge
When the Fortnite v13.20 patch released, Epic revealed that they'd be bringing a special hero to the Item Shop for the 4th of July. That hero was later revealed to be none other than Captain America – one of the core Avengers who we never saw during the initial Marvel crossover events.
Captain America is, reportedly, set to hit the Item Shop within the next rotation. He should be available when the Item Shop resets at 8 PM EST on July 2. We're only hours away from having Cap in our locker, and he'll probably be one of the most popular skins for the next week.
As you can see, there have already been plenty of official teasers for Captain America, but one of them went under the radar. When the Week 3 Challenges went live, Epic added a daily challenge that requires you to light fireworks around Lazy Lake. These fireworks explode to show the Captain America shield.
There are six firework locations surrounding this POI, but you only need five to complete the challenge. You can easily finish this challenge in a single game of Team Rumble once you know where to look. Here are all of the firework locations.
This challenge rewards players with 14,000 XP as it's one of the golden daily challenges rather than a weekly challenge. That isn't a ton of experience, but it's a healthy reward for a challenge that will only take a few minuted to complete. Now, all that's left is to see how the new Fortnite Captain America skin looks!
This concept brings grilling to Fortnite in time for summer
This thematic addition to Fortnite Season 3 is perfect for Summer Splash.
Fortnite Season 3 has put a new emphasis on food. Vegetable boxes spawn all across the map while players farm for cabbage and corn as a new way to heal. Most players are fans of this change. The more healing items in the game, the better.
Why stop there? Why not allow us to cook our food for additional HP? Well, one Fortnite player made a concept that allows us to do just that. Reddit user u/MapleSmoothie created a Hot Dog concept. You can find them in fridges and eat them raw, or grill them for greater healing power.
This concept, as its creator points out, would be a perfect addition to the Summer Splash event. Grilling and summertime go hand in hand, and Epic even have an existing emote to correspond with the mechanic.
We don't need to stop with hot dogs, either. Epic could allow us to grill corn and add other meats like burgers and sausages. Some of them could even grant shields, allowing you to carry some food versions of Minis and Big Pots.
It's probably too late for Epic to add this to Season 3. There's a chance that we could see it next year, however. Epic have always welcomed community concepts with game mechanics and skins. This one would be a small, yet thematic addition that could bring a new element into the game.