Fortnite 'Operation Snowdown' challenges and rewards leaked
Operation Snowdown is the upcoming challenge set for Fortnite Winterfest 2020. Here's what to expect, including free skins.
Fortnite Winterfest 2020, AKA Operation Snowdown, is almost here. Take a look at all of the upcoming challenges and how to complete them.
In Fortnite v15.50, Epic added the first part of the upcoming Winterfest update. This included some challenges that should become available in the next few days.
Thanks to data miner iFireMonkey, we were able to take a look at what we'll need to do this holiday season.
Here are all of the challenges we need to complete for the Operation Snowdown missions.
Deal damage with Lever Action Rifle (100)
Complete Operation Snowdown Quests (9/12)
Place Top 10 with friends in Squads (3)
Travel 5,000 meters in X-4 Stormwings
Shoot down opponent structures with X-4 Stormwings (10)
Collect Gold Bars (100)
Catch a Snowy Flopper
Revive a player in different matches (3)
Hide inside a Sneaky Snowmando in different matches (3)
Play duos/squads with friends (5)
Stoke a campfire (2)
Use Chiller Launcher to apply icy feet to opponents (10)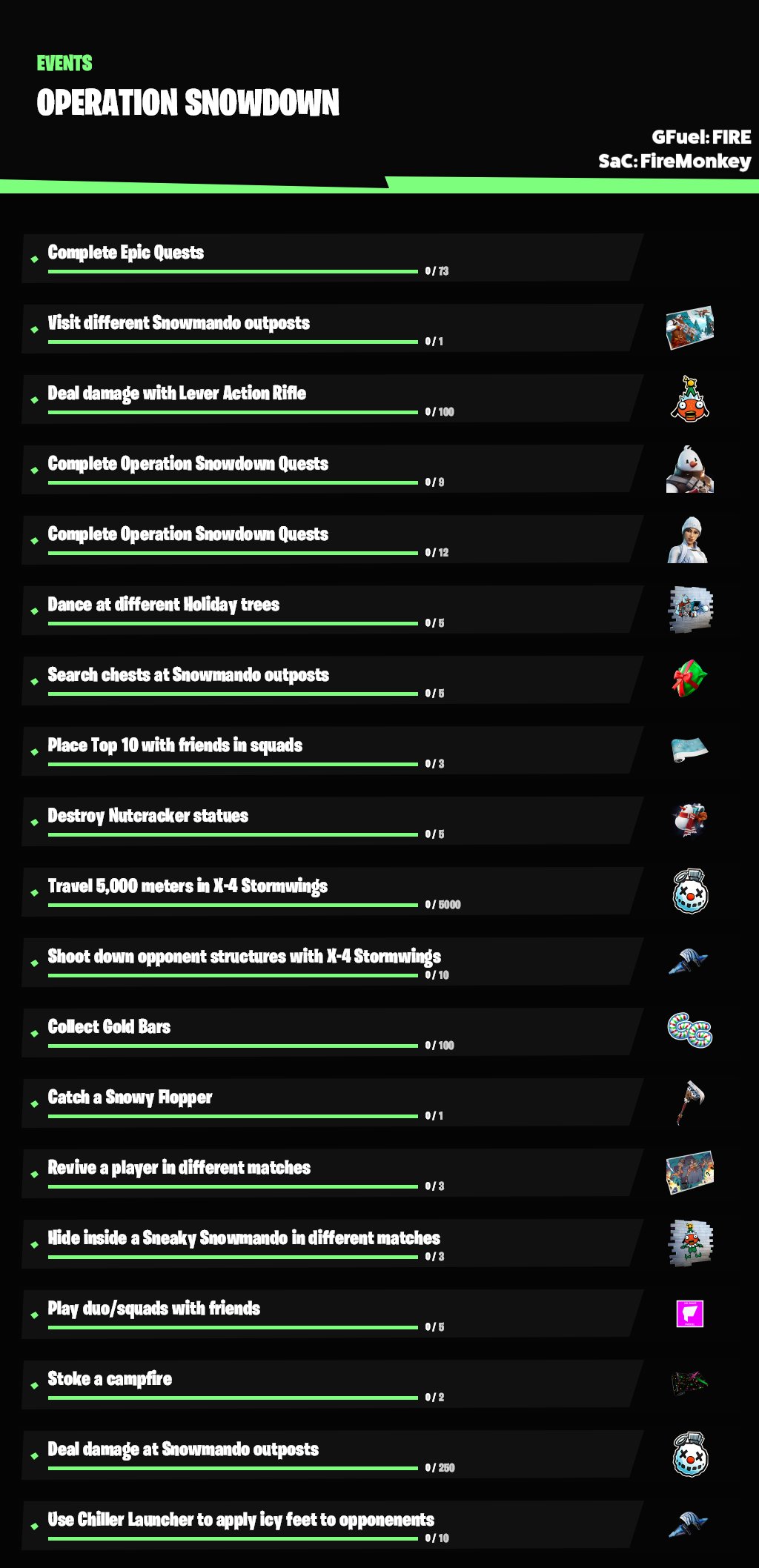 The challenges offer a variety of free rewards, from Back Bling, to sprays, to weapon wraps – all with the holiday theme attached. They offer a great way to grab some holiday cosmetics if you don't have some, already.
Another free skin will be available when players finish 12 quests as well. Unlike last year, the Frost Squad skin will probably be a popular one after the winter event ends.
If this list is accurate, then there are 16 Operation Snowdown challenges in total, meaning that you can pick and choose the easier ones to complete. We may not be getting no-strings-attached skins like last year, but a free skin is a free skin.
We're writing this before the challenges are released, so make sure to check back for a full guide then they come to the game. We'll keep you posted.
How to knock down Timber Pines with Ripsaw Launcher in Fortnite
Fortnite recently added the Ripsaw Launcher and we already have a weekly quest that requires players to cut Timber Pines with it for 15,000 XP.
Fortnite Chapter 3 Season 3 Week 4 challenges are here. Here's a quick guide to finding the Ripsaw Launcher and knocking down Tumber Pine trees with it.
Amidst game-breaking bugs and glitches, Epic Games released the latest weekly challenges which will help players level up their Battle Pass in Fortnite Chapter 3 Season 3. The XP system is not at its best at the moment, so loopers desperately wait for new quests and challenges.
One of the weekly challenges is based on the newly introduced Ripsaw Launchers.
Where to find the Ripsaw Launcher in Fortnite?
The Ripsaw Launcher is now available as a standard loot item. Players can search for it on the floor, in chests, and in supply drops. The odds of getting the weapon are purely based on luck, but finding it in major locations like Logjam Lotus, Tilted Towers, Rave Cave, and Coney Crossroads, among others, should be not a struggle.
There's also a fixed spawn location for the Ripsaw Launcher in Chapter 3 Season 3. There's a Chop Shop near Logjam Lotus with an abundance of launchers. Even though this location can be highly contested at times, you should be able to get at least one Ripsaw Launcher.
Where to find Timber Pines in Fortnite?
The next step to completing the weekly challenge is to find Timber Pine trees. Here's what they look like:
Timber Pines are basically the tallest trees on the map with narrow brown trunks, and players can find them in the snow biome which contains POIs like Logjam Lotus and Rave Cave.
The aforementioned Chop Shop is located right beside some Timber Pine trees, and it is best if players collect a Ripsaw Launcher from the shop. Using a Ripsaw Launcher is quite straightforward. Just hold the aim button and point it towards the desired tree.
You can either shoot ferocious sawblades that will tear through the wood or hold the aim button to use the Ripsaw Launcher as a melee weapon.
Completing this Fortnite Chapter 3 Season 3 Week 4 quest will grant you 15,000 XP and will also help in unlocking some bonus XP rewards.
All crashed IO Airship locations in Fortnite Chapter 3 Season 3
Fortnite Chapter 3 Season 3 Week 4 challenges are here. Here's how players search chests or ammo boxes at crashed IO Airships.
Following the war in Fortnite Chapter 3 Season 2, the map now has several crashed IO Warships with a Vibin' theme. A weekly challenge requires you to visit these Airships and search for ammo boxes or chests.
A new set of Weekly quests arrive in Fortnite every Thursday. Loopers can get 15,000 XP from each quest and there are bonus rewards for completing them all. These challenges do not leave the quests menu until the end of the season, but considering that they are quite simple, it is more convenient to complete them right away.
Where to find crashed IO Airships in Fortnite Chapter 3 Season 3
There are a total of five crashed IO Airships on the map. To complete the weekly challenge, you need to find two ammo boxes/chests. Hence, landing at any of the following locations should be worthwhile:
Northeastern Edge of the map
The first IO Airship in Fortnite is located on the northeastern edge of the island. Loopers can either land near Daily Bugle and swim towards the ship or directly land there.
It is safe to assume that this will be one of the least-contested crashed IO Airships. Even though there aren't any fixed chest/ammo box spawn locations, finding one shouldn't be a major problem.
The southeastern edge of the map
Another IO Warship can be found in the ocean at the southeastern edge of the island. Condo Canyon is the nearest named location but depending on the Battle Bus' path, you can directly land at the location marked in the image below:
Rocky Reels
A crashed IO Warship is located near Rocky Reels. You can either land in Greasy Grove and head east or land at Rocky Reels and head west. It is worth reiterating that the challenge requires players to open a chest/ammo box in the ship, and not just visit it.
Loot Lake
Towards the end of the war between the Imagined Order and The Seven, the final IO Airship crashed inside Loot Lake which is currently one of the best locations on the island in terms of loot.
It won't be a surprise if you meet a ton of other loopers when landing at this Airship as Loot Lake has an abundance of chests.
Southeast of Coney Crossroads
The fifth and final IO Airship is near Coney Crossroads which is also one of the most crowded locations in Fortnite. This airship will at least have one chest and one ammo box, and you can also expect floor loot here.
Completing this Week 4 challenge will grant you 15,000 XP which eventually helps in leveling up the Battle Pass. The Chapter 3 Season 3 Battle Pass is loaded with exciting original and crossover skins including the likes of Evie and Darth Vader.
Fortnite x Fall Guys: Crown Clash event hands out free Major Mancake skin and other rewards
Fall Guys x Fortnite is finally here. By completing Crown Clash challenges, you can unlock Major Mancake and other cosmetics for free.
Fortnite players can unlock Major Mancake in Chapter 3 Season 3, thanks to the Fall Guys crossover. From Crown Clash challenges to free rewards, here's everything to know about the massive collaboration.
It is hilarious how Fortnite still hasn't announced its crossover with Fall Guys. Leakers have revealed a ton of information already and players have even started getting the rewards.
Major Mancake set that comprises five cosmetics can be unlocked by completing the Crown Clash challenges in Fall Guys.
How to unlock free Major Mancake sin in Fortnite with Crown Clash challenges
Crown Clash challenges are currently available in Fall Guys. There are five stages:
Common– Play 10 Rounds in Any Show
Uncommon– Play 20 Rounds in Any Show
Rare– Play 40 Rounds in Any Show
Epic– Play 70 Rounds in Any Show
Legendary– Play 100 Rounds in Any Show
If it's not obvious by now, you must download Fall Guys to unlock Major Mancake and other cosmetics in his set for free. The Crown Clash event has begun and will be available till July 11, 2022.
The challenges are quite simple. Every match has five rounds and depending on their skill and luck, players should be able to play 100 rounds in 40-50 games.
The free Fortnite rewards for completing these Crown Clash challenges are:
10 Rounds: Stacked! Spray
20 Rounds: Stacked With Love Emoticon
40 Rounds: Sweet Clementine Pickaxe
70 Rounds: Waffler Backbling
100 Rounds: Major Mancake Outfit
It is worth noting that the Crown Clash challenges are also linked with Rocket League. This means that by completing the five challenges, you can also get five free rewards in the vehicular soccer video game.
Fall Guys is now free to play and is available on a wide range of consoles (Nintendo Switch, Xbox Series X/S, PS4, Xbox One, PS5) and PC. It is uncertain if Major Mancake will be released in the Item Shop later, hence, now is a good time for loopers to complete the Crown Clash challenges.