Fortnite leakers' suspended Twitter accounts lead to a helping hand by Keemstar
Several top Fortnite leakers have been suspended on Twitter after a troll group filed numerous reports under the platform's Counterfeit Goods Policy and Danial 'Keemstar' Keem has swooped in to help.
The Fortnite community thrives on the information that leakers are able to uncover through in-game files like cosmetics, new weapons, POI updates, and more.
Fortnite leakers typically post new information on their Twitter accounts by posting pictures of the in-game files or creating their own graphics.
On September 5, a group of individuals targeted over ten different Fortnite leakers by claiming they were breaking Twitter's Counterfeit Goods Policy.
TJCobain, a Fortnite news and giveaway account, was suspended on September 5 and posted a video asking for the community's help.
https://twitter.com/TJCobain_/status/1169884097608441865
Soon after his video was posted, other leakers like HYPEX posted that they were also suspended. According to their Twitter post, his accuser claimed that he was not awarded for winning a Twitter giveaway.
Alright so, my main account @HYPEX got suspended with 200k followers because of a guy abusing the report system saying that i faked a giveaway, but if @TwitterSupport review my DMs they will see that i DMed every winner EVERYTIME! please @KEEMSTAR if you can help! ♥

— HYPEX (@itsRealHYPEX) September 5, 2019
HYPEX's account was reinstated back to normal within a few hours, and it became clear that Keemstar was helping the community.
On September 6, he made a tweet saying that he was trying to help but would only offer assistance to people he actually knew.
I clearly understand there's some exploits causing many in the community that are unverified to get suspended on Twitter!

Unfortunately I can only help people I know. If I don't know u I can't stick my neck out for u when u might have actually been banned correctly. Srry pic.twitter.com/uyZuWd2q5N

— KEEM 🍿 (@KEEMSTAR) September 7, 2019
A few days later on September 8, Keem made another Tweet stating that the majority of suspended users would have access to their accounts on Monday while some accounts did apparently break the rules and would stay suspended.
Twitter told me some Fortnite Twitters on the list i submitted did break the rules & would stay suspended.

The innocent ones wont be freed up till Monday.

— KEEM 🍿 (@KEEMSTAR) September 8, 2019
It is unclear what Twitter accounts will have their suspension lifted. Some leakers who are currently suspended as of writing are ItsPowerz, Shiina, and Yogev.
We'll be sure to keep you updated with any new developments from this story.
Fortnite leak shows two major POIs getting the Reality Bloom effect soon
Reality Bloom is a phenomenon that is wildly spreading across the island as it modifies several POIs. Here are a few more locations that might get that effect in the coming weeks.
Fortnite Season 3 centers around the Zero Point blessing the island with colors and the mighty Reality Tree spreading its roots across the island. The bloom effect the roots create along several POIs further result in the return of classic locations from the Chapter 1 map.
The mystery behind the flora of the Reality Tree has been revolving across fan theories, leaks and concepts created by the Fortnite player-base. Loopers are having their share of fun with looting from their Reality Saplings and seeing the return of Chapter 1 locations merging with several current POIs as a result of the Reality Bloom effect.
To summarize, when the Reality Tree spreads its roots across the island and grows an extension of itself on a POI, it causes several realities to merge, which in turn merges a POI with another from another point in time. This phenomenon is coined as Reality Bloom effect by the player community.
In the past, players have seen the return of Temple Ruins, Coral Castle and now Neo Tilted in POIs like Logjam, Butter Barn etc. that have all undergone through the Reality Bloom effect. Latest leak shows two more locations that are about to undergo a major change as the roots of the Reality Tree have just begun to spread further.
Sleepy Sound and Condo Canyon are about to undergo the "Reality Bloom Effect" soon
Two major POIs known for its expansive architecture and loot pool, Condo Canyon and Sleepy Sound are under the radar of the Reality Tree next. The two locations will soon see the extensions of the roots of the mysterious tree and will get a Reality Bloom effect.
The effect would then bring POIs such as Tilted Town, Neo Tilted, Coral Castle, Coliseum and Lazy Links to the two locations currently on the map. These POIs are a combination of Chapter 1 & 2 locations whose realities are being merged by the Reality Tree.
Although the effect does bring back fan favorite locations back into the game without any explanation, some loopers speculate that the island might be in grave danger. The mysterious figure that appeared at the end of the Chapter 3 Season 3 trailer has not been seen before and is being called as Bloomwatcher by the player base.
Furthermore, there are theories that the Zero Point might already be causing chaos around the island and the Imagined Order was right to contain it along the Bridge. Now that it is free, the island is undergoing major changes and is running wilder than before.
The mystery of the Zero Point remains as loopers continue to enjoy their time in this madness caused by the chaotic Reality Blooms across their favorite POIs. All that the players ever wanted was the Chapter 1 map to return but it isn't turning out the way it was supposed to be.
Fortnite leaks reveal free Major Mancake skin coming in Chapter 3 Season 3
Fortnite leakers have discovered a new Mancake skin in the files called Major Mancake that players can unlock for free in Chapter 3 Season 3.
Mancake, literally a man with a pancake head, is one of the most popular Fortnite characters. He has received a 'Major' upgrade in Chapter 3 Season 3 and you can get the skin by completing five Fall Guys' Crown Clash challenges.
Mancake and his unreal adventures in Butter Barn are quite famous among Fortnite players. The character has been on the island since Chapter 2 Season 5 and has played a significant role in the storyline repeatedly.
Here's a preview of the upcoming Major Mancake skin in Fortnite Chapter 3 Season 3.
How to get Major Mancake skin in Fortnite Chapter 3 Season 3
To be fair, the Major Mancake skin isn't a noteworthy upgrade to the original skin. There are minor differences in the the outfit's color scheme and the head is now more pancake-like.
Here's a comparison between the original Mancake skin and the leaked Major Mancake skin:
The decrypted Major Mancake set also has the following items:
Stacked! spray
Sweet Clementine pickaxe
Stacked with Love emoticon
Waffler backbling
Leakers have reported that the emoticon and the spray do not have a source, which hints at Major Mancake being a promotional cosmetic.
Considering that Epic Games is about to announce the Fall Guys crossover in a few hours, it is safe to assume that Major Mancake will be a free reward from the Crown Clash challenges.
There will be five Crown Clash challenges and loopers will have to play a total of 100 Fall Guys shows to avail of all five free rewards.
Why Major Mancake could be a free Fortnite x Fall Guys reward
Leakers have discovered that the upcoming Fall Guys challenge will have five stages and the Major Mancake set comprises five cosmetics. These skins, sprays, and emoticons do not have Item Shop assets, and the pickaxe appears to have a Promo source.
Having said that, it doesn't make a lot of sense for none of the Fall Guys x Fortnite rewards to be Fall Guys themed. Mancake is an original Fortnite character and has no relation with Mediatonic's Battle Royale game.
We'll make sure to update this article when Epic Games officially reveals Major Mancake and the procedure to get the skin.
UPDATE: Leakers have confirmed that Major Mancake is a promotional reward for Fortnite x Fall Guys. The order in which players can get the skin for free is:
10 Fall Guys Rounds: Stacked! Spray
20 Fall Guys Rounds: Stacked With Love Emoticon
40 Fall Guys Rounds: Sweet Clementine Pickaxe
70 Fall Guys Rounds: Waffler Backbling
100 Fall Guys Rounds: Major Mancake Outfit
Fortnite leak reveals Temple Bloom POI coming in v21.20 update
The Reality Tree in Fortnite has affected Logjam Lotus and Butter Bloom, and it seems like its next target is the Temple Bloom landmark.
The Fortnite island is literally blooming, all thanks to the Reality Tree. Leakers have revealed that a new Temple Bloom POI will arrive in the next update with a theme similar to Logjam Lotus and Butter Bloom.
Fortnite Chapter 3 Season 3 hasn't been the best in terms of server performance and XP, but the same cannot be said for map changes. A new biome was introduced at the season's launch, and ever since, two locations have already changed significantly.
Here's what we know about the upcoming Temple Bloom/The Tower POI in Fortnite Chapter 3 Season 3.
Fortnite players spot new Reality Root in Temple Bloom landmark
Soon after Butter Barn turned into Butter Bloom, loopers discovered a new Reality Root and a small pink tree in Temple Bloom. The landmark is located west of The Joneses and interestingly, the latest quests accidentally mark it as a named location.
From the looks of it, the Temple Bloom landmark is all set to become a major location. Prominent leaker HYPEX has also talked about a file codenamed The Tower. They first assumed that The Tower will be the new named location, but it is possible that it is just one of the themes that Temple Bloom will cater to.
What to expect from Temple Bloom POI in Fortnite Chapter 3 Season 3?
It is worth noting that the latest POIs in Fortnite have alternating themes such as Roman, Atlantis, and Neo. Classic POIs like Colossal Coliseum, Coral Castle, and Neo Tilted, are the inspiration behind these themes, respectively.
Hence, it wouldn't be a surprise if Temple Bloom also has multiple themes. As of now, there's no information on these themes apart from the fact that there will be a tower.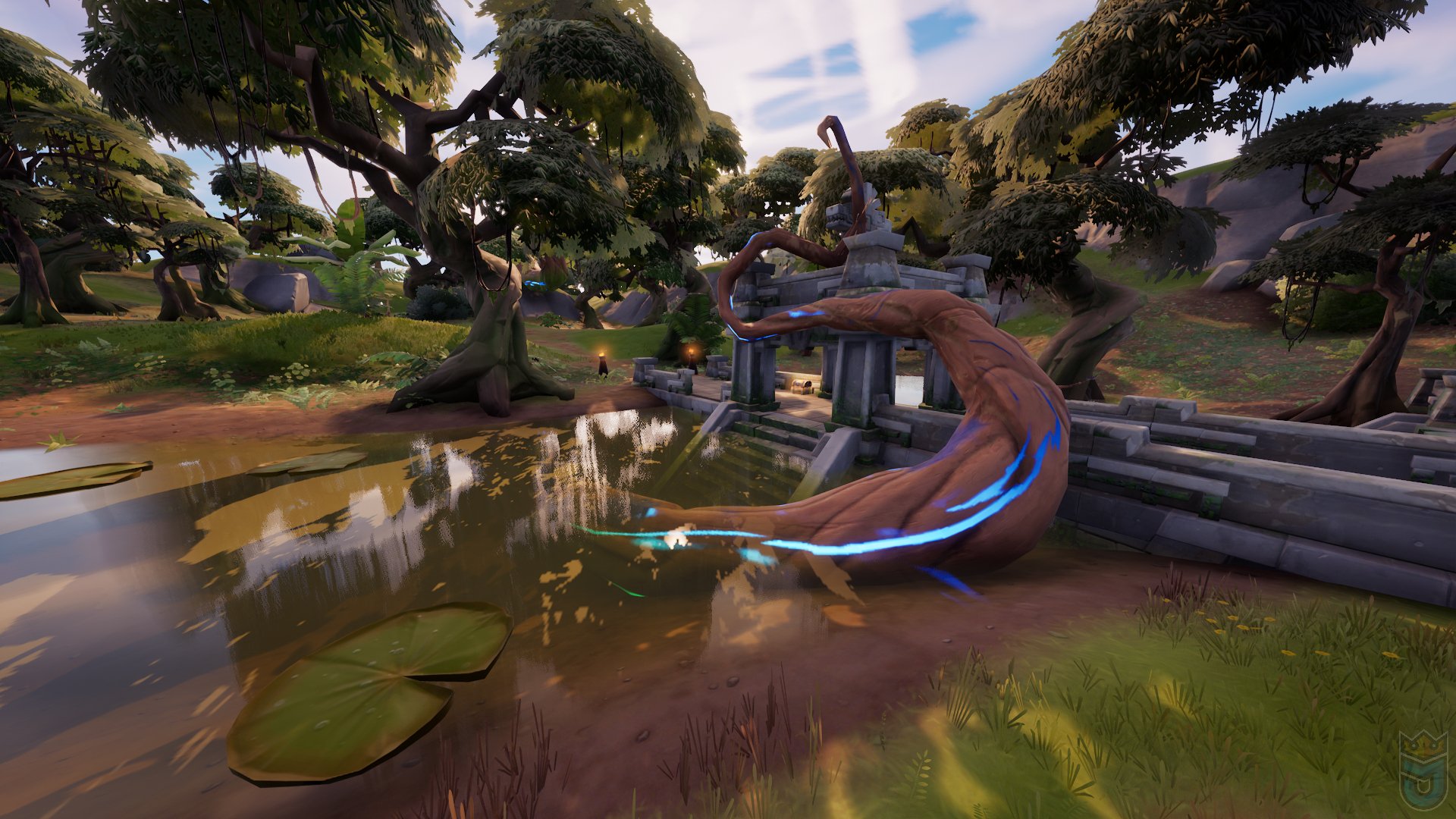 It is safe to assume that the Temple Bloom POI will become official in the v21.20 update that is expected to release on July 5, 2022.
The community, as usual, has already assumed what Temple Bloom will look like. While Fortnite veterans wish to witness the return of the OG Ranger Tower which used to be in Lonely Lodge, others are confident that the upcoming location will be tailor-made for Indiana Jones.
Indiana Jones is the secret skin in Chapter 3 Season 3 Battle Pass. The quests to unlock his cosmetics will be unlocked on July 7, 2022, and it makes sense for him to be a boss in Temple Bloom.
All in all, it is evident that Epic Games is focusing on map changes in Chapter 3 Season 3. The latest hotfix update also added the Firework Flare Gun to the loot poot, and loopers certainly have a ton of new content to explore.