Fortnite leakers have banded together to not spoil the upcoming Final Showdown (Cattus) event
Fortnite leaks are common leading up to big events. There is no way for Epic to hide the files entirely so renderings are common on social media.
With the fight between the Mecha and the Monster set to take place this weekend, many of the largest Fortnite leakers have banded together and promised not to spoil the event.
#wedontleak became a popular hashtag on Twitter as many notable leakers promised to keep their discoveries to themselves. The campaign was largely led by FortTory who reached out to other leakers to provide a unified front on the issue.
Me and some other leakers have talked and came to a conclussion we wont leak the event 1/2 hours before the event starts. Lets just keep it a suprise.

Hereby I call up all the leakers, keep it for once a suprise and enjoy the event!#wedontleak

— FortTory – Fortnite Leaks & News (@FortTory) July 18, 2019
Here is a quick list of Fortnite leakers who have agreed not to post anything about the event: FortTory, FNBRleaks, HypeX, Lucas7Yoshi, ShiinaBR, SiegeFNleaks, KrispyLeaks, StormLeak, RiftFNBR, and more.
Just because the campaign is out there, doesn't mean your timeline is totally safe from leaks. Other big leakers have opted to choose a mute word instead of not doing leaks entirely.
That mute word feels like a solid compromise. People who don't want to see leaks can easily go into their Twitter settings and make sure the unique word the leaker has chosen doesn't appear in their timeline. The only issue is people who don't see the tweet indicating that muted word. While some leakers originally offered a mute word, the public backlash appears to have the vast majority joining #wedontleak.
If you really don't want the event spoiled, all you need to do is stay off social media for about two hours before the event begins. Considering everything is encrypted until then, no real leak can come out.
Now if you do want leaks, we will be posting articles about them if they do come out. We have chosen to do this because our leaks are in articles and nothing will be posted in the title or picture that spoil the event. That gives people the option to choose whether they want to see the leak or not by clicking on the article.
Fortnite's 3rd birthday event leaks: cosmetics, challenges & more
Details of Fortnite's third birthday celebration event have been leaked.
It's crazy to think that we're approaching three full years of Fortnite: Battle Royale. The game has come a long way in that time and is virtually unrecognizable when you compare it to the early days.
Each year that passes, Epic host a birthday event for the player base. Typically, this involves some challenges, free cosmetic rewards, birthday cakes, and a thematic Battle Bus. According to the leaks surrounding the third Fortnite Birthday event, we can expect much of the same this year.
Challenges & rewards
The challenges for Fortnite's third birthday seem nearly identical to the challenges from last year. We'll be dancing in front of cakes, consuming birthday cake for health and shield, and completing general Fortnite tasks over the course of the week.
The challenges are similar to those of past seasons, as well. In fact, two of the rewards have the number 2 on them. These are likely placeholders for future rewards, including the "Take the Cake" emote that we saw leaked.
For now, here are the Fortnite birthday challenges and rewards that we saw leaked. Of course, these are subject to change when birthday event goes live.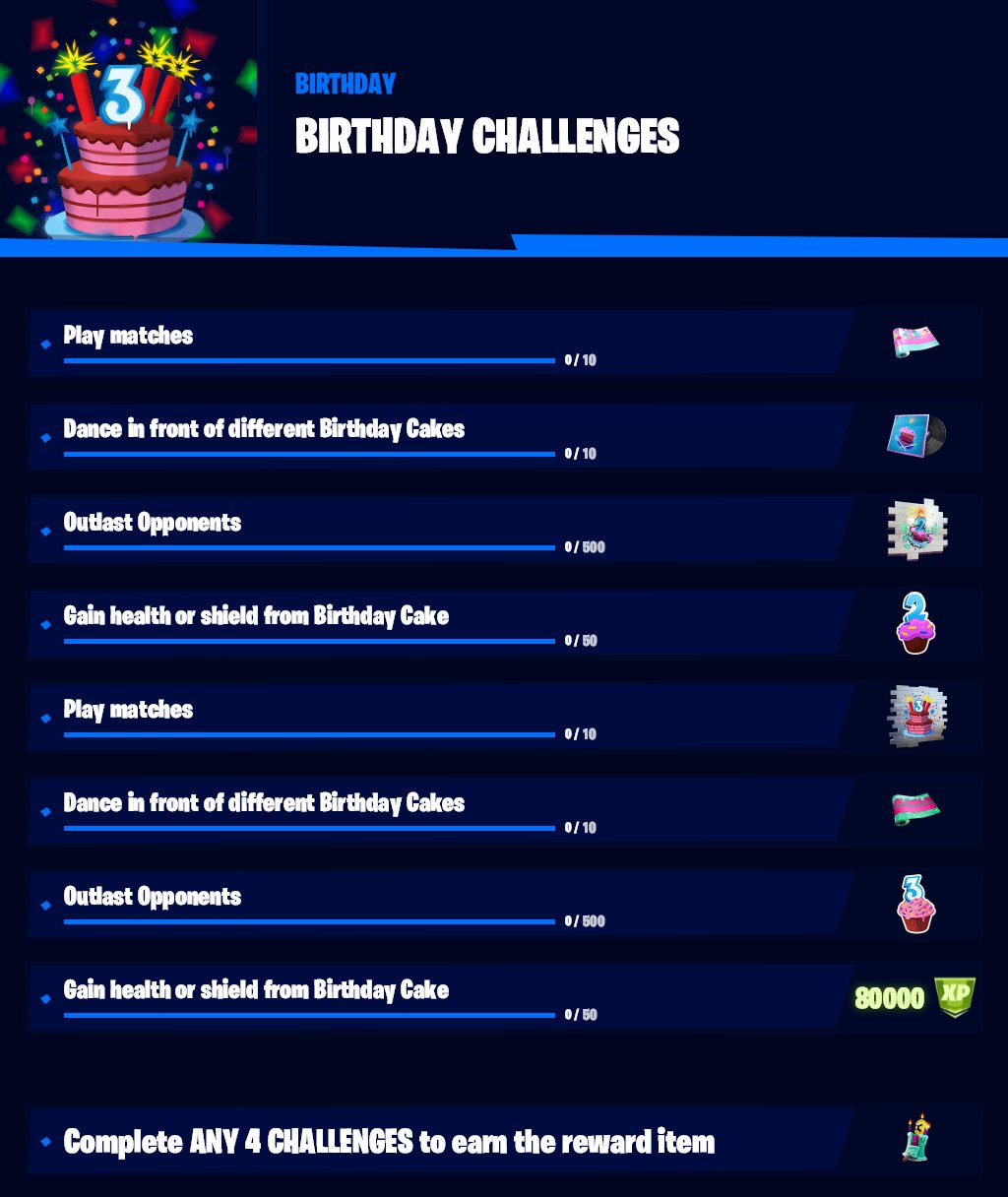 Gift Boxes & Battle Bus
As expected, the Fortnite Birthday Battle Bus will be returning for a third year. Yes, this means the relatively annoying Birthday music will greet us at the beginning of every match for about a week. In our opinion, this is the worst Battle Bus song of them all. With any luck, Epic reworked it this time around.
The birthday Gift Boxes will be returning, as well. Thanks to data miner, Hypex, we also know what they'll contain. We'll be getting some tier-one loot in these boxes. They'll also be one of the two ways to get a Rocket Launcher in Fortnite.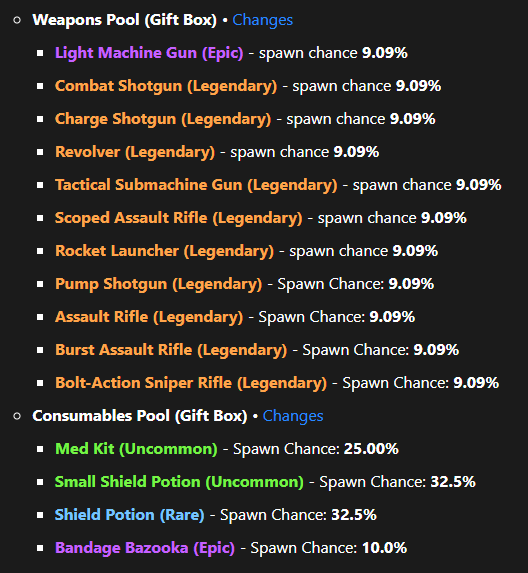 Of course, we're also expecting to see cakes spawn around the map when the event kicks off. We're not sure where these will be, but we'll provide you with a guide to these birthday challenges when they come to Fortnite.
The official Fortnite birthday is on September 26, so we can expect the event to begin on that date – if not a day or two before. It will probably run through the next week and give players plenty of time to complete their challenges.
Fortnite leak points to 2020 birthday celebration event
Fortnite's third birthday is coming up and new leaks suggest we'll be celebrating with free cosmetics.
Fortnite Battle Royale released on all platforms on September 26, 2017. At the time, the game was little more than a free expansion of the base game: 'Save the World.' Epic were capitalizing on the Battle Royale craze that was fueled by games like PUBG and H1Z1.
To a lot of console players, Fortnite Battle Royale was the first BR game to be available to them. PUBG and H1Z1 were PC games at the time – with future console releases on the horizon. Fortnite, however, was free and playable to the biggest gaming market out there, helping to fuel its early success.
We're almost three years removed from Fortnite's initial release date and the game has come further than anyone could expect. It went from a niche Battle Royale game to one of the biggest titles of all time. Fortnite has become a cultural phenomenon like no other game before it.
Each year that passes, Epic Games commemorate the release of their most popular product with an in-game event. Most of the time, this includes a Battle Bus rework along with some free cosmetics that will only be available for a limited time. The first year gave us a back bling and the second year gave us a free skin and pickaxe.
As expected, Epic are planning something similar for Fortnite's third birthday. This time, we'll be able to unlock two weapon wraps to celebrate the season. According to data miner, FortniteFevers, the wrap is still in development. We should see the finished product in the next patch.
Usually, Epic offer us a few different cosmetics to unlock during the Birthday Event. We don't expect them to limit us to two weapon wraps. Most of the time, we have several challenges to complete with corresponding rewards, so we're predicting that these will only be two of them.
We'll keep you posted when we learn more about the Fortnite 2020 Birthday event. We're expecting a patch next week, which should give us more information with which to work.
How to register for Fortnite Chipotle Challenger Series
Want a chance to play Fortnite for $50,000, a year of free burritos, and compete against top streamers and celebrities? Then here's how to sign up for the Chipotle Challenger Series #3.
Some of the big names taking part this time include streamers like CouRageJD, Myth, and Ewok, Fortnite pro players Bugha, Aydan, and Mongraal, as well as star athletes like Chelsea's Christian Pulisic and Josh Hart of the New Orleans Pelicans.
If you want a shot at competing up against these top players and athletes, you'll need to grab two buddies and sign-up for the trios competition, which begins with qualifiers on September 17 and September 24.
First, you and your two teammates need to meet the following criteria:
Age 13+
Be a resident of the United States or Canada
Have an authentic and legitimate version of Fortnite installed
How to sign up for Chipotle Challenger Series
Head to the tournament's official Battlefy page.
Make sure you're signed up to Battlefy and logged in.
Select whichever qualifier you and your trio wish to play in.
Register your team.
Chipotle Challenger Series qualifiers
There are two dates for the qualifiers, with two separate tournaments on each day on NA East and then NA West servers, so make sure to choose the most appropriate qualifier for your trio.
Qualifier 1: September 17, 3pm PT – NA East
Qualifier 2: September 17, 6pm PT – NA West
Qualifier 3: September 24, 3pm PT – NA East
Qualifier 4: September 24, 6pm PT – NA West
For more information and to see the full list of competitors, check out the Chipotle Challenger Series hub.