Every leaked Fortnite collab from Epic Games vs. Apple trial
A leaked document from the Epic Games vs Apple trial has revealed a ton of scrapped/delayed collaborations.
During the first day of the Epic Games vs Apple trial, a slew of scrapped/delayed crossovers was leaked. These include collaborations that were rumored around the time they were supposed to release.
Today, May 3, 2021, marked the first day of the three-week trial between Epic Games and Apple. During the first meeting, a document titles Apple X Epic Quarterly Business Review: June 2020 was leaked. This document contained insightful information into how Epic Games performed during the 2019-2020 fiscal year.
However, it also revealed a number of scrapped/delayed collaborations that Fortnite had planned for 2020 and 2021. The document does not go into detail as to why these collaborations never came to fruition. Seeing as the Neymar Jr. collab was meant to take place at the end of 2020, its delay could mean that the rest of the collaborations will happen in the future.
Samus Aran – Metroid
Samus Aran is the main protagonist in the Metroid series that was supposed to be a part of Fortnite Season 5. Her appearance was supposed to be alongside Master Chief and Kratos as one of the most prolific warriors in video games, but she wasn't released for some reason.
Around the time of her intended release, it had been rumored that she would be coming to Fortnite. Yet, when Season 5 came and went, the rumor was considered just that.
Naruto Uzumaki
Naruto Uzumaki is a young ninja from the popular Shonen Jump series Naruto. He was also planned to appear in Fortnite, but the timing of this collab remains unknown. Seeing as Season 5 featured the game's first anime-like character, he could have been intended for that season as well.
Lebron James – NBA Lakers
Lebron James is a world-famous basketball player for the Los Angeles Lakers. He was intended to be added to the game with his own Icon Series set. Many believe he will be added to Fortnite soon seeing as a basketball-themed event is taking place during v16.40.
James was supposed to appear in Q4 of 2020 around the original release date of Neymar Jr. Seeing as Neymar's release was pushed back to 2021, it's possible that Lebron will appear in Fortnite soon.
Dwayne "The Rock" Johnson
A collab with Dwayne "The Rock" Johnson was speculated by numerous fans at the start of Fortnite Season 6. The Rock had stated on social media that a collab with Fortnite was in the works, and The Scientist from Fortnite shares similar markings with Johnson.
The court documents now confirm that Epic Games had intended to collab with Dwayne Johnson during Q1 of 2021. Due to the delayed release of several seasons in 2020, this collab could be pushed off to a later season.
Katniss Everdeen – The Hunger Games
Katniss Everdeen is the heroine of The Hunger Games series, and she could easily fit in both Season 5 and 6. Season 5 focused on crossing over with iconic characters from movies and video games. As well, Season 6 has had a heavy focus on the use of bows. Seeing as Katniss primarily uses bows, she could fit right in with Lara Croft and Aloy.
The Bride – Kill Bill
The Bride is the main character in the Kill Bill movies, and was intended to be in Fortnite. When she was supposed to appear remains unknown, but she was likely planned for Season 5. This season featured crossovers with characters from similar movie franchises, and she would feel out of place if she appeared in another season.
John McClane – Die Hard
John McClane is the leading character in the Die Hard films. Seeing as he's another 80s action hero who didn't make the cut for Season 5, it can be assumed he was scrapped from Fortnite altogether. Unless Epic Games is planning another gritty action hero season, McClane will have to stick to the streets of LA.
Snake Plissken – Escape From New York
Snake Plissken is the main protagonist in Escape from New York and Escape from L.A. He's yet another character that was likely scrapped due to his lack of appearance in Fortnite Season 5.
Lady Gaga and Ariana Grande – Musical Performances
Similar to concerts by Dillon Francis and J Balvin, Ariana Grande and Lady Gaga were slated to perform in some capacity in Fortnite. This could have meant they were going to have a larger-than-life concert like Travis Scott or a simple set on Party Royale. These concerts didn't end up taking place, but that doesn't mean they won't in the future.
Fortnite x Dragon Ball Z collab is coming in Chapter 3 Season 3 according to leaks
With Fortnite v21.20, Epic Games has added some Dragon Ball Z capsules to the files. This could mean that a Goku skin is finally coming.
Leakers have finally found evidence that hints toward a collaboration between Fortnite and Dragon Ball Z. Here's what anime fans should expect out of it.
It wouldn't be an overstatement that Naruto was one of the biggest crossovers in Fortnite's history. Epic Games rolled out two waves of Naruto cosmetics, and fans loved them equally.
While fans of Naruto are more than satisfied with the emphasis on anime skins, fans of other series like One Piece, Bleach, and Dragon Ball Z have always complained about the ignorance towards their favorite characters.
Fortnite adds Dragon Ball Z capsules in the v21.20 update
With the latest v21.20 update, Epic Games added a new Stamina Prop to Creative which appears to be a replica of Capsule Corp from Dragon Ball Z.
The logo and the color scheme of the prop is identical to the ones we've seen in the anime series. Moreover, HYPEX revealed that it has outlines like other anime cosmetics.
While the Capsule Corp prop is the only Dragon Ball Z element we have in Fortnite, it is enough to ignite the hopes of fans around the world. Goku is easily one of the most popular fictional characters ever, and it makes perfect sense for him to be a part of the battle royale game after Naruto.
There are some skins in the files that are still encrypted. Hence, it wouldn't be a surprise if one of them is Goku.
What to expect from Fortnite x Dragon Ball Z in Chapter 3
Capsule Corporation in Dragon Ball Z is a company founded by Dr Brief who is Bulma's father. Capsule Corp Goku is quite popular among fans, and we might see him as a skin in the Item Shop.
Considering that Naruto arrived with Creative and The Nindo challenges, it wouldn't be a surprise if Epic Games comes up with something similar for DBZ. To be fair, both Naruto and DBZ are two of the most popular anime series out there. Fans would love to purchase the skins from the Item Shop, but free rewards are equally desirable.
The likes of Goku, Vegeta, Frieza, and Broly should become a part of Fortnite once the crossover becomes official. However, it is uncertain if it will take place in Chapter 3 Season 3 or later. This is because Naruto was a part of the files from Chapter 2 but was officially added after months of anticipation.
Having said that, Dragon Ball Super: Super Hero is coming to the US and Canada on August 19, which could very well be the date for the crossover as well.
Fortnite tournament bug grants $2000 and 1000 V-Bucks to every participant
A recently announced Fortnite tournament accidentally promised major rewards to each participant. Here's how it went down.
Fortnite hosts weekly tournaments that promise major rewards to their player base in the form of cash prizes or in-game cosmetics. A tournament that was recently announced for its European Player Base accidentally revealed rewards that were being promised to each participant.
The competitive side of Fortnite still grows stronger every day as the game introduces its player base to different modes and unique tournaments that offer some hefty rewards to winners. Players ranging from amateurs to sweats compete against each other to level up their skill and prove their mettle in the competitive community.
Newer pros emerge in every tournament who challenge these OG sweats and grab the victory royale right from their hands in neck-to-neck situations. While several veterans continue to crib about the game and what Fortnite used to be, the new generation of pros adapt to the game mechanics and evolve their skills with every tournament.
The launch of Zero Build in Fortnite Chapter 3, opened doors for the Zero Build tournaments and several such contests to appear in front of the competitive community. Amongst those, a test event which is currently listed in the compete tab for EU players, shows rewards being granted to each player bagging 1 point in the tournament.
Whiplash Test Event accidentally promises rewards to every player securing one point
Fortnite recently announced a bunch of tournaments for its player base ranging from Jewel Rush (Fives) to Money Wars (Solos), Whiplash (Duos), and Finest's Realistic 2v2 Event. Amongst those, a description of Whiplash Test Event promised rather bizarre rewards that the community was left in disbelief.
The rewards for the Test Event showed players who secure 1 point throughout the entire tournament will be rewarded with a whopping $2000 and 1000 V-Bucks in their Epic Account. Now even in the wildest of imaginations Epic would never reward the entire player base with such a hefty reward.
Upon seeing the news about this bug, the player base on Twitter went crazy and can only wish for this to be true. Moreover, they speculate that Epic will be removing these rewards and fixing the bug once v21.20 drops later tomorrow.
As tournaments continue to pile up on the compete tab, players can now gain rewards from Arena by leveling up with their Hype points. The rewards range from wraps to emoticons that can be secured by Arena players as they tier up amongst the league in their competitive journey.
Fortnite v21.20 early patch notes: Indiana Jones, No Sweat Summer, Luke Skywalker skin, more
Fortnite v21.20 is right around the corner. From Indiana Jones to new content for the 2022 No Sweat Summer event, there's a lot to expect.
Fortnite is all set to release the 21.20 update on July 6, 2022. Indiana Jones will finally become available in the Battle Pass, No Sweat Summer content will arrive in Battle Royale modes, and as usual, the Reality Tree will continue to grow.
The community has sky-scraping expectations from Fortnite v21.20. Even though map changes have been frequent and brilliant in Chapter 3 Season 3, the No Sweat Summer event and the XP system (in terms of more opportunities to earn XP) certainly need improvement.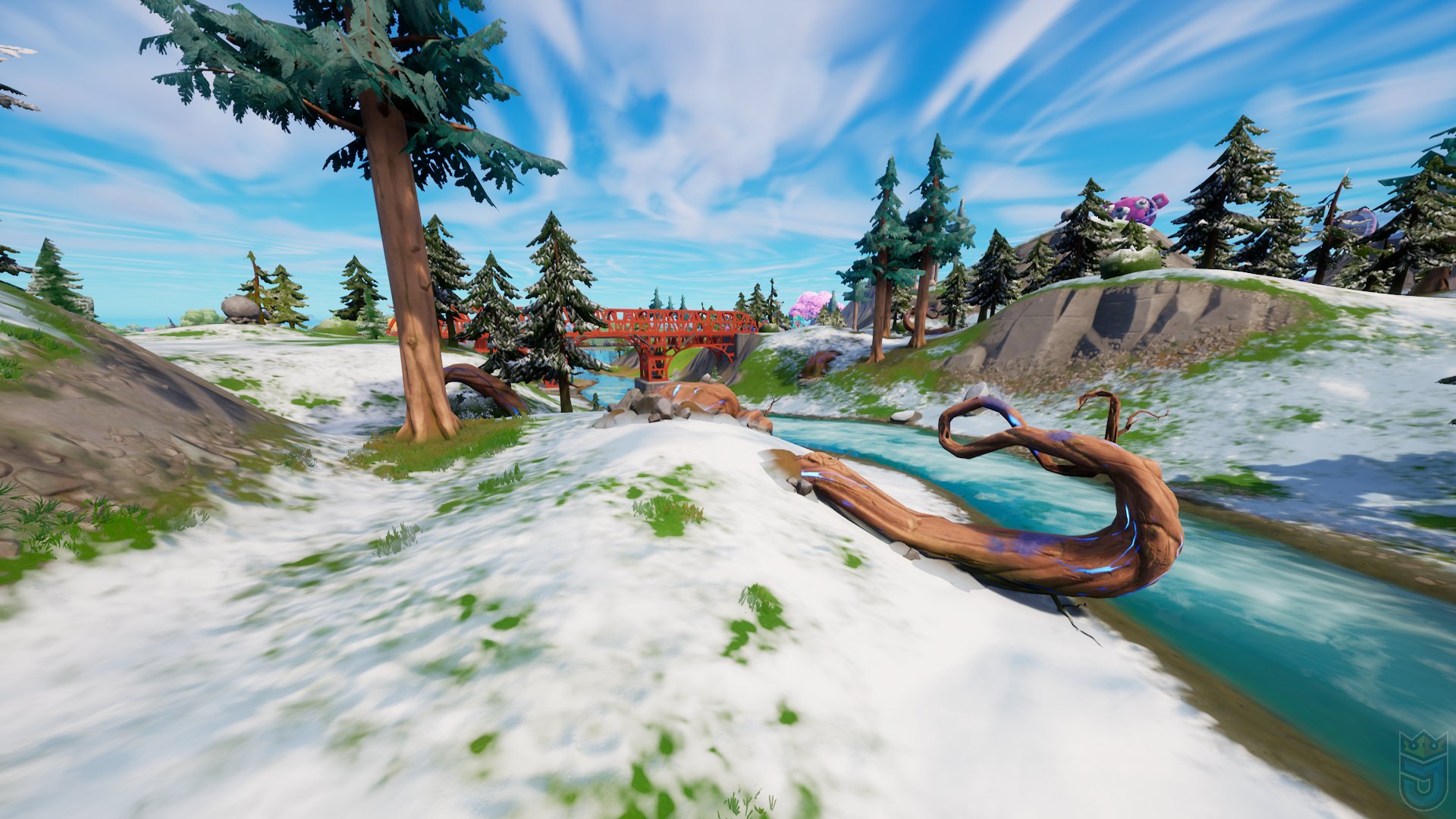 Here's everything players can expect in the second major update for Fortnite Chapter 3 Season 3.
Fortnite Reality Tree to affect Condo Canyon, Sleepy Sound, and Temple Bloom in v21.10
First and foremost, the Reality Tree will reach major locations like Sleepy Sound. Loopers have discovered a new set of roots near Shifty Shafts and they're most likely heading towards Sleepy.
Another location where we will see the influence of the Reality Tree is Condo Canyon. Interestingly, leakers have already revealed the upcoming themes. Like Butter Bloom and Logjam Lotus, Sleepy Sound and Condo Canyon will have recurring themes which include:
Froniter
Coliseum
Coral Castle
Neo Tillted for Sleepy Sound and Lazy Lagoon for Condo Canyon
There's a Reality Root near the Temple Bloom landmark as well. HYPEX has revealed that one of the themes in Temple Bloom is codenamed The Tower in the files, and that's the only information we have for now.
There's a possibility that v21.20 only focuses on Condo Canyon and Sleepy Sound as the developers are yet to add the updated version of Temple Bloom in the files.
New Indiana Jones skin and temple to arrive in Fortnite v21.20
Indiana Jones is the secret skin in the Fortnite Chapter 3 Season 3 Battle Pass. It cannot be unlocked at the moment, and will be available from July 7, 2022. Loopers who own the Battle Pass wil have to complete special quests to unlock the cosmetics which include:
Indiana Jones outfit
Indiana Jones Banner Icon
Raider's Relics Harvesting Tool
Rogue Archaology Wrap
Expedition Bag Back Bling
It is worth noting that these are the cosmetics on Page 1. These will not only become unlockable with v21.20, but you'll also be able to get a look at the next page.
Even though this might be a stretch, but many players believe that Indiana Jones will get his own spawn location. The aforementioned Temple Bloom POI could turn into a temple dedicated for the Indiana Jones boss/NPC. However, readers must take this claim with a huge grain of salt.
New No Sweat Summer content coming to Fortnite Battle Royale
The Island Hopper quests were decent, but players were disappointed to see them as the only 'summer event' content. However, leakers like iFireMonkey and Epic Games itself have claimed that more summer content is coming.
NPcs like Unpeely, Summer Drift, and Boardwalk Ruby, and vehicles like Surfboards will return to BR modes. Moreover, you can look forward to completing summer-themed quests in Battle Royale that should grant XP and free cosmetics.
Battle Royale content will certainly help in making No Sweat Summer 2022 one of the best summer events in Fortnite's history.
Luke Skywalker NPC
Epic Games has released a ton of Star-Wars content in Fortnite Chapter 3 Season 3 which includes Darth Vader as a boss and his skin in the Battle Pass as a tier 100 reward. HYPEX has disclosed that there's a Lightsaber in the files for a Luke NPC.
Based on the leak, it is safe to assume that Luke Skywalker will be released as an NPC and a skin, like this father. However, it is uncertain if he'll be a part of the upcoming update.
Last but not least, weekly quests for Week 5/ Week 6 and Vibin' quests will be added to files with Fortnite v21.20. There aren't any solid leaks regarding weapons as we've already received three new weapons (Two-Shot shotgun, Hammer AR, and DMR) this season.
Fortnite v21.30 will release on July 19, 2022 following which Epic Games will take a summer break that will take place between July 24 and August 12.