Fortnite leak suggests Zero Point will return in Season 4 event
Could we be seeing the return of the Zero Point in Fortnite Season 4?
Galactus is coming for the Zero Point, and these Fortnite leaks suggest that he'll succeed.
Ever since we first learned that Galactus was on his way to the Fortnite island, we heard that he was after one thing: the Zero Point – also known as the Nexus Sphere. In Marvel comics, the "Nexus" refers to the point at which all realities are connected. With this crossover, it could mean the same thing in Fortnite.
By all accounts, the Season 4 event will be the biggest in the history of the game – not a short bar to clear. Fortnite has repeatedly outdone any other video game in their live events, and looks to outdo itself yet again.
With such a massive event on the horizon, fans are expecting certain assets to return to the game. How do you beat the Butterfly Event, Doomsday Event, and Black Hole event? You combine all of them into one.
We don't think that the next Fortnite event will be this simple, but we do have a few signs that some of the major plot points from Chapter 1 will rear their heads, again. Yesterday, data miners reported that files for the Season X Black Hole lobby were back in the game files, suggesting a version of the Black Hole will come back in Season 4.
Today, @Mang0e reported that the sound files for the Nexus Sphere – or Zero Point – were added back into the game. When you combine these two pieces of news, they make a lot of sense. The Zero Point caused the Black Hole, after all.
Of course, this is only speculation and we have no idea if/how these sound files would be used. Most data miners don't know exactly what will happen during the event, but this trickle of information gives us some cryptic clues.
It looks like we'll all need to wait for November 30 until we know more. Until then, we'll cover all of the leaks, clues, and speculation ahead of the biggest event in the history of Fortnite.
'Devourer of Worlds' event recap: rerun, reactions, clips & more
Galactus made his mark on the Fortnite map. Here's a replay of the event, some streamer reactions to what happened, and more.
Galactus tried to devour the Zero Point in the most recent Fortnite event. Here's everything you need to know to relive or catch up on what happened.
After all of that hype, it looks like Tony Stark was prepared for Galactus with his fleet of Battle Buses and some high-powered explosives. The 'Devourer of Worlds' event wasn't as heavy in the plot implications department as we expected, but it made up for it with stunning visuals and immersion.
If you missed the event – or want to relive what happened – we have you covered with a full replay, streamer reactions, and some community screenshots from before things kicked off.
How to watch the Galactus event
There's no shortage of YouTubers and Twitch streamers covering the Devourer of Worlds event. Several creators have already uploaded videos of their perspective. You can also go back and look at the VoDs of streamers who watched the event live.
Here's our perspective of the event, recorded without any voice communications. You can full-screen it for an immersive experience if you don't already know what happens. It was a wild one.
Streamer Reactions
Obviously, the wider Fortnite community tuned in for a glimpse of the new event. They didn't have much of an option, as it was the only playable game mode up to an hour before it began.
We saw some returning players tune into the event as well. NickMercs, CourageJD, and TimTheTatMan joined SypherPK to see what would happen when the event kicked off.
Due to recent copyright problems with Twitch, a lot of streamers disabled clips for the event. Here are some of our favorite reactions from streamers who allow viewers to clip their stream.
Community Pregame Lobbies
Our pregame lobby was relatively tame, all things considered. Most of the players were scattered around the island, but the largest percentage was at the top of the middle tower – we're sure it was the same for a lot of you guys.
We asked our Twitter followers to show us how their lobbies looked. Here are some of our favorite screenshots.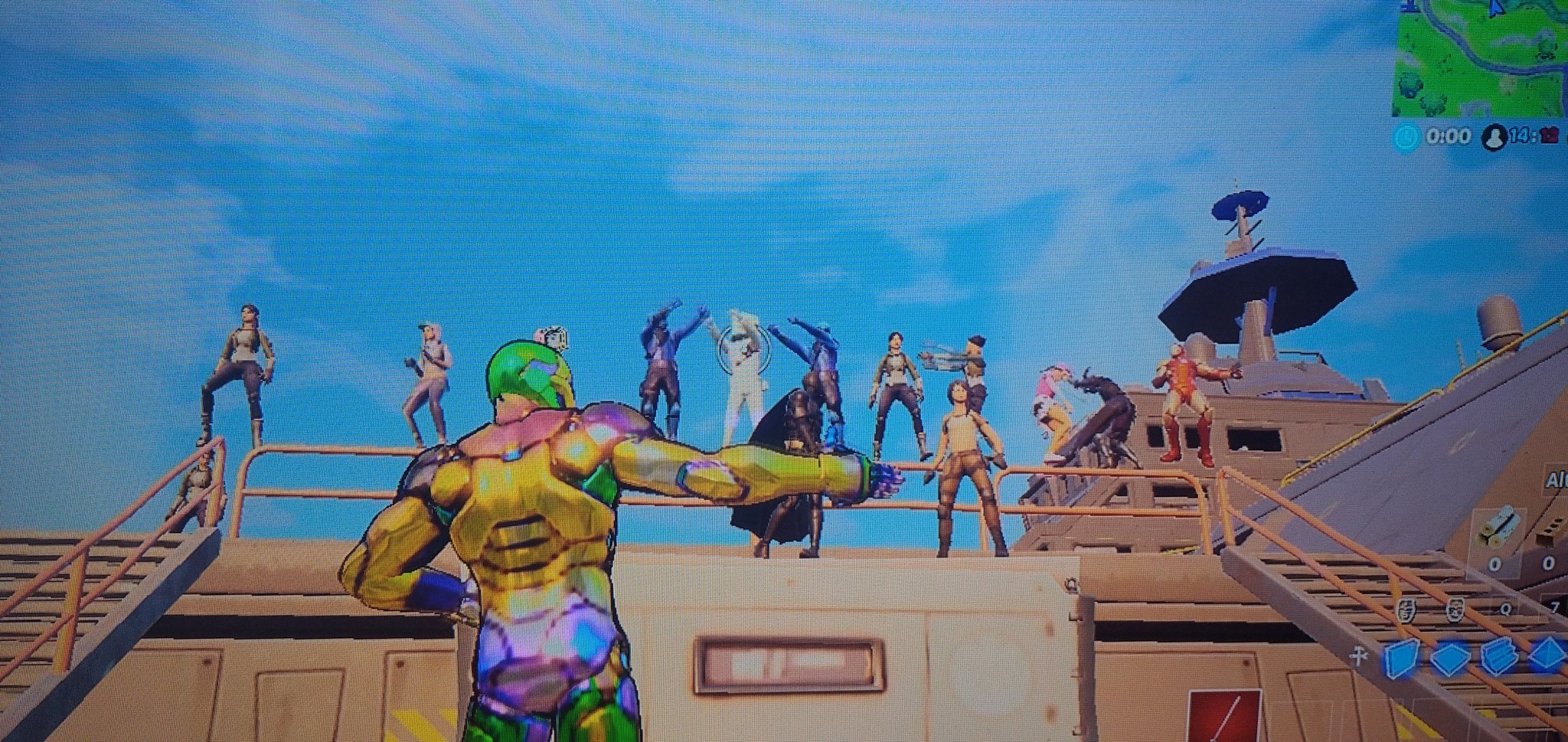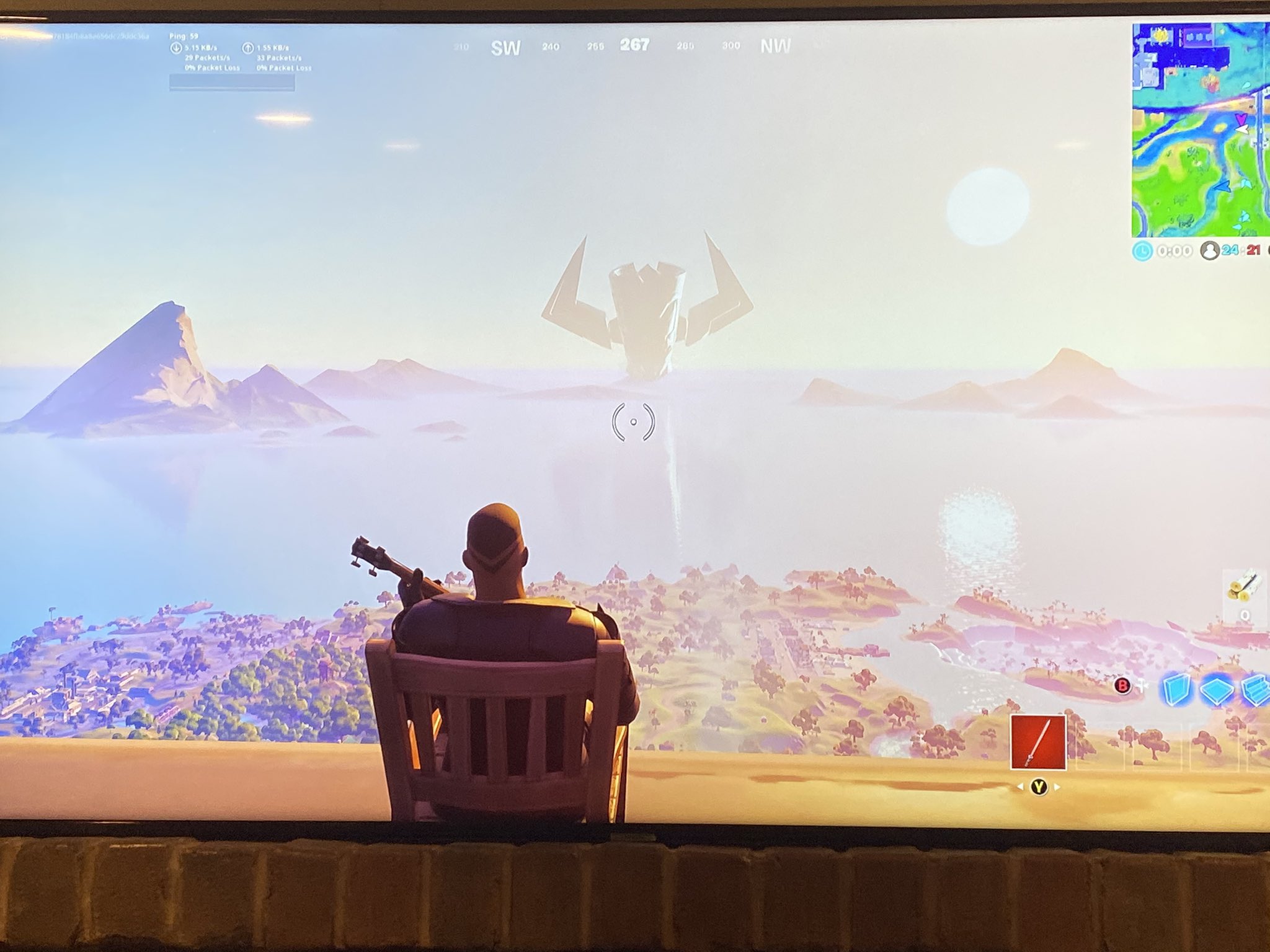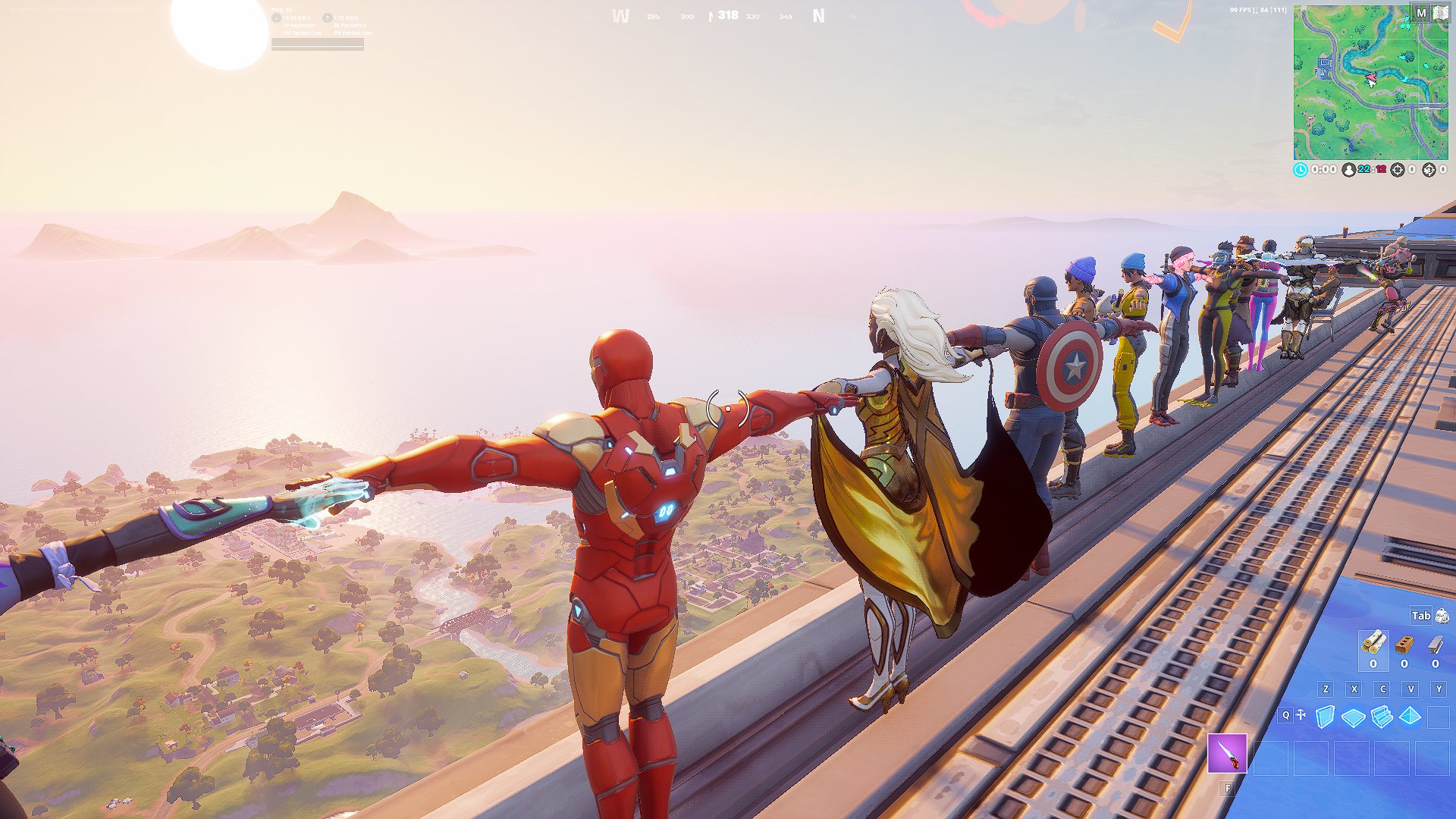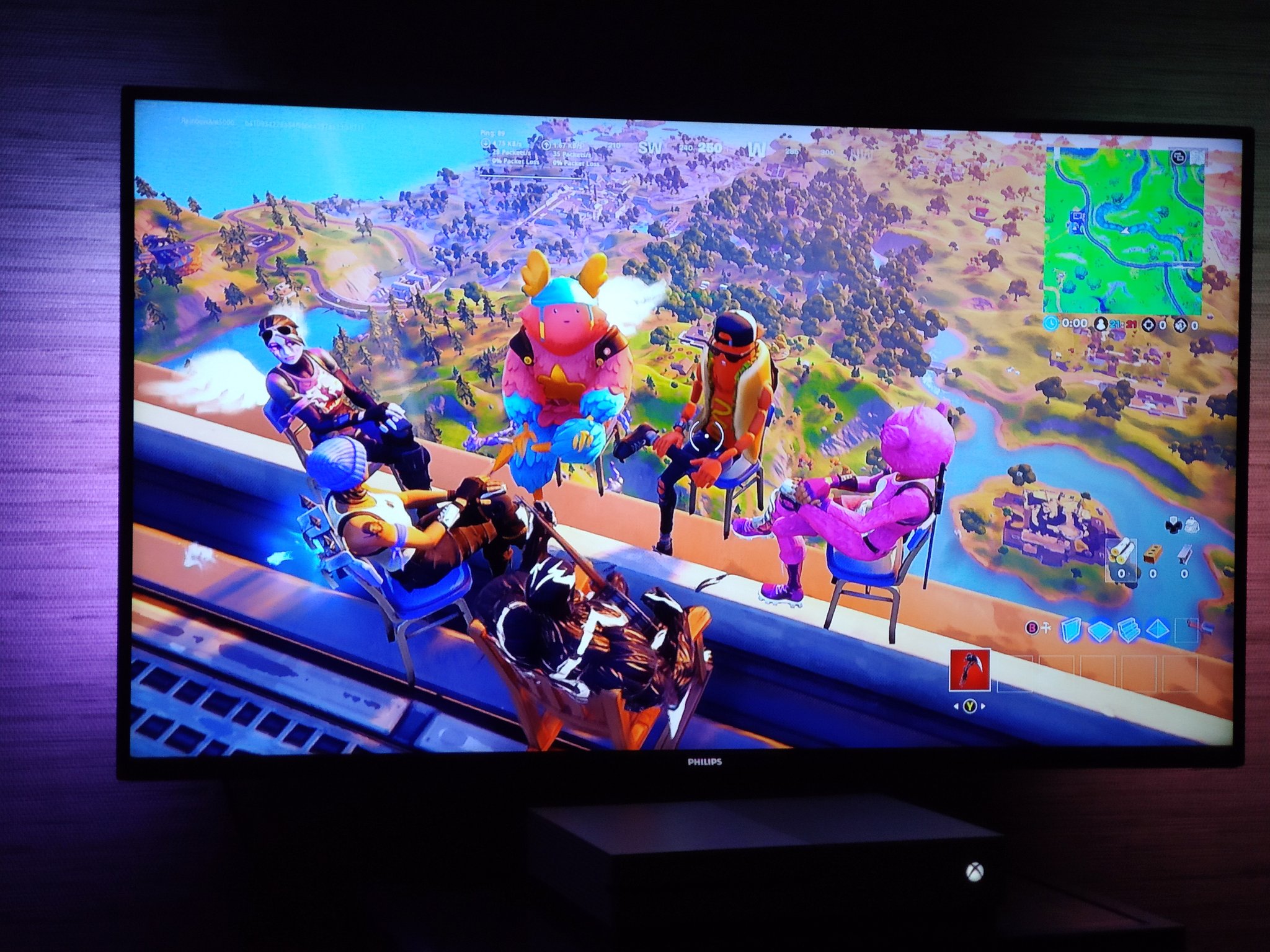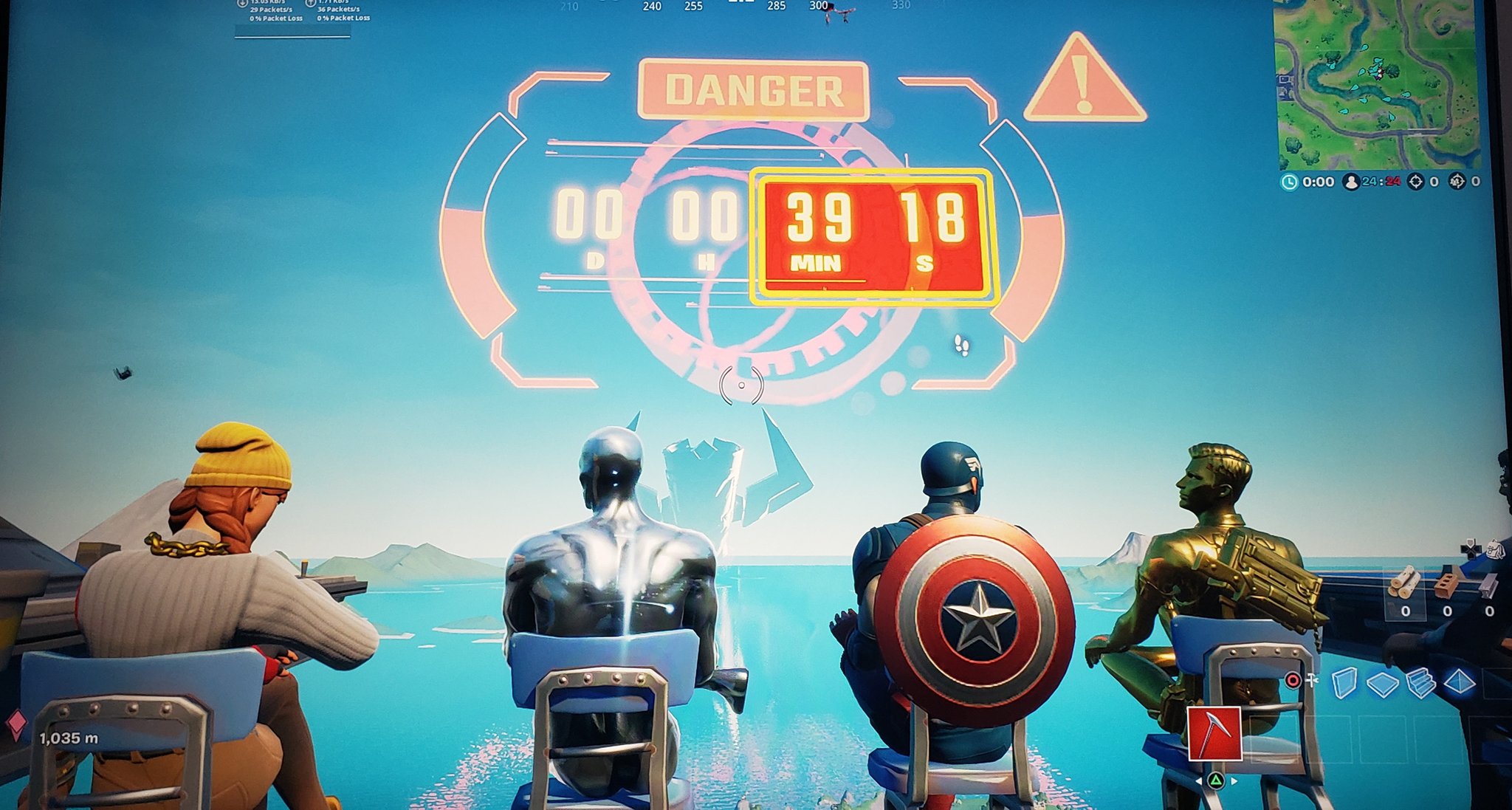 Now, all that's left is to wait until midnight and see what the new season brings us. Make sure to follow us on Twitter, @ForntiteINTEL, so you're the first to know everything about Fortnite Season 5.
How to watch the Fortnite Galactus event (full viewing guide)
The Fortnite Season 4 Galactus event is coming soon. Here's everything you need to know about how to watch.
Fortnite Season 5 is right around the corner, with "the biggest event in Fortnite history" coming tomorrow, December 1.
We still have no idea exactly what will happen when Galactus comes to Fortnite, but early indications are that we'll be experiencing a trip through time – with all of the past events playing a role in this one.
If you're as eager to see this event as we are, you may have some questions about the best way to watch. Here's everything you need to know.
Event Time
Epic has told players that the event will kick off on December 1, 2020, at 4 PM EST. Players in the US tend to know what this means for their local time zone, but players in other countries may not.
The r/FortniteBR subreddit mods created an easy-to-read table that tells players in many major regions when the event will begin for them.
What's more, we've been told that the only way to secure a spot in this event is to log in at least an hour before it starts. This table tells you when you should be at your computer or console, loading-up Fortnite.
How to Watch
The best way to watch the Season 4 Fortnite event will be to log into the game about an hour early to secure your spot, as we stated above. Of course, not everyone will be able to do it.
The event takes place at 4 PM EST on Tuesday, which is 1 PM PST. A lot of US viewers are going to be at work or in school. Thankfully, Twitch allows you to watch your favorite Fortnite streamer experience the event – another way to get in on the action if you cannot log in.
This time, Epic seem to have brought live viewing to the Fortnite Discord server, as well. We don't know exactly how this will work, but there's a channel labeled "Watch Live Event," which could mean that an Epic employee will be streaming the event to Discord.
Event Leaks
Fortnite data miners have been wary not to spoil too much of the upcoming event. After all, we'd rather not know an exact play-by-play of what will happen when Galactus comes plummeting into the Fortnite island.
One thing that we do know, however, is that this event should be a trip down memory lane. Data miners have found assets relating to Rift Beacons, the Black Hole, the Monster vs. Mech, The Zero Point, and other events across the history of Fortnite.
What does this mean? We don't know for sure, but we assume that we'll be traveling through time in one way or another. We'll have to log in and watch the event to know for sure.
We can't wait to see what happens during this event. By all accounts, it will blow every other event out of the water and could change the way we look at Fortnite – just like the Doomsday Event did.
Of course, we'll have you covered with everything you missed and all of the rumors coming out of Season 4's final moments. Make sure to follow us on Twitter @FortniteINTEL so you don't miss anything.
Fortnite Season 4 event promises to be a walk down memory lane
Fortnite leaks and theories suggest that the Season 4 event will bring us back through the history of Fortnite.
Fortnite Season 4 is nearly over, with the upcoming event expected to be the biggest in the game's history. Fans speculate about what the event will bring to the game, but no one will truly know until it happens on December 1.
That being said, we have some significant clues as to some of what we'll see during the event, making many fans think that we'll be getting a trip through time.
Several data miners, especially Mang0e, have mentioned that assets from previous events were added back to the game files in the v14.60 update. So far, we've seen files that relate the End event, The Butterfly Event, and The Monster vs. Mech event come back to Fortnite.
Reportedly, this event is ten times as large as The End event was in terms of file size – the first event listed in GB rather than MB. Again, this makes a lot of sense if it will include elements from all of the previous events.
This is only speculation, of course, but it's based on some irrefutable evidence provided by data miners. Apart from a brief trip through the history of Fortnite events, we have no idea what's going to happen to the island when Galactus gets here.
Of course, we'll be covering all of the news ahead of the upcoming season-ending event, along with all of the action we get when the season ends. Make sure to follow us on Twitter for all of the updates @FortniteINTEL.