Fortnite leak suggests a female Midas skin could be coming soon
A new Fortnite leak suggests that female Midas could finally enter the game through a skin in the Item Shop.
Fortnite players have been looking forward to the potential of a female Midas skin since we first saw the art at the beginning of Season 5. Now, new leaks suggest it could be coming soon.
Female Midas was, for a lot of players, one of the bigger cosmetic draws of Season 5. We already have the loading screen related to the skin, which led players to believe that she would be the secret skin for the latest Fortnite season.
We soon learned that Predator would be the Fortnite Season 5 secret skin. Fine, then, we'd surely get female Midas as one of the Crew exclusive skins. We're only three months into the new Crew system but still haven't seen a female Midas added to the game.
Fans have been left wondering if female Midas will ever come to the game, or if the skin will have the same fate as Shadow Midas from the Fortnitemares event.
Female Midas coming soon?
After months of anticipation, we may have finally gotten some news of female Midas in the v15.40 patch. Data miner ShiinaBR tweeted about an unfinished Midas skin variant added to the game files.
Naturally, this led to speculation about the only Midas skin that we think should be coming to Fortnite in the future: female Midas. Unlike a lot of other leaked skins, these files aren't related to either a male or female.
If this leak is related to the female Midas, then we can assume that we'll see her before the end of the season. It would make sense, as she's already linked to Season 5 through her loading screen.
Unlike Shadow Midas, who was an NPC boss during Season 4, we haven't seen any in-game clues about female Midas outside of the loading screen. We expect to see her in some capacity – hopefully with a skin in the Item Shop or through the Crew subscription pass.
We'll keep you posted when we learn more, but this encrypted skin could stay under wraps until it releases. Follow us on Twitter @FortniteINTEL so you never miss out on any of the latest Fortnite news.
Fortnite Season 6 leak reveals more upcoming vehicle mods
A new Fortnite Season 6 leak reveals two upcoming vehicle mods coming to the game after the Chonkers off-road tires.
The Fortnite v16.20 update brought vehicle mods to the game for the first time, but we don't expect it to be the last we see of them.
Vehicle mods in Fortnite Season 6 have been teased since the trailer was first released. It took a few weeks for Epic to bring them to the game, but they're finally here.
The first vehicle mod added to Fortnite is the Chonkers off-road tires. These tires, as their name suggests, make it easier for players to drive off-road as well as allows them to scale cliffs without getting out of the car.
Of course, we don't expect this to be the only modification that Epic add to vehicles in Fortnite Season 6. More than likely, we'll see some new mods added every patch or so until there are several options in the game.
A leak from Fortnite data miner @Hypex reinforces this speculation. According to him, there are two more unreleased vehicle mods in the game files; one for a rear bumper and one for a front bumper.
The front bumper mod will be called "Scoop" and the rear bumper mod will be called "Mega Booster." Hypex also stated that we could see a mounted weapon on cars and even "interactable mod garages."
The names of these mods make it clear what they'll do. The "Mega Booster" mod will probably be some kind of rocket-propelled enhancement that makes cars go faster. If we had to guess, the "Scoop" mod will be a ramp that will make it easier to blast through structures.
As for mod garages, it's difficult to speculate on how these will work. The Chonkers tires spawn on the ground and let players throw them onto cars. A mod garage seems a bit foreign in the current setup.
Of course, we'll keep you posted when we learn more about these upcoming vehicle mods. Until then, make sure to follow us on Twitter @FortniteINTEL.
Fortnite v16.20 leaked skins: Princess Fishstick, Aloy & more
New Fortnite leaks from the v16.20 patch reveal skins for Aloy, Princess Fishstick, and many more. Here are all of the leaks so far.
The Fortnite v16.20 patch is live, and brought some new leaked skins and cosmetics to the game. Here's what we know.
It's been two seasons since we first saw Princess Fishstick teased in a loading screen. Now, in the v16.20 patch, we finally have a leaked model for the skin.
Of course, she isn't alone. We have a ton of new skin leaks to explore along with some updated bundles. Here are all of the new and updated skins that were leaked in v16.20.
Fortnite v16.20 leaked skins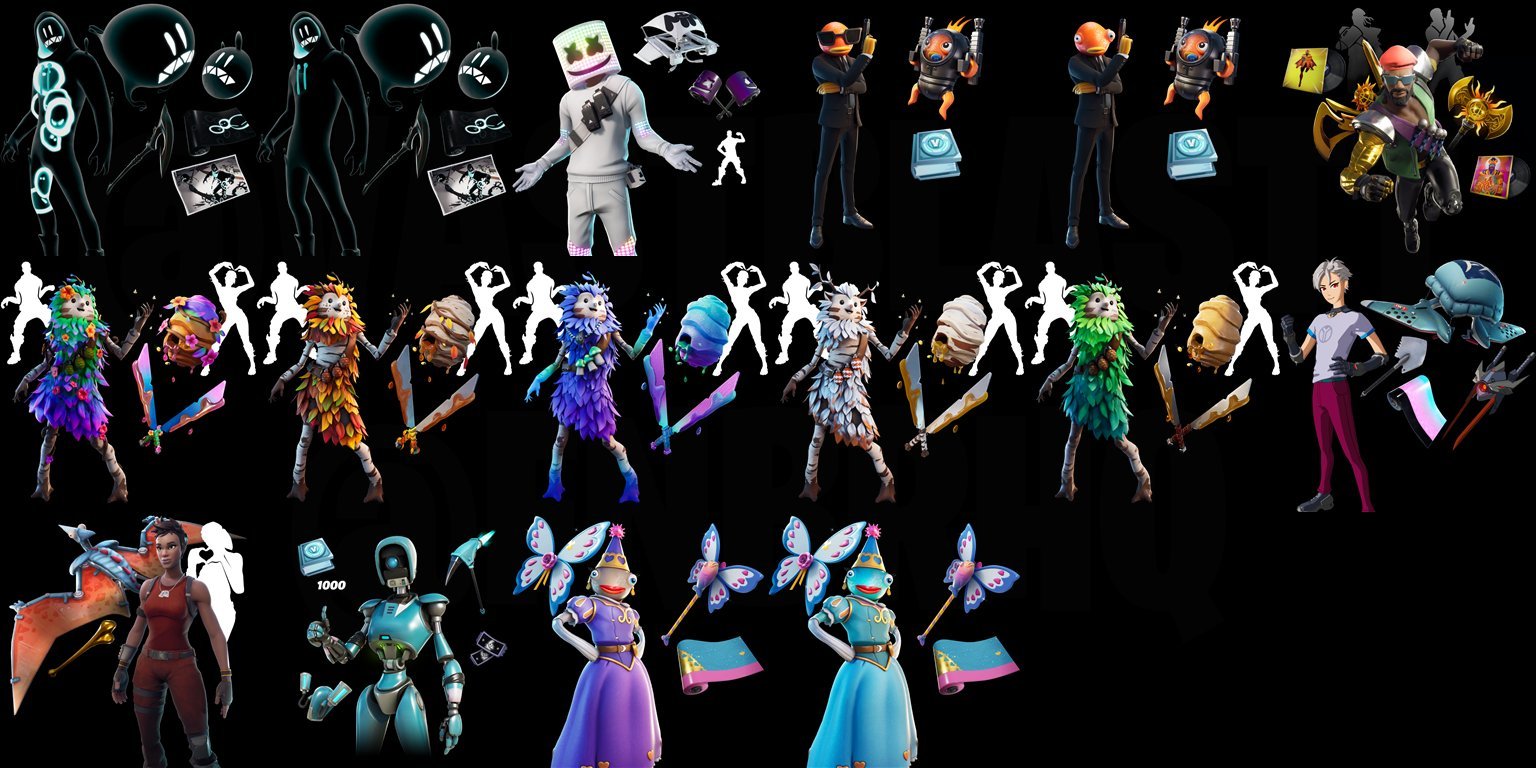 Fortnite v16.20 leaked Emotes
We assume that these cosmetics will hit the Item Shop in the coming weeks. We already know that Aloy will be available on April 14 through the PlayStation exclusive Aloy Cup. You can view more details on that here.
We'll keep you updated if data miners find any more leaked skins and cosmetics in the update. Until then, make sure to follow us on Twitter @FortniteINTEL so you never miss out on any of the latest Fortnite news.
Image Credit: Epic Games, Hypex, VastBlastt
Fortnite leak reveals upcoming crafting formulas
A new Fortnite leak reveals upcoming or scrapped crafting formulas we could see in the game as updates for Season 6 roll out.
Fortnite Season 6 brought crafting to the game, but it won't stop with the original formulas. As expected, Epic have plans for future crafting items.
Epic Games have been making huge steps in the Fortnite world with their recent seasons. Season 5 introduced NPCs and quests to the game, and now Season 6 has brought crafting to Fortnite.
We have a handful of simple, easy-to-understand crafting formulas to start. Nobody expects the crafting system to end here, however. New leaks reinforce that idea, with some future crafting formulas revealed.
Leaked crafting formulas
Fortnite data miner, Hypex, recently revealed some crafting formulas that he found in the game files. As he said in a tweet, these could be scrapped concepts that Epic abandoned or future craftable items that will come to the game in the future.
We don't have names for these items, but they're all variations of the bow. According to these leaks, a Spicy Fish or Pepper combined with a Primal Bow would create a Fire Bow. A Hop Fish and a Mechanical Bow will create a Hop Bow – seemingly similar to the Impulse Bow we have now.
The Hop Bow would be a take-it-or-leave-it concept, in our opinion. The Fire Bow, on the other hand, could cause some serious Havoc in Fortnite – especially in competitive modes. The Stink Bow is already under some scrutiny, and a Fire Bow would only add to the frustration in this department.
Whether or not these items come to the game, we can be sure that Epic will continue to expand the crafting system as Season 6 goes on.
Fans have already thought of some brilliant concepts involving the Tac Shotgun, a Rift-to-Go, Launch Pads, and many other fan-favorite items that could enter the crafting system. Hopefully, many of these ideas are realized in Season 6 and beyond.