Fortnite Leak reveals the final Season 3 map stage
The full Fortnite Season 3 map has been revealed.
On July 1, the water level of the Fortnite Season 3 map went down for the first time. Don't be surprised if you didn't notice it after a game or two – the only place that seemed to be affected was Steamy Stacks, which is now free from the flood.
As many of you know, Epic will progressively lower the water level over the course of the season, revealing new POIs and, eventually, bringing the much-awaited cars to the game. According to reports, the next stage of the Season 3 map will release on July 11. This stage will be more significant, with Risky Reels coming back into play.
This isn't the only glimpse of the Fortnite Season 3 map that we got, however. Apparently, consoles don't have encrypted PAKs like PC does. This allowed data miner VollMitBotox's game to glitch on PS4, showing him the final stage of the Season 3 map.
Here, you can see all of the locations that are currently on the map as well as a dried-out Dirty Docks, Weeping Woods, and more. The biggest changes that we see on the map are south of The Shark and at Rickety Rig. The former will likely be the rumored 'Ruins' or 'Atlantis' location that data miners have found in the game files.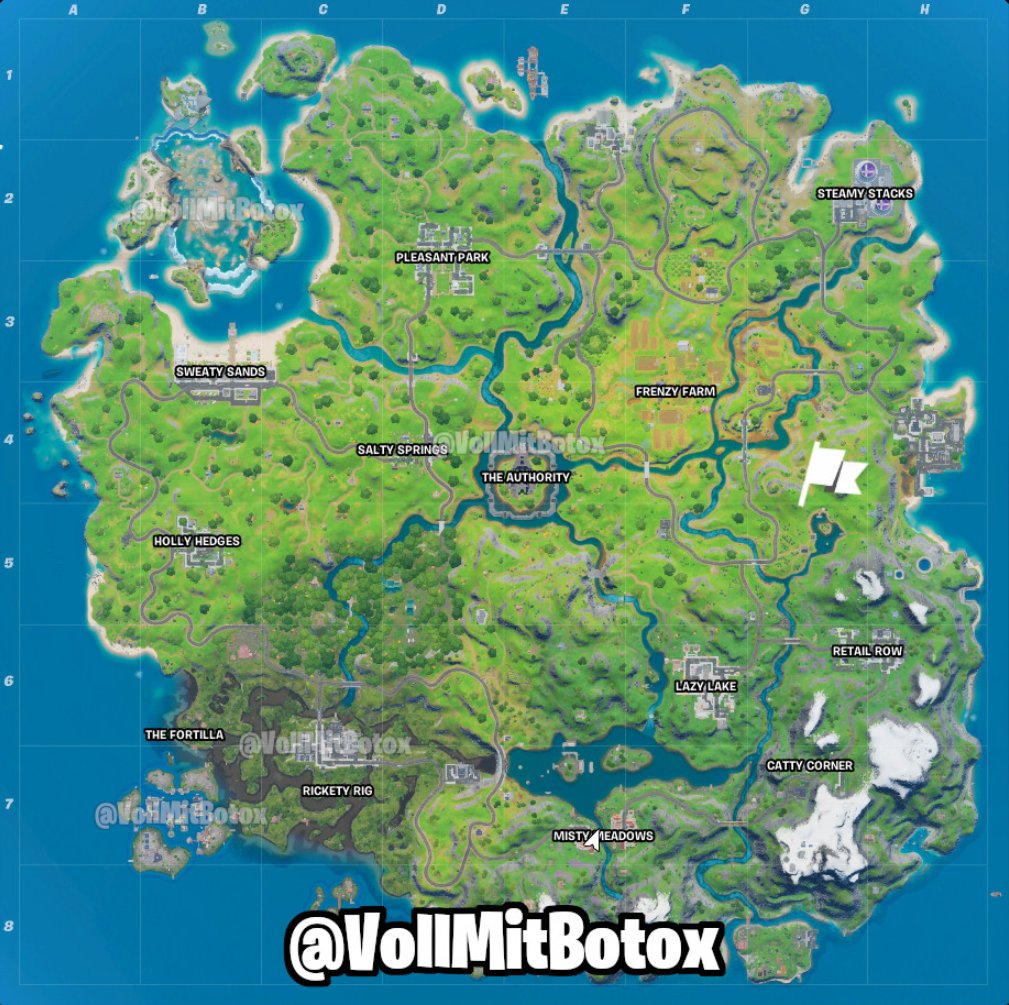 The full Season 3 map is surprisingly similar to the Season 2 map – at least, on the surface. The flooded POIs will likely look quite a bit different when the water level lowers. We've already seen leaked images of places like The Shark and Craggy Cliffs with no water. It looks like the Grotto will remain a swimming pool for the entirety of Season 3.
Now that we know how the final Season 3 map will look, all we can do is wait for the water to progressively lower over the course of the season. We'll be discovering these new and returning locations with the rest of you, and keep you posted on everything that changes.
Fortnite split-screen: how to play with friends
Epic introduced the ability to play split-screen Fortnite in Chapter 2 Season 1. Here's how to enable the setting.
Epic introduced the ability to play split-screen Fortnite back in Chapter 2 Season 1. Here's how to enable it so you can play locally with a friend.
Fortnite has always had a focus on playing with friends, but that always meant you had to play online. Even if you were in the same house as your friend or family member, the two of you had to play on two separate devices.
This changed back in the v11.30 update in Chapter 2 Season 1. Epic introduced split-screen capabilities on consoles for the first time. It wasn't perfect when it first came out, but it's since gotten a lot better.
How to use the Fortnite console split-screen feature
Initiating split-screen is simple. All you have to do is connect two controllers to your Xbox or PlayStation. Split-screen still isn't available on mobile, PC, or Nintendo Switch. Here are the steps you need to follow:
Start Fortnite
Connect a second controller to the console and turn it on
Hit 'Main Menu'
Player 1 will need to invite Player 2 with their Epic account
Player 2 will need to sign into their account
Player 2 will join and split-screen will automatically initiate
You can even save another player's information on another account on your console, making split-screen easier and quicker to complete.
The feature still isn't perfect and doesn't replace the feeling of playing online. You'll only have access to half of your screen, so you're going to miss a few things that normal players will see. Still, playing split-screen is far more preferable than switching off with your friend or family member game after game. Enjoy!
Image Credit: Epic Games/u/SmonkYT
Fortnite v16.20: what to expect
The Fortnite Season 6 v16.20 update is expected to go live this week. Here's what we expect to see in the next Fortnite update
The Fortnite v16.20 is expected to release this week. Here's what we'll see in the patch notes when the update goes live.
We're working our way through Fortnite Season 6, but Epic are continuing to give us new content to explore. We're only a week past v16.10 and are already expecting to see v16.20 go live this week.
Here's our typical patch breakdown on what to expect in the update, including some leaked items and a long list of bug fixes.
Bug fixes
Epic are consistently updating their game to fix bugs, glitches, and exploits. In the v16.20 patch, we'll see a ton of fixes – including a fix for an exploit that allowed players to gain unlimited health/shield over the course of a match.
Here are all of the bug fixes that should be addressed in the v16.20 update.
Cannot create system-level parties between PS5 and PS4 when playing Fortnite.
Code Green Wrap not appearing correctly.
Arena playlist issues.
Storm visibility is clear when using Performance Mode.
Collection Book Character #17 not appearing on the Island.
Slurpshrooms and Coconuts temporarily disabled.
(Creative) Start with 'Pickaxe' Creator setting still spawning with a Pickaxe.
(Creative) Vehicles not moving properly in Creative.
(Mobile) Cosmetics in Lobby appearing blurry on Nintendo Switch.
(Mobile) 3D resolution reset itself even if the player saved the settings.
Leaks
We've seen a few leaks about content that could be coming to Fortnite in the coming weeks. The most likely addition to Fortnite in v16.20 would be the Unstable Bow – a rumored Exotic weapon that should be coming to Season 6.
On top of that, we've seen leaks about vehicle and weapon mods, additional crafting materials, and more. We don't know if/when any of these will come to the game. We always take leaks with a grain of salt, but many of these items will likely make their way to Fortnite – possibly in the next update.
We'll keep you posted when we have official word from Epic on the v16.20 patch. We expect to see it on April 13 or 14, at the latest.
In the meantime, make sure to follow us on Twitter @FortniteINTEL so you never miss out on any of the latest Fortnite news.
How to tame Raptors in Fortnite Season 6
Raptors have entered Fortnite Season 6 in the v16.10 update. Here's where to find and how to tame Raptors.
Raptors are now available in Fortnite Season 6. Here's where to find and tame the new creatures.
The Fortnite v16.10 update brought a new form of wildlife to Fortnite: Raptors. These predators are now roaming the island, looking for blood.
Of course, you can tame these dinosaurs to fight by your side. Unfortunately, you can't ride them, but they can be a huge help when it comes to combat. Here's everything you need to know.
Fortnite Raptor locations
Unsurprisingly, Raptors spawn around the areas where their eggs hatched. You can find them around Stealthy Stronghold, outside of Craggy Cliffs, south of The Spire, and south of Misty Meadows.
Raptors spawn in pairs and are stronger than wolves when you fight them. This is not to say that taking them down will be difficult. We're not dealing with Marauders, here.
Here's a map of all of the known Raptor spawns in Fortnite Season 6. We'll update this map if the spawns change or if players find more locations.
How to tame a Raptor in Fortnite
Taming a Raptor is the same as taming most of the other wildlife on the island. It will be the same process as taming a Wolf – arguably easier as wolves spawn in packs rather than pairs.
Eliminate a Wolf, Chicken, or Boar for its meat
Find a Raptor
Throw the meat at its feat and wait for the Raptor to eat
Walk up to the Raptor and hold "Interact" to tame.
Be careful, as Raptors spawn in pairs. Just because you tame one, doesn't mean its partner doesn't still want to eat you.
With such a quick addition of a new animal, we wouldn't be surprised to see Epic add more wildlife to the island as Season 6 chugs along.
We'll update you if we learn anything else about the wildlife of Fortnite – or if we find any new tricks to taming Raptors.
Image Credit: Epic Games, Fortnite.gg