Fortnite leak reveals strange Midas collection
A Fortnite leak reveals that Midas has been collecting the helmets of some popular characters.
A Fortnite leak reveals that Midas has been collecting the helmets of some popular characters.
Fortnite Season 2 is on the back-half, and fans are waiting to see what plotlines will sprout out of the finale. We saw some leaks that point to a doomsday device being created on the island, complete with strange hatches appearing around The Agency.
Midas seems to be the one behind all of this. Most of the other Season 2 characters are along for the ride.
Recently, data miner @spedicey got a closer look into what Midas' room will look like when he comes to the game. We only get a brief shot, here, but it appears as though he's been collecting masks from previous seasons of Fortnite.
Another data miner, @InsideBattleBus, got a closer look at the strange collection in the room. The group of gilded helmets includes the Black Knight, A.I.M., and even the Chaos Agent.
If this is true, then it means Midas has been collecting gold helmets since Season 2. He's been in the mix the whole time.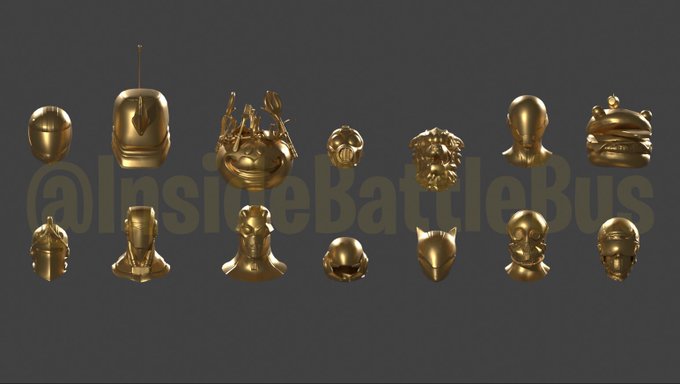 All of these helmets make Midas look pretty guilty. It's far from a stretch to call him the villain of the season – what with the doomsday device, and all.
The question remains, though: who is the hero? I'm putting my money on the Chaos Agent. He, like The Visitor before him, was introduced as a villain that had some dastardly plans. Over time, we found out that The Visitor was just someone who knew a lot more than the rest of us.
The Chaos Agent could be in the same spot. We thought he was the villain of Season 1, but he could have been preparing for Midas' attack in Season 2. We'll have to wait and see what happens – possibly for another season or two – before we'll truly know the implications of all of this.
Another Shockwave strategy pushes you into an opponent's box
Fortnite players have discovered yet another way to use Shockwaves to break into boxes.
Shockwaves have always been one of the most useful items in all of Fortnite. They do what the Impulse Grenade did – only, far better. You can use them to gain high-ground, rotate, shoot players into the storm, or combine them with another rotational tool for maximum mobility.
Players have used Shockwaves to break into an opponent's box for a long time. You can set this up by standing two tiles away, placing a wall, and throwing a Shockwave. The momentum will push you into an opponent's box and through their turbo-build wall. Similar methods work when above and below an enemy.
Recently, Reddit user u/pixxels2 posted a short video, showcasing a new way to use Shockwaves to break into an opponent's box. With practice, you'll be able to set this one up much faster than the common strategy we described, above.
All you need to do is build yourself into a box diagonal from your target – make sure that you build a cone on top of you. From there, edit or break the floor piece above you, throw the Shockwave into the cone, and walk forward. As you'll see, you'll be able to walk right into an opponent's box.
If you use this trick on an opponent who's trying to heal, the chances are high that they won't see it coming. Sure, they could one-pump you, but most players aren't going to expect you to come slamming into their box like this.
The tactic takes some practice to perfect, but it's easy to get the hang of and has a ton of practical in-game uses. It's worth trying – especially if you need a kill in a competitive Fortnite match.
Fortnite leak suggests Zombie Husks could return in Fortnitemares 2020
Fortnitemares 2020 is expected any day now, and fans are wondering what the new update will bring them. Last season, Epic scrapped Husks from the Save the World version of the game in favor of jump-scare zombies hiding in cars and barrels of hay.
Most Fortnite players appeared to prefer this version of zombie in Fortnite. Sure, they could make you jump out of your chair, but the husks would routinely overwhelm players and cause them to lose games. The 2019 Fortnitemares zombies had little affect on actual gameplay.
In fact, we even created a Twitter poll, asking our followers which Fortnite zombies they preferred. Out of the over 2,000 people who responded, almost 70% of them said that they'd prefer last year's jump-scare zombies to the husks from previous Fortnite events.
Well, according to Fortnite data miner, @Mang0e_, Epic have made alterations to the husk spawners in Fortnite. The change is only in the audio – but any change to an existing Fortnitemares asset would suggest that it's coming back.
Unfortunately for the many players who dislike these zombies, this leak seems to be a clear sign that they'll be returning for Fortnitemares 2020. Hopefully, the cubes that spawn these husks drop some tier-one loot as they did during Season X.
In past Fortnitemares seasons, these cubes spawned all over the map. We could see the same happen, again, but we hope that won't be the case. Retail Row was home to the husks in Season X, so we could see the POI be a hub for zombie activity, yet again.
There are also rumors that The Authority will be home to Midas and "Ghostly Ghost Henchmen," which could also signify that husks will be active in this area. If this isn't the case and zombies spawn all over the place, then we can only hope that their spawn rates look more like that of the Gorgers rather than the Marauders from Chapter 2 Season 3.
Fortnite leak points to a buffed Flare Gun returning
The Flare Gun has been buffed in the Fortnite game files, suggesting that its return could be around the corner.
The Flare Gun was Fortnite's first step towards the fire-filled gameplay that we have in Season 4. In Season 3, Epic introduced the Flare Gun to fit with the "stranded" flood theme of the map and Battle Pass. Later, they introduced the ability to set structures on fire and a new item to do just that: the Firefly Jars.
Environmental fires were cited among the reasons Epic swapped to the new physics engine in the first place. Season 4 seems to have capatalized on these new effects, adding Doom's Mystical Bomb and other ways to set your surroundings on fire.
With the introduction of Season 3, however, Epic removed the Flare Gun from the game. It wasn't the most popular item in the rotation, but it still provided some handy utility in the form of marking players in the surrounding area. Still, most of the time, players would pick it up, shoot a shot to see if anyone was around, drop it, and move on.
According to data miner Mang0e, we may not have seen the last of the Flare Gun in Fortnite. The item has undergone some changes in the game files, buffing the duration of marked enemies to 15 seconds.
This isn't the largest buff in the world but it will make the item more viable. The Flare Gun wasn't very useful when it came to dealing damage, so buffing the utility of the gun could influence more people to carry it.
There wasn't anything wrong with the original Flare Gun in Fortnite – you'd be hard-pressed to see too many people complaining about it. The weakness of the gun still seems to be there, however. It doesn't take ammo, so you'll be stuck with ten charges – similar to the Harpoon Gun.
Adding ammo to the Flare Gun might throw it out of balance, so this might be the most significant buff that Epic can add – within reason. Either way, it would seem that the Flare Gun could be making a return. We can guess that we'll see it as early as Fortnitemares or as late as Season 5.