Fortnite leak reveals more details about the Doomsday event
The Doomsday Device is coming as data miners find more Fortnite leaks that reveal a potentially season-ending event.
Fortnite v12.60 went live today, May 20. This is set to be the last major patch of Season 2, with an expected content update coming next week.
Since this is the final patch, we saw several leaks regarding the rumored Fortnite Doomsday event. Fans assume that this event will trigger the end of the season and the eventual flooding of the map – which has been, reportedly, leaked as well.
The first piece of information that we saw was a countdown. This will appear over The Agency and signify that an event is coming. Since we'll be seeing an in-game countdown, we can safely assume that the Doomsday event will be an in-game event, similar to the ones that we've seen in the past.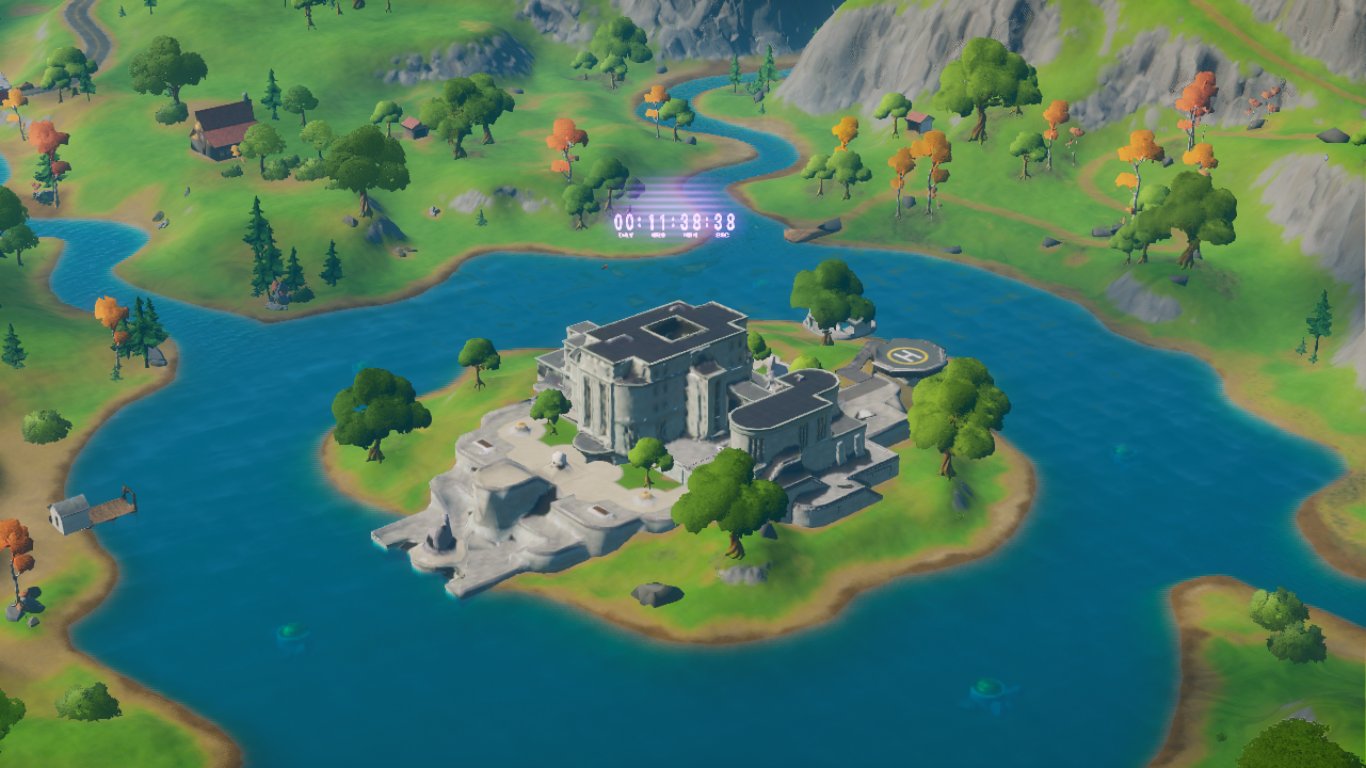 What will happen with the countdown hits 0? We don't know. All we know is that clouds have already begun to form above The Agency. More leaks surrounding the event also point to the disappearance of the Doomsday Device in the Battle Pass hub.
We don't know where the device will pop-up on the map, but we can make an educated guess that it will appear in or around The Agency.
The leaked countdown is incorrect, so we don't know exactly when all of this will happen. Again, we can guess that the event will transition us between Season 2 and Season 3. If we look at other events as an indication, the Doomsday event will take place the day of or the weekend before the release of Season 3.
Data miners also saw some leaked strings in the game files that point to the significance of water and waves. We don't know if they're directly related to the event, but they seem to be. This adds further credibility to the flood rumors that we heard about for Season 3.
That's all we know, so far, but more details will come out as Epic reveal them in-game. We'll keep you posted when we know more.
Fortnite Spring Breakout: release date, skins, tournament & more
The Fortnite Spring Breakout event is almost here. Take a look at the release date, quests, skins, tournament details, and more.
Fortnite is hosting its first-ever Spring event: the Spring Breakout. Here's everything you need to know about the rewards, skins, featured tournament, and everything else.
We're into Fortnite Chapter 2 Season 6 and Epic are just now hosting their first official Spring event, called the Spring Breakout. This new event will feature some fan-favorite returning items, new skins, quests, and a tournament.
Here's everything you need to know about the event, start date, and more.
Fortnite Spring Breakout release date
Spring Breakout is set to hit Fortnite on March 30, just in time for Easter. In the promotional material for the event, Epic revealed a handful of new skins that will come to the Item Shop over the next week or two.
These skins will have customizable options, which is good news for players with some V-Bucks to spend. Of course, if you want one of the older bunnies, they will probably be a part of the Spring Breakout Item Shop as well.
Quests and free rewards
This might be the first time that Epic have officially hosted a Spring event, but we know what to expect in Fortnite when Easter rolls around. Epic have added the Egg Launcher back to the game every Spring since the game was first released.
The Spring Breakout Event will offer some seasonal challenges, however, which we haven't seen in previous seasons. These challenges will give you a chance to earn free cosmetics, including the Tactical Quaxes Pickaxe. We'll post a guide to these challenges when they go live.
Spring Breakout Cup
The Spring Breakout Cup will kick off April 2. It's a Duos competition and will replace the Friday Night Bragging Rights tournament for the week.
As usual, players have three hours to complete ten matches. Players who finish at the top of their region will earn the Webster Outfit and Mecha-Feathers Back Bling early and for free.
We'll update you with more information about the Spring Breakout Cup, challenges, and rewards associated with the event. Make sure to follow us on Twitter @FortniteINTEL so you don't miss any of the latest news.
Image Credit: Epic Games
Fortnite announces Zero Crisis Finale & Exotic sale to end Season 5
The Fortnite event to begin Season 6 will reportedly be interactive. Learn more about the event and the new Exotic sale here.
Fortnite Season 5 is ending with a bang – literally. Epic are celebrating the end of the latest Fortnite season with an Exotic Weapon sale and an event called the Zero Crisis Finale.
Fortnite Season 6 is right around the corner, with players looking forward to what the new season of Fortnite will bring. The Zero Point looks to be destabilizing fast, and Agent Jonesy will be getting a conclusion to his story.
Ahead, we'll cover everything we know about the recently-announced Zero Crisis Finale and the ongoing Exotic Weapon sale to close out the season.
Zero Crisis Finale
Epic Games released a blog post on March 9, announcing what appears to be the season-ending event for Fortnite Season 5. The Zero Crisis will end on March 16 and the new season will begin as we play through an interactive solo event.
Interestingly, Epic have described the event as, "our most ambitious story cinematic yet," and said that it will, "shape Reality as we know it." We're excited to see what this means.
Exotic Sale
If you haven't tried all of the Exotic weapons in Fortnite Season 5, now's the time. Epic are offering a discount on all Exotics to players from now until the end of the season.
You can take a look at all of the new prices below, and find all of their locations here. Some Exotics are better than others, so you might as well try them all before the season ends.
The Dub: 600 to 350
Storm Scout: 500 to 300
Boom Sniper: 600 to 350
Shadow Tracker: 400 to 250
Night Hawk: 400 to
Dragon Breath: 500 to 300
Hop Rock Dualies: 500 to 300
Burst Quad Launcher: 600 to 50
Chug Cannon 600 to 350
The Big Chill 400 to 250 Bars
Of course, we'll be covering all of the Season 6 and Season 5 event news here and on Twitter, @FortniteINTEL, so make sure to follow us there so you never miss out on the latest news.
Image Credit: Epic Games
Fortnite leak reveals details about the Season 5 end event
As this season ends and Fortnite Season 6 begins, new event leaks reveal what could be in store for us at the end of Season 5.
Fortnite Season 5 is nearly over, and new leaks are showing us what to expect as far as a season-ending event that will lead into Season 6.
Season X is here, and the world is destabilizing, fast!
As Season 5 winds down, the exposed Zero Point is becoming more and more dangerous. Following the v15.50 update, players noticed that the Zero Point is now extending to all of the portals on the island.
According to leaks, however, this is only the beginning of what's about to happen. Fortnite data miners have found files relating to the season-ending event, which could have a major effect on the island.
Fortnite Season 5 end event
Epic Games have been regularly giving us season-ending events since the first event more than two years ago. With so much activity happening on the island in Season 5, it's safe to assume that we'll be getting another one when the season ends on March 15.
We should be getting a fair amount of build-up before the event takes place, which was what data miners found when they dug into the v15.50 game files.
The first effect that should be coming soon relates to the NPCs around the island. According to data miner, Mang0e, the NPCs will be "teleported to wacky places by the Zero Point.
It's safe to assume that some of the NPCs will be removed from their traditional locations and sent somewhere, well, wacky. Players have already begun posting screenshots of some NPCs walking out in the open – far away from where they should be.
Another data miner, FortTory, found some files that suggest that our audio will be distorted by the Zero Point. In-game communications may begin to sound strange as you get closer.
This effect seems to be coming in the future. We tested voice-comms around the Zero Point and haven't seen any changes yet.
Some players are speculating that these pulses or "mini-events" could take the place of a major, season-ending event. We would be surprised if this was the case, but we've seen a few seasons end without events in the recent past.
Of course, we'll be keeping an eye on data miners and the Zero Point ahead of the scheduled end to Season 5 on March 15. You'll be the first to know if we learn more.