Fortnite leak points to NPC drivers & boss vehicles
A new Fortnite leak suggests we could see NPC drivers and/or vehicle bosses come to the game in Fortnite Season 6.
A new Fortnite leak points to NPC drivers coming to the game along with possible vehicle bosses we could eliminate for loot.
Fortnite is one of the most constantly evolving games in the industry. Season 5 was drastically different from Season 4, which was drastically different from Season 3. We're getting close to Fortnite Season 6, and the rumors are already swirling.
From all of the information that we have, it looks like Season 6 is going to focus more heavily on vehicles. We've already seen leaks about vehicle mods coming to the game, along with a Gas Flopper that could be related to fuel rather than – well, stink.
The latest leak comes from an AI spawner in the game files that went overlooked by a lot of data miners. Mang0e, one of the Fortnite data miners, suggested that these spawners could relate to NPC drivers and even vehicle-based bosses we'll need to take down.
These bosses could be trucks, helicopters, boats, planes, or any other vehicle we've seen in Fortnite. Something like this would be a natural evolution of the bosses and AI enemies – such as the Marauders, Gorgers, and IO Guards.
With Season 5 winding to a close, we probably won't see any of these new vehicle features until Season 6. Of course, this is only speculation anyway. These files could relate to something completely different – or only be a test asset from the developers.
We'll keep you posted when we learn more about anything related to Fortnite Season 6. Make sure to follow us on Twitter @FortniteINTEL so you never miss out on the latest Fortnite news.
Fortnite leakers confirm Dead by Daylight crossover in Chapter 3
Prominent Fortnite leakers have been informed about a Dead by Daylight crossover that would bring free cosmetics to both the titles.
Dead by Daylight and Fortnite have one thing in common- a collaboration with Stranger Things. Here's everything to know about the upcoming crossover between the Battle Royale title and the survival horror game franchise.
Stranger Things has been a part of both Dead by Daylight and Fortnite. The horror game released a special chapter that was based on the series while Epic Games introduced Demogorgon and Chief Hopper in the Item Shop.
Following Dead by Daylight's inclusion in Fortnite's latest survey, we now have news regarding a crossover.
Fortnite might release Meg Thomas in the Item Shop
An anonymous source recently reached out to the likes of Shiina, iFireMonkey, HYPEX, and other credible leakers. They claimed that Dead by Daylight devs recently approached Epic Games for a crossover and it might be in the works already.
For Dead by Daylight players, this crossover would bring in a charm based on Fortnite's Llama. Moreover, Behaviour Interactive might release a new Stranger Things DLC or bring back the previous DLC.
For Fortnite players, a crossover with Dead by Daylight will lead to the arrival of Meg Thomas in the Item Shop. She is one of the most popular playable survivors in the horror game and stands out owing to her speed.
It is worth noting that the latest Fortnite survey included characters like Legion, David, and Dwight. Even though a crossover seems imminent at this point, it is still too early to assume the exact skins.
Leaker iFireMonkey, in one of his recent videos, stated that the aforementioned charm could be a free reward in Day by Daylight. However, before any official announcements, it is advised to take leaks with a grain of salt.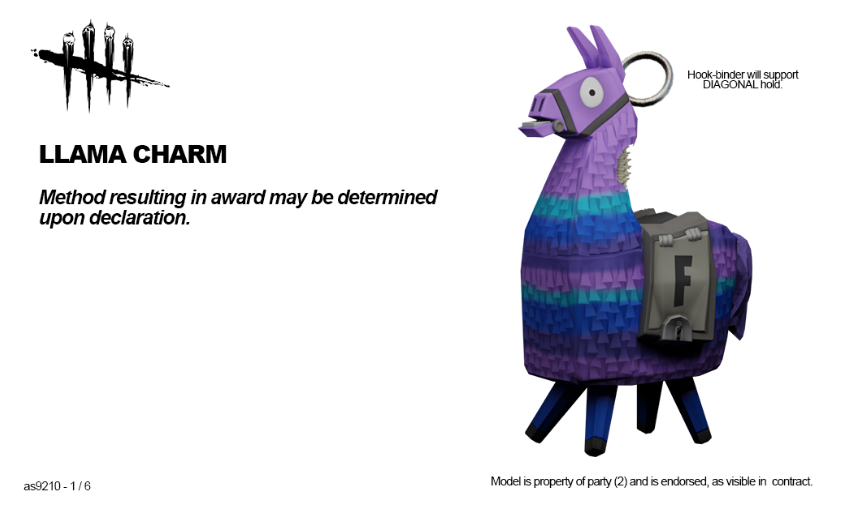 The Fortnite community is also looking forward to more Stranger Things content
Leakers in the Dead by Daylight community have confirmed that Netflix approached the franchise regarding their discontinued crossover. This implies that the original Stranger Things chapter should return during Christmas 2022 and new content with Vecna will also be released.
If Stranger Things is willing to collaborate with Dead by Daylight, it wouldn't be a surprise if the same happens in Fortnite. Players have been asking for ST skins and cosmetics for a long time, and now that Season 4 is live, it is the perfect time for a crossover.
All in all, the hype for the Dead by Daylight crossover is already sky-scraping. Readers can expect more details once Epic Games adds the cosmetics to the files or teases it officially.
Fortnite leaks reveal another Stranger Things collab coming to Season 3
The Upside Down is set to collide with the loop once again as another Stranger Things collaboration is arriving to Fortnite soon. Here are more details about it.
The infamous collaboration between Stranger Things and Fortnite wasn't as big when it was first introduced in Fortnite back in 2019. Loopers were disappointed by the cosmetics that the collab brought into the game but at present, it remains one of the rarest items in-game.
Fortnite is known for collaborating with popular culture films and TV shows pretty often and brings several characters from their respective franchises to the looped island. In the past, major characters like Star Lord (Marvel), Batman (The Dark Knight), Rick and Morty were added in the game as skins accompanied by their famous props as cosmetic items like Back Blings, Pickaxes and Gliders.
However, when it comes to major TV shows, Stranger Things was a phenomenon back in 2019 when its second season was underway. The show gained hype in its initial days as fans loved the entire 80s vibe of sci-fi and horror as the kids went against the Upside Down and save Hawkins.
The collab soon hit the Fortnite Item Shop but to the surprise of the player base, the only skins they received were an ugly looking Demogorgon and extremely buffed Chief Hopper skins, while they were expecting Eleven and the gang. However, latest leaks might bring good news to those fans and new skins into the game.
Fortnite skins are coming soon in Season 3 ahead of its finale release
According to several leaks that emerged after the recent v21.10 update in Fortnite Season 3, items like "WaffleWarrior" were added to the game files. Now according to theory, in the Stranger Things series, its protagonist Eleven is the only character who is extremely fond of Eggos Waffles.
The tag "WaffleWarrior" hints towards her and it might be the case that ahead of the release of Season 4 finale next week, Eleven could be an in-game skin that could be added to the shop soon. Moreover, it has nearly been 3 years since the skins from the Netflix series were last seen in the Item Shop.
However, fans are already creating crossover concepts of characters from both Fortnite and Stranger Things. Recently a concept artist by the name of Feraalsy created a video of Peely being possessed by Vecna.
The concept video shows Vecna's skin concept as well as Prisoner Jones present alongside with Peely. Although it is a brilliant concept, the current hype of the series highly suggests a collaboration incoming to Fortnite soon later this season.
Fortnite leak reveals Zero Build Team Rumble coming to game soon
Fortnite is adding more fun to its Zero Build game mode as they plan to expand it to a fully fledged Team Rumble. Here's the latest on it.
The popularity of a Zero Build Mode in Fortnite has been growing everyday with new players joining the looped island. Moreover, the mode promises a fun and casual side of the game that loopers had never experienced before.
Fortnite is known for introducing exciting new gameplay elements and its wide range of weapons arsenal to its player base. Though OG Sweats still like to stick to their old ways of cranking 90s and build fight their enemies across the loop, casual players are having their amount of fun in Zero Build mode where they purely focus on their combat skills.
Over the course of the past few months, the popularity of Zero Build mode has increased and has become a staple in the entire Battle Royale gaming community. Nobody would have ever imagined Fortnite without building, and here it stands tall with 5 million new active players since the addition of the game mode.
As loopers continue to vibe in Season 3 with all new things including Reality Tree and Ballers, certain leaks revealed that a popular casual game mode is about to be introduced with Zero Build mechanics very soon.
Zero Build to arrive in Team Rumble in Fortnite soon
According to leaks on social media, Epic Games are working on a Zero Build version of Team Rumble as data for Zero Build "Big Battle" LTM was added with the v21.10 update that dropped this Tuesday. Moreover, this mode will be a standalone mode alongside the regular team rumble and will have similar rules to the earlier one.
However, the question that stands in the minds of loopers is that how will players redeploy themselves if they cannot build themselves to a high ground. Team Rumble is all about infinite respawns in a match where two large teams go against one another and redeploy them off a high ground.
Moreover, when players thought Fortnite was a dead game and were done with most of the game mechanics and weapons meta, Zero Build came as a blessing and saw the return of several old players join back the game. Pros like TFUE, Dr. Disrespect and Ninja started streaming the game again and highly praised the Zero Build game mode.
However, the team rumble mode was the only game mode in Fortnite that was untouched by Zero Build as players like to practice their builds and fights in the island in that mode. But that will soon change for Zero Build players as well as they'd be able to test weapons, complete quests and have a casual fun time playing Fortnite on the island.