Fortnite Concepts of the Week – June 20
Social media is often full of Fortnite fan concepts where people share their own skin renditions, weapon hybrid ideas, and IRL creations. We have created a list of our favorite Fortnite fan concepts and creations from June 13 to June 20!
One of the busiest websites for Fortnite content is Reddit, especially since they have a handful of active subreddits ranging between different topics.
FortniteBR has over 1 million fans and offers different filter options so people can browse what they enjoy whether it be memes, clips, or concepts.
Fortnite's player-base is full of artistic and creative people, and it shows by how many concepts are submitted daily.
Epic Games staff often browses through the subreddit, and sometimes select fan creations to be added into Fortnite!
Here are our favorite Fortnite fan concepts of the week:
Blackheart hand drawing
Our eyes immediately landed on this drawing not only because it looks like a computer render, but because of it's bright colors.
Driveskull posted her drawing which took two whole seasons of Fortnite, which adds up to about 20 weeks!
Her drawing was so well done, that Epic's community manager JustMooney1 dropped by to add their support.
Peely speed art
Peely – 1 min SpeedART from r/FortNiteBR
The internet is full of different types of artistic creations that can range from full walk throughs to edited, sped up videos.
Jaidan1ta posted a video of them drawing the Peely Fortnite skin in one impressive minute.
Jaidan shows the entire process from beginning to end while they draw on a digital tablet.
They even included shading and different textures in their digital drawing.
Widowmaker custom skin
Fans always have ideas in their head for new, flashy styles for different skins already in Fortnite or other video games.
Aftrbrnr posted their skin hybrid that would add Overwatch's Widowmaker character into Fortnite with a summer twist.
The female character wears a cobalt blue swim top while her blue bottoms are covered by a bright blue and white Hawaiian-themed cover-up.
It wouldn't be the first time a crossover could happen in Fortnite, especially since John Wick was just featured.
'Colorful' skin set concept
Sometimes fans take it into their own hands to create their own original Fortnite skin sets.
Fantasyfull posted their female and male skins named 'Colorful' which would include two harvesting tools.
The male skin is wearing a white t-shirt, pants, and sneakers that are all splattered in pink and blue paint.
A close-up of the male appears to show pink and blue paint coming from his eyes. Maybe he is crying the paint which covers his outfit?
Fantasyfull's female character is wearing a long black shirt while rocking a thigh-high boot on her left foot while she is just wearing a regular ankle boot on her right.
The harvesting tools are a flat-tipped paint brush with blue paint on the bristles while the other is a watercolor brush with green paint.
If you are interested in submitting your own creations and concepts to us, send us a tweet on our official Twitter @FortniteINTEL.
Fortnite adds Firework Flare Gun in latest Hotfix update
A brand new version of the Flare Gun is here in Fortnite Chapter 3 Season 3. Here's how it is the perfect fit for the Vibin' theme.
Fortnite has added the coolest version of the classic Flare Gun in the June 28 hotfix update for Chapter 3 Season 3. From its stats to viability, here's everything to know about the new weapon.
Back when Firefly Jars and Repair Torches weren't a thing, Fortnite players used Flare Guns to cause chaos. The multi-purpose pistol is a fan favorite, and it has finally returned in a new Firework form.
How to use the Firework Flare Gun in Fortnite Chapter 3 Season 3
Just like the OG Flare Gun, the Firework Flare Gun should be available in chests, rare chests, Loot Llamas, Supply Drops, and even floor loot.
It will serve two major purposes:
Scan nearby opponents with the help of fireworks.
Cause a fire when the bullet comes in contact with structure/surfaces. The fire spreads within a fixed AoE (area of impact) that deals continued damage to opponents.
The Flare Gun has the following stats:
DPS– 34
Damage– 60
Reload Time– 1.6 seconds
Mag size– 6
However, as the name suggests, the Firework Flare Gun has a special Firework ability. When loopers shoot towards the sky, the bullet eventually turns into a beautiful firework. Interestingly, this effect also happens when the bullet touches the ground or any other surface.
We already have gameplay footage of the Firework Flare Gun in Fortnite Chapter 3 Season 3:
It is evident that the Firework Flare Gun is a lot goofier than its standard version. This is primarily because of this season's theme, Vibin'.
Fortnite community looks forward to more summer content in Chapter 3 Season 3
The Firework Flare Gun won't be a part of the loot pool permanently. According to leakers, it has been unvaulted for the No Sweat Summer event. This also explains the tropical color theme.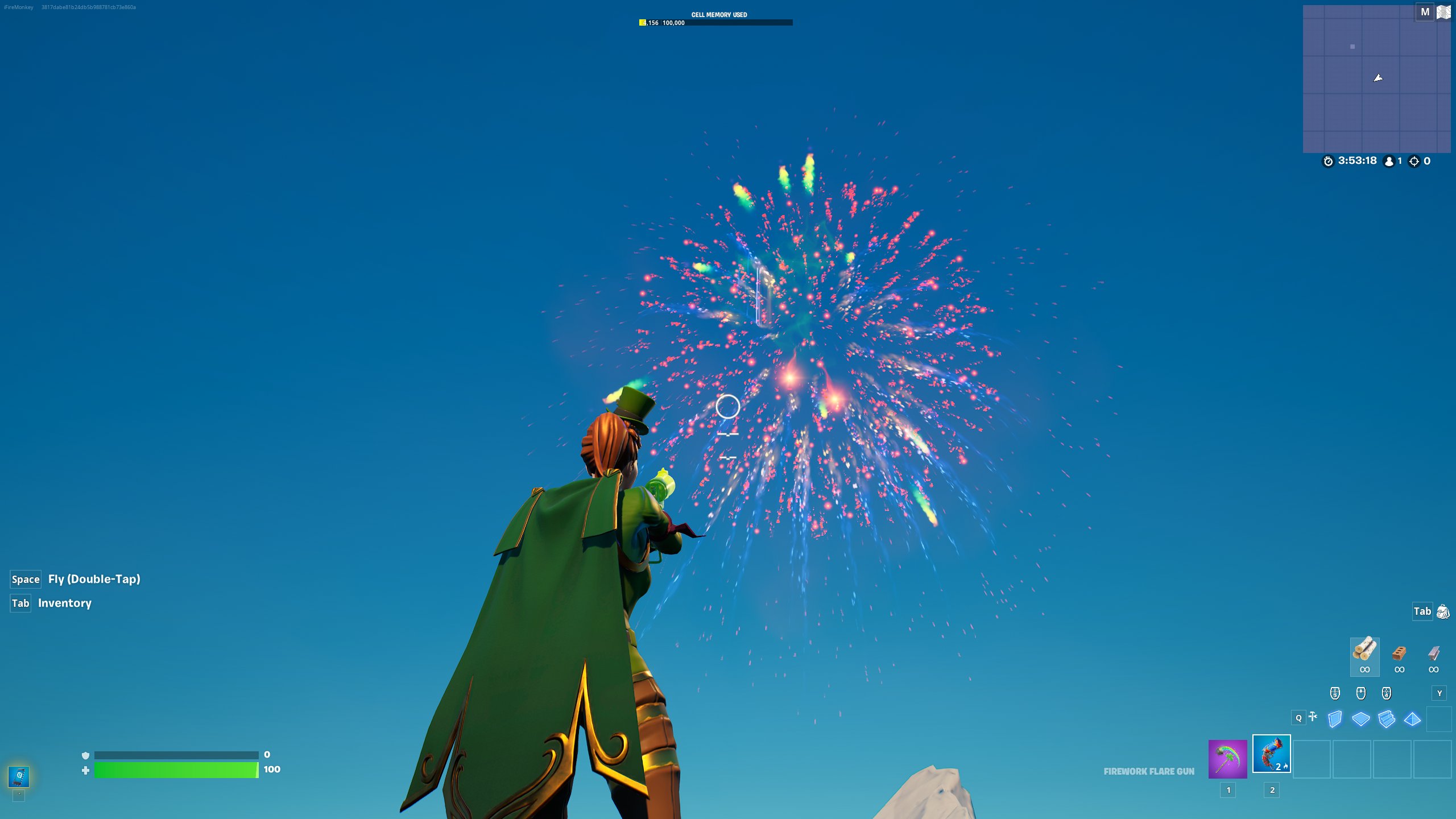 While loopers are excited to see fireworks on the island, they definitely expect more from the No Sweat Summer event. Until now, we've only received some Creative XP challenges and three free cosmetics (back bling and sprays).
Epic Games is yet to add summer-themed elements to the map like Surfboards and NPCs, among other things. The developer can certainly change this narrative with the next major update that should arrive next week.
Fortnite needs to bring back XP Coins in Chapter 3 and here's why
Fortnite Chapter 3 Season 3 has a ton of new features but the community still wants Epic Games to bring back some OG mechanics like XP Coins.
It is evident that the XP system in Fortnite Chapter 3 Season 3 is arduous, to say the least. Amidst the unbearable XP grind, loopers want the developers to bring back XP coins.
Alongside winning games, acquiring XP is one of the primary functions in Fortnite. It simply helps in leveling up the Battle Pass and unlocking new cosmetics.
XP Coins have been one of the most fun methods of XP collection in Fortnite, and here's why the community craves for their return in Chapter 3 Season 3.
Why Fortnite players love XP Coins
Fortnite introduced XP Coins in Chapter 2 Season 1. They were scattered around the map and players gained XP upon finding them. There were different rarities such as:
Uncommon (Green)- granted 5,000 XP in Chapter 2 Season 5
Rare (Blue)– granted 6,5000 XP in Chapter 2 Season 5
Epic (Purple)– granted 10,300 XP in Chapter 2 Season 5
Legendary (Golden)– 15,0000 XP in Chapter 2 Season 5
It is worth noting that the Epic XP Coins were further split into fragments and players had to collect them all to get the desired XP. Even though this is a slightly tedious task, the remaining XP Coins were always desirable.
New XP Coins arrived on the map every week. This was a great incentive for players to explore new locations constantly.
A post on r/FortniteBR looked back at the XP Coins and several players admitted to missing them:
The relevance of XP Coins in Fortnite Chapter 3 Season 3
XP Coins should not replace any of the existing methods that help in gaining XP. Instead, they can act as an additional way for loopers who are struggling to complete the Battle Pass.
The introduction of Vibin' quests and Island Hopper challenges has slightly improved the state of XP in Chapter 3 Season 3. However, reaching Lv. 100 and then unlocking the bonus styles still seems like a far-off possibility for casuals.
Back in May, leakers revealed that Epic Games updated some textures in the files which included the letters X and P, and some circles. These textures might have been used in the Soundwave Series concerts or they hint towards the return of XP Coins.
As of now, Butter Barn has turned into Butter Bloom and it changes themes like Logjam Lotus. Even though there are certain issues related to XP and glitches, the map changes have certainly exceeded expectations in Chapter 3 Season 3.
Fortnite landmark Butter Barn now has three forms, thanks to Reality Tree
The map changes in Fortnite have been consistent lately. After Logjam Lumberyard, the Reality Tree has now affected Butter Barn.
Butter 'Bloom' is the newest location in Fortnite to be affected by the infamous Reality Tree. The landmark will now have three themes based on OG POIs like Coral Castle.
The mysterious Reality Tree in Fortnite Chapter 3 Season 3 is controlling the island in a manner that we've never seen before. Locations like Logjam Lotus and Butter Bloom now magically change themes, and it is hard to claim if this phenomenon is worth celebrating (from the storyline's perspective).
Here's everything players need to know about the latest map changes in Fortnite.
New Butter Bloom themes released in Fortnite Chapter 3
Butter Barn is now called Butter Bloom, and it will switch between the following themes:
Roman theme- Coliseum
Atlantis- Coral Castle
Neo Tilted
In its Neo Tilted form, Butter Barn will feature buildings like Peely's Banana Stand, the Pump Gym, and gas stations.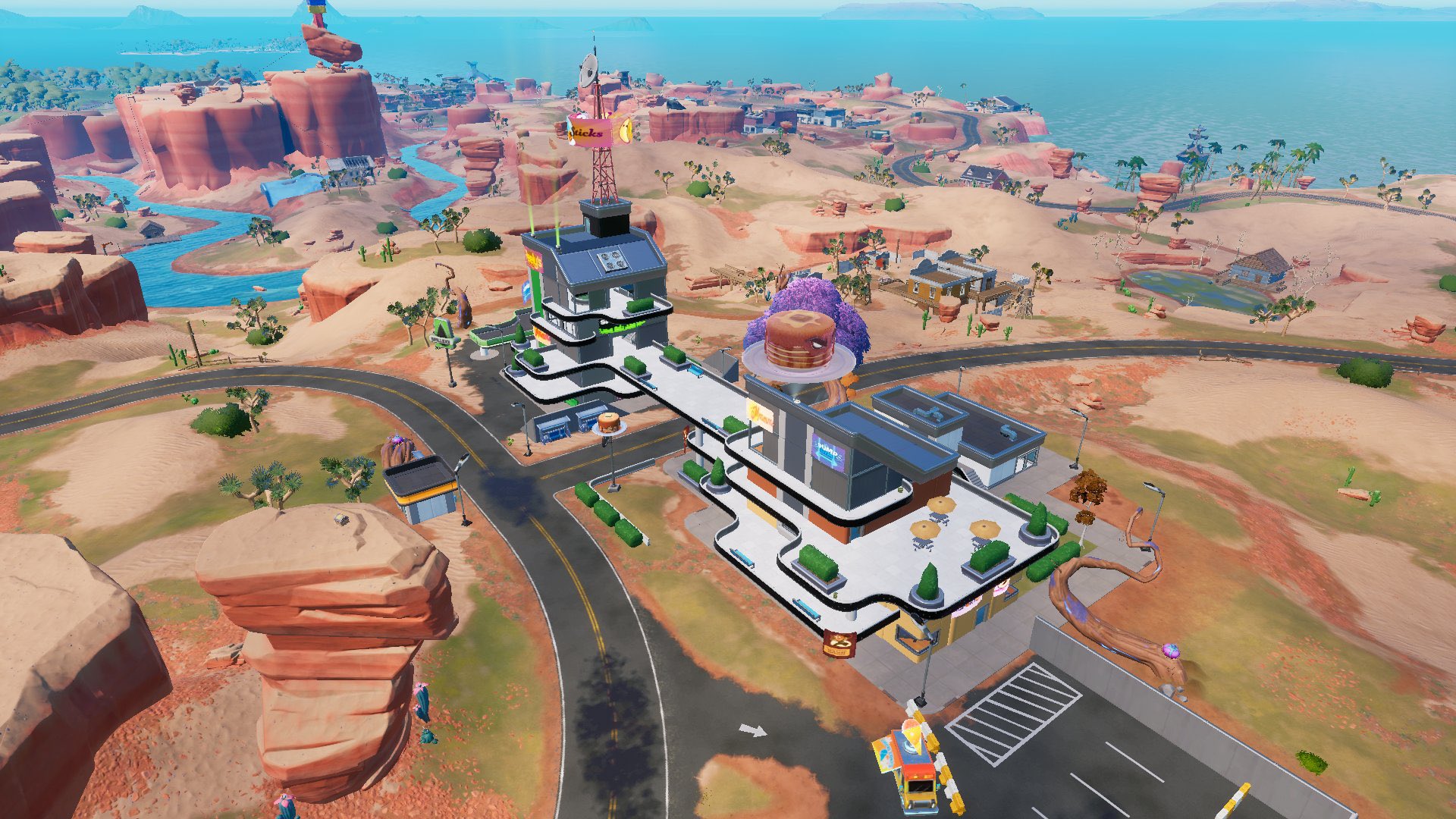 The Coliseum theme is similar to the one in Logjam Lotus.
The landmark gets fortified and the buildings represent Roman Architecture.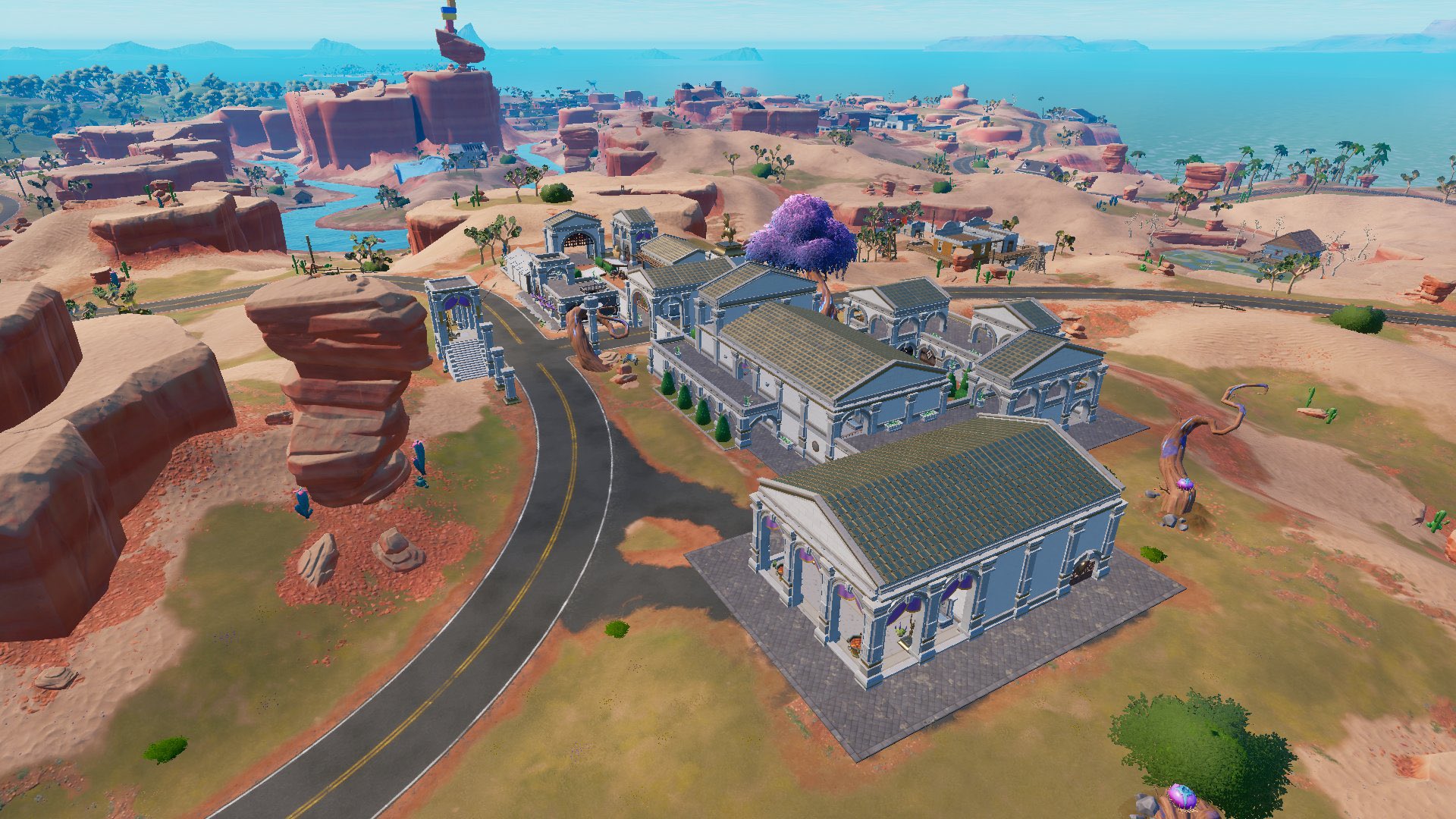 The final theme is Atlantis with which Butter Bloom turns into a miniature Coral Castle. Vintage dome-shaped buildings surround the region and there's a small pool as well.
Will Coral Castle finally become relevant in Fortnite?
The indirect return of Coral Castle has received a mixed response from the community. While some believe that Epic Games should have picked a more prevalent POI for Butter Bloom's Atlantis theme, others are elated that Coral Castle is now located in a much better position strategically.
Back in Chapter 2, it was the most despised location on the map (like Daily Bugle in Chapter 3). Even though there was good loot, players were ignorant due to its location which affected rotations, and the unusual landscape.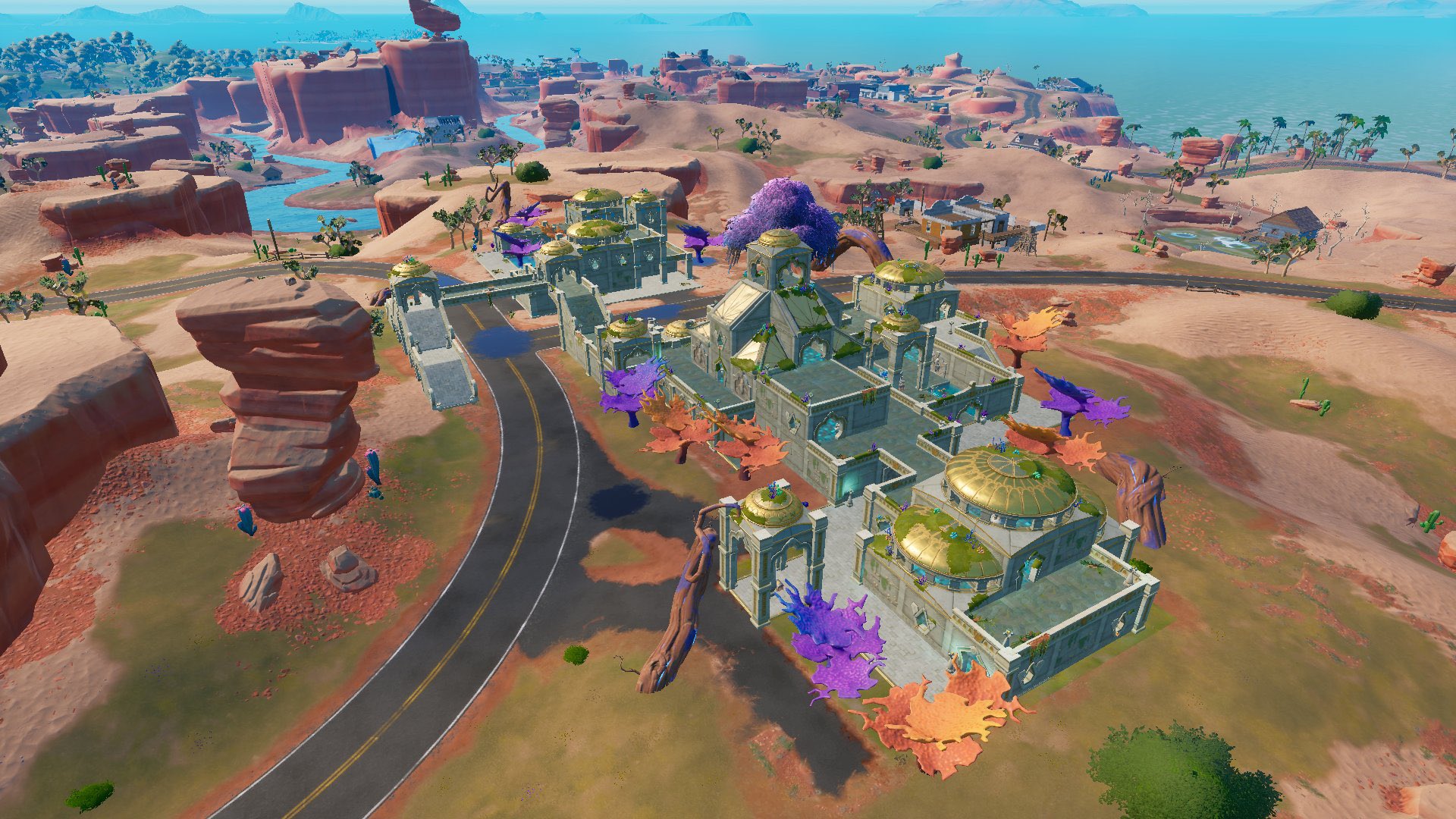 In contrast, Butter Bloom is a great spot in Chapter 3 and the Coral theme should not prevent players from landing here. To be fair, Coral Castle is one of the most beautiful locations in Fortnite history but loopers neglected it owing to its position on the map.
Hence, Coral Castle might get its well-deserved credit in Chapter 3.
It is worth noting that after turning Butter Barn into Butter Bloom, the Reality Tree's roots have already reached Temple Bloom. The landmark is located south of The Sanctuary, and we might witness similar map changes there as well.