Still need help with the challenges for Week 6 of Season 6 We have you covered with an all-inclusive "cheat sheet."
Once again, thesquatingdog is back with a 'cheat sheet' which guides players through completing the necessary challenges for that respective week.
Week 7 contains a number of relatively 'straightforward' challenges, however, having everything laid out in one central place may be of some assistance.
The full cheat sheet for Week 7 of Season 6 can be found below.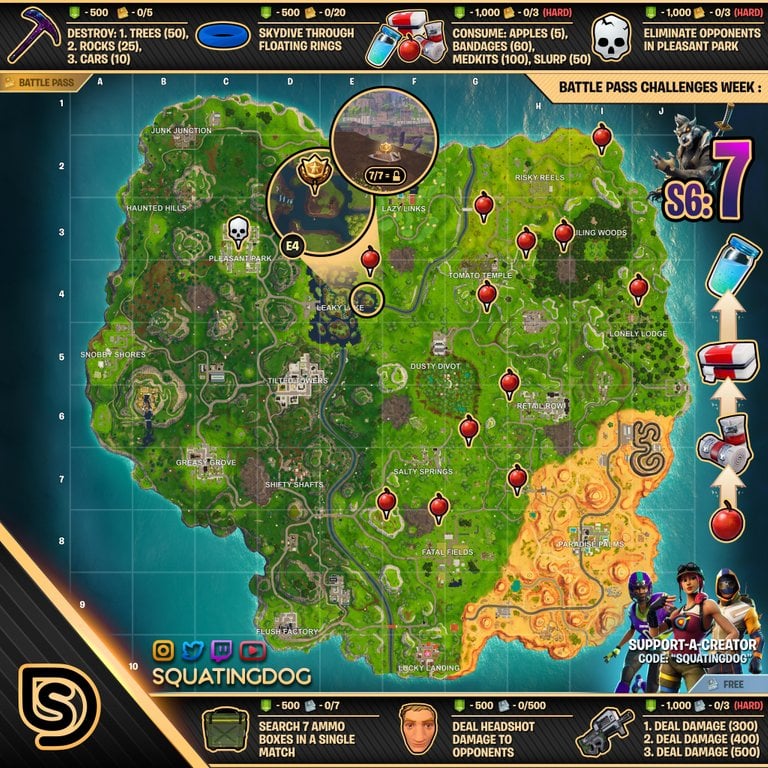 Free Challenges
Search (7) Ammo Boxes in a single match – 5 Battle Stars
Deal (500) Headshot Damage to opponents – 5 Battle Stars
Stage 1: Deal (300) damage to opponents in a single match (HARD) – 2 Battle Stars

Stage 2: Deal damage to opponents in a single match (400)
Stage 3: Deal damage to opponents in a single match (500)
Battle Pass Challenges
Stage 1: Destroy (50) trees – 5 Battle Stars

Stage 2: Destroy Rocks (25)
Stage 3: Destroy Cars (10)

Skydive through (20) floating Rings – 5 Battle Stars
Stage 1: Consume (5) Apples (HARD) – 10 Battle Stars

Stage 2: Consume Bandages (60)
Stage 3: Consume Medkits (100)
Stage 4: Consume Slurp Juice (50)

Eliminate (3) opponents in Pleasant Park (HARD) – 10 Battle Stars