Fortnite Battle Lab mode removed in latest update (Updated May 4)
Fortnite's Battle Lab mode has disappeared from the mode select screen and Epic Games has made no comment on where the mode went.
Fortnite's Battle Lab mode has been disabled in the v16.30 patch, and fans aren't happy with its removal.
UPDATE: The Battle Labs mode has been turned back on as of May 4th, 2021.
Battle Lab was added in December of 2019 close to the start of Fortnite Chapter 2. This core game mode replaced the Playground mode which allowed players to explore The Island alone or with friends.
While Playground was mostly a vanilla battle royale experience, Battle Lab allowed players to set their own rules and change loot pools. Video editors would use Battle Lab to produce high-quality content, and it also allowed younger players to enjoy the game without allowing them to play with strangers.
However, Fortnite's Battle Lab mode has seemingly disappeared in the latest update without any word from Fortnite or Epic Games. This has led to an outcry from fans on Twitter who are asking for the game mode to be reinstated.
Downtime for the Fortnite v16.30 started at 4 a.m. EST on April 27, and shortly after the servers came back online players started to notice Battle Lab was missing. The Fortnite Status Twitter made various posts noting the changes made in the update, but Battle Lab wasn't mentioned a single time.
Over the past 24 hours, Fortnite Status has also acknowledged various bug fixes and server issues. While it remains unknown whether Fortnite's Battle Lab mode was removed by accident, the lack of acknowledgment makes it seem as if it were removed intentionally.
The removal of Battle Lab won't affect the majority of Fortnite's player base, it will have an impact on content creators. As stated by Frenzy2nd on Twitter, it would be ideal for Fortnite to let players know what its plans are for the future of Battle Lab.
In the meantime, there are still plenty of modes available for players to enjoy. These include the new Free For All Arena mode, One Shot duos, and an assortment of featured Creative modes. Stay tuned for the latest information regarding Fortnite's Battle Lab mode.
Fortnite leakers confirm Dead by Daylight crossover in Chapter 3
Prominent Fortnite leakers have been informed about a Dead by Daylight crossover that would bring free cosmetics to both the titles.
Dead by Daylight and Fortnite have one thing in common- a collaboration with Stranger Things. Here's everything to know about the upcoming crossover between the Battle Royale title and the survival horror game franchise.
Stranger Things has been a part of both Dead by Daylight and Fortnite. The horror game released a special chapter that was based on the series while Epic Games introduced Demogorgon and Chief Hopper in the Item Shop.
Following Dead by Daylight's inclusion in Fortnite's latest survey, we now have news regarding a crossover.
Fortnite might release Meg Thomas in the Item Shop
An anonymous source recently reached out to the likes of Shiina, iFireMonkey, HYPEX, and other credible leakers. They claimed that Dead by Daylight devs recently approached Epic Games for a crossover and it might be in the works already.
For Dead by Daylight players, this crossover would bring in a charm based on Fortnite's Llama. Moreover, Behaviour Interactive might release a new Stranger Things DLC or bring back the previous DLC.
For Fortnite players, a crossover with Dead by Daylight will lead to the arrival of Meg Thomas in the Item Shop. She is one of the most popular playable survivors in the horror game and stands out owing to her speed.
It is worth noting that the latest Fortnite survey included characters like Legion, David, and Dwight. Even though a crossover seems imminent at this point, it is still too early to assume the exact skins.
Leaker iFireMonkey, in one of his recent videos, stated that the aforementioned charm could be a free reward in Day by Daylight. However, before any official announcements, it is advised to take leaks with a grain of salt.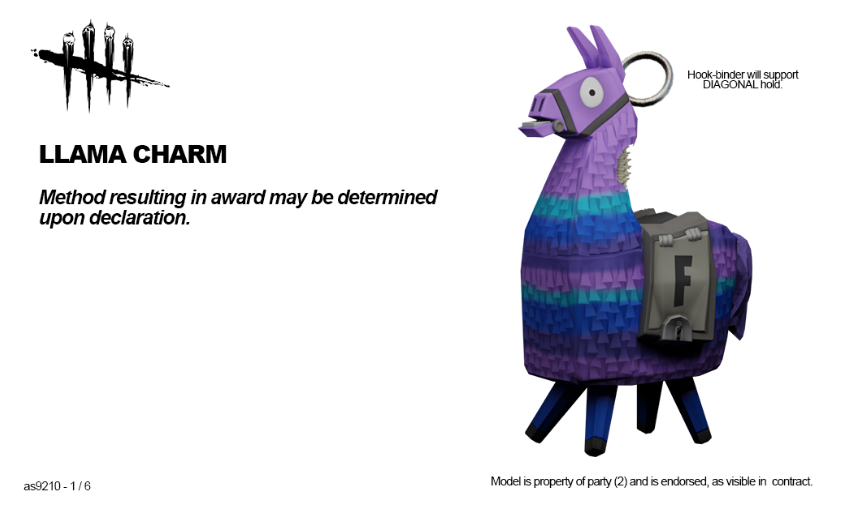 The Fortnite community is also looking forward to more Stranger Things content
Leakers in the Dead by Daylight community have confirmed that Netflix approached the franchise regarding their discontinued crossover. This implies that the original Stranger Things chapter should return during Christmas 2022 and new content with Vecna will also be released.
If Stranger Things is willing to collaborate with Dead by Daylight, it wouldn't be a surprise if the same happens in Fortnite. Players have been asking for ST skins and cosmetics for a long time, and now that Season 4 is live, it is the perfect time for a crossover.
All in all, the hype for the Dead by Daylight crossover is already sky-scraping. Readers can expect more details once Epic Games adds the cosmetics to the files or teases it officially.
Fortnite Champion Series Chapter 3 Season 3 start date and prize pool revealed 
Fortnite has announced the Champion Series (FNCS) for Chapter 3 Season 3 in which pros worldwide will compete for 3 million dollars.
The Fortnite Champion Series is easily the most anticipated competitive event every season. In Chapter 3 Season 3, the likes of Bugha, Clix, and Arkhram, among others, will battle it out for a prize pool of 3 million dollars.
Epic Games has finally announced the FNCS for Chapter 3 Season 3. This time around, the logo seems to have a tropical theme that matches the 'Vibin' season. The meta has also changed significantly, and it will be interesting to see how some of the most talented esports athletes have adapted to it.
Everything to know about Fortnite Champion Series (FNCS) Chapter 3 Season 3
Fortnite Champion Series for Chapter 3 Season 3 will begin on July 6 with 3 Qualifier rounds. The top five teams (Duos) from each round will directly advance to the FNCS Finals.
The qualifiers will take place till July 18 and the Semi-Finals will begin on July 21. As per Epic Games, the key to reaching the finals is Victory Royales and consistency. In the three Semi-Finals sessions, 6 Victory Royale winners and the top six consistent teams will move ahead.
The Finals will take place between August 12-14. There are two ways for a team to win the Fortnite Champion Series in Chapter 3 Season 3:
The first team to get three Victory Royales and earn 475 points will be declared the FNCS champion. This is called the Match Point.
If no team is able to acquire a Match Point at the end of 12 Finals matches, the duo with the highest points will win.
Chapter 3 Season 3 FNCS prize pool distribution
The prize pool for the Chapter 3 Season 3 FNCS is a whopping $3 million. However, it will be divided across several regions:
EU: $1,350,000
NAE: $690,000
BR: $240,000
NAW: $240,000
ASIA: $240,000
ME: $120,000
OCE: $120,000
The prize pool is different for each region, primarily because of Fortnite's prominence there. It is evident that the viewership numbers in Europe are much higher than in the Middle East and Oceania.
It is worth noting that fans should be able to unlock some free cosmetics by watching the matches. New FNCS-themed cosmetics also arrive in the Item Shop.
All in all, it is safe to assume that the Fortnite Champion Series for Chapter 3 Season 3 will be more exciting than ever. A ton of new features and weapons have arrived recently, and even map changes have been quite frequent.
Football star Mesut Ozil might turn pro in Fortnite following retirement
Based on his agent's statements, it won't be a surprise if we soon find former Arsenal player Mesut Ozil 'Vibin' as a Fortnite pro.
After having a glorious run in Real Madrid, Arsenal, and Schalke 04, Mesut Ozil joined Fenerbahçe S.K. Reports claim that the footballer might take up esports as a career after retirement.
Mesut Ozil has nothing left to prove in the world of Football. He's won several trophies over the years and is easily one of the best playmakers in the history of the sport. Ozil recently unfollowed Fenerbahce on his social media and seems to be all set for retirement.
The footballer has always been an avid gamer, and his manager claims that Ozil has the potential to become a Fortnite pro.
Mesut Ozil has a long history of playing Fortnite
Ozil's admiration for Fortnite has never been a secret. He's been streaming the game on Twitch for years and it has even been a matter of controversy on several occasions.
Back in 2020, fans of Arsenal accused Fortnite of causing Ozil's back injury. They claimed that playing the battle royale title continuously with a bad posture affected his health.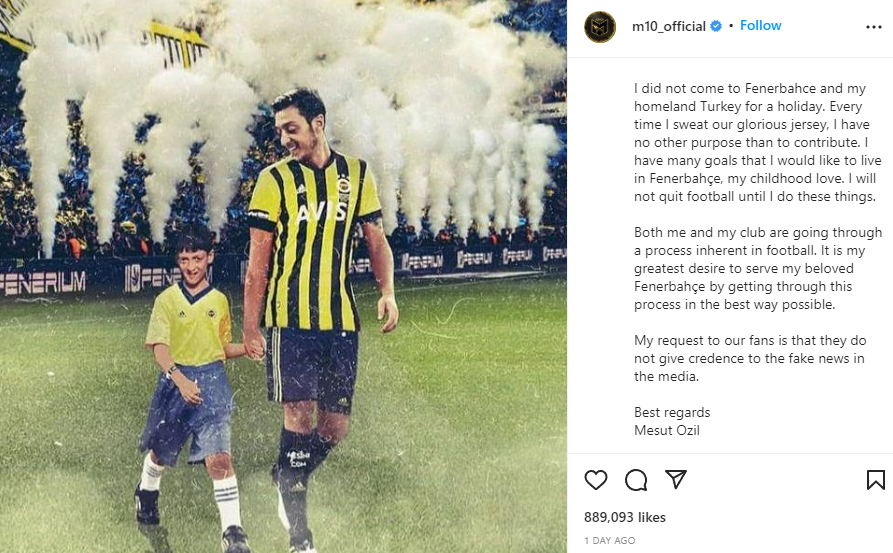 In a recent interview with The Telegraph, Ozil's manager stated:
"He will go more into esports, and maybe become an esports athlete. He's really good at Fortnite, and I think one day I wouldn't be surprised if he is competing"
The former Arsenal midfielder already owns an esports organization that competes in Fortnite and FIFA. He's definitely had success as a streamer, but it is too early to assume if this will be the case with his esports career as well.
Several sports icons like David Beckham, Michael Jordan, Ronaldo, and Shaq have invested in Esports. It is evident that the industry is growing at an unprecedented rate and now is the perfect time to capitalize on it.