Fortnite v16.50 patch notes: unvaulted weapons, alien invasion, and Loki coming soon
The Fortnite v16.50 patch notes reveal an impending alien invasion coming to the island in the near future.
The Fortnite v16.50 patch notes are here, and they contain some wild content. Fan favorite weapons are back, players will soon be abducted by aliens, and Loki is coming to Fortnite.
With 16.50 being the last major update before Season 7, it's expected to be a pretty big one. In terms of content that players can access immediately, there isn't too much. However, this update reveals a lot about the end of Season 6 and the start of Season 7.
Players will begin to see minor map changes over the remaining 14 days of Season 6. They will also finally have access to the Foreshadowing Challenges which are meant to reveal some important information about the impending alien invasion.
Bug Fixes
Player-built structures have reduced visuals in PC performance mode
Just-added friends wrongly appear offline
Moving left in inventory on controller skips the last weapon slot
"Recent Islands" list does not update
The ocean is invisible in the minimap
A game not starting if player is in a Phone Booth
Dual Pistols & Drum Shotgun are back
Just in time for the Season 6 Week 11 Legendary challenges, Fortnite has added the Dual pistols back into the loot pool. Players will have to deal a certain amount of damage with them to earn XP so it was assumed they would return with this update. Players can find the Dual Pistols in chests or as floor loot.
However, the Legendary version of the Drum Shotgun was also added during this update, but it isn't available at the moment. It does have a price as if it can be purchased from an NPC, but that character is not in the game yet. Players should look out for the return of the Drum Shotgun in the near future.
Aliens are coming!
The largest content update to come from the Fortnite v16.50 patch notes is the impending alien abduction. UFOs are coming to the island to teleport players all over the map. As noted in the Foreshadowing Challenges, these aliens will leave crop circles and could be a major part of Season 7's theme.
According to HYPEX, the UFOs will randomly spawn around the map and abduct players. These players will then be teleported somewhere else and have their health and shield restored in the process. While its unknown whether these abductions are voluntary or not, players will be warned before they are abducted.
A new character named Mira will also be introduced sometime in the near future and likely will be the person the players communicate with during the Foreshadowing challenges. iFireMonkey released newly added dialogue that talks more in depth about the alien invasion. The dialogue might be hinting at new characters that will be introduced in Season 7.
Loki of Asgard coming to Fortnite
Lastly, the silhouette of Loki from the Marvel Comics universe was spotted in the background of a new loading screen. This figure undeniably depicts Loki's long horned hat and Tesseract scepter. He also appears to be alongside a short-haired Thor.
This loading screen is the last of the May Crew Pack weekly bonus rewards. It shows Cuddle Team Leader returning to the island with a cybernetic makeover. However, she could have brought Loki and Thor through the rift with her. Players will just have to wait until June to see if Loki makes it into the game.
Fortnite landmark Butter Barn now has three forms, thanks to Reality Tree
The map changes in Fortnite have been consistent lately. After Logjam Lumberyard, the Reality Tree has now affected Butter Barn.
Butter 'Bloom' is the newest location in Fortnite to be affected by the infamous Reality Tree. The landmark will now have three themes based on OG POIs like Coral Castle.
The mysterious Reality Tree in Fortnite Chapter 3 Season 3 is controlling the island in a manner that we've never seen before. Locations like Logjam Lotus and Butter Bloom now magically change themes, and it is hard to claim if this phenomenon is worth celebrating (from the storyline's perspective).
Here's everything players need to know about the latest map changes in Fortnite.
New Butter Bloom themes released in Fortnite Chapter 3
Butter Barn is now called Butter Bloom, and it will switch between the following themes:
Roman theme- Coliseum
Atlantis- Coral Castle
Neo Tilted
In its Neo Tilted form, Butter Barn will feature buildings like Peely's Banana Stand, the Pump Gym, and gas stations.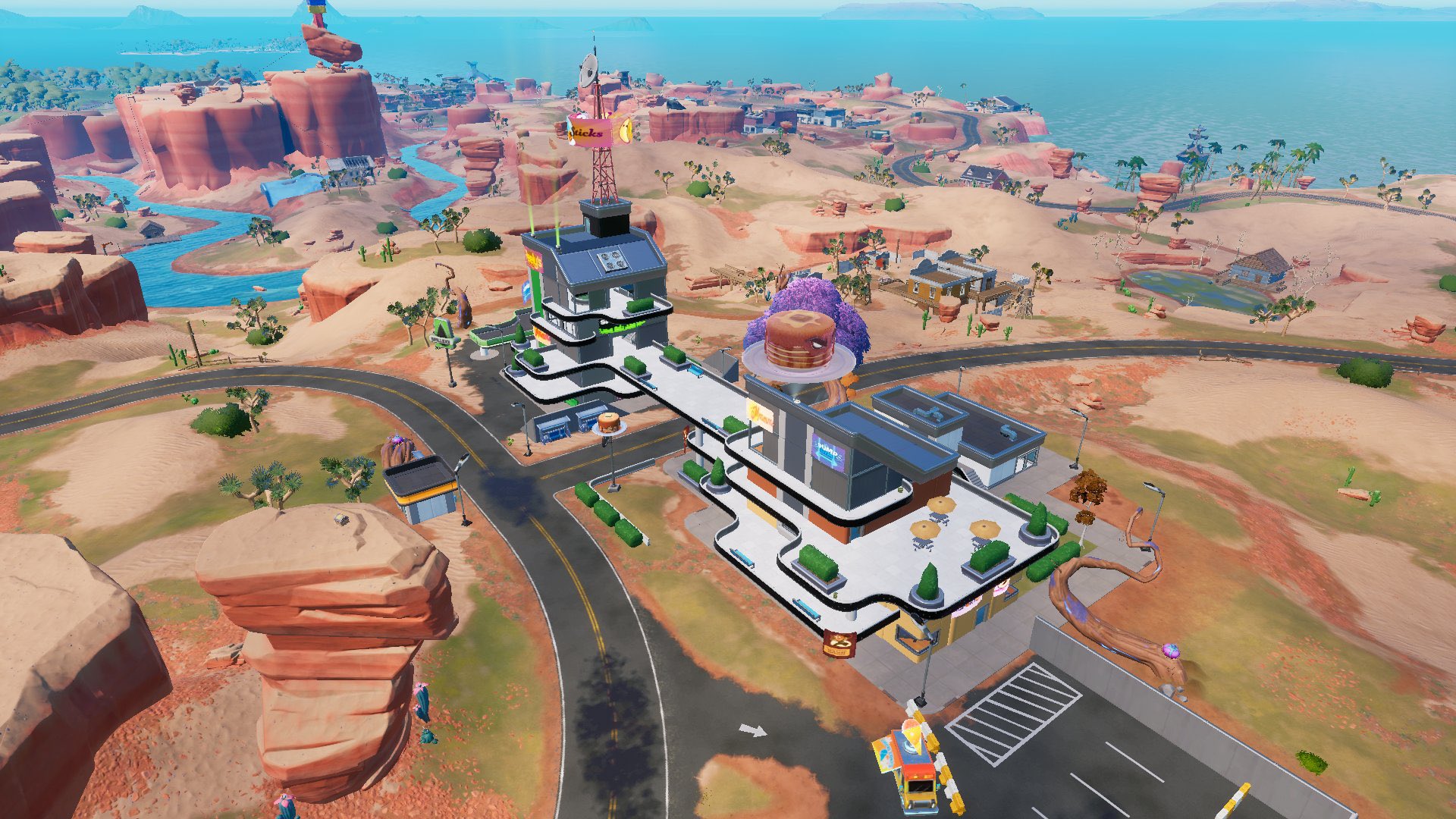 The Coliseum theme is similar to the one in Logjam Lotus.
The landmark gets fortified and the buildings represent Roman Architecture.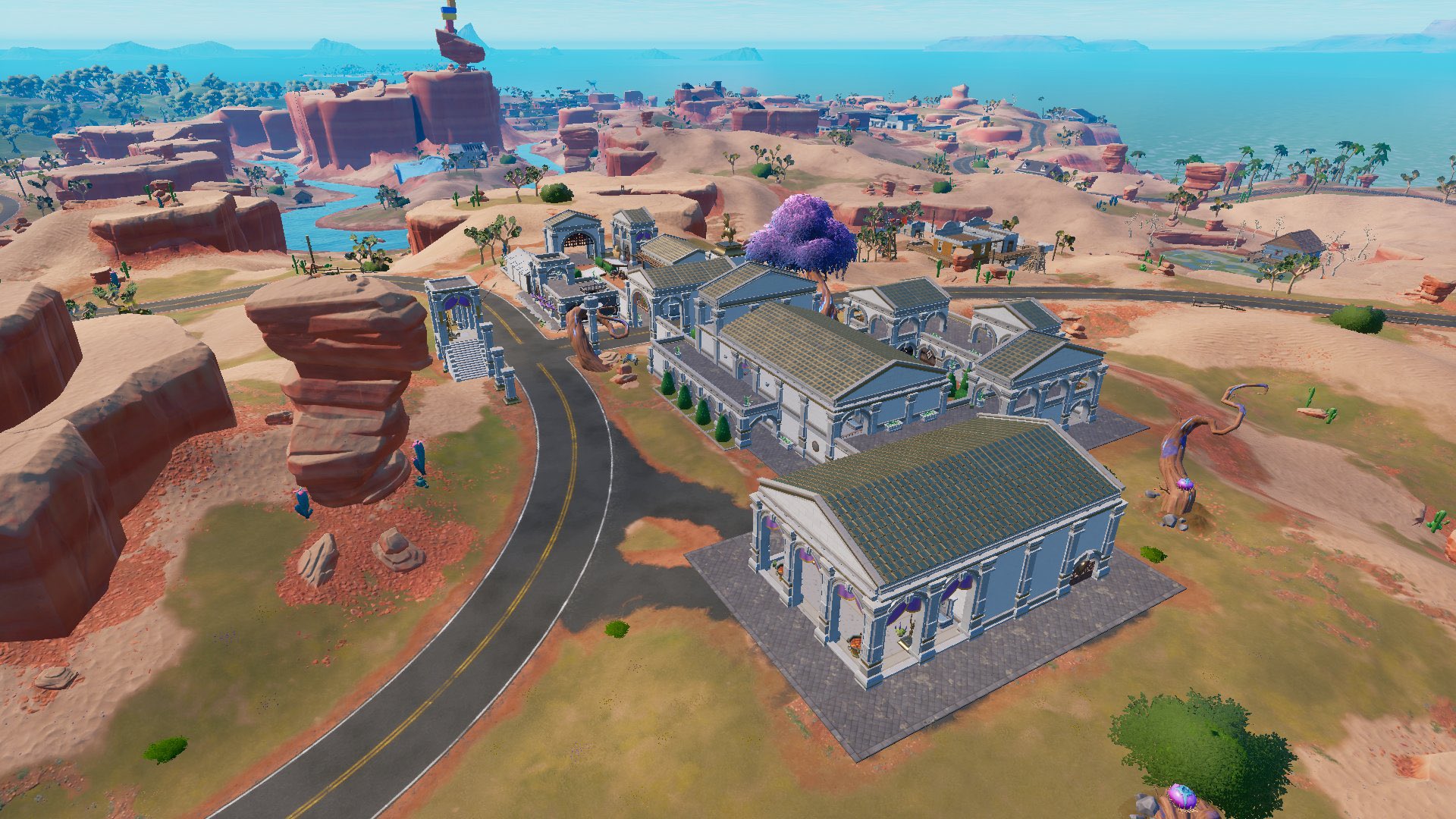 The final theme is Atlantis with which Butter Bloom turns into a miniature Coral Castle. Vintage dome-shaped buildings surround the region and there's a small pool as well.
Will Coral Castle finally become relevant in Fortnite?
The indirect return of Coral Castle has received a mixed response from the community. While some believe that Epic Games should have picked a more prevalent POI for Butter Bloom's Atlantis theme, others are elated that Coral Castle is now located in a much better position strategically.
Back in Chapter 2, it was the most despised location on the map (like Daily Bugle in Chapter 3). Even though there was good loot, players were ignorant due to its location which affected rotations, and the unusual landscape.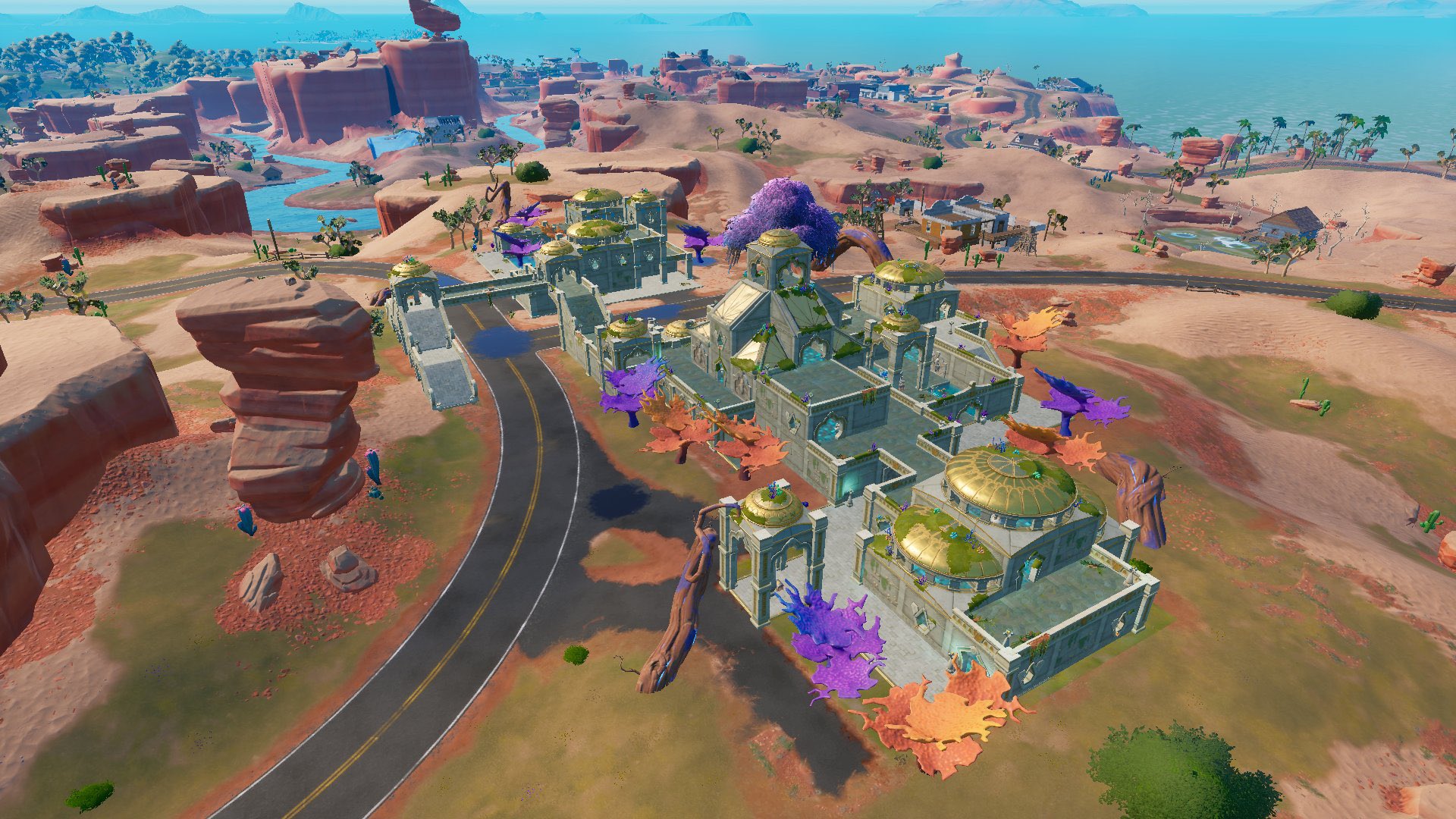 In contrast, Butter Bloom is a great spot in Chapter 3 and the Coral theme should not prevent players from landing here. To be fair, Coral Castle is one of the most beautiful locations in Fortnite history but loopers neglected it owing to its position on the map.
Hence, Coral Castle might get its well-deserved credit in Chapter 3.
It is worth noting that after turning Butter Barn into Butter Bloom, the Reality Tree's roots have already reached Temple Bloom. The landmark is located south of The Sanctuary, and we might witness similar map changes there as well.
Fortnite v21.10 update brings back classic POIs: Coral Castle, Tilted Town, more
Logjam Lumberyard in Fortnite Chapter 3 Season 3 will constantly change themes and feature Coral Castle, Lazy Lagoon, and other POIs.
With Fortnite v21.10, the Reality Tree has fully affected Logjam Lumberyard. It will now choose a random POI theme for every game which includes Tilted Town, Coral Castle, and others.
Fortnite players expect Epic Games to add map changes with every update. The developers have tried doing so in Chapter 3 and accordingly, the response towards the new chapter has been overwhelmingly positive.
Here's how the first major update for Fortnite Chapter 3 Season 3 has brought back OG POIs from Chapter 1 and Chapter 2 in the most unique way possible.
Everything to know about the updated Logjam Lumberyard in Fortnite v21.10
For the first time in history, we now have a location on the map that changes every game. As it turns out, Logjam Lumberyard will include elements from a wide range of locations from Chapter 1 and Chapter 2.
The community has discovered the following themes so far:
Neo Tilted/ Tilted Town (Wild West theme)
Coral Castle (Atlantis theme)
Colossal Coliseum (Roman theme)
Lazy Lagoon (Pirates theme)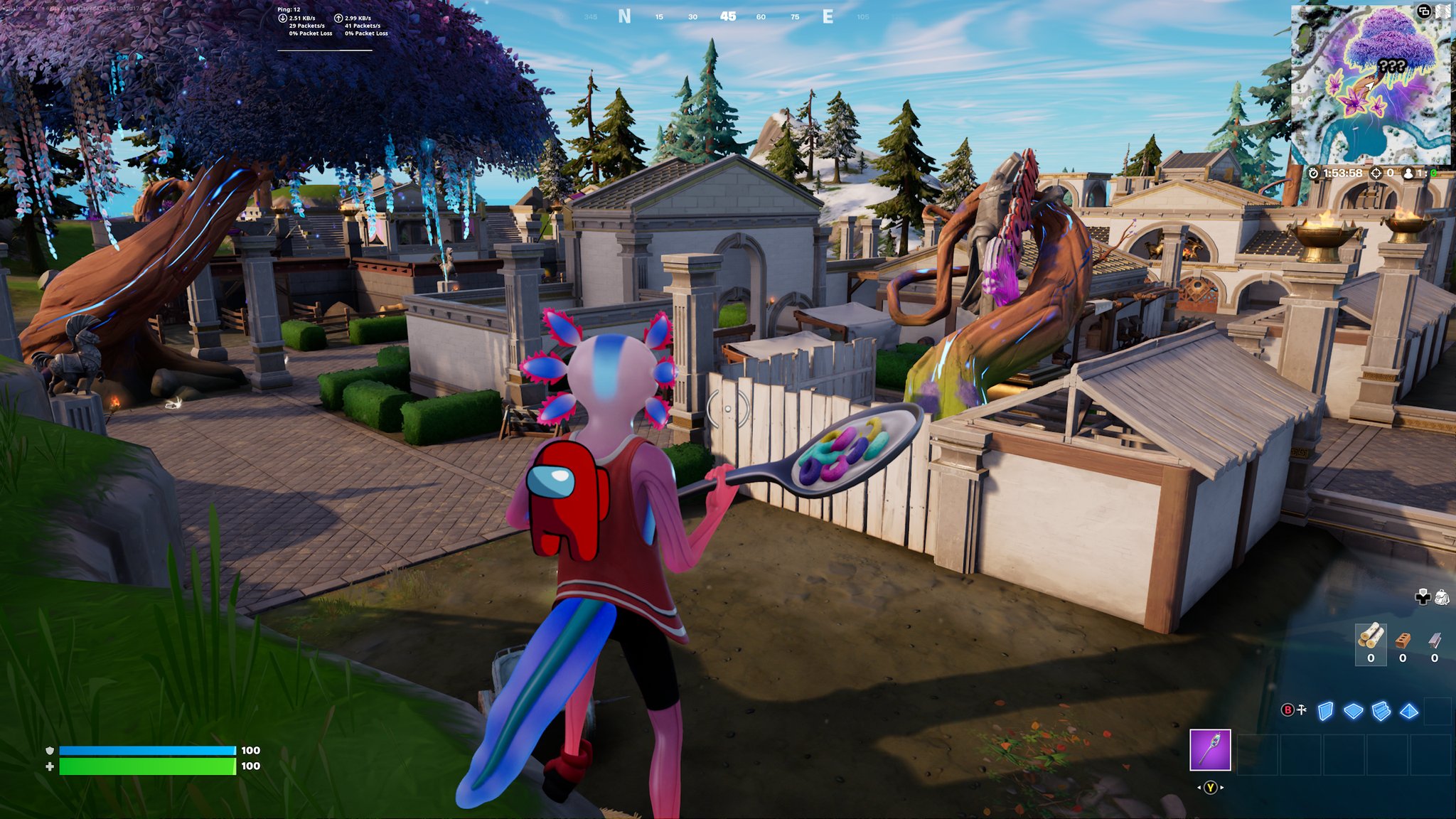 It wouldn't be an overstatement to say that with the 21.10 update, Logjam Lumberyard has become one of the best locations in Fortnite. While new players can finally explore the most prominent regions of Chapter 1 and Chapter 2 islands, veterans can recreate their memories.
Other map changes in Fortnite v21.10 explained
The popular Butter Barn landmark will now turn into a POI. With the latest patch, the developers have added buildings from Neo Tilted to Butter Barn and the landmark looks bigger and better than ever.
Last but not least, Darth Vader is now a boss and he spawns in random locations. Apparently, the Zero Point brought a Star Wars relic to the island which is why Vader is here. He can travel in his Lambda-Class shuttle and there's no definite location where players can find him.
It is no surprise that Darth Vader is a terrifying boss. He has a Mythic lightsaber and players will get 2,000 XP every team they defeat him.
All in all, Fortnite v21.10 is certainly brilliant in terms of map changes and gameplay. However, the same cannot be said for the No Sweat Summer event and the Nindo challenges.
All new skins in Fortnite v21.10: Itachi, Hinata, Battle Pass super styles, and more
Fortnite v21.10 has arrived with a ton of new cosmetics, including crossovers like Itachi and Hinata and authentic skins like Fox Fire.
As expected, Fortnite v21.10 will release a wide range of new skins. Alongside Itachi, Hinata, Gaara, and Orochimaru, new original skins like Fox Fire will also appear in the Item Shop.
New skins and cosmetics are always the biggest highlights of a Fortnite update. The latest 21.10 patch is no exception, as it has officiated the No Sweat Summer event as well as the Fortnite x Naruto: Rivals! crossover.
Here's every new cosmetic that is a part of the first major update for Fortnite Chapter 3 Season 3.
Fortnite x Naruto: Rivals! skins for Itachi, Gaara, Hinata, and Orochimaru revealed
The second crossover between Naruto and Fortnite has brought the following characters:
Gaara outfit with Fifth Kazekage selectable style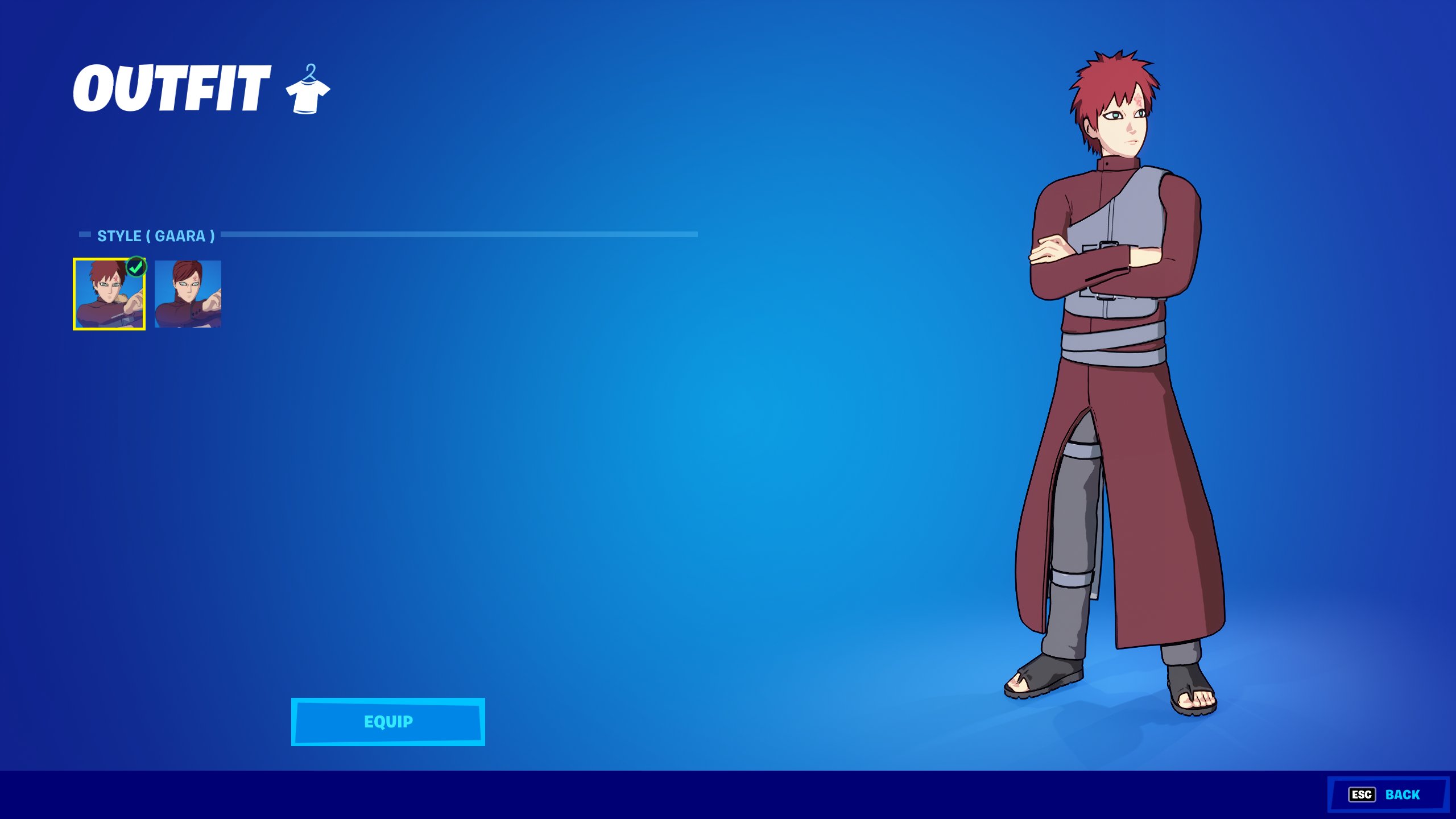 Hinata Hyuga outfit with a Hinata Uzumaki selectable style (the skin also has a Byakugan on and off style)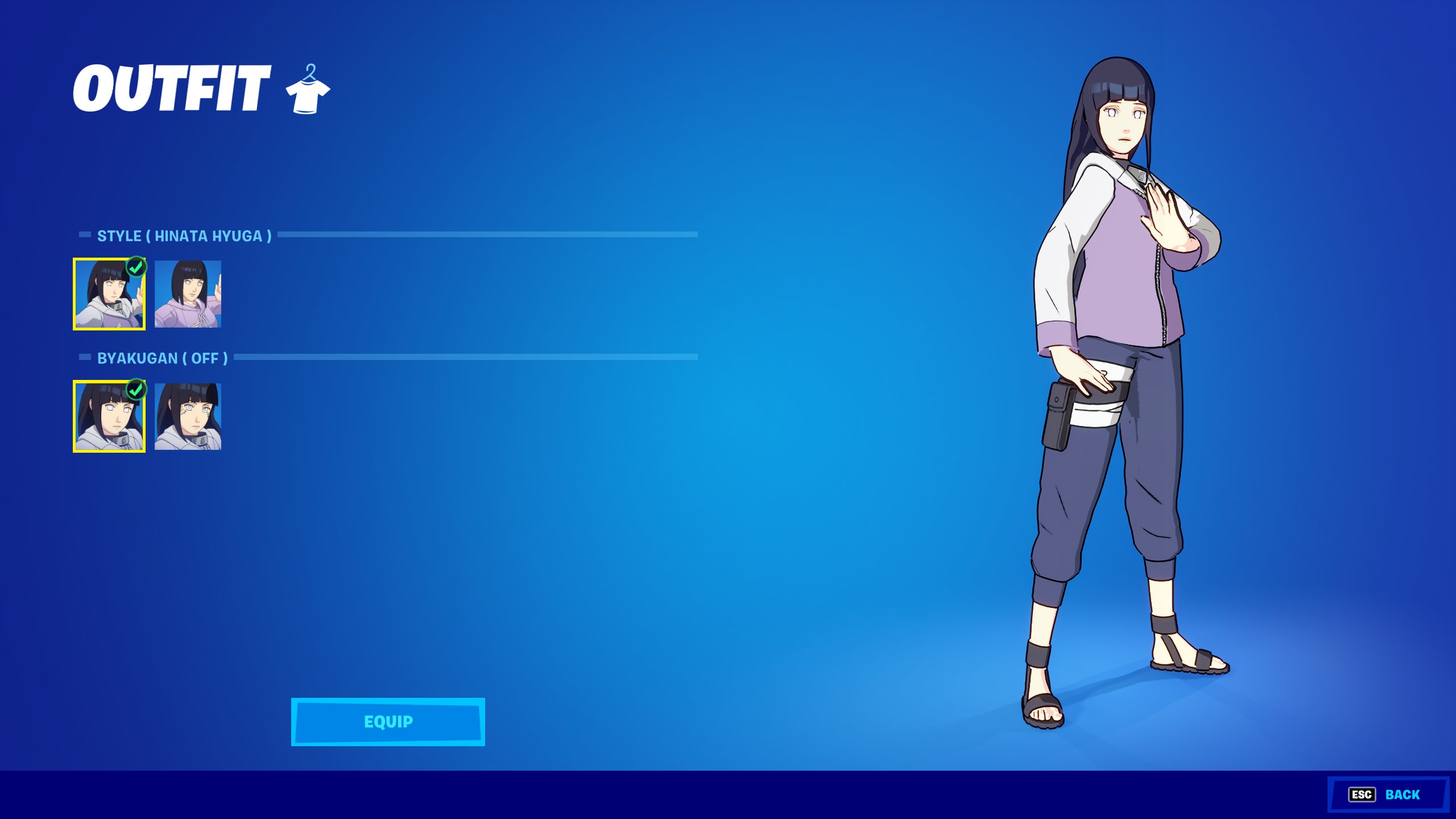 Itachi Uchiha with a Black Ops selectable style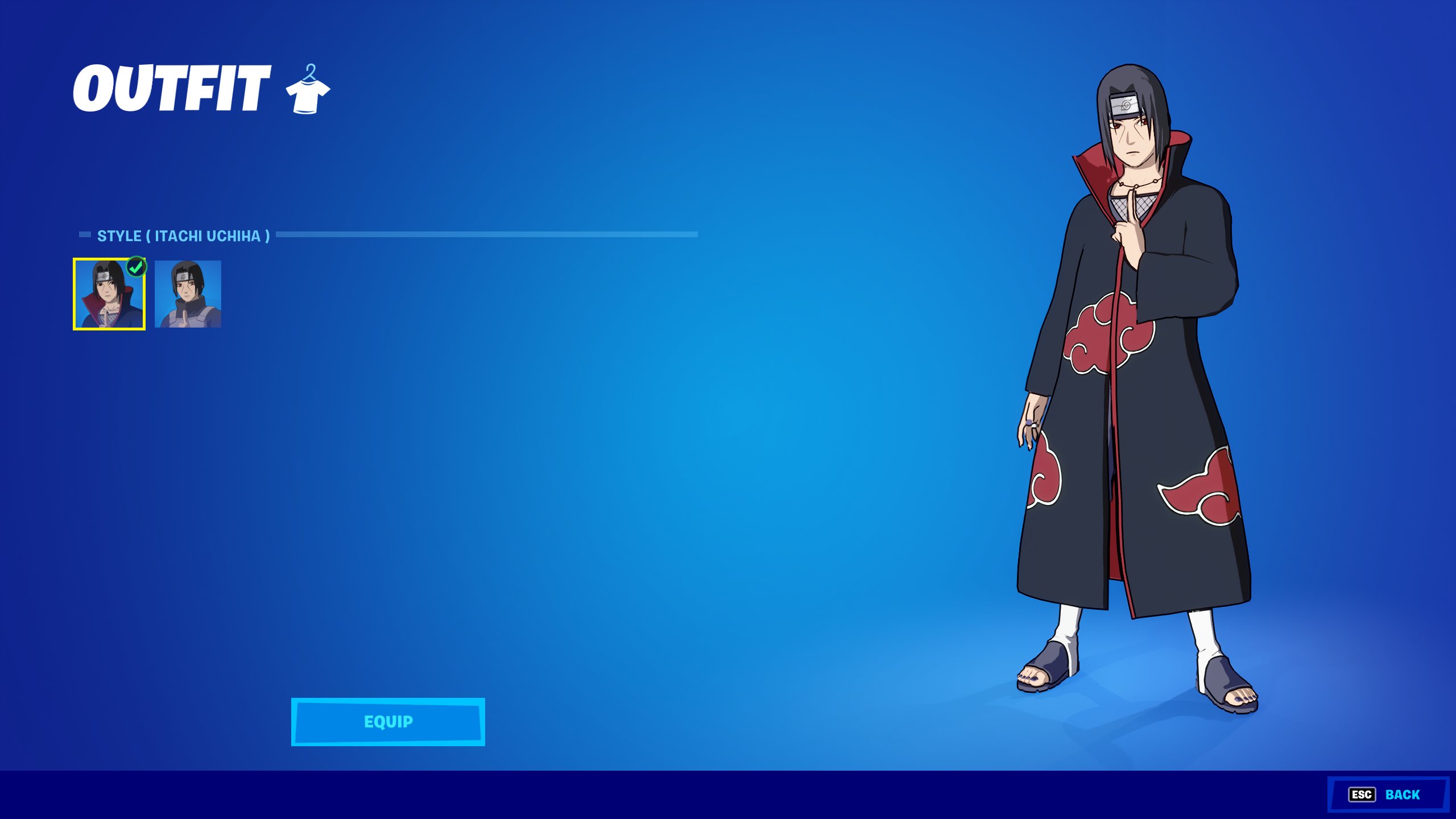 Orochimaru skin with a Hidden Leaf Era style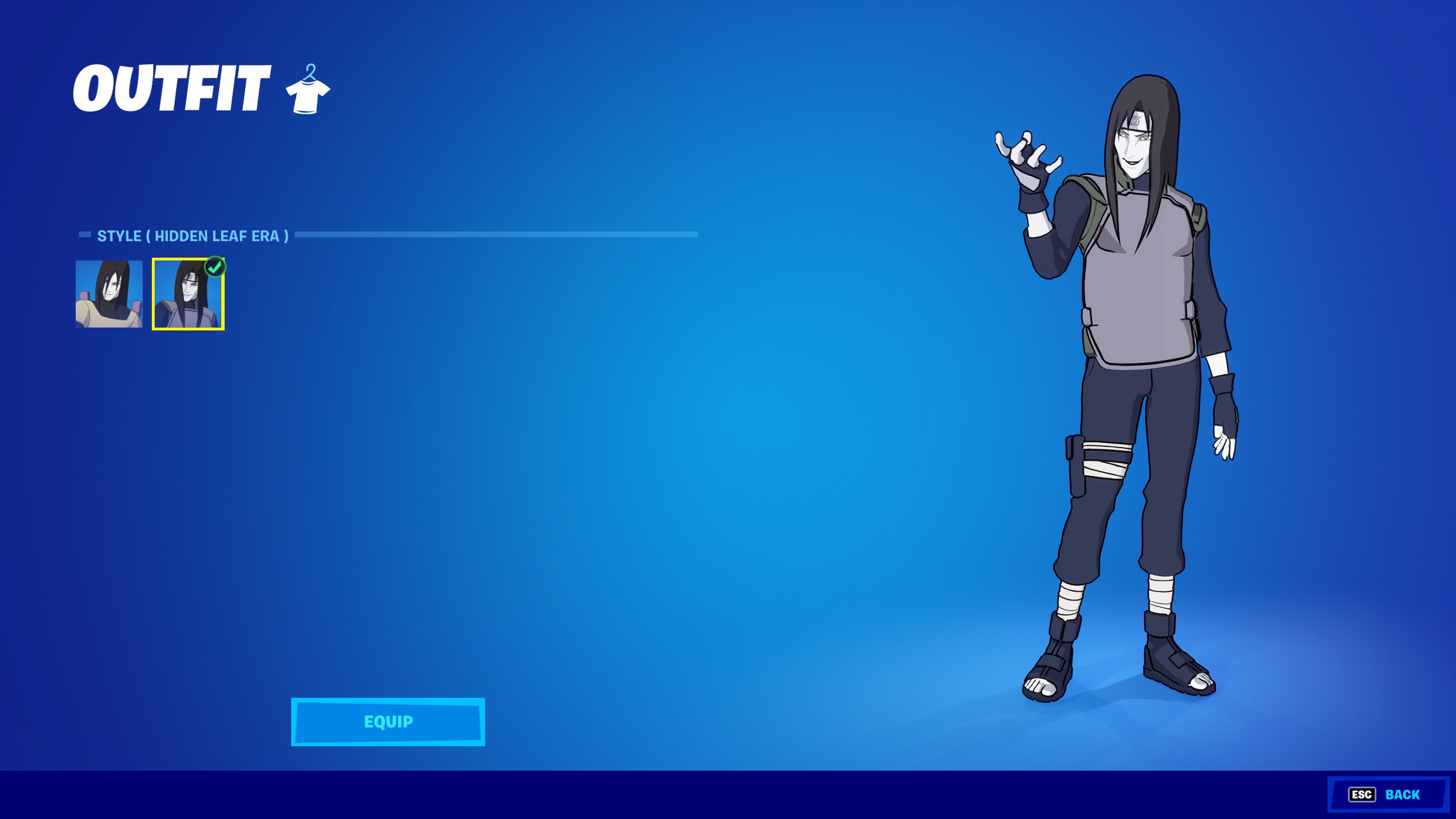 Alongside the four outfits, you can unlock the following cosmetics:
Back Blings:
Black Ops Mask with Itachi, Tenzo, Kakashi, and Black Ops style
Hinata's Backpack
Sand Gourd
Pickaxe:
Sword of Kusanagi
Minato's Kunai
Glider:
While the aforementioned cosmetics will be up for grabs in the Item Shop, certain cosmetics will be available as a free reward for the new Fortnite x Naruto challenges.
Fortnite v21.10 introduces brand-new Fox Fire skin and new styles for Battle Pass skins
The Fox Fire outfit in Fortnite Chapter 3 Season 3 has a default style and a helmet style. The skin's owners will also have the freedom to change the color of the character's arm tattoos.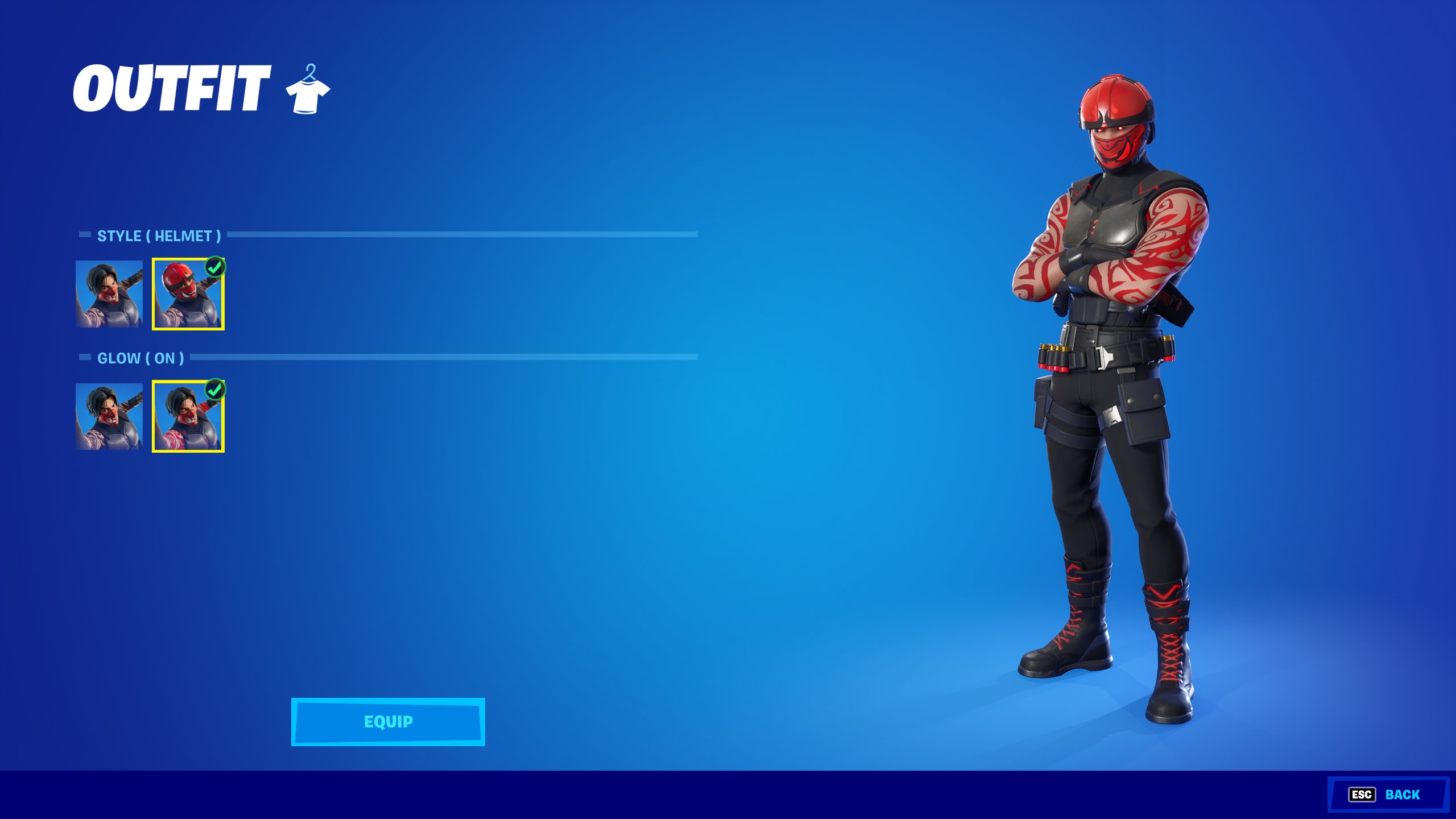 New super styles for Malik, Evie, Adira, Sabina, and Stormfarer are now available in the Chapter 3 Season 3 Battle Pass. The styles are called Platinum Rift, Lapis Slurp, and Auric Blaze, and here's a preview:
Loopers can look forward to unlocking the aforementioned skins through the Item Shop or the Battle Pass soon.
Moreover, the brand-new No Sweat Summer event will allow you to unlock free skins and XP by taking part in Creative challenges.