Fortnite 12.50 Update patch notes
Fortnite's v12.50 Update is now live, introducing two major nerfs to aim assist and Heavy Sniper Rifles following complaints from fans and content creators.
Aim assist has been a hot topic among players of the popular battle royale title for some time now, with many believing that it gave controller players an unfair advantage over players who use keyboard and mouse.
After months of these complaints, Epic have finally moved to try and address the problems, and have also made some changes to the Heavy Sniper, a weapon that has become a major part of player's loadouts throughout Season 2.
Heavy Sniper nerf
The only weapon to receive a major change this week is the Heavy Sniper, with Epic moving to reduce it's incredible power as it becomes more than just a long-distance weapon in the game. Recently, players have been using it to blast through enemy builds, which is not an intended use of the gun.
On top of that, the Heavy Sniper often killed in one bullet, but in an email sent this morning, the developers confirmed that they had "retuned their effectiveness," so they no longer wipe out enemies with full health and shields in a single blast.
Aim assist nerfed
Perhaps the headline addition in v12.50, Epic Games have finally responded to weeks of complaints from mouse and keyboard players and reduced the effectiveness of aim assist for controller users.
Many have strongly believed that aim assist's ability to lock on to an enemy gave those who used the console peripheral an unfair advantage, so the game's developers have revealed that they included a change that makes "240hz aim assist act like 60hz," in a move that will "impact target acquisition."
New Modes: Party Royale & Operation: Payload
Alongside those major changes, Epic have also introduced two new modes to the game in the form of Party Royale and Operation: Payload.
Party Royale is a safe space for players to chill out and play with friends, with weapons and materials turned off. What this will actually entail remains unknown, but Epic have announced that they will be testing the mode for the first time on Friday, May 1/2 at 6:00 PM (PST) / 9:00 PM (EST) / 2:00 AM (BST), so everyone can hop in and see for themselves.
On top of that, players will also be able to sink their teeth into Operation: Payload, a new LTM that will see players defend a moving objective and guide it across a specified area while another team attempts to halt their progress, much like Overwatch.
Bug Fixes
Of course, no Fortnite patch is complete without some bug fixes, and Epic has revealed which issues have been addressed on their official Trello page.
General
Framerate and resolution drops in v12.41
Battle Royale
Local Challenges not appearing when entering a new area
"Block damage with a Kingsman" Challenge not tracking progress
Save the World
Surround Pound's heavy attack may not deal damage to husks
Players may be swapped to their pickaxe when using an ability that's on cooldown
Stormking Onslaught Projectiles are not functioning correctly
Players may become stuck in a previous Dungeons zone while their teammates are in the next one
Psylocke's Pickaxe does not swing properly
Mobile
Video playback disabled on Android
Extra Build buttons display Wall icons
Ping marker displays 0m
Fortnite's v12.50 patch is now live and available to download on PC, Xbox One, PS4, Nintendo Switch, and mobile devices.
All major Fortnitemares: Midas' Revenge map changes
Take a look at all of the new locations in the Fortnite v14.40 Fortnitemares update.
Fortnite v14.40 brought Fornitemares: Midas' Revenge into the game. Midas has returned to his old stomping grounds with his Drum Gun and some RPG-wielding Henchmen to back him up.
The Fortnite map underwent several changes when the update launched – potentially the most changes since the start of the season. Ahead, we cover all of the new locations you can visit now that Fortnitemares 2020 is live.
The Ruins
The Ruins was the biggest change that came with the Fortnitemares update. At the same time, the changes seem a big familiar.
The location is now shrouded in shadows as Shadow Midas roams the hallway. This has now become the most dangerous location on the map. When you combine the undead Midas, Henchmen carrying Rocket Launchers, a massive number of players, and the new Shadow Zombies – it's going to be tough to make it out of The Ruins alive.
Witchshacks
Witchshacks have popped-up all across the Fortnite map. These small huts aren't too much to write home about, but they do bring the Halloween theme to more portions of the island.
The biggest reason to visit the Witchshacks has to be the new Broomsticks that you can find, there. The Broomsticks are kept inside of the barrels at these locations. You can grab one by breaking or searching a barrel – just like Fishing Rods.
The Broomsticks work exactly like Silver Surfer's Surfboard. They propel you off of the ground and into the air, allowing you to glide as far as you choose. You can also cancel them mid-flight, just like the aforementioned Surfboard.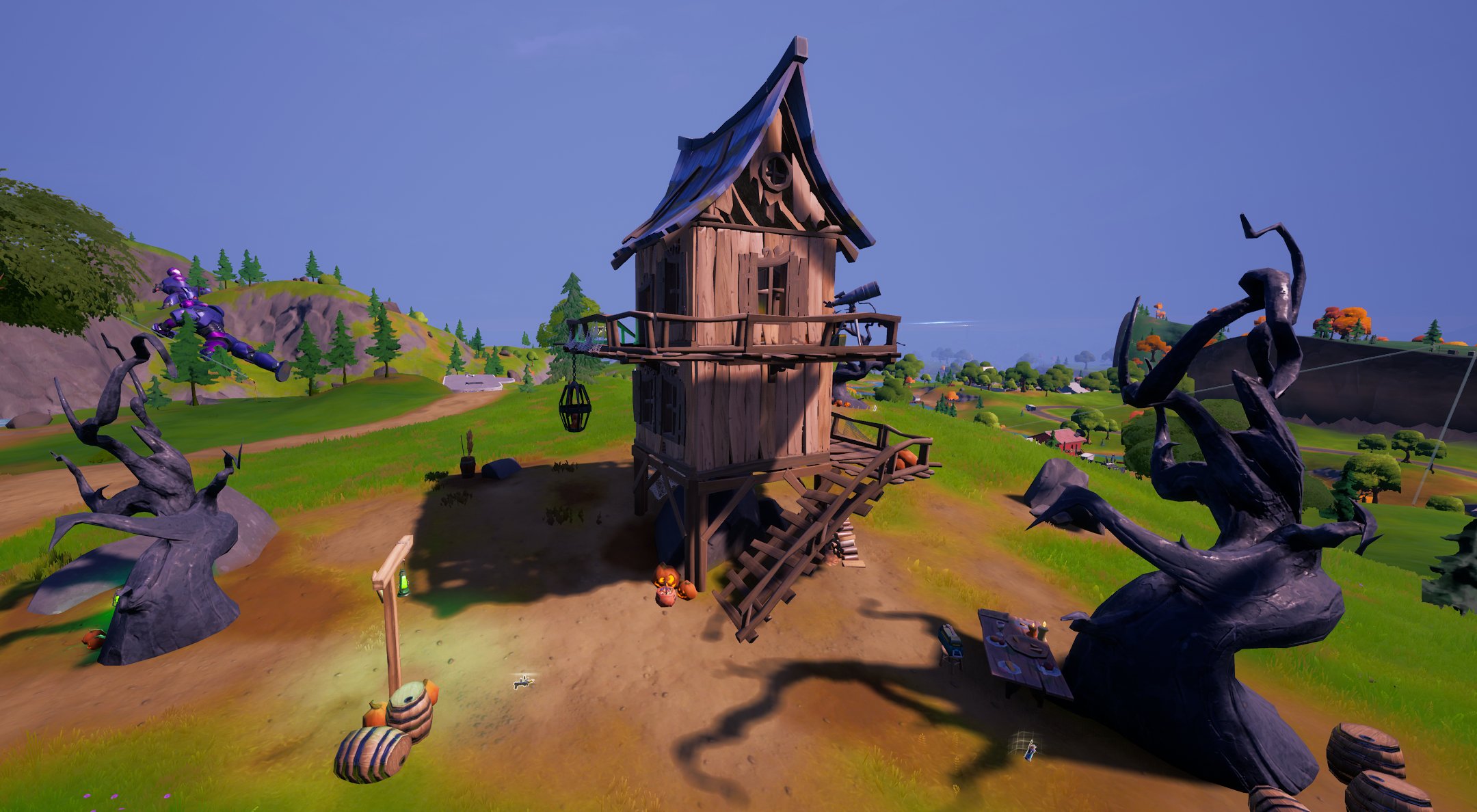 New Rift locations
There were a few small map changes in v14.40. One category of change is an expansion of the Rift Zones. Now, you can find Rifts surrounding some of the major POIs like Misty Meadows.
We're still finding all of the new Rifts across the map, but they offer an additional form of mobility – always welcome when the storm is closing in.
These were all of the major changes in the Fortnitemares update, with small details still being uncovered. For instance, eagle-eyed players can find the Ghostbusters van and whack it for a cool Easter Egg.
The update is set to remain active until November 2, so we have several weeks left to enjoy the Halloween-themed Fortnite. Let us know what you think about all of these changes on Twitter, @FortniteINEL.
Fortnite 14.40 patch notes: Fortnitemares 2020: Midas' Revenge
Fortnitemares is back as spooky season takes hold, with Midas making his return to the game in the v14.40 patch, which is live on PC, Xbox One, PS4, and Nintendo Switch on October 21.
Fortnite Season 4 has been all about superheroes, but with Halloween fast approaching on the horizon, it's time for "Earth's mightiest heroes" to take a backseat and make way for some ghoulish fun.
Of course, that means it's time for the annual Fortnitemares event, with the 14.40 patch bringing some spooky additions and Halloween-themed items to help players get in the mood.
With the patch now rolling out across PC and consoles, here's everything you need to know before you jump into the action.
Fortnite v14.40 Update patch notes
---
Fortnitemares 2020: Midas' Revenge
The headline addition in this patch is the return of Midas, who acts as the main character in the 2020 edition of the Fortnitemares Halloween event.
The character hasn't been seen since Season 2 when his Device experiment backfired, flooding the entire map. Now, he has reappeared to cause some more havoc, taking residence at The Agency once again with an army of the undead to help him with his plans.
From October 21 to November 3, players who meet their demise in Solos, Duos, or Squads can return to battle as one of Midas' Shadow Henchmen for a shot at earning a Nitemare Royale, and join your fellow Shadows to take down those still living by using otherworldly abilities.
Loot Pool Changes
Fortnitemares doesn't just bring back Midas, but also introduces a number of new Halloween-themed items like the Witches Broom that let's the user soar around the island, the Fiend Hunter Crossbow, and of course, the Pumpkin Rocket Launcher.
There's also some new consumable items in the form of candy like Candy Corn and Jelly Beans, which will add health or shield, or perhaps give you some new powers to wield.
A major surprise though is the vaulting of the Charge Shotgun, which has been removed from the game for the foreseeable future.
Huge PC patch size
Those downloading on PC will notice that this week's update is massive, coming in at 27GB, which is much larger than they typically tend to be.
This is good news for players though, as although this patch will take longer to download, it actually shaves 60GB off the entire file size of the game, improves loading performance, and will make for smaller update downloads in the future.
Bug Fixes
As always, Fortnite's 14.40 patch also has some bug fixes that should improve quality of life for players, and address some of the frustrating glitches that can make the game frustrating to play.
These bug fixes have been taken from Epic Games' official Trello board, and we'll be sure to update this article with any more changes we discover.
General
Honey Hitters Pickaxe disabled.
Battle Royale
Cozy Chomps and Ravage Outfits appearing as Ramirez.
TWIP! Legacy not being awarded.
Inventory shuffling after respawning in Team Rumble.
Doctor Doom's Mystical Bomb temporarily disabled in competitive playlists.
Creative Mode
Players without matchmaking permissions cannot access the Team Size setting.
Sky color does not change when adjusting light color setting.
Fog and lighting settings changed in Creative.
Mobile
Vehicle buttons missing.
Black textures on foil variants on Nintendo Switch.
Fortnite update v14.40: what to expect
Here's what to expect in the upcoming update: Fortnite v14.40.
With Halloween around the corner and several clues pointing to an immanent update, the Fortnite community has circled October 21 as the release date of v14.40. As you can probably guess, this is set to be the update that will bring Forntitemares 2020 to the game.
Ahead, we'll take a look at what we know about the upcoming update, including the bug fixes and what it means for Fortnitemares 2020.
Bug Fixes
Bug fixes are always a part of major Fortnite patches, and v14.40 is no different. In fact, one particular bug on this list is one of the reasons that we expect an update on October 21.
Doom's Mystical Bomb is one of the only Mythic items in competitive Fortnite modes, but a bug has forced Epic to disable it in Arena and tournament play. We're in the midst of the Season 4 FNCS, and Epic will almost certainly want to remedy this issue before another week of qualifiers passes.
Here are all of the bugs listed as "Fixed in next game update" on the Fortnite Community Issues Trello Board:
Honey Hitters Pickaxe disabled.
Inventory shuffling after respawning in Team Rumble.
Doctor Doom's Mystical Bomb temporarily disabled in competitive playlists.
Players without matchmaking permissions cannot access the Team Size setting. (Creative)
Sky color does not change when adjusting light color setting. (Creative)
Fog and lighting settings changed in Creative. (Creative)
Vehicle buttons missing. (Mobile)
Black textures on foil variants on Nintendo Switch. (Mobile)
Fortnitemares 2020
Fortnitemares 2020 is the obvious change that the presumed v14.40 update will bring. If the update does bring Fortnitemares, this will be the earliest that we've seen a Fortnite Halloween update in three years.
We have a separate article covering all of our expectations for Fortnitemares 2020. You can find that here, but here are some quick bullet points that cover the leaks we've seen.
"Midas' Revenge" theme
The return of Husks
Candy consumables
Rideable Broomsticks
New skins and cosmetics.
Fortnitemares will be a significant update, so we don't expect too many meta shifts outside of that. Of course, we expect the Pumpkin Launcher to return – as it does every year.
We'll keep you covered when the update goes live, so make sure to follow us on Twitter @FortniteINTEL to stay up to date with all of the latest developments.