First look at the Fortnite Season 4 Battle Pass
Fortnite Season 4 is here. Take a look at the full Season 4 Battle Pass here.
Today is the day! Fortnite Season 4 is here. With it, comes a brand new Battle Pass with new skins, gliders, emotes, loading screens, pickaxes, and more. As expected, almost all of these Battle Pass cosmetics relate to the Marvel crossover.
The servers are still down at the time of writing, but data miner Hypex was quick to leak all of the in-game cosmetics as soon as the Season 4 trailer finished playing. Speaking of that, you can take a look at the trailer below.
Again, we don't have access to the full Fortnite Battle Pass just yet. For now, we're going with the in-game leaks from ShiinaBR, m1fnbr, and Hypex.
We'll make sure to update this post as soon as the servers open up and we're able to capture the entire Battle Pass. Until then, this will have to do.
Update: ShiinaBR and m1fnbr have leaked the full Battle Pass. Here it is!
We're excited to jump in and get our first win of the season. Speaking of that, we have a look at the new umbrella that we'll get for winning. This is the best-looking one that we've seen in a while, in our opinion.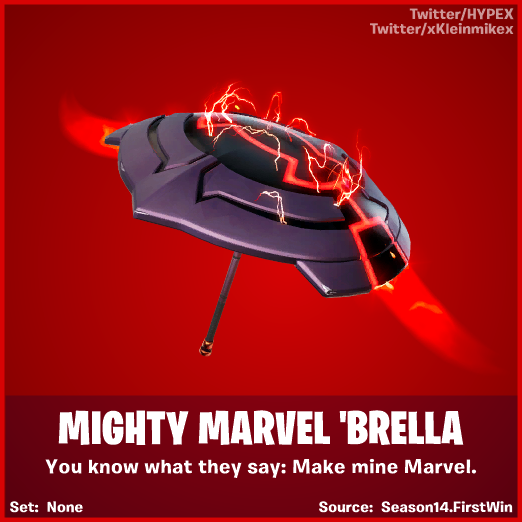 We'll keep you posted with everything you need to know about the new Fortnite season, so make sure to stay tuned. Good luck to everyone grinding for their first win this morning!
The Devourer could return in Fortnite Chapter 3 according to leak
A Fortnite data miner has found several files in Chapter 3 that point towards the return of The Devourer from Chapter 1.
The Devourer, aka the Polar Peak Monster, might return from the dead to terrorize the Island in Fortnite Chapter 3.
In Chapter 1 Season 9, players weren't worried about The Island getting torn apart by a glowing sphere. The IO had yet to be established, but there was still one major threat.
The Polar Peak Monster circled the map for the better part of C1S9. What would have been the end of the Island was thwarted by a giant mech bear built by Fortnite's inhabitants.
While this all took place on a different island than the one players are on now, it seems that the IO has found a way to bring the Devourer back to Fortnite.
The Devourer could return in Fortnite Chapter 3
According to Fortnite data miner FN_Assist, the IO could be attempting to bring The Devourer back to life. We already know that they are digging up its remains, but new game files point towards more than simple excavation.
In an upcoming update, a POI named Covert Cavern is being added to the map. This is an excavation site where the IO is digging up large skeletal remains of Cattus aka The Devourer.
FN_Assist has found multiple filed relating to this POI. Various sound files feature bones creaking and groaning. However, one sound bite features the distant groans of an unidentified creature.
The data miner theorizes that this could point towards The Devourer's return. Either the IO is looking for a way to revive the Devourer or they are creating similar creatures from the existing DNA.
However, these are just theories based on what has been found in the game's files. We won't know for sure what Epic Games has planned for this season until it's found in the files.
For more Fortnite, check out where you can find every Exotic weapon in Chapter 3.
Fortnite leak teases return of Star Wars Lightsabers
The Star Wars Lightsabers could make a return to Fortnite in the near future according to a notable data miner.
A Fortnite data miner has reported that Epic Games readded the Star Wars Lightsabers into Fortnite's files after the v19.10 update.
Fortnite has held quite a few Star Wars crossovers, but none as ambitious as the live event in Chapter 2 Season 1. This introduced Lightsaber's into the loot pool for a short period of time.
They were also available for an even shorter period of time from May 2nd – 5th during Chapter 2 Season 2. Since then, players have eagerly awaited their return.
Now, a Fortnite data miner thinks Lightsabers could return to Fortnite sometime soon due to a change in the game's files.
Lightsabers may return to Fortnite
Epic Games removes weapon and item data from the files when that item isn't in use. And when the data is readded to the files, it's a good indicator players will see their return soon.
Fortnite data miner FN_Assist recently discovered that the data for Lightsabers was added after the most recent update. In a tweet, FN_Assist outlines all of the data that was readded.
They claim that this could mean one of two things. Either Star Wars Lightsabers will return to Fortnite in the near future. Or Epic is working on a weapon based on the lightsaber's pre-existing mechanics.
If Lightsabers are added to Fortnite, we can expect it to accompany a return of skins and maybe some other Star Wars announcement.
Epic Games usually adds crossover content to promote whoever they are collaborating with. Whether it be a new movie or TV series, the Lightsabers could be used as a promotional tool for new Star Wars content.
For more Fortnite, check out where to find Klombos and Klomberries in Chapter 3.
Fortnite survey teases crossovers with Nintendo, SpongeBob, and More
Epic Games has sent another survey to select players with a list of potential Fortnite crossovers that it is considering for the game.
Fortnite has issued a number of these surveys in the past asking players for their opinions on a number of things. Surveys have also revealed crossovers and subscription services before their release. Some community-made skins and even the Fortnite Crew Pack have been a part of said surveys.
However, not every teased crossover that appears on a survey makes it into the game. These surveys are used by Epic Games to gauge interest in potential Fortnite crossovers. While some of the characters in Fortnite were on surveys first, such as Gugimon, the majority of the names of the surveys have yet to make it into the game.
New survey teases potential Fortnite crossovers
That being said, each name on the list is a franchise or character that Epic Games is considering. Notable Fortnite leaker ShiinaBR on Twitter shared the latest surveys from Epic Games. Instead of sharing a full list of potential crossovers, Shiina highlighted some of the most interesting candidates.
The list is sepearated into eight sections: Musical Artists, TV Shows, Video Games, Comics/Manga, Influencers, Movies, Cartoons/Anime, and Video Game Characters. Some highly requested characters such as Naruto, Goku, and more are on the list.
There are also a few left-field candidates such as SpongeBob Squarepants, Luigi from Mario Bros., and Steve from Minecraft. Not included in Shiina's shortlist is a large number of characters from The Office. While the majority of these crossovers may not make it into the game, it's fun to imagine Ted Lasso running and gunning on The Island. A full list of potential crossovers can be found below.
Do any of these potential Fortnite crossovers pique your interest? Let us know down below which characters you want to see in the game. Or let us know on Twitter @FortniteINTEL.