First look at Fortnite's leaked Xbox One S Rogue Spider Knight bundle
Epic Games are set to release another Fortnite x Xbox One S console.
Microsoft and Epic Games have teamed up to release an exclusive Fortnite x Xbox One S bundle which will include a new Rogue Spider Knight skin.
Console and game collaborations are popular among fans of their beloved franchise; giving people the opportunity to get their hands on a physical, game-themed version of their favorite console.
Microsoft and Epic Games have previously teamed up, when the Fortnite: Battle Royale Special Edition Xbox One S was released with the Dark Vertex cosmetic set and 2000 V-Bucks earlier this year.
Fast-forward a few months and another Xbox One S bundle is set to be released on September 24, and will ship with access to the Rogue Spider Knight bundle.
According to leaks from @FNBRHQ, the character bundle will feature the skin set (a reskin of the web weaving warrior and the associated Spider Shield back bling), alongside 2000 V-Bucks (worth approximately $20 USD or £16 GBP).
Access to the V-Bucks will be granted by completing the associated Rogue Spider Knight challenges.
Although the Rogue Spider Knight bundle will ship exclusively with the Xbox One S on September 24, if history is anything to go by, the set will likely become available at some point in the future (and be offered at a cheaper rate) — just like the Dark Vertex bundle that was offered with the Special Edition Xbox One S.
With the holiday season around the corner, the bundle may be perfect for those in the market for a new console.
However, the addition of a simple character variation (that will likely be available to purchase at a later date) and some in-game currency, may struggle to entice players to jump ship from rival consoles/platforms.
Fortnite Leak reveals the final Season 3 map stage
The full Fortnite Season 3 map has been revealed.
On July 1, the water level of the Fortnite Season 3 map went down for the first time. Don't be surprised if you didn't notice it after a game or two – the only place that seemed to be affected was Steamy Stacks, which is now free from the flood.
As many of you know, Epic will progressively lower the water level over the course of the season, revealing new POIs and, eventually, bringing the much-awaited cars to the game. According to reports, the next stage of the Season 3 map will release on July 11. This stage will be more significant, with Risky Reels coming back into play.
This isn't the only glimpse of the Fortnite Season 3 map that we got, however. Apparently, consoles don't have encrypted PAKs like PC does. This allowed data miner VollMitBotox's game to glitch on PS4, showing him the final stage of the Season 3 map.
Here, you can see all of the locations that are currently on the map as well as a dried-out Dirty Docks, Weeping Woods, and more. The biggest changes that we see on the map are south of The Shark and at Rickety Rig. The former will likely be the rumored 'Ruins' or 'Atlantis' location that data miners have found in the game files.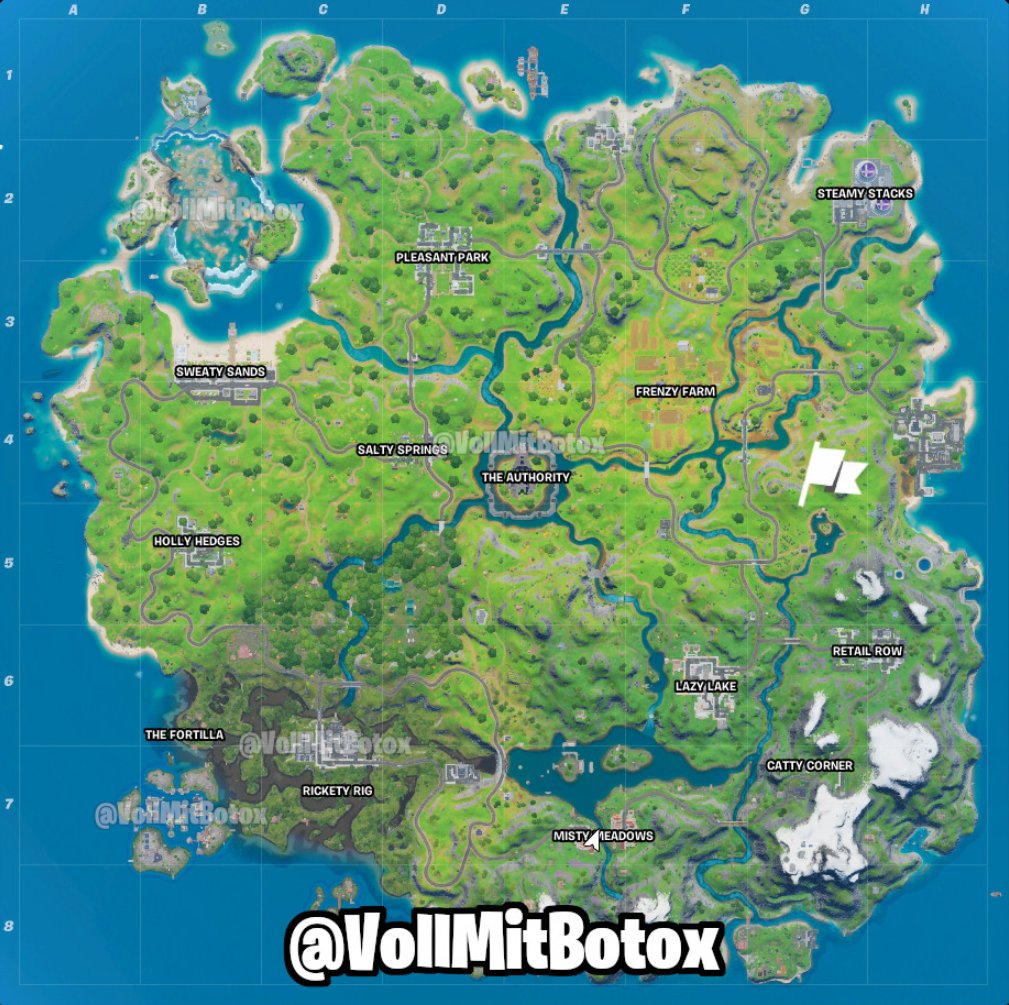 The full Season 3 map is surprisingly similar to the Season 2 map – at least, on the surface. The flooded POIs will likely look quite a bit different when the water level lowers. We've already seen leaked images of places like The Shark and Craggy Cliffs with no water. It looks like the Grotto will remain a swimming pool for the entirety of Season 3.
Now that we know how the final Season 3 map will look, all we can do is wait for the water to progressively lower over the course of the season. We'll be discovering these new and returning locations with the rest of you, and keep you posted on everything that changes.
Fortnite Captain America skin reportedly coming for the 4th of July
Reports have it that Captain America will be coming to the Fortnite Item Shop on July 4.
Fortnite Season 3 is looking to finally spice things up in what has been a dry chapter of the game. Seasons 1 and 2 were long and relatively devoid of content. Three weeks into Season 3 and we've already seen two new weapons, the addition of LTMs, and a Summer Splash event.
According to reports coming out of the v13.20 patch, we'll be getting another small surprise on the Fourth of July. Well – it won't be a surprise to those of you who read the headline. According to Hypex, Captain America will be coming to Fortnite for the 4th of July.
Rumors started swirling as soon as Epic released their influencer patch notes – a small list of changes that they send to people with Creator Codes. Within this document, they told us that a hero was coming to the Item Shop on the 4th. Naturally, this led people to speculate that we'd be getting the Marvel hero with America's namesake.
Several weeks ago, YouTuber Trimix created a Captain America concept skin and joined a couple of fashion shows with it. The real deal might look a bit different, but his video gives us an idea of what a Captain America Fortnite skin will look like.
This will, likely, be a must-have for the majority of the community. We didn't get any skins for the core Avengers during the crossover, but it looks like we'll finally be getting one this weekend.
Fortnite leak points to new racing LTM
Racing is coming to Fortnite Season 3 in this leaked Chrome Racing LTM.
The Fortnite Season 3 map is largely underwater at the moment. Based on the trailer, however, we know that the water will recede and that we'll eventually be able to drive cars on the road. We already have a ton of information about these cars, including the different types, their fuel, and how many will spawn in each match. You can take a look at all of the Fortnite vehicle leaks here.
When the v13.20 update hit, data miners noticed another car-related string in the game files. The code points to a "Chrome Race LTM," which looks to include some cars that may not be in the base Fortnite game mode.
Data miner @FortTory released some of the files related to the new race. None of it is overly surprising – it seems like a straightforward race. The only strange bit is having "more than one way to win." It may be a Mario Kart-style race that incorporates some elements of battle.
If Epic does this mode correctly, it could spawn a whole new way to play Fortnite. Fans of GTA Online know that it has some of the best racing in all of gaming. It might be a pipe dream, but Epic could give us some way to progress our racing skills, release more cars, and open the door to a completely new mode, permanently.
Either that, or it will be a fun way to spend a few hours before moving back to Battle Royale. Either way, racing in Fortnite sounds promising. We'll let you know when we learn more.