FaZe Jarvis reveals his Fortnite 'return' was an elaborate hoax
FaZe Jarvis tricked the internet into thinking he was playing Fortnite again. Here's how he did it.
It's been about a year since Jarvis Khattri decided to make a Fortnite aimbot video, resulting in a permanent ban from Fortnite. Most Fortnite players remember the fallout from back then, whether or not you followed FaZe Jarvis.
The cries of #FreeJarvis can still be heard to this day. This ban was extremely unfortunate for the rising star at the time, although the YouTuber was able to leverage his video game success into a vlogging/IRL channel.
On September 11, 2020, however, Jarvis tweeted that he'd be streaming Fortnite for the first time since his ban. The announcement was picked up by dozens of news outlets as the Fortnite community eagerly awaited the stream.
You may have heard what happened after Jarvis went live. He played a few minutes of his first match with black bars covering his information before a fateful press of the 'start' button revealed his Epic username to the stream.
Shortly after Jarvis' IGN leaked, Epic Games banned the account. As you can see from the clip, it seemed like Jarvis wanted to get banned. As it turns out, he did.
Nearly every video game publication and Fortnite-related YouTube channel picked up on this story. A couple of days later, though, on September 13, Jarvis revealed what a few fans had suspected: the whole thing was a hoax.
FaZe Jarvis uploaded a video entitled, "I Tricked the Internet Into Thinking I Played Fortnite." In the video, he showed how he and his friends staged the Twitch stream and baited Epic Games into banning him … again.
Over 50,000 unique viewers tuned in to watch what happened. Even popular Fortnite streamers like Clix fell for the ruse, expressing fear that Epic Games could sue Jarvis. What no one knew was that a fellow streamer, SlaterKodish, was the one controlling the action.
Jarvis made sure to turn off his subscriptions and donations during the stream. He was tricking his viewers, of course, and didn't want to earn money directly from them.
The troll was a successful one. Jarvis succeeded in tricking a large portion of the internet and Epic Games, themselves, into thinking that he was playing Fortnite on a fresh account. In the end, however, the joke might be on him and the FaZe house. They're now IP banned – meaning no one in their house can play Fortnite right now.
The video sits at over 1.5 million views and is number-one on trending for Gaming at the time of writing. It's a fair trade as long as no one in the house plays Fortnite. It's unclear if Epic will take note of the hoax and reverse their ban on the FaZe house. The organization probably has pull with publishers like Epic, but we doubt they're in a rush to unban a house that directly trolled them.
Will Jarvis ever return to Fortnite? Probably not. A permanent ban is a permanent ban. This was probably the best outcome that Jarvis and his crew could have hoped for. THe Free Jarvis movement is alive and well.
Fortnite Season 4 Week 9 Challenge guide
All challenges for Fortnite Season 4 Week 9 and how to complete them – including the Upstate New York and Heart Lake locations.
Fortnitemares is here, bringing a new list of challenges for players to complete. That doesn't mean that the weekly challenges are slowing down as players finish up the Battle Pass and work their way to the holographic skins.
The challenges for Season 4 Week 9 are relatively easy. As usual, we'll be collecting materials, eliminating players, and driving from point A to point B – this time in a boat. Here are all of the Season 4 Week 9 Fortnite challenges:
Search Chests at Upstate New York
Eliminations at Lazy Lake
Collect Metal from Slurpy Swamp
Catch fish at Heart Lake
Eliminate opponents by hitting them with vehicles
Drive a boat from The Fortilla to The Authority in less than 4 minutes
Ride 20,000 meters in a vehicle
Deal damage to opponents at Sentinel Graveyard
We're going to be getting into some road rage this week while we hit opponents with a car. This one is going to be fun. you have the best chance of completing this one by landing at Stark Industries, hopping into a car, and slamming into the people who land with you.
At first glance, we weren't sure where Upstate New York or Heart Lake was. As it turns out, these two places are one and the same. Upstate New York is the massive chunk of land that's home to Stark Industries. Heart Lake is the lake in the center of it.
Now that you know where to go for the Upstate New York and Heart Lake challenges, the rest of these should be as easy as playing a few challenge-focused games.
As always, we'll keep you posted with all of the upcoming Fortnite challenges. Follow us on Twitter @FortniteINTEL to stay up to date with all of the latest Fortnite news, challenges, memes, and more.
Fortnitemares: Midas' Revenge challenge guide
A guide to all of the released and leaked Fortnitemares 2020 challenges.
Fortnitemares 2020 is here, bringing players a ton of new content to enjoy. We have Zombie Shadows giving players the ability to respawn, some new locations to explore, and Midas' return from the dead after being eaten by a shark.
Of course, with a new event comes a list of challenges and rewards. We only have three available challenges at the time of writing, but data miners were able to clue us into what else will be coming in the future. Here are all of the challenges you'll need to complete this Fortnitemares season:
Travel 100 meters on a Witch Broom
Eat Candy
Deal damage with a Possessed Vehicle
Eliminate Shadow Midas
Eliminate shadows as Player
Visit Different Witch Shacks
Consume legendary loot as a Shadow
As we said, only the first three challenges are available at the time of writing. Becoming a Shadow is easy as staying in the game after you die. If you do this three times, you'll complete the first stage of the challenge.
Witch Brooms can be found at the Witch Shacks scattered around the map. We'll have a separate guide to these posted when the next stage of the challenges come to the game. You can find that linked here.
Candy is found all over the map, but the best place to find it could be at Doom's Domain. It looks like Doom's Henchmen have left out some candy for the kids. See? They're not all bad.
Possessed vehicles have been in the game for a while – often called "dancing cars" before Fortnitemares came out. To find one, you'll need to hop inside, exit, and see if the car starts jumping around. If it does, then you can use it for the damage challenge.
Finishing these challenges will net you some unique rewards including a back bling, a weapon wrap, two emoticons, and an exclusive pickaxe. Out of all of the recent limited-time rewards, this lineup is one of the best.
We'll continue to update this post as more challenges become available. You won't want to miss out on these limited-time rewards, so make sure you're staying up to date with all of your Fortnitemares challenges!
How to get the Shadow Midas Drum Gun in Fortnitemares
Want Midas' Drum Gun this Forntitemares season? Here's how to get the only mythic weapon in Fortnite.
Fortnitemare's 2020 is here, and Midas is back in action after the minor setback of being eaten by a shark. Our old friend might not be in the game for the rest of the season, but he'll be a boss until the end of Fortnitemares – scheduled for November 2.
As you might expect, Midas is patrolling his old headquarters at The Agency, which is now a Shadow-controlled POI called "The Ruins." Here, you'll find a plethora of RPG-wielding Henchmen who are more than willing to go down with the ship. Make sure that you have plenty of materials before aggravating one of them.
On the roof of The Ruins, you can see the remnants of the séance that brought Midas back to life. There's a circle of candles with Midas' golden chair in the center of them – levitating off of the ground.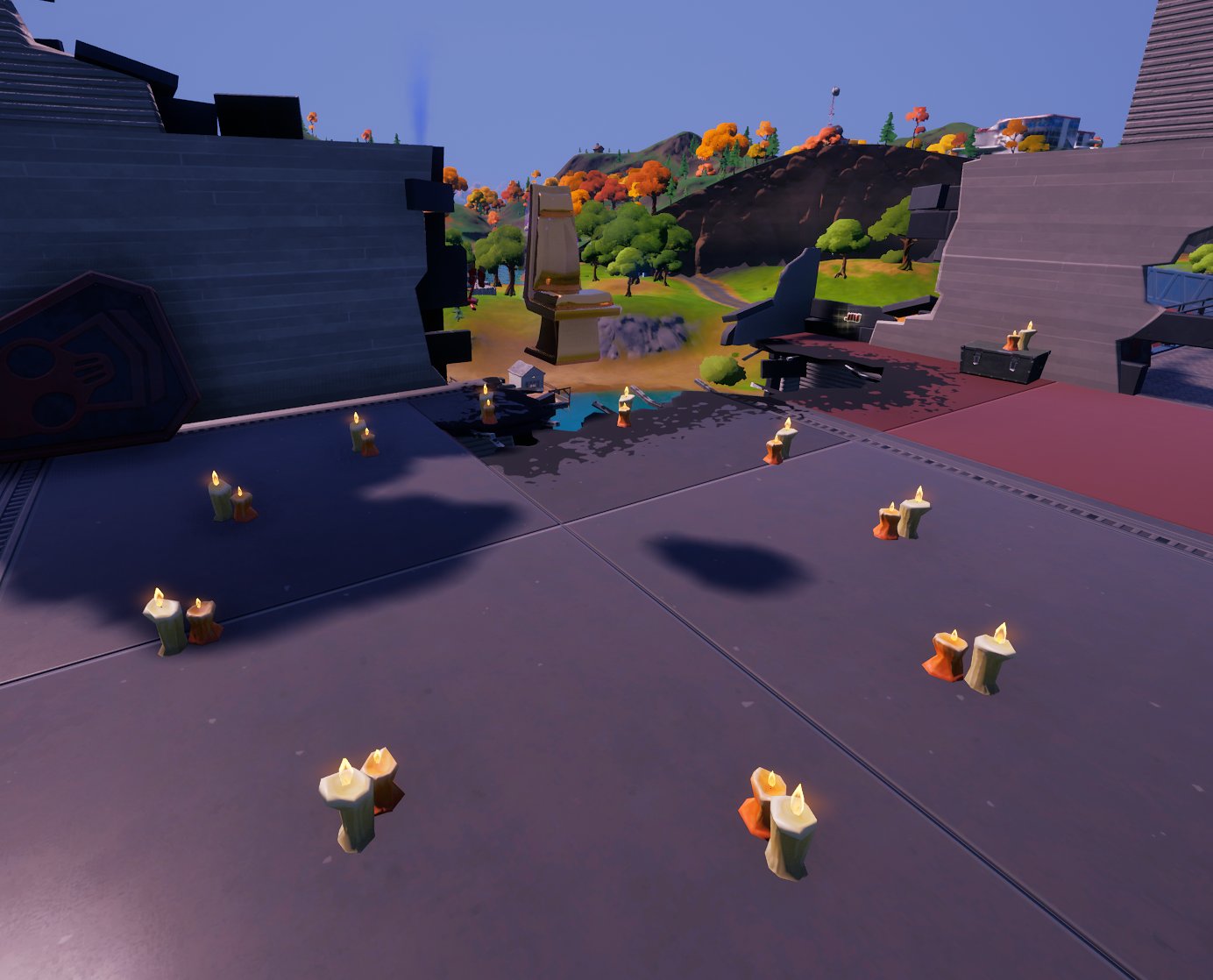 Now, let's talk about Midas' Drum Gun. It's not exactly the same as it was the first time around. In fact, it would be more accurate to say that Midas is carrying Jules' Drum Gun from Season 3. This is, of course, the nerfed version of the weapon after the Season 2 Drum Gun performed far too well.
Anyone who played Fortnite during Season 3 knows that the Drum Gun wasn't worth carrying back then. This was a season that featured the normal SMG, P90, and Rapid-Fire SMG, making the Mythic Drum Gun an afterthought.
Now, however, we only have the Silenced SMG and Tactical SMG – both with slower fire rates than the current Drum Gun. When you combine the Drum Gun's fire rate with its larger clip size and increased damage/range, it becomes the best spray weapon in Season 4. The Drum Gun is an interesting example of how a meta shift can impact a single weapon in Fortnite.
The method of finding the Drum Gun is the same as it was in the past two seasons. You need to land at The Ruins, fight off other players, find, Midas, burn down all of his health, and take his weapon. This time, however, you'll need to contest with the dozens of players falling from the sky as Shadow zombies.
The Ruins has to be the most dangerous place on the map – and it probably will be for the duration of the Fortnitemares event. Is the Drum Gun worth the massive risk of landing here? That decision is yours to make.