Everything you need to know about the Fortnite 'Spy Games' LTM
The previously-leaked Spy Games event and Operation LTM are now live. Take a look at everything you need to know.
The previously-leaked Spy Games event and Operation: Dropzone LTM are now live. Take a look at everything you need to know.
The mysterious terminal in the Battle Pass tab is now active, bringing us the Spy Games event and the Operation: Dropzone LTM. The rules and purpose of the event are a bit unclear at first glance but are simple enough once you play around with them.
Your goal – for the duration of the event – is to unlock different tech in the Spy Games terminal. Both the Ghost and Shadow alliances have different tech that you can use, so you'll want to rank up both of your factions.
To start, you'll have simple weapons like the Pump Shotgun and SMG. These also come with perks like the ability to upgrade your weapon rarity and move faster while crouching.
The Operation: Dropzone LTM, itself, is a version of Team Rumble without the looting. You start in a small circle and battle it out to reach 150 eliminations.
Throughout the match, supply crates – in the form of safes – will spawn around the map and allow your team to upgrade their tech. You can use one of three techs that you've unlocked – they will all be simple, for now.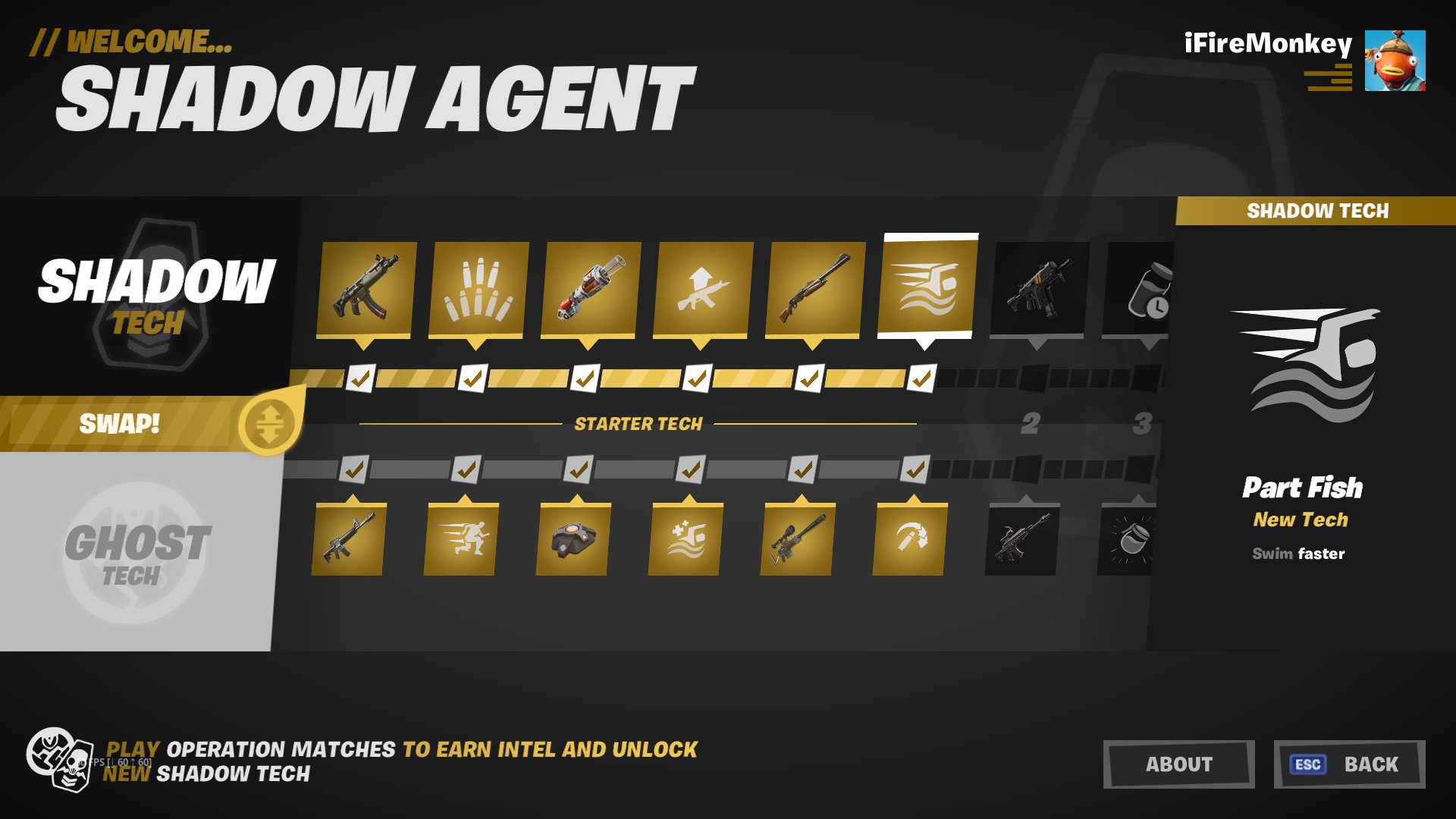 Many players assumed that this would be a 'Faction War,' where one faction wins out over the other. The goal of the event appears to involve unlocking as much personal tech as you can, so you'll want to switch between factions.
This LTM also gives us some clarity about the Slug Shotgun and the new Scoped AR. These are unlockable tech in the Spy Games event. We may not see them in the base Fortnite game again.
The same is likely true about Clingers, Chug Splashes, and the Shield Bubble. You can already unlock the Chug Splashes as part of your Ghost tech, so the other items that were updated are probably coming in the future.
Operation: Dropzone is probably only the first of many LTMS that will be introduced to the Spy Games event.
Dropzone is a decently entertaining LTM, but we'll have to see how many people stick with it. There have already been some bugs with the mode – one game had me constantly spawning in the storm – but these will get ironed out.
Let us know what you think about the mode in the comments.
Bizzle joins old teammates after split with Commandment & Clix
Bizzle, Clix, and Commandment have split as Bizzle rejoins Dubs and Megga.
There's been a bit of shuffling in professional Fortnite trios over the past couple of days. The team of Bizzle, Commandment, and Clix has split, each going their separate ways. Bizzle joined his old partners, Megga and Dubs, While Commandment joined Edgey and Cented. For now, Clix is the only one of the three to not have a trio team.
This news comes after a rough server performance in a recent Trios tournament, which saw all of the players rubber-banding, lagging, and being lost in the storm with no way to get out. As Bizzle tweeted, the performance looked like one of the first Fortnite tournaments to exist.
Following this tournament, Commandment was the first to announce that he'd be leaving the team. Bizzle released a TwitLonger, stating that he'd be teaming back up with Megga and Dubs rather than looking for a third player to join him and Clix.
The TwitLonger also took aim at the current state of competitive Fortnite along with the server performance. "The Shockwave launcher disabled us from playing the way we were used to and crazy end game lag lead to a lot of thrown games. Every game we would have height, or outplay the team who had it and take it from them, and with the Shockwave launcher being in the game it completely ruined our play-style and attitude," he wrote.
Despite the split, the three players appear to be on good terms with one another. Clix replied to Bizzle's tweet, telling him that he's the best player that Clix has played with.
The most interesting part of this situation is that Chap and Edgey called this split a few weeks back. The dueling trios were having a grief battle in pro scrims, leading to Chap telling his team and viewers, "I can't wait for this trio to split."
Edgey, who is ironically now teamed-up with Commandment, told Chap and Av that Bizzle and Clix would "snake each other for Dubs and Megga." It may not have ended in any bad blood, but that's essentially what happened.
Although the Season 3 FNCS is Solos, most of the pros prefer the Trios format, meaning that's what we largely see in scrimmages. We're also seeing several Trios tournaments and Cash Cups this season, so we'll undoubtedly see the new teams hit Season 3 soon. Now, all that's left is to see where Clix lands. Fellow NRG member UnknownArmy needs a team…
How to claim the new PlayStation Plus Celebration pack
Epic and Sony have joined forces to offer PlayStation players another free Fortnite cosmetic pack.
Yesterday, we covered the news of Sony's large investment in Epic Games and what that meant for Fortnite. One of our biggest takeaways in the article is that PlayStation would likely get some additional exclusive cosmetic bundles for their players.
It didn't take long for this to come to fruition. A day later, Epic announced the new PlayStation Celebration bundle to go along with their other exclusive skins. This one includes the "Introducing" emote, Stratosphere Glider, and Down Arrow Contrail.
The Celebration Pack should be available to all players, worldwide, on July 10. Some players already have access to it. Those who have already claimed their exclusive Fortnite cosmetic items should know the process, but here it is for those who are unaware:
Visit the PlayStation Store
Navigate to Fortnite
Scroll down until you see the new Celebration Pack
Download the cosmetic pack.
This pack replaces the old Celebration Pack that included a couple of free skins, but you can grab both if the former pack is still in the shop. Don't worry too much if you missed it, as we expect Fortnite to release several exclusive PlayStation packs in the future.
We don't know how long this bundle will be in the store, but you can expect it to last a couple of months, at least. Grab it now to make sure you don't miss out!
What does the $250 million Sony investment mean for Fortnite?
The implications of a massive investment on the biggest game in the world, Fortnite.
On July 9, it was announced that Sony invested $250 million in Fortnite developer, Epic Games, making them a minority investor in the company. This brings Epic's total investment capital to $1.58 billion.
Epic has been a major player in video games for a long time but made their biggest mark on the space with Fortnite, the game that we all came here to talk about.
Although Fortnite is Epic's biggest product, at the moment, the company has their hands in several different titles and sources of income The Epic Games store, for instance, is looking to rival Steam by purchasing some massive games as exclusive content.
According to multiple reports, Sony's investment in Epic will not affect the release of future titles. It's not like Epic are going to make Fortnite a PlayStation exclusive. It might work in reverse, however. There's a chance that Sony could bring some of their PlayStation exclusives to the Epic Games store on PC.
What does this mean for Fortnite? Well, in the words of Rod 'Slasher' Breslau, "Fortnite will never die." This is a tad hyperbolic, but it's clear that the gaming industry, as a whole, is ready for Fortnite to stick around for another ten years, or so. It wouldn't be the first game to have a massive lifespan.
Apart from some additional money to work with, the biggest thing this means for Fortnite is probably in the cosmetic department. Now that Sony is a major investor in Epic, we can expect the developer to scratch their back with some exclusive skins.
Don't worry, though. PlayStation players probably won't get any priority when it comes to using new features or anything like that. What does the $250 million Sony investment mean for Fortnite? Ten more years of our favorite battle royale.