Everything you need to know about $1 million Twitch Rivals SuperGames
Take a look at the schedule, format, teams, and exclusive viewer rewards from the Fortnite Twitch Rivals SuperGames tournament.
Take a look at the schedule, format, teams, and exclusive viewer rewards from the Fortnite Twitch Rivals SuperGames tournament.
The lack of professional sports doesn't mean that pro athletes have lost their will to compete. Twitch Rivals is bringing Fortnite creators and pros together with professional athletes to compete at the Twitch Rivals SuperGames tournament.
Here's everything you need to know about the event, including the format, teams, schedule, and exclusive viewer rewards.
Format
Interestingly, the SuperGames tournament will follow the Blitz LTM ruleset. The zone will begin moving when the match starts and the time between zones is shortened.
Siphon and enhanced material generation will be the same as Arena Mode and tournament play – something that wasn't the case during the Twitch Rivals Streamer Bowl. It will be interesting to see these rules in a competitive setting. You can take a look at the point breakdown, below.
Teams
The teams are constructed of two streamers/pro players and two professional athletes. The athletes went through their own tournament to qualify for this one and were drafted onto streamer squads on April 20.
Most of the biggest names in Fortnite will be participating in this event. Even people like NickMercs and DrLupo – who have been away from Fortnite – are coming back to compete for charity money. All of the squads can be seen in the images, below.
Viewer rewards
Viewers of the stream will be able to unlock an exclusive spray and weapon wrap. All you have to do is link your Twitch and Epic accounts and watch anyone streaming the event.
It's safe to assume that all of the streamers in the SuperGames will have drops enabled, as will the TwitchRivals Twitch channel – which will provide an official broadcast.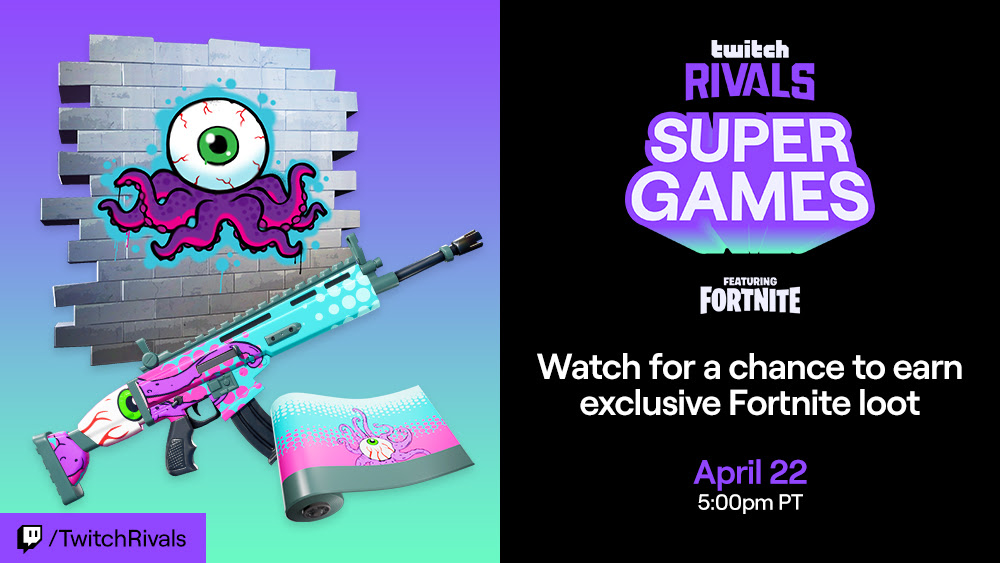 Twitch Rivals SuperGames takes place on April 22 at 5 PM PT (8 PM EST). You can tune in on any of the participating channels or from the TwitchRivals account.
How to earn the free Fortnite Crew emote in Season 5
Epic Games are offering players who sign up for the Fortnite Crew membership a free, exclusive emote for a limited time.
Epic Games is offering players a free emote to go with their Fortnite Crew membership in Fortnite Season 5.
The Fortnite Crew membership is an interesting idea. Players can sign up for the system for $11.99 per month. In return, they receive the Battle Pass, an exclusive cosmetic set, and 1,000 V-Bucks to use as they please.
January 2021 was the second month of the Crew system, and it wasn't without its speed bumps. Some players logged in on January 1 to see that their Green Arrow skin pack was nowhere to be found.
Even more players had to wait over 2 weeks to receive their V-Bucks for the month. The system is still new, but it's clear that Epic have some polishing to do.
As a way to throw Fortnite Crew members a bone, Epic are offering a free "Members Only" emote to anyone who signs up for the Crew pack.
You need to sign up for a Fortnite Crew membership and log into Fortnite before February 15. This timing means that non-members can wait and see what the February cosmetic pack holds before committing.
The Crew membership, when it's working, is a good deal for dedicated Fortnite players who want to get the most bang for their buck. An exclusive skin, pickaxe, back bling, and 1,000 V-Bucks is well worth the $11.99 price tag.
We'll let you know when we learn more about the February Fortnite Crew pack. Until then, enjoy Season 5.
All XP Coin locations for Fortnite Season 5 Week 7
XP Coins have finally returned to Fortnite Season 5. Here's where you can find all of them as of Season 5 Week 7.
XP Coins have returned to Fortnite Season 5. Here's where to find all of them as of Season 5 Week 7.
Fortnite Season 5 is offering players a plethora of ways to earn XP and rank up through the Battle Pass. The most recently-added XP-gathering method is through the XP Coins.
Most players will remember XP Coins from the past few seasons. They seemed to be everywhere back then, but they were removed at the start of the season.
Ahead, we'll give you a map of all the XP coin locations. We'll make sure to update you as more XP Coins are added to the map.
Fortnite XP Coin locations
XP coins are scattered all across the map. You can find them from Catty Corner to Stealthy Stronghold. Here's a map of all of the available XP Coins, so far.
We'll keep this post updated as more XP coins become available. You'll need to reach level 250 to unlock all of the enlightened skins in Season 5, so finding these will be well worth your time.
Fortnite Season 5 Week 7 challenge guide
The Fortnite Season 5 Week 7 challenges are here. Take a look at how to complete all of them in this challenge guide.
Fortnite Season 5 Week 7 is here. Take a look at all of the challenges and how to complete them.
Fortnite Season 5 is chugging along, but there's still about two months left. The holiday break extended the latest season, so there's still plenty of time to make your way through the Battle Pass.
The Week 7 challenges are relatively straightforward, with most of them able to be completed without too much effort.
A couple of these challenges will have you searching the same area in Slurpy Swamp, so a favorable bus path in Team Rumble will allow you to complete them in one shot. Here's what you'll need to do.
Fortnite Season 5 Week 7 challenges
Visit Houses in Slurpy Swamp in One Match (3)
Consume Shield Potions (3)
Destroy Slurp Barrels (10)
Search Chests in Slurpy Swamp (7)
Gain Max Shields in a Single Match (1)
Eliminations with Zero Shields (1)
The good news in the Week 7 challenges is that all of them can be completed in Team Rumble. We have a separate article detailing the locations of Books in Holly Hedges and Sweaty Sands. You can find that here.
The Legendary challenge requires players to deal damage to opponents in Vehicles. This one is going to be a headache, as there's no way to force another player to be inside of a car or boat when you shoot them.
Hopefully, you can get into a game of Team Rumble with like-minded enemies – sitting in Motorboats and trading shots with you. If not, it's going to take some serious gaming to finish this one. Good luck!