Everything you need to know about $1 million Twitch Rivals SuperGames
Take a look at the schedule, format, teams, and exclusive viewer rewards from the Fortnite Twitch Rivals SuperGames tournament.
Take a look at the schedule, format, teams, and exclusive viewer rewards from the Fortnite Twitch Rivals SuperGames tournament.
The lack of professional sports doesn't mean that pro athletes have lost their will to compete. Twitch Rivals is bringing Fortnite creators and pros together with professional athletes to compete at the Twitch Rivals SuperGames tournament.
Here's everything you need to know about the event, including the format, teams, schedule, and exclusive viewer rewards.
Format
Interestingly, the SuperGames tournament will follow the Blitz LTM ruleset. The zone will begin moving when the match starts and the time between zones is shortened.
Siphon and enhanced material generation will be the same as Arena Mode and tournament play – something that wasn't the case during the Twitch Rivals Streamer Bowl. It will be interesting to see these rules in a competitive setting. You can take a look at the point breakdown, below.
Teams
The teams are constructed of two streamers/pro players and two professional athletes. The athletes went through their own tournament to qualify for this one and were drafted onto streamer squads on April 20.
Most of the biggest names in Fortnite will be participating in this event. Even people like NickMercs and DrLupo – who have been away from Fortnite – are coming back to compete for charity money. All of the squads can be seen in the images, below.
Viewer rewards
Viewers of the stream will be able to unlock an exclusive spray and weapon wrap. All you have to do is link your Twitch and Epic accounts and watch anyone streaming the event.
It's safe to assume that all of the streamers in the SuperGames will have drops enabled, as will the TwitchRivals Twitch channel – which will provide an official broadcast.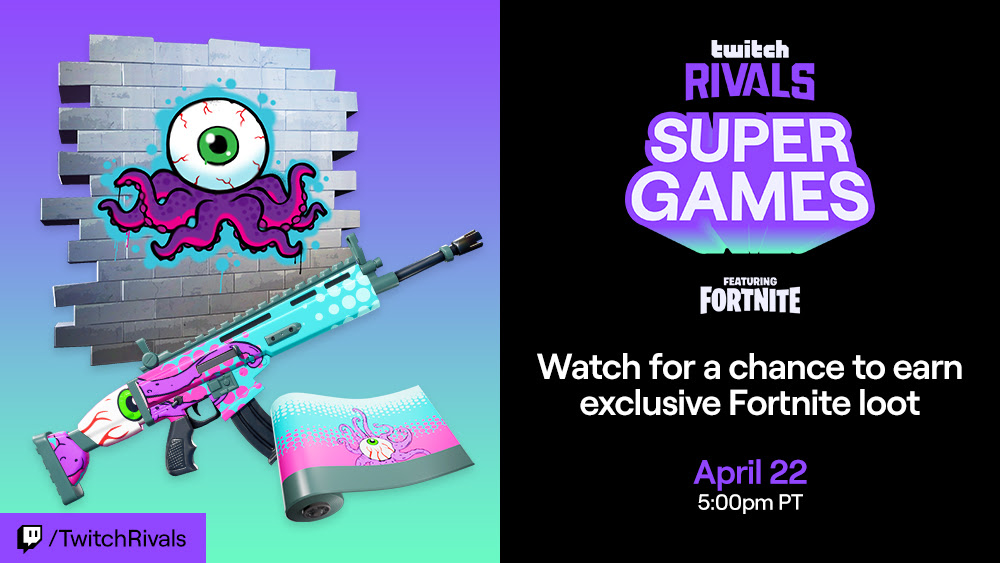 Twitch Rivals SuperGames takes place on April 22 at 5 PM PT (8 PM EST). You can tune in on any of the participating channels or from the TwitchRivals account.
Epic shut down Arena Boxfighting & Fortnite World Cup leak
Epic Games were quick to dispel recent leaks of Boxfighting Arena and a Duos World Cup event.
On September 21, Epic Games announced that they were collaborating with the massively popular K-pop group, BTS. This collaboration includes some new emotes that were choreographed by the group along with the world premiere of the group's new music video within Party Royale.
The collaboration will, undoubtedly, bring more players to the Party Royale game mode than ever before. To prepare, Epic posted a blog that told players how to get to the mode and how to navigate to the main stage. They even posted a picture of the Party Royale mode for those who were struggling to find it.
The only problem with this guide was that there were two leaks included in this picture. One of these leaks was something that we covered when Season 4 began: Boxfight Arenas. The next was the Duos World Cup – suggesting that players might be competing remotely, this year.
Of course, posts about this photo circulated on Reddit and social media. Epic were quick to dispel these rumors, however, telling players that these images were only placeholders.
"With the BTS announce today, we wanted to have an article that helped new players find their way in Party Royale," GstaggEpic wrote on the r/FortniteCompetitive subreddit. "This blog was incorrectly published with images from a dev build that showed test playlist images of Fortnite World Cup and Boxfight Arena. To properly set expectations, these images are not a hint of events to come. Instead, they are old assets
Despite this statement, we're holding out hope that Boxfight Arenas will still be a thing. The World Cup 2020 seems to be impossible, at this stage, but an Arena Boxfighting mode is quite an interesting concept.
For now, though, we have to assume that leaks surrounding this mode were only old assets that players found at the start of the season. We'll keep you posted if or when we learn more about these modes.
Fortnite v14.20: what to expect
Here's what to expect in the next Fortnite update: v14.20.
It's been two weeks since the last Fortnite patch, and all signs are pointing to the v14.20 patch coming this week. We're writing this before any official announcement, but our best guess is that there's a patch incoming tomorrow, September 22.
We have a few ideas of what's to come, including the bug fixes that come with nearly every patch. Let's get into it.
Bug Fixes
As always, there are several issues that should be resolved when v14.20 goes live. Here's a list of all of the bugs that are listed as "Fixed in Next Game Update" on the Fortnite Community Issues Trello board:
Fishing Spots can disappear on PC with Effects set to Low.
Replays not saving on PlayStation 4.
Heroes Park and Ghost House don't count as Discovered Locations after discovering them.
Groot Awakening Island Missing
Redline Ramirez's Commander Perk doesn't work properly with charged Sniper Rifles. (Save the World)
Inconsistent Fishing Spot visibility on Nintendo Switch and Android.
2020 Birthday Celebration
Fortnite: Battle Royale released on all platforms on September 26, 2017. That means that Fortnite's third birthday is coming up – on Saturday, to be exact.
Each year that passes, Fortnite brings some sort of celebration to the game. The past two years have given us free cosmetics along with some birthday-themed challenges.
We don't have a ton of information about what will come this year apart from some leaked weapon wraps, but we'll almost certainly get some more details when the patch comes out.
The next hero or POI
This is a general prediction, but we think that another batch of hero abilities and/or a new POI will come to Fortnite when v14.20 goes live.
We saw Stark Industries come in the last patch and most fans assume that some of the abilities in Marvel Standoff will come to the base game at some point. In v14.20, we could see any of these abilities with their accompanying hero as a boss or another hero we haven't seen yet.
Again, this is only a prediction and doesn't have too much tangible evidence behind it.
Now, all that's left is to wait for an announcement. We're pretty confident in our prediction of a patch coming this week, even if it doesn't go live tomorrow.
Of course, we'll update this post if our prediction is wrong or if we learn more ahead of the update.
DreamHack Open ft. Fortnite September results
Alliege, Marz, and Teeq take home first place in each region for the DreamHack Open Fortnite September tournament.
The DreamHack Open September Fortnite tournament is in the books with Alliege, Marz, and Teeq taking home the victory in each region. The NA-East and EU stages of the competition took place over the weekend with NA-West wrapping-up on the 13th.
The tournament saw some rising stars along with some returning champions place at the top of the heap. Here's a look at the full results for each region.
NA-West DreamHack Open results
The NA-West region was the first to finish the DreamHack September tournament on the 13th. After several qualifications and lackluster placements, Alliege put it all together and won the tournament. He was followed by 5G Nach and one of the most dominant players in the region, Arkham.
Several NA-East players went off-ping to place highly on NA-West. Dubs came in at 8 and Jamper placed 11 – padding his purse for the event. Other noteworthy finishes include Cented at 6, Lanjok at 9, and Whofishy at 12.
NA-East DreamHack Open results
A rising star in the Fortnite scene, Marzz_OW, took home first place in the NA-East region with 293 points. The win was a long time coming for Marz, who has been grinding competitive Fortnite since the early days. It's good to see him take the win.
Behind Marz was, unsurprisingly, Bugha. Bugha remains one of the best solo Fortnite players in any region – continuing to prove himself tournament after tournament. A portion of the competitive Fortnite fanbase likes to pretend that Bugha is "washed," but the pro constantly proves that his World Cup win was anything but a fluke.
Other noteworthy finished include MackWood at 7, Jamper at 8, Slackes at 11, Zexrow at 17, Unknown at 21, and Bizzle at 22.
European DreamHack Open results
Teeq proves that he's one of the most dominant Fortnite players in EU with yet another DreamHack Open win. He took home the DreamHack July competition as well and adds a September victory to his portfolio.
Znappy and Verox had identical statistics in second and third place, but Znappy won the tiebreaker. Some noteworthy players who finished outside of the top 15 include Th0masHD at 17 and BenjyFishy at 18.
Next up for competitive Fortnite will be the FNCS Trios, which should begin within the next couple of weeks. After that will be another DreamHack Solo tournament in October.
In the meantime, competitive Fortnite fans can wet their appetite with Ninja Battles, region-locked Cash Cups, and daily pro scrimmages streamed on Twitch.