Every Fortnite Battle Pass Emote rated from best to worst
Fortnite Seasonal Battle Passes offer hundreds of cosmetic options for dedicated and long-term fans. While outfits take the top spot, Emotes deserve some love too. Here's our thoughts on the best and worst emotes of Seasonal Fortnite.
Epic Games creates beautiful cosmetic artwork and has had unprecedented success with its Item Shop. Other games industry developers have attempted to replicate this rise to greatness, but no one does it better than Epic.
Emotes hold special place in our hearts as they allow us to communicate across enemy lines. While Fortnite does not include proximity chat, Emotes give us cheeky ways to let everybody know how we feel.
There are currently 35 Battle Pass emote available in Fortnite. We've taken them all and ranked them based on factors of animation quality, cheekiness, and amount of use.
Top 10 Seasonal Battle Pass Emotes
Disclaimer: Season 1 of Fortnite Battle Royale did not include a Battle Pass, hence the lack of Season 1 emotes.
10. Laid Back Shuffle – Season 9
Whereas many of the other dances are frantic, Laid Back Shuffle lets you chill while listening. The emote lives up to its name and the animation team's handiwork created fluid movements which sync up perfectly with the jiggle. Its mellow rhythm makes for great background music and several community members have even created 10 hour loops of the track.
9. Flamenco – Season 6
Latin music brings a certain cheerful fire to any party and Flamenco nails that vibe. With vibrant melodies and fast pace, you'll want to get on your feet in the middle of the game. We're not much for dancing, but that doesn't mean we didn't feel the urge. Video credit: Twitch ashhh4k.
8. You're Awesome – Season 5
You're Awesome packs a double punch. You can obviously use it to congratulate your teammates, but it's got better uses such simple gestures. In fact, we believe its goofy animations suggest a bit of backhanded compliment. The next time a friendly player pulls a potato play, give them a taste of this emote. They'll know exactly what you mean.
7. Snoozefest – Season 8
Ever ran into one of those turtling players with 0 ping? Long, drawn out Solo fights can get stale and the Snoozefest emote lets your opponent know. While it may not get them out of their hole, at least they'll feel the shame of putting you to sleep in an action game.
6. Calculated – Season 5
Alright, Calculated doesn't have the flashiest visuals, but gives you serious bragging power. Pull off a sick quick edit outplay, pop this emote, and the crowd goes wild. Anyone can make plays on accident, but Calculated maneuvers are how legends are made.
5. Take the L – Season 3
Take the L deserves a Top 10 position for its ability to aggravate any player. Losing a game of battle royale is bad enough, but having someone rub salt in the wound makes it unbearable. Emotes like this remind us that proximity chat probably isn't necessary after all.
4. Get Funky – Season 7
Fortnite, like any game, has its ups and downs. Epic's emote game fell a bit short for several Battle Passes, but Season 7's 'Get Funky' brought back some of that early fire. A viral tune, fluid animation work, and bouncy moves make it one of your favorites.
3. Floss – Season 2
Floss may not be the most complex or intricate emote, but it's definitely Fortnite's most iconic. As Fortnite was reaching its peak of fame, the Floss became the universal sign of an avid fan. Players performed the dance at sporting events, speeches, and every manner of public event.
2. Groove Jam – Season 4
To us, Groove Jam was the first Emote that made us want to dance along. The groovy tunes mixed in with the smooth animation work has a powerful effect on the mind. Jam's music track is instantly recognizable with its upbeat style designed to turn a frown upside down.
1. Conga – Season 8
Conga, when it released, was the first 'moving' emote and we've never seen so much interaction from a cosmetic. To this day, if you enter a Playground lobby and start to Conga, half the lobby will join in without hesitation. Its popularity is also boosted by its infectious rhythm.
Seasonal Battle Pass Emotes – Ranks 11-25
11. Popcorn – Season 4
12. The Worm – Season 2
13. Hoop Master – Season 8
14. The Robot – Season 3
15. Best Mates – Season 3
16. Shimmer – Season 7
17. Sad Trombone – Season 9
18. Cluck Strut – Season 9
19. Nana Nana – Season 8
20. Orange Justice – Season 4
21. Running Man – Season 6
22. Respect – Season 4
23. Breakdown – Season 5
24. Sign Spinner – Season 9
25. Ride the Pony – Season 2
Ten Worst Seasonal Battle Pass Emotes
26. Hype – Season 4
Hype isn't necessarily a 'bad' emote, but it lacks some of the uniqueness and panache as some of our favorite emotes. We generally enjoy almost any emote, but the nature of a ranked list doesn't allow us to be so on-the-fence. Hype includes a short soundtrack that doesn't inspire much out of us and the animation, while smooth, can't be rated as anything special.
27. Gentlemen's Dab – Season 5
We like dabs. They're a rather funny meme movement which took over the Internet. The Gentlemen's Dab is not a dab, however. It's a bow. Of course, that's what Epic intended, but the emote certainly fails to find its place among cosmetics like Groove Jam or Get Funky. We'd much rather have our real Dab emote than its Battle Pass cousin.
28. Yay! – Season 9
There's only one reason for Yay! being so far down on our list. It's not the animation work, it's that ear-breaking screech. The first we heard Yay! played through our headset at full blast was the last time we wanted to hear the emote. Ok, maybe that's a tad too harsh. Yay! does have value as a show of intense appreciation, but the decibels on the sound file could use a nerf.
29. It's Go Time- Season 6
We know Fortnite's a game veered towards a younger audience with its summer meta shifts and bright colors, but It's Go Time might go too far. We feel like its the 'pee joke' from Epic Games when we've already graduated from 5th grade and moving onto middle school. Along with this, the emote doesn't have an interesting musical track and fades into the background of pre-game lobby shenanigans.
30. Regal Wave – Season 6
Simple emotes requires delicate work to get right and Regal Wave actually does a decent job. It's a generic, queenly wave without any special soundtrack. The animation team delivers a fine performance, but Regal Wave doesn't stand a chance in this pool of cosmetics. We feel bad having to stick it down so low on our list, but it was never meant to be spectacular in the first place.
31. Swipe It – Season 5
Here's a choice that we're sure some will disagree. That's fine by us. Our reasoning for Swipe It being the fifth worst emote centers on its animation and tunes. The music behind the emote repeats the beats quickly and often without any major variation throughout. Animation wise, the avatar simply bobs back and forth and swipes their hands. Don't get us wrong, we'd never be able to pull this off in real life, but Fortnite dances should be a little more surreal.
32. Slitherin' -Season 6
Gamers can sometimes be serious sticklers for originality. We try to mitigate that urge for criticism, but Slitherin's similarity to the Wiggle emote cannot be overlooked. The movement fluidly transitions from frame to frame and delivers the same smooth movements as Wiggle. We can't help, but believe that the animation used a significant amount of the earlier emote's moveset.
33. Salute – Season 2
Epic Games likes to mix things up with Fortnite cosmetics. Yes, many of the emotes are inspired by real life dances, but Epic usually adds its own touch. To us, Salute is a missed opportunity. Other emotes offer methods of thanking a teammate for their service and overshadow Salute. Perhaps a soundtrack (patriotic overtones and marching band drums, anyone?) could have spiced up this bland item.
34. Hello Friend – Season 8
Ok, we're in the final two of our list and they're quite similar. Hello Friend integrates some of the aforementioned Epic flavor, but lacks pop. No soundtrack, a rapidly repeating animation, and only a low volume 'Whoosh' as audio isn't very impressive. With that said, it's an amusing way of greeting teammates who have returned from an expedition away from the squad.
35. Wave – Season 2
Season 2 was early days for Epic and Fortnite which meant tame emotes. Wave wasn't a bad emote back in its release days, but we can't seriously place it anywhere else nowadays. It's a wave…that's it. A positive point for Epic is the quality of the animation even in the starting days for the team's massive expansion into cosmetics.
---
Do you agree with our rankings of the Battle Pass emotes? Which ones are your favorites? We've also got a ranking of the Battle Pass skins!
If you want to see more content like this, please let us know and we'll keep them coming weekly. Our other content includes a wide variety of guides and news on Fortnite events and happenings as well as the competitive esports scene.
The Fortnite rivalry between Tfue and Ninja continues as they face each other in Season 3
After taking long breaks from Fortnite, both Tfue and Ninja are back in Chapter 3. Here's how their latest in-game encounter went.
Fans worldwide always appreciate it when the likes of Ninja and Tfue face other, especially in Fortnite. The game seems to have caught a second wind in Chapter 3 as the biggest streamers are back at playing it.
It wouldn't be an overstatement to say that Tfue and Ninja are two of the most popular Fortnite streamers ever. Despite quitting the game temporarily, they're still associated with it.
It is no surprise that Turner 'Tfue' Tenney and Tyler 'Ninja' Blevins are also two of the most skilled players in history. Accordingly, it is invariably nerve-wracking when they take on each other in multiplayer titles.
Ninja finally takes revenge against Tfue in Fortnite
Even though Ninja has thrashed countless Fortnite players over the years, he hasn't been equally dominant against Tfue. So much so that the Turner has defeated him five times in their seven encounters so far.
However, Ninja and Tfue found each other in Greasy Grove during a Solos match recently. Considering their experience and expertise, it is natural for them to be placed in a lobby together.
Ninja entered the location on a Wolf while Tfue was already there looting. Turner was low on health with just 12 HP, 50 Shield, and 50 Overshield. On the flip side, Blevins was maxed out on shields as well as health.
True to his nature, Tfue didn't waste a second and instantly took shots when he spotted Ninja. This could have been a wise decision against any other player, but Blevins was quick enough to take cover and land three consecutive shots on Tfue which led to the latter getting out of the game.
Soon after, Ninja's viewers informed the streamer that he just eliminated Tfue. He went back to confirm the same and said, "Oh my god! that was him. Another one dude! Geeg"
While the streamers must have moved on from the incident already, it was undoubtedly special for the fans. The informal rivalry began in 2018, and it is always to delight to see the veterans enjoying Fortnite.
Tfue is still some steps ahead of Ninja when it comes to winning 1v1s. However, their encounters have become more common than ever in Chapter 3, and we might see Ninja bouncing back soon.
Fortnite v21.20 update delayed by a day and here's why
The Fortnite community was desperately waiting for the v21.20 update. However, it won't arrive on July 5, 2022 as there's an unexpected delay.
Amidst the community's sky-scraping expectations, Fortnite has delayed the v21.20 update. From its new release date to early patch notes, here's everything we know about the upcoming patch so far.
To say the least, Fortnite Chapter 3 Season 3 has been a roller coaster ride until now. While the map changes have been brilliant, the game has been really unstable with Unreal Engine 5. Moreover, there haven't been enough ways for players to steadily level up their Battle Pass and unlock skins like Darth Vader.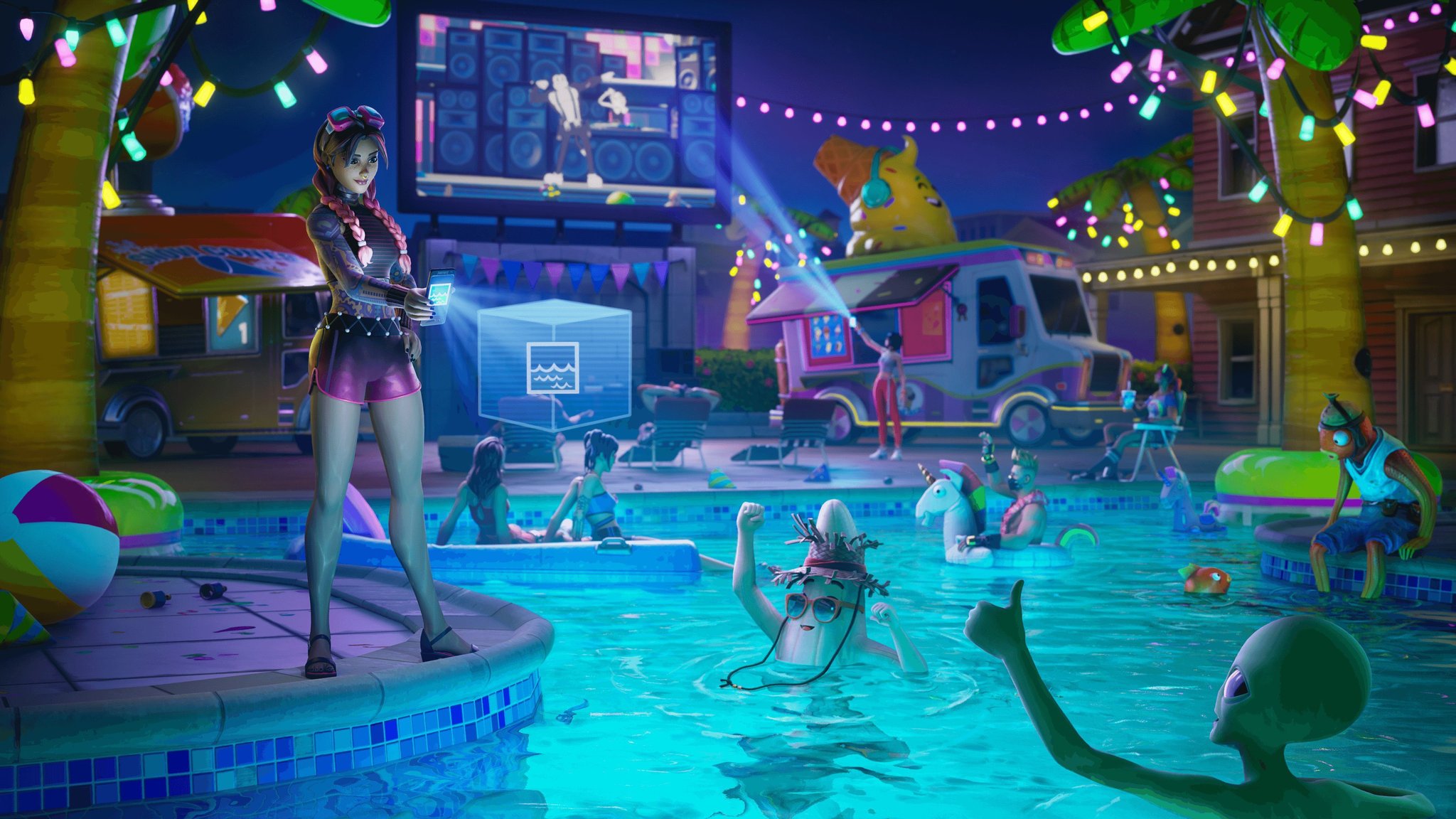 This explains why loopers eagerly await updates as they contain a ton of content such as bug fixes, new quests, and events. However, the v21.20 update that should have been released today has been delayed by a day.
Fortnite Cash Cups to take place on July 5 instead of the v21.20 update
From leakers to content creators to casuals, almost everyone in the community missed an announcement by Fortnite regarding this season's Cash Cups.
Apparently, Round 2 Duos Cash Cup and Duos Contender & Open Hype Cups are taking place on July 5 instead of July 6 because of game updates arriving around the same time. This clearly indicates that the v21.20 update will now be released on July 6.
This is in contrast to Fortnite's previous announcement in which the developers wanted pros to keep an eye on the Temple Bloom landmark. Loopers spotted a Reality Root there, which has always led to significant map changes.
From the looks of it, v21.20 was originally scheduled for July 5 as Fortnite has been constantly releasing updates on Tuesdays. It is certainly surprising that the developers have broken this pattern already.
What to expect from Fortnite v21.20 in Chapter 3 Season 3?
Even though Epic Games itself talked about the changes in Temple Bloom, leakers haven't discovered anything related to it in the files. What's more startling is the fact that the upcoming themes for Condo Canyon and Sleepy Sound are already here.
Apart from map changes, Indiana Jones and his cosmetics will become available from July 7, 2022. This also means that loopers will have new quests to complete which include a new set of Weekly and Vibin' challenges.
Last but not least, the Battle Royale modes should finally get some No Sweat Summer content including NPCs (Unpeely, Summer Drift, and Boardwalk Ruby) and Surfboards. The new release date for v21.20 should be July 6, 2022, and the downtime should begin around 4 PM ET and 9 PM BST.
Fortnite v21.20 early patch notes: Indiana Jones, No Sweat Summer, Luke Skywalker skin, more
Fortnite v21.20 is right around the corner. From Indiana Jones to new content for the 2022 No Sweat Summer event, there's a lot to expect.
Fortnite is all set to release the 21.20 update on July 6, 2022. Indiana Jones will finally become available in the Battle Pass, No Sweat Summer content will arrive in Battle Royale modes, and as usual, the Reality Tree will continue to grow.
The community has sky-scraping expectations from Fortnite v21.20. Even though map changes have been frequent and brilliant in Chapter 3 Season 3, the No Sweat Summer event and the XP system (in terms of more opportunities to earn XP) certainly need improvement.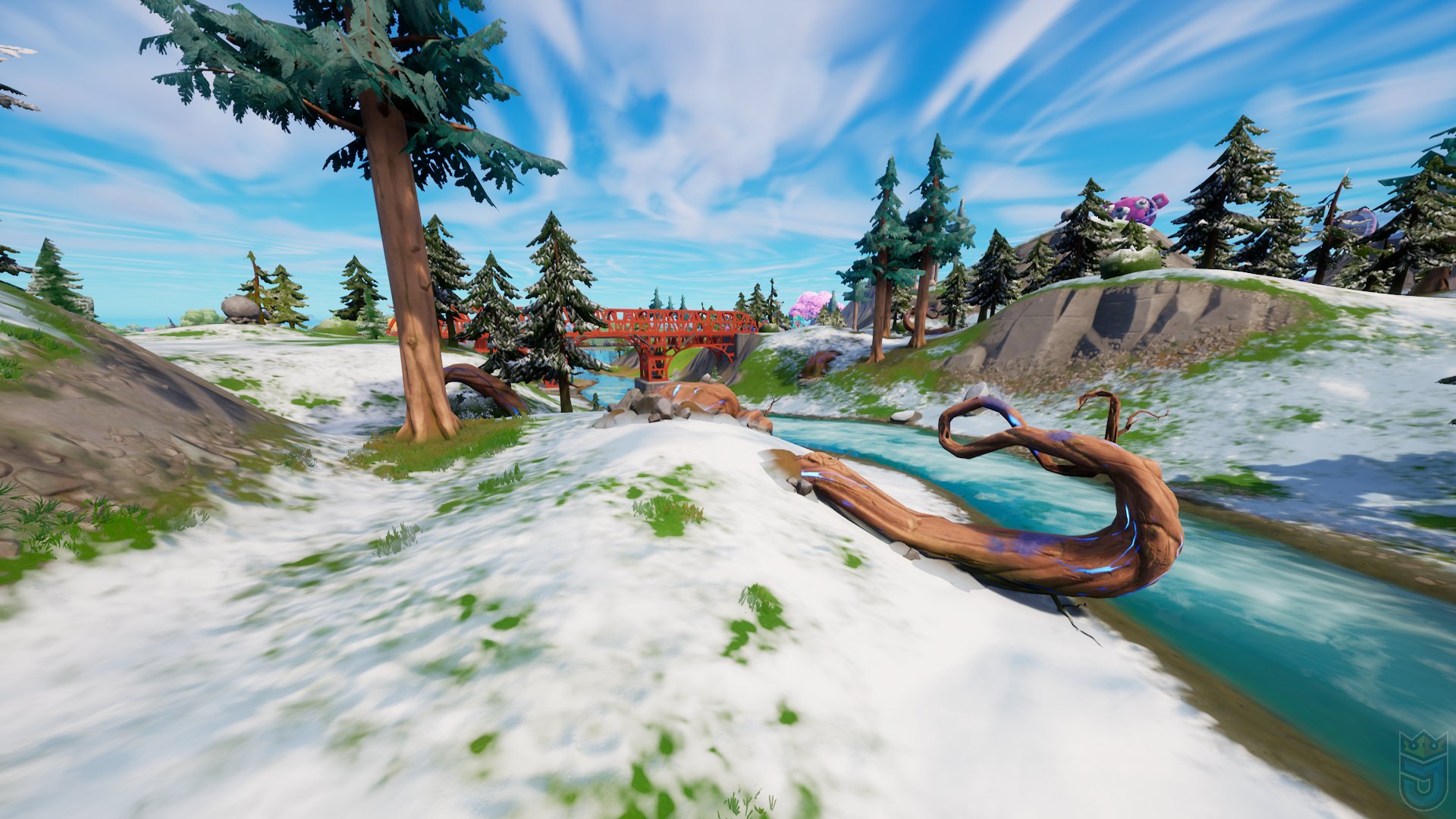 Here's everything players can expect in the second major update for Fortnite Chapter 3 Season 3.
Fortnite Reality Tree to affect Condo Canyon, Sleepy Sound, and Temple Bloom in v21.10
First and foremost, the Reality Tree will reach major locations like Sleepy Sound. Loopers have discovered a new set of roots near Shifty Shafts and they're most likely heading towards Sleepy.
Another location where we will see the influence of the Reality Tree is Condo Canyon. Interestingly, leakers have already revealed the upcoming themes. Like Butter Bloom and Logjam Lotus, Sleepy Sound and Condo Canyon will have recurring themes which include:
Froniter
Coliseum
Coral Castle
Neo Tillted for Sleepy Sound and Lazy Lagoon for Condo Canyon
There's a Reality Root near the Temple Bloom landmark as well. HYPEX has revealed that one of the themes in Temple Bloom is codenamed The Tower in the files, and that's the only information we have for now.
There's a possibility that v21.20 only focuses on Condo Canyon and Sleepy Sound as the developers are yet to add the updated version of Temple Bloom in the files.
New Indiana Jones skin and temple to arrive in Fortnite v21.20
Indiana Jones is the secret skin in the Fortnite Chapter 3 Season 3 Battle Pass. It cannot be unlocked at the moment, and will be available from July 7, 2022. Loopers who own the Battle Pass wil have to complete special quests to unlock the cosmetics which include:
Indiana Jones outfit
Indiana Jones Banner Icon
Raider's Relics Harvesting Tool
Rogue Archaology Wrap
Expedition Bag Back Bling
It is worth noting that these are the cosmetics on Page 1. These will not only become unlockable with v21.20, but you'll also be able to get a look at the next page.
Even though this might be a stretch, but many players believe that Indiana Jones will get his own spawn location. The aforementioned Temple Bloom POI could turn into a temple dedicated for the Indiana Jones boss/NPC. However, readers must take this claim with a huge grain of salt.
New No Sweat Summer content coming to Fortnite Battle Royale
The Island Hopper quests were decent, but players were disappointed to see them as the only 'summer event' content. However, leakers like iFireMonkey and Epic Games itself have claimed that more summer content is coming.
NPcs like Unpeely, Summer Drift, and Boardwalk Ruby, and vehicles like Surfboards will return to BR modes. Moreover, you can look forward to completing summer-themed quests in Battle Royale that should grant XP and free cosmetics.
Battle Royale content will certainly help in making No Sweat Summer 2022 one of the best summer events in Fortnite's history.
Luke Skywalker NPC
Epic Games has released a ton of Star-Wars content in Fortnite Chapter 3 Season 3 which includes Darth Vader as a boss and his skin in the Battle Pass as a tier 100 reward. HYPEX has disclosed that there's a Lightsaber in the files for a Luke NPC.
Based on the leak, it is safe to assume that Luke Skywalker will be released as an NPC and a skin, like this father. However, it is uncertain if he'll be a part of the upcoming update.
Last but not least, weekly quests for Week 5/ Week 6 and Vibin' quests will be added to files with Fortnite v21.20. There aren't any solid leaks regarding weapons as we've already received three new weapons (Two-Shot shotgun, Hammer AR, and DMR) this season.
Fortnite v21.30 will release on July 19, 2022 following which Epic Games will take a summer break that will take place between July 24 and August 12.