Did Epic delay the v10.10 update to see how Apex' first day of solos went?
A conspiracy theory is becoming popular amongst the Fortnite community and it actually makes a lot of sense.
The theory centers around Epic's late delay of the Fortnite v10.10 update. Very rarely has Epic delayed an entire patch, the few times they have it has only been for a couple of hours, not entire day.
To explain this weird decision, many people have pointed to the fact that Apex Legends is having one of its biggest days yet.
Apex, for the first time, is opening up a solo mode. This is a huge moment for the BR game and if they can add a successful solo mode to the game it will be a chance for Apex to come for some of Fortnite's market share.
In addition, many members of the Fortnite community are using today to boycott Fortnite due to the lack of action on the mechs. Instead, they are playing Apex Legends and the game is having one of it's best days on Twitch since release.
Why did Epic delay the v10.10 Fortnite update?
So the theory states that Epic wanted to wait to see how this Apex day went, before deciding what would happen in the update. If Fortnite stayed strong and continued to beat out Apex, they would keep things how they are, but if the Twitch charts went crazy, they'd use this chance to vault or heavily nerf the mech to keep the audience around.
My dog in law who does tech support on epics patch server just sent me this from r/FortniteCompetitive
While that image is absolutely a meme, this theory has been spread around the community and is seriously being considered.
There is a precedent for Epic changing the game based on other games. The first update that happened after Apex was released on February 4th (not counting the Content Update on February 5th) was the update that introduced siphon into normal modes. That could be a coincidence, of course, but it's suspicious timing.
Especially because Epic then decided to remove siphon from pubs quickly after, using it as a way to keep Fortnite interesting for streamers when hype for Apex was at its highest.
Not convinced? What about when Epic first introduced Support-a-Creator? That happened in early October 2018. October 12th was when Call of Duty Black Ops 4 came out, the first version of the game to have a Battle Royale mode.
Again it might be coincidence, but it feels like there might be some more thought going into this than we give it credit for.
What do you think? Is the community on to something here or are we going full tinfoil hat?
Football star Mesut Ozil might turn pro in Fortnite following retirement
Based on his agent's statements, it won't be a surprise if we soon find former Arsenal player Mesut Ozil 'Vibin' as a Fortnite pro.
After having a glorious run in Real Madrid, Arsenal, and Schalke 04, Mesut Ozil joined Fenerbahçe S.K. Reports claim that the footballer might take up esports as a career after retirement.
Mesut Ozil has nothing left to prove in the world of Football. He's won several trophies over the years and is easily one of the best playmakers in the history of the sport. Ozil recently unfollowed Fenerbahce on his social media and seems to be all set for retirement.
The footballer has always been an avid gamer, and his manager claims that Ozil has the potential to become a Fortnite pro.
Mesut Ozil has a long history of playing Fortnite
Ozil's admiration for Fortnite has never been a secret. He's been streaming the game on Twitch for years and it has even been a matter of controversy on several occasions.
Back in 2020, fans of Arsenal accused Fortnite of causing Ozil's back injury. They claimed that playing the battle royale title continuously with a bad posture affected his health.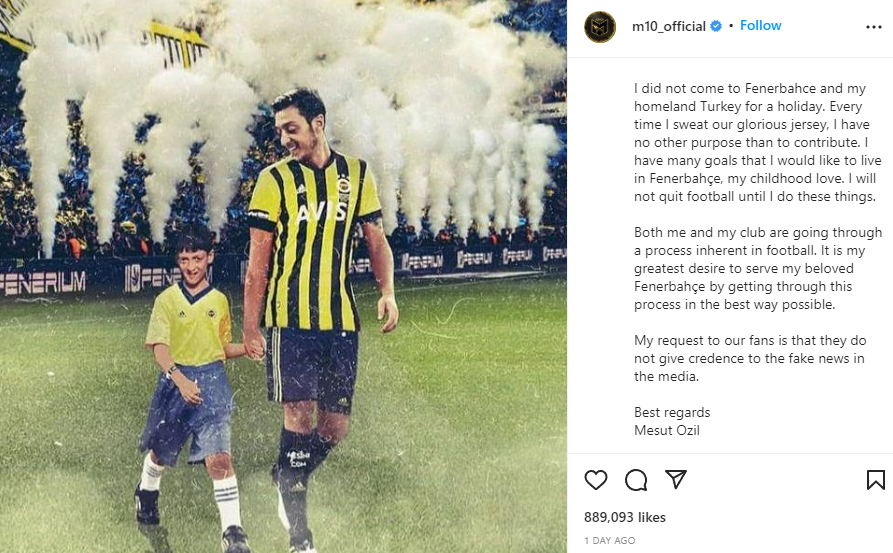 In a recent interview with The Telegraph, Ozil's manager stated:
"He will go more into esports, and maybe become an esports athlete. He's really good at Fortnite, and I think one day I wouldn't be surprised if he is competing"
The former Arsenal midfielder already owns an esports organization that competes in Fortnite and FIFA. He's definitely had success as a streamer, but it is too early to assume if this will be the case with his esports career as well.
Several sports icons like David Beckham, Michael Jordan, Ronaldo, and Shaq have invested in Esports. It is evident that the industry is growing at an unprecedented rate and now is the perfect time to capitalize on it.
How to jump off of a diving board in Fortnite Season 3
A Fortnite Chapter 3 Season 3 Week 3 challenge requires players to jump off of a diving board and here's a quick guide to completing it.
Fortnite players must search for a diving board and jump off of it this week. This will complete one of the latest Week 3 challenges and provide them with 15,000 XP.
Quests and challenges have always been the most reliable source of XP for Fortnite players. The developers release three Daily Quests every day and seven Weekly Quests every week.
Weekly quests for Week 3 of Fortnite Chapter 3 Season 3 have arrived, and here's a guide to completing the one based on jumping off a diving board.
Where to find Diving Boards in Fortnite Chapter 3 Season 3
To complete the Weekly quest, players first need to find one Diving Board. It is located near Rocky Reels and the exact location is marked (blue marker) in the image below:
The diving board is placed on the top of a massive rock in the desert region south of Rocky Reels. It basically gives players a small push and they can dive into the river flowing underneath.
The quest requires you to jump off of a diving board three times, and they don't need to be unique. This means that the challenge can be completed by jumping off of the aforementioned board repeatedly.
How to reach the diving board in Fortnite Season 3
Another thing to note is the accessibility of the diving board. There's no way to reach the top of the massive boulder in Zero Build modes owing to the lack of ziplines. Jumping while sprinting might help but it is better to take on this challenge in modes with building enabled.
Obviously, players can directly land at the diving board near Rocky Reels in Zero Build modes but this will only allow them to jump off of it once.
All in all, completing the weekly challenge will grant players 15,000 XP. Seven new quests have been added this week and there will be an additional bonus for completing them. This implies that the total XP output will be over 200,000 which is equivalent to almost three levels in the Battle Pass.
How to reach max shields at a temple in Fortnite Season 3?
Fortnite Chapter 3 Season 3 Week 3 quests are finally here. Players can reach maximum shields at a temple location to get 15,000 XP.
Fortnite expects players to max out on their shields at a temple location for a Chapter 3 Season 3 Week 3 challenge. It grants 15,000 XP.
The XP grind in Fortnite Chapter 3 Season 3 has been nothing less than frightful for a majority of loopers. This explains why they desperately wait for new quests and challenges that can help them in leveling up.
Here's a guide to completing the Week 3 quest based on reaching max shields at a temple.
Where to find temples in Fortnite Season 3
At the moment, there are three temples on the Fortnite map:
Tumbledown Temple
Tumbledown Temple is a landmark located east of Rocky Reels and south of Sanctuary. Players can use this image for reference:
Tiny Temple
Tiny Temple is another landmark where players can complete the Week 3 challenge. You can head southeast from The Daily Bugle or directly land at the location marked in the image below:
The Temple
As the name suggests, The Temple is the most prominent temple on the Artemis island. Here, you can expect great loot which naturally includes a ton of shield items. Having said that, it's possible that the competition will be much higher than the aforementioned temples.
The Temple is located northeast of The Daily Bugle:
At any of these locations, players will basically find ancient runes and the aim is to reach max shields there. You can either land here directly or collect shield items from other major locations and use them in the temples.
Reaching max shields in Fortnite means that the loopers must have 100 shield points. This can be achieved through a wide range of items:
Small Shield Potion– provides 25 shield but cannot be used after the shield reaches 50
Shield Potion– provides 50 shield
Shield Keg– 4 shield/second
Klomberries– 10 shield
Slurp Mushrooms
Chug Splash– 20 shield
All shield items can be found on the island as floor loot and inside chests.
The seven weekly quests for Fortnite Chapter 3 Season 3 Week 3 will grant a total of 105,000 XP. The game also provides a bonus for completing a certain number of weekly quests and the total reward should be close to 234,000.