Epic reveal February Fortnite Crew subscription pack
Epic Games have released the February Fortnite Crew pack, featuring the new skin Vi. Here's everything you need to know about the pack.
Epic Games have announced the exclusive February Fortnite Crew Pack. Here's how to get the skin, pickaxe, back bling, and more.
If you were paying attention to the Fortnite Twitter account over the weekend, you probably noticed some strange behavior. The profile picture changed and the account began issuing a series of tweets, reading like a short story.
Like all Fortnite plotlines, the tweets were vague. They didn't tell us much but made us aware that the Drift skins were likely a part of another faction on the island.
When the tweet-storm ended, it became clear that Epic were teasing the next Crew skin pack. On Monday, they confirmed as much.
How to get the exclusive February Fortnite Crew skin
This will be the third month of the Fortnite Crew subscription. Existing members won't need to do anything to re-up their skin. All they need to do is log into Fortnite on February 1 and receive their rewards.
If you're not a member and want to sign up, you'll be prompted when you log in. The cost of a monthly membership is $11.99. It will grant you the Battle Pass, 1,000 V-Bucks, and the new Vi skin pack if you sign up in February. If you sign up before the new month, you'll still be able to grab the Green Arrow skin pack.
February's pack will include:
Vi skin with two variants
Drift Shift wrap
Foxbow back bling
Crooked Claw pickaxe
a new loading screen
You can cancel the membership at any time by following the steps outlined here. If you were a fan of the past Crew packs and don't like this one, cancelling the subscription is easy.
Will you be grabbing Vi and the February Fortnite Crew Pack or will you cancel your subscription? Will this be your first Fortnite Crew purchase? Let us know on Twitter @FortniteINTEL.
How to enable Performance Mode in Fortnite
Performance Mode is the newest way to improve your Fortnite experience. Here's how to enable the setting and get the most out of it.
Fortnite recently introduced Performance Mode to the game, which high-level and pro players seem to be loving. Here's how to enable it and get the most out of the new feature.
Performance Mode is the newest render setting in Fortnite, allowing players on lower-end PCs to get the most out of their hardware without sacrificing FPS. Players on even the cheapest gaming rigs will be able to achieve 144 FPS with this new setting.
If you've watched any Fortnite pros stream the game since the update in early February, then you probably notice that their structures look a bit strange. That's because they're using the new-and-improved Performance Mode.
Even high-end PCs can benefit from this new setting. Fortnite is notorious for having FPS-drops on PC. Performance Mode will eliminate that issue. Here's how to use it.
How to enable Performance Mode
You can find the Performance Mode setting under Advanced Graphics in your Video settings. There, you'll see Rendering Mode, which will be set on DirectX 11 or 12, depending on which one you use.
All you need to do is switch this to Performance (Alpha) and restart your game. When you load in, you'll be on Performance Mode.
After you jump back into the game, you may notice that it looks blurry. Epic appear to lower your 3D models by default when you first switch, so make sure to bump that back to 100.
You will also want to put your Meshes on High under Graphics. Having this on low limits your ability to see through them, on top of making your walls look like you're playing on mobile.
Some players are having issues with some assets – including full structures – failing to load in Performance Mode. This could be because of the High Resolutions Texture setting. To turn this off, Navigate to Epic Games Launcher > Fortnite > Three Dots > Options > uncheck High Resolution Textures.
The Texture Quality in-game doesn't matter very much, so you can keep this on High if your GPU can handle it. In fact, most players find that having Textures on High actually improves their FPS.
Performance Mode won't make you a pro player overnight, but it will help you get the leg-up in a lot of instances – especially when there's a lot going on around you. We've been using it for a couple of days and have gotten used to the strange "bubble wrap" builds that have become the norm.
Fortnite Surface Hub location for Season 5 Week 13 challenges
The Fortnite Season 5 Week 13 challenges have players scanning servers at a Surface Hub. Here are the locations you need to visit.
One of the Fortnite Season 5 Week 13 challenges requires players to scan a server at a Surface Hub. Here's where you need to go.
The Fortnite Season 5 Week 13 challenges are here. Most of them are pretty easy to complete, but there's one particular challenge that might seem strange to you. This challenge requires players to scan a server at a Surface Hub.
You have probably already entered a Surface Hub or two without knowing what it was. These are the underground labs around the map that have something to do with Agent Jonesy and the Imagined Order. They may play a role in the storyline or could be as insignificant as Ghost and Shadow ended up being.
Either way, the Surface Hubs are home to the servers you need to scan for this challenge. Here's where you need to go.
Fortnite Surface Hub location
There are three possible locations for you to complete this quest: Stealthy Stronghold, Hunter's Haven, and Colossal Coliseum. We're be focusing on the first two since the Surface Hub in Colossal Coliseum is more hidden and often more dangerous than the hubs in Stealthy Stronghold and Hunter's Haven.
The Hunter's Haven Surface Hub is located on the western side of the POI. You'll see a small building, pictured above, with stairs that lead far down into the Surface Hub.
The Stealthy Stronghold Surface Hub might be the most well-known and safest since it's in the corner of the map. The hub sits under the ruins in the center of the POI. When you access either of these Surface Hubs, you'll want to look for a server, which you can see in the image, below.
All you need to do is scan the server and finish the challenge. You only need to do one of these, so it should be relatively easy to finish.
You can take a look at the rest of the Season 5 Week 13 challenge here. Good luck!
Image Credit: Epic Games
All Fortnite Season 5 Exotic Weapon locations
Fortnite Season 5 brought Exotic weapons to the game to replace Mythics. Here's where to find all of them.
Fortnite Season 5 introduced Exotic weapons to the game instead of Mythics, giving more players access to them. Here's where you can find them.
There's no shortage of new mechanics in Fortnite Season 5, with the addition of NPCs, quests, and a whole lot more.
Mythics have returned to the game in Season 5 but in a limited capacity. The only classic Mythic items in Fortnite Season 5 include The Mandalorian's Jetpack and sniper rifle, both available from the bounty hunter himself.
The other items in the game are classified as Exotics. There's only one of each Mythic item in each game, but can be multiple Exotic weapons.
You can purchase these Exotic weapons from specific NPCs across the map. Of course, this means you'll need to save up your Gold Bars to afford them.
Twitter user @MikeDulaimi created an easy-to-follow guide on how to locate all of the Exotic weapons in Fortnite. You can purchase them from NPCs in the areas surrounding Hunter's Haven, The Zero Point, Dirty Docks, Craggy Cliffs, and Stealthy Stronghold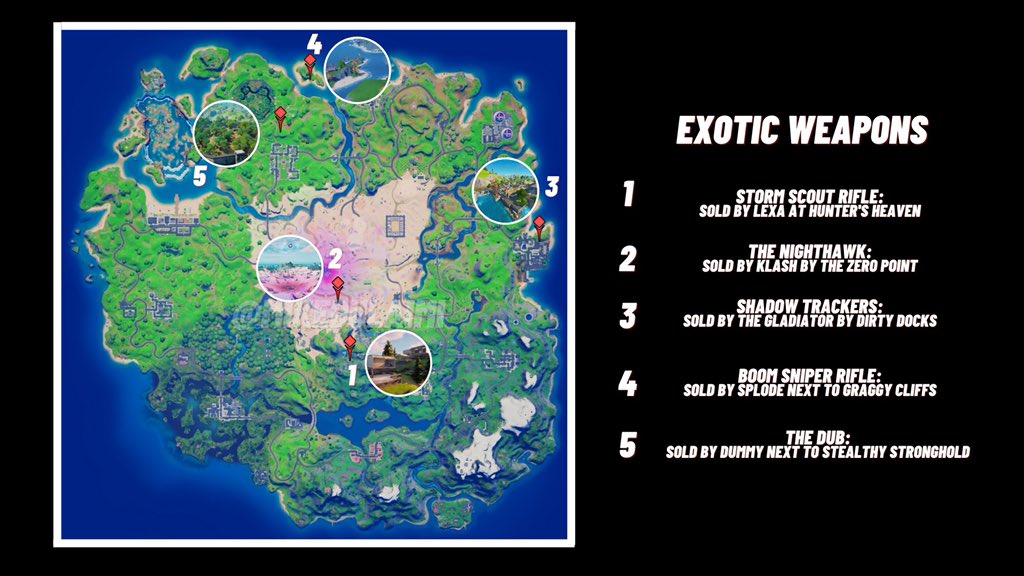 Mythic items were relatively controversial for the past few seasons of Fortnite – especially in competitive modes. Doom's Mystical Bomb and Kit's Shockwave Launcher dominated tournament play for the past two seasons, and the competitive community largely called for them to be removed.
We're curious to see how this community treats Exotic weapons. They're more widely available and aren't as powerful as Mythics, making them more balanced than the latter – that is, until a player eliminates the NPC selling them.
Newly-added Exotics (Update)
February 24 Exotic Shuffle (Update)
On February 24, Epic shuffled some of the original and new Exotic weapon locations, giving them to new NPCs across the Fortnite map. The Storm Scout Sniper, Nighthawk Revolver, and Hop Rock Dualies now have new homes. You can view them on the map, below.
We wouldn't be surprised to see Epic shuffle the locations once again, so we'll update this map and article if we see any more changes.
Image Credit: Epic Games, Fortnite.GG