Epic reportedly remove skill-based matchmaking in Squads
Reports have it that Epic Games have removed skill-based matchmaking from Squads in Fortnite.
Epic introduced skill-based matchmaking at the end of Season X and into Chapter 2 Season 1. They rolled it out slowly, bringing it to Solos, then Duos, then Squads.
The majority of players who spoke out about skill-based matchmaking were strongly against it. The system made games far more difficult for a lot of people. If you weren't trying your hardest, you weren't going to last.
The system wasn't for these players, however. It was for the noobies who don't want to have their confidence smashed into a million pieces. Epic didn't want experienced players to bully new players and make them want to quit.
The skill-based matchmaking complaints appeared to fall on deaf ears. Epic's methodology behind SBMM was understandable, and it seemed like they cared more about acquiring new players than keeping their old-timers happy.
Recently, however, Epic seem to be throwing every positive change at us that they can. They brought back a form of patch notes, nerfed the Heavy Sniper, released a competitive roadmap, and even tried to address some aim assist issues.
One of these positive changes appears to be the removal of skill-based matchmaking in Squads. We didn't hear any official word of this, but people like SypherPK, Tfue, Ali-A, and more are saying that the feature is gone.
The evidence for this shift is anecdotal but seems solid. These streamers and pro players are running into people who don't build, which never happened within the SBMM feature.
Other battle royale titles like Apex Legends and Warzone still use this system. In one of his videos, Sypher used this as the primary reason that he doesn't play Apex anymore, and why he thinks streamers like Courage and TimTheTatMan stopped playing Fortnite.
We'll have to wait and see if Epic continue to remove SBMM in unranked Fortnite modes. The bulk of the hardcore players would be ecstatic if they did.
Fortnite leaks reveal another Stranger Things collab coming to Season 3
The Upside Down is set to collide with the loop once again as another Stranger Things collaboration is arriving to Fortnite soon. Here are more details about it.
The infamous collaboration between Stranger Things and Fortnite wasn't as big when it was first introduced in Fortnite back in 2019. Loopers were disappointed by the cosmetics that the collab brought into the game but at present, it remains one of the rarest items in-game.
Fortnite is known for collaborating with popular culture films and TV shows pretty often and brings several characters from their respective franchises to the looped island. In the past, major characters like Star Lord (Marvel), Batman (The Dark Knight), Rick and Morty were added in the game as skins accompanied by their famous props as cosmetic items like Back Blings, Pickaxes and Gliders.
However, when it comes to major TV shows, Stranger Things was a phenomenon back in 2019 when its second season was underway. The show gained hype in its initial days as fans loved the entire 80s vibe of sci-fi and horror as the kids went against the Upside Down and save Hawkins.
The collab soon hit the Fortnite Item Shop but to the surprise of the player base, the only skins they received were an ugly looking Demogorgon and extremely buffed Chief Hopper skins, while they were expecting Eleven and the gang. However, latest leaks might bring good news to those fans and new skins into the game.
Fortnite skins are coming soon in Season 3 ahead of its finale release
According to several leaks that emerged after the recent v21.10 update in Fortnite Season 3, items like "WaffleWarrior" were added to the game files. Now according to theory, in the Stranger Things series, its protagonist Eleven is the only character who is extremely fond of Eggos Waffles.
The tag "WaffleWarrior" hints towards her and it might be the case that ahead of the release of Season 4 finale next week, Eleven could be an in-game skin that could be added to the shop soon. Moreover, it has nearly been 3 years since the skins from the Netflix series were last seen in the Item Shop.
However, fans are already creating crossover concepts of characters from both Fortnite and Stranger Things. Recently a concept artist by the name of Feraalsy created a video of Peely being possessed by Vecna.
The concept video shows Vecna's skin concept as well as Prisoner Jones present alongside with Peely. Although it is a brilliant concept, the current hype of the series highly suggests a collaboration incoming to Fortnite soon later this season.
Football star Mesut Ozil might turn pro in Fortnite following retirement
Based on his agent's statements, it won't be a surprise if we soon find former Arsenal player Mesut Ozil 'Vibin' as a Fortnite pro.
After having a glorious run in Real Madrid, Arsenal, and Schalke 04, Mesut Ozil joined Fenerbahçe S.K. Reports claim that the footballer might take up esports as a career after retirement.
Mesut Ozil has nothing left to prove in the world of Football. He's won several trophies over the years and is easily one of the best playmakers in the history of the sport. Ozil recently unfollowed Fenerbahce on his social media and seems to be all set for retirement.
The footballer has always been an avid gamer, and his manager claims that Ozil has the potential to become a Fortnite pro.
Mesut Ozil has a long history of playing Fortnite
Ozil's admiration for Fortnite has never been a secret. He's been streaming the game on Twitch for years and it has even been a matter of controversy on several occasions.
Back in 2020, fans of Arsenal accused Fortnite of causing Ozil's back injury. They claimed that playing the battle royale title continuously with a bad posture affected his health.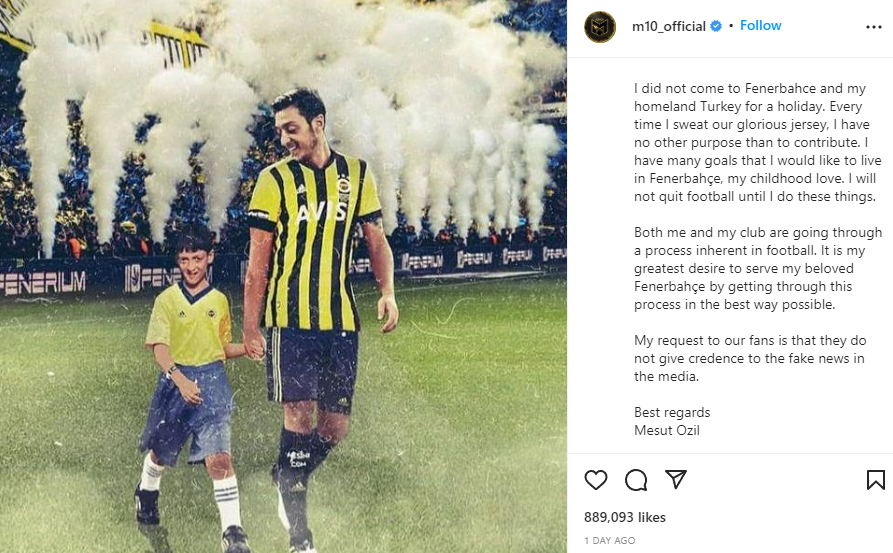 In a recent interview with The Telegraph, Ozil's manager stated:
"He will go more into esports, and maybe become an esports athlete. He's really good at Fortnite, and I think one day I wouldn't be surprised if he is competing"
The former Arsenal midfielder already owns an esports organization that competes in Fortnite and FIFA. He's definitely had success as a streamer, but it is too early to assume if this will be the case with his esports career as well.
Several sports icons like David Beckham, Michael Jordan, Ronaldo, and Shaq have invested in Esports. It is evident that the industry is growing at an unprecedented rate and now is the perfect time to capitalize on it.
Meowscles NPC in Fortnite Season 3 hints at Midas' return
Fortnite v21.10 update brought Meowscles to the Chapter 3 Season 3 island. The former SHADOW agent believes in Midas' return.
Fortnite brought back Meowscles in Chapter 3 Season 3 as an island NPC. Players can talk to him as Midas and unlock some interesting dialogue that points to the anti-hero's return.
It wouldn't be an overstatement to say that Midas is one of the most loved characters in the Fortnite lore. Even though he hasn't appeared since Chapter 2 Season 3, none of the new characters like Dr. Slone and The Foundation have been able to replace him.
Now that former GHOST agent Meowscles is back on the island, we have new information regarding the return of Midas.
Midas never died according to the Fortnite lore
In the intro for Fortnite Chapter 2 Season 3, loopers were shocked to see Midas being eaten by a shark. Interestingly, Meowscles was the one riding this shark.
Ever since, Midas hasn't returned to Fortnite. His 'Shadow' version arrived during Fortnitemares in Chapter 2 Season 4 but naturally, it didn't play a role in the primary storyline.
For years, loopers believed that Midas is dead. However, before the inception of Chapter 3, Donald Mustard himself confirmed that Midas is still alive and great. This is because it is impossible for characters to die inside the loop created by Fortnite's Zero Point. They die but respawn just like all loopers.
In Chapter 3 Season 3, if players interact with Meowscles as Midas, he says:
"Whoa…Are we back online?"
Meowscles reaction proves that the return of Midas and eventually, Ghost and Shadow, is not a far-fetched idea. In fact, two Ghost and Shadow henchmen are already roaming around the island with the Elite Trespasser. The community recently saved them by breaking the DaDoor near Reality Falls.
Meowscles' secret dialogue with characters in Fortnite Chapter 3 Season 3
Meowscles lives in a hut in Reality Falls in Fortnite Chapter 3 Season 3. He usually coughs up a hairball while interacting with players but has special conversations with these characters:
Kit– Has your mother updated your hydraulics?
Lynx-…You look great
Sabina– How'd the Chonkers job go.
Kit is Meowscles' son and Lynx is theorized to be his wife (he has a heart tattoo of Lynx on his arm). On the other hand, Sabina is just a side character that the humanoid cat might be interested in.
All in all, the arrival of Meowscles has opened up the possibility of Midas' return in Chapter 3. The storyline is currently revolving around the Reality Tree and there are a ton of mysteries for loopers to solve.