Epic Games respond to claims that they failed to pay Fortnite pros
Epic Games has contacted us with an official response to claims that they failed to pay some Fortnite pro players.
Yesterday, we covered a story about pro players and content creators calling out Epic Games for failing to pay them their tournament winnings and Support-A-Creator earnings. You can take a look at the original story here.
On June 25, Epic Games reached out to us with a statement on the issue, clarifying why some of the prize money and Creator Code earnings have been held up. Below is the official statement from Epic Games on the matter.
Epic Games' official response to FortniteINTEL
"Recently, we experienced delays to Competitive prizes due to two separate issues. The first issue was related to our DreamHack Anaheim event. Here, we encountered delays due to additional California state tax withholding that required manual processing of payments outside of our Hyperwallet payment system. All prizes for DreamHack Anaheim have been sent directly to player bank accounts. These prizes should be deposited in the respective winners accounts in the next few days. We apologize for the delay.
The second issue was related to overpayments for some prize winners of online cups due to a clerical error and required manual correction. Now that we have sorted out the overpayment issues, we are back on track to process prizes in a more timely manner.
Regarding Support-A-Creator payouts, there are two issues at play. The first relates to us running into obstacles as we transition to a new payment system, including bugs and delays. We appreciate Creators who have been patient as we make this transition and resolve those issues. Creators who are encountering issues should watch our Hyperwallet Account Activation tutorial or reach out to Support-A-Creator Player Support for assistance.
The second issue involves creators who have violated the terms of the Support-A-Creator program by scamming or defrauding players. Typically these individuals create social media material that falsely promises special benefits to players relating to a specific Support-A-Creator code. The players use the code but never receive the special benefits they were promised. When these accounts are detected or reported, we remove these creators from the program and do not pay out their fraudulent accounts. We take these violations seriously, and are looking at additional measures to prevent bad actors from abusing the program, up to and including potential legal action."
There should be a more detailed blog post from Epic Games on the topic within the hour, giving more information on all of these issues. We'll keep you updated as this story develops.
How to unlock Wolverine in Fortnite Season 4 (all challenges)
Want to unlock Wolverine in Fortnite? Here's how.
Finally, after weeks of anticipation, Wolverine is an unlockable skin in Fortnite. We still have a couple of variants to unlock, but we can start with the base style today, October 1.
Of course, you'll have to complete all of the available challenges for Wolverine to unlock his skin. Thankfully for you, we've already done all of the heavy lifting for you. Here's a guide to each of the five weekly challenges that you need for the Fortnite Wolverine skin.
Investigate Mysterious Claw Marks
The first week of Fortnite Wolverine challenges had players searching Weeping Woods for "Mysterious Claw Marks." Looking back, this should have been a significant clue as to where Wolverine would, eventually, wind up.
You can take a look at a detailed explanation of where to find these claw marks here, but you only need three of them. Here's a general location of each on the Weeping Woods map.
Find loading screen picture at Quinjet Patrol site
The Fortnite Wolverine Week 2 challenge requires you to find loading screen picture at Quinjet Patrol site. If you've been playing Fortnite for most of the season, then this one shouldn't be too hard to complete.
You can find the Quinjet sights around the map shortly after the bus takes off. They appear as white planes on the map, but you'll be able to see where they're landing from the blue smoke. The loading screen is inside the Quinjet.
This challenge can be a tad tricky, as landing in these sights without a weapon can mean death by Stark Robots. Landing late, on the other hand, could mean that someone has already cleared out the area and, potentially, destroyed the ship.
Find Wolverine's trophy
Wolverine's trophy is a Sentinal head that he, apparently, hid in Dirty Docks. You can find it in the building to the south of the giant crane.
The sentinel head can be found on the ground level, on one of the shelves behind some barrels. Take a closer look at the location here.
Locate a Transport Truck
All things considered, finding the Transport Truck is probably the easiest Fortnite Wolverine challenge of the bunch. It's been in the game since before the first Season 4 update, so you've probably seen it in your travels.
You can find the truck in the northwest portion of the map – near the lighthouse. Fly to the area and land at the raised circle on the map. It's hard to miss but you can find a more detailed guide here.
Defeat Wolverine
This is the most difficult stage of the Fortnite Wolverine challenges and there isn't too much we can do to make it easier.
Wolverine spawns in Weeping Woods but that only gives you a place to start looking. He's fast and can make his way to the Slurpy Swamp area rather quickly. On top of that, a large portion of the lobby will be looking for him, now, and you won't know whether or not someone already killed him until you see the claws.
This video from Tabor Hill gives some useful tips, but it isn't foolproof. The best advice we have is to use a helicopter and turn on "visual sounds" so you can see footsteps on your screen. Fly over Weeping Woods and see if you can find Wolverine walking, below.
Hopefully, your search for Wolverine doesn't take too long. At least, with the help of this guide, you should be able to complete the rest of the challenges with relative ease. Good luck!
Skins & exclusive console cosmetics leaked for Fortnite Season 5
Fortnite leaks reveal upcoming skins including a new Renegade Raider and Fishstick style.
We're just over the halfway mark in Fortnite Season 4, but fans are already looking ahead to what the next season will hold. Today, October 1, the Fortnite data miner, Hypex, gave us the first small pieces of information about Fortnite Season 5.
These leaks include some confirmed and unconfirmed information that he received from an anonymous source. We assume that this is the same source that leaked Hypex some early – and accurate – information about Fortnite Season 4, so we're leaning toward trusting this leak.
So far, Hypex has confirmed a "Ginger Renegade Raider, and an exclusive PS5 skin. He's also speculating about a skin from concept artist Sharktoofs1 (creator of skins such as the Cozy Chomps and Boxy skins) along with an exclusive Xbox S skin.
A Ginger Renegade Raider skin would make sense for the next Fortnite season, as Season 5 will almost certainly run into the Christmas season. Renegade Raider is one of Fortnite's most popular skin variants, and Epic have been giving it more attention, of late.
The concept comes from @Fercho_UwU and is about what you'd expect: Renegade Raider with some Gingerbread clothing.
The other skin concept that's rumored to be coming to the game is "Giddy-Up Fishstick" from @sharktoofs1. That's right; it looks like we're going to get yet another Fishstick skin in Fortnite.
As we covered, above, Sharktoofs already has several popular skins in Fortnite, so we wouldn't be surprised to see another one come into the game. This one is, simply, Fishstick riding the inflatable llama from the Giddyup skin.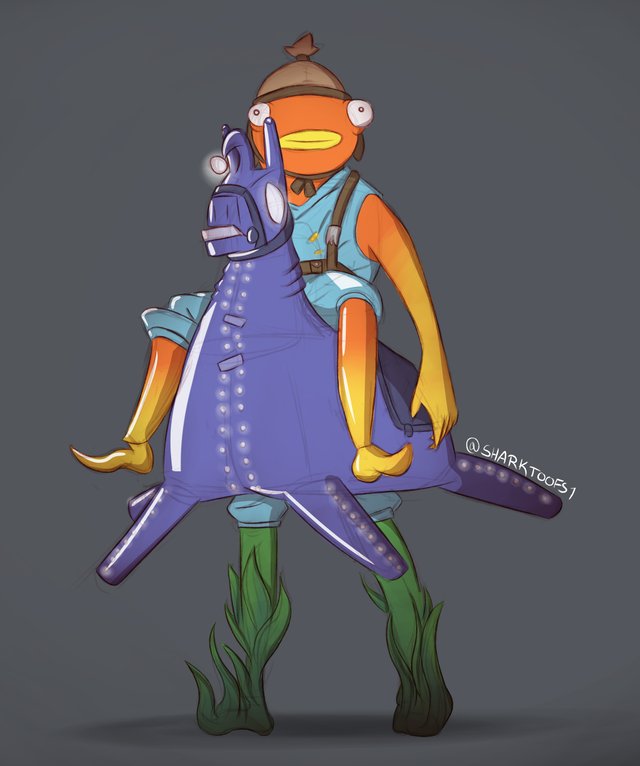 As for the exclusive Xbox and PlayStation skins, these remain to be seen. Of course, these are only leaks and might not come to fruition. If this is the same source that Hypex had for his Season 4 leaks, however, there's a good chance that they're legitimate.
We'll keep you posted when we learn more about all of these skins, although we'll probably have to wait for a patch or two before data miners find them in the game files.
Fortnite Season 4 Week 6 Challenge guide
The Fortnite Season 4 Week 6 challenges are here! Take a look at how to complete them.
It seems like just yesterday that we were staying up all night, waiting for the new season of Fortnite. Surprisingly, we're already into Week 6 with another batch of challenges to help carry us through the Battle Pass.
Although weekly challenges offer a lower amount of XP this season, it seems like we're working through the Battle Pass quicker than normal. Even still, we have a long way to go before we unlock all of our holographic variants, so we'll be grinding away at these challenges.
The week's challenges are pretty straightforward. All we need to do is consume some foraged items, deal some damage, and search some chests. Here are the challenges for Week 6:
Search Chests at Weeping Woods (7)
Eliminations at Misty Meadows (3)
Collect Stone from Coral Castle (300)
Consume a Legendary Fish
Consume Foraged Items at Holly Hedges (10)
Ride a Zipline from Retail Row to Steamy Stacks
Deal damage after knocking an opponent back with Black Panther's Kinetic Shockwave (1,000)
Deal damage to opponents at Slurpy Swamp (500)
The inclusion of a challenge involving Black Panther's ability suggests that we could see it come into the base game this week, but we don't know that for sure. Epic could be pushing us toward the Marvel-based LTMs that have been rotating in and out of the game. We'll know more when these challenges go live, tomorrow.
Collecting foraged items at Holly Hedges is as easy as taking some damage in Team Rumble and eating the Cabbage that is growing in the backyards of a few houses.
If you're having trouble catching a legendary fish, take a look at our fishing guide for Season 4. You should be able to catch one if you hit a fishing hole with a Pro Fishing Rod – but this one will take a bit of persistence.
There's a zipline network that connects Steamy Stacks and Retail Row, so you just have to ride this once and be done with it.
Apart from that, the rest of these challenges are straightforward. Of course, you'll also need to land at Weeping, Slurpy, and Misty to get your chests, damage, and elimination. Good luck!