Epic Games releases update discussing performance, bugs, and competitive communication
Epic Games has been seeking to be more open with their communication as they have gone through some bumpy months with Season 8. They've released a new blog post explaining some incoming changes.
Fortnite isn't a perfect game and Epic Games knows this. In order to better convey their ideas and opinions, Epic wants to have better lines of communication with all parts of the community.
The v9.01 showed a glimpse of this new era of open communication and Epic is continuing the trend with a new update blog post. The blog includes information about current bugs, the Fortnite World Cup, performance, and more.
The post begins with an quick introduction before jumping into the details. We've posted the entirety of the post below:
PERFORMANCE AND COMPETITIVE COMMUNICATION UPDATE
'5.17.2019
By The Fortnite Team
Hey folks! 
This week we're openly discussing critical bugs found over the weekend, new features, and our upcoming competitive-focused AMA.'
WEEKEND ISSUES
'Last week, we discovered a critical issue where players could become stuck in a vehicle and unable to exit. We made the choice to remove the root of the issue by disabling all vehicles, rather than electing to play through the Finals even with the bug. We felt that it was more fair to remove all vehicles to ensure players weren't penalized for something outside of their control during the Finals.
Due to a critical issue with players getting stuck inside vehicles, we will be disabling all vehicles in Arena and Fortnite World Cup Online Opens through this weekend.  We plan on re-enabling vehicles in the Tournament and Arena playlists next week after our fix is implemented in the v9.10 update. 
We also discovered several audio issues where, in certain situations, gun-fire was ducking building sounds, and player landing sound could be silenced if players landed at a certain velocity. Thanks to a bug report and replay files provided by CouRage, these audio bugs were triaged and will also be fixed in the upcoming 9.10 release alongside other audio improvements. 
For insight into our current tracking of top community issues, head on over to our public Trello board here.'
DISCONNECTING DUOS UPDATE
'In last week's communication blog, we spoke to the disconnecting duo issue experienced by a small number of duo teams in the Fortnite World Cup Online Open. For this weekend, we've changed the game logic of how disconnecting duos work. 
In Week 6, players who have their duo disconnect while loading into the pre-match island will be able to leave the match without penalty prior to the Battle Bus launching. Once the Bus launches, the team will have the match count to decide if the solo remaining player decides to stay. 
For future duo tournament weekends, we are working to add in game messaging to make this decision crystal clear. We hope to have this implemented in a future update by the next duos weekend.'
UPCOMING BALANCE ADJUSTMENTS
'It's important that we do better moving forward when explaining intent for various changes within Battle Royale. Starting with the v9.01 patch notes, we are working to give extra context when we make significant game changes.
This week, we made changes to the Drum Gun, Baller, Compact SMG, and Slipstreams. Hop into the patch notes for some insight into these adjustments.'
HOLD TO SWAP
'We initially added this feature to help improve early game looting, making it easier to get weapons & items in the slots that you wanted. We've fixed some bugs and iterated on this feature since its release, but recognize that some players may not want it enabled at all.
With an upcoming release, we'll be making "Hold to Swap" a settings option, giving you the choice.'
PERFORMANCE
'This past Season 9 launch revealed several performance regressions on Console, Switch and Mobile. Since then, we've been conducting internal investigations in order to determine root causes and iterative changes we can make in each next release.
In the v9.01 release on Wednesday we included a few initial fixes such as improving level streaming for all platforms. Level streaming accelerates in-game level loading and results in blurry geometry being displayed less.
Through our work in progress for our next update (v9.10) and beyond, we are continuing performance efforts to improve level streaming on all platforms.'
AMA
'In addition to our weekly communications, we will be holding an AMA in the next few weeks on the Fortnite Competitive subreddit. This AMA will be specifically focused around questions regarding competitive Fortnite. We will share the time and date as we finalize the details.'

Football star Mesut Ozil might turn pro in Fortnite following retirement
Based on his agent's statements, it won't be a surprise if we soon find former Arsenal player Mesut Ozil 'Vibin' as a Fortnite pro.
After having a glorious run in Real Madrid, Arsenal, and Schalke 04, Mesut Ozil joined Fenerbahçe S.K. Reports claim that the footballer might take up esports as a career after retirement.
Mesut Ozil has nothing left to prove in the world of Football. He's won several trophies over the years and is easily one of the best playmakers in the history of the sport. Ozil recently unfollowed Fenerbahce on his social media and seems to be all set for retirement.
The footballer has always been an avid gamer, and his manager claims that Ozil has the potential to become a Fortnite pro.
Mesut Ozil has a long history of playing Fortnite
Ozil's admiration for Fortnite has never been a secret. He's been streaming the game on Twitch for years and it has even been a matter of controversy on several occasions.
Back in 2020, fans of Arsenal accused Fortnite of causing Ozil's back injury. They claimed that playing the battle royale title continuously with a bad posture affected his health.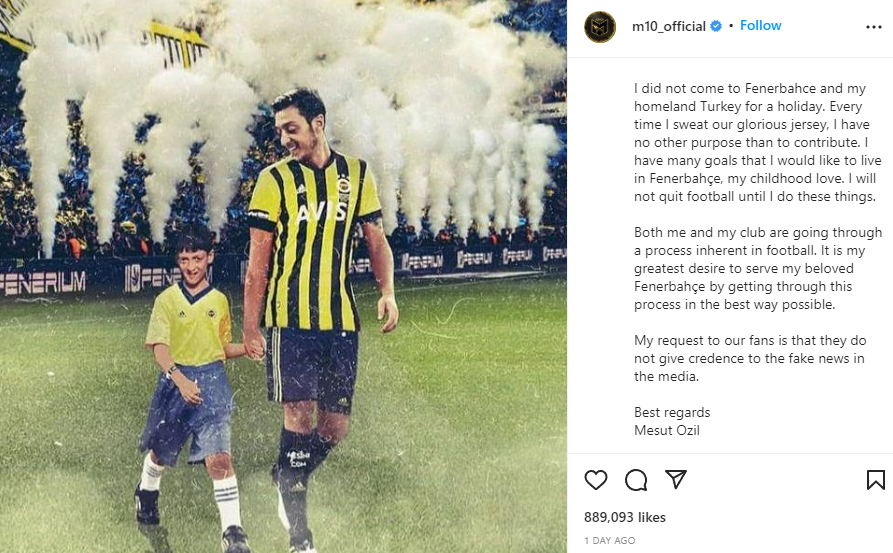 In a recent interview with The Telegraph, Ozil's manager stated:
"He will go more into esports, and maybe become an esports athlete. He's really good at Fortnite, and I think one day I wouldn't be surprised if he is competing"
The former Arsenal midfielder already owns an esports organization that competes in Fortnite and FIFA. He's definitely had success as a streamer, but it is too early to assume if this will be the case with his esports career as well.
Several sports icons like David Beckham, Michael Jordan, Ronaldo, and Shaq have invested in Esports. It is evident that the industry is growing at an unprecedented rate and now is the perfect time to capitalize on it.
How to jump off of a diving board in Fortnite Season 3
A Fortnite Chapter 3 Season 3 Week 3 challenge requires players to jump off of a diving board and here's a quick guide to completing it.
Fortnite players must search for a diving board and jump off of it this week. This will complete one of the latest Week 3 challenges and provide them with 15,000 XP.
Quests and challenges have always been the most reliable source of XP for Fortnite players. The developers release three Daily Quests every day and seven Weekly Quests every week.
Weekly quests for Week 3 of Fortnite Chapter 3 Season 3 have arrived, and here's a guide to completing the one based on jumping off a diving board.
Where to find Diving Boards in Fortnite Chapter 3 Season 3
To complete the Weekly quest, players first need to find one Diving Board. It is located near Rocky Reels and the exact location is marked (blue marker) in the image below:
The diving board is placed on the top of a massive rock in the desert region south of Rocky Reels. It basically gives players a small push and they can dive into the river flowing underneath.
The quest requires you to jump off of a diving board three times, and they don't need to be unique. This means that the challenge can be completed by jumping off of the aforementioned board repeatedly.
How to reach the diving board in Fortnite Season 3
Another thing to note is the accessibility of the diving board. There's no way to reach the top of the massive boulder in Zero Build modes owing to the lack of ziplines. Jumping while sprinting might help but it is better to take on this challenge in modes with building enabled.
Obviously, players can directly land at the diving board near Rocky Reels in Zero Build modes but this will only allow them to jump off of it once.
All in all, completing the weekly challenge will grant players 15,000 XP. Seven new quests have been added this week and there will be an additional bonus for completing them. This implies that the total XP output will be over 200,000 which is equivalent to almost three levels in the Battle Pass.
How to reach max shields at a temple in Fortnite Season 3?
Fortnite Chapter 3 Season 3 Week 3 quests are finally here. Players can reach maximum shields at a temple location to get 15,000 XP.
Fortnite expects players to max out on their shields at a temple location for a Chapter 3 Season 3 Week 3 challenge. It grants 15,000 XP.
The XP grind in Fortnite Chapter 3 Season 3 has been nothing less than frightful for a majority of loopers. This explains why they desperately wait for new quests and challenges that can help them in leveling up.
Here's a guide to completing the Week 3 quest based on reaching max shields at a temple.
Where to find temples in Fortnite Season 3
At the moment, there are three temples on the Fortnite map:
Tumbledown Temple
Tumbledown Temple is a landmark located east of Rocky Reels and south of Sanctuary. Players can use this image for reference:
Tiny Temple
Tiny Temple is another landmark where players can complete the Week 3 challenge. You can head southeast from The Daily Bugle or directly land at the location marked in the image below:
The Temple
As the name suggests, The Temple is the most prominent temple on the Artemis island. Here, you can expect great loot which naturally includes a ton of shield items. Having said that, it's possible that the competition will be much higher than the aforementioned temples.
The Temple is located northeast of The Daily Bugle:
At any of these locations, players will basically find ancient runes and the aim is to reach max shields there. You can either land here directly or collect shield items from other major locations and use them in the temples.
Reaching max shields in Fortnite means that the loopers must have 100 shield points. This can be achieved through a wide range of items:
Small Shield Potion– provides 25 shield but cannot be used after the shield reaches 50
Shield Potion– provides 50 shield
Shield Keg– 4 shield/second
Klomberries– 10 shield
Slurp Mushrooms
Chug Splash– 20 shield
All shield items can be found on the island as floor loot and inside chests.
The seven weekly quests for Fortnite Chapter 3 Season 3 Week 3 will grant a total of 105,000 XP. The game also provides a bonus for completing a certain number of weekly quests and the total reward should be close to 234,000.