DrLupo announces another charity Fortnite stream with St. Judes Children's Hospital
Fortnite personality Benjamin "DrLupo" Lupo raised $611,000 for St. Jude's Children's Hospital on a second charity stream in December, and now he is going back for round three.
His December stream was a feel-good moment as he raised a ton of money to help with St. Jude's continuing mission to find a cure for cancer and care for children who are afflicted by the horrible disease.
St. Jude's mission also states that families of children admitted to the hospital ever receive a bill for treatment, travel, housing or food.
His original stream during the GuardianCon raised about the same amount as his one in December and brought the total amount he has raised for the charity up to $1.3 million.
On March 18th he tweeted a hint that he would be going back for his third charity stream on March 25th.
March 25th.@StJude.

👀👀👀

— DrLupo (@DrLupo) March 18, 2019
With more and more press surrounding each stream he does for the hospital, the donations should keep pouring in.
In the replies to the post, a follower of his asked a fairly callous question. "Again? Not trynna to get some variety?"
It's a question not befitting the dedication DrLupo has had to the hospital and doesn't make much sense. Lupo's reply is perfect:
Costs $2.7 million per day to run the hospital. Kids still have cancer.

Lemme know when it's cured.

— DrLupo (@DrLupo) March 18, 2019
The original replier clarified what they meant in a response "Less known causes deserve some support to ya know? But I get it tho."
That is true, and other causes are of course worthy and deserving of time, attention and money, but that probably wasn't the best way to go about it.
Stop by Lupo's stream on March 25th and support him as he raises more money for St. Judes Children's Hospital.
Galactus is edging closer to the Fortnite island
Galactus is coming to the Fortnite map, and now you can see him in the sky
We still have a few weeks left in Fortnite Season 4, but Epic are setting us up for what looks to be the season-ending event. Ever since the season began, players expected to see Galactus land on the Fortnite map at some point. What he'll do when he gets here is anyone's guess, but it's safe to assume he'll make it to the island.
Epic made a subtle change to the Fortnite map in the v14.30 update that relates to Galactus. He's been visible in the sky as a pink dot since the early days of the season. Now, you can make him out as he gets closer.
This image should show how massive Galactus is in comparison to the Fortnite map. He's still weeks away from landing and we can already see him relatively clearly. If this scale is any indication, he's going to make Travis Scott look small.
Epic added the full character model for Galactus in this update, as well. Data miner iFireMonkey gave players a closer look. We'll likely be able to see more and more of Galactus as the weeks go on.
Everyone is specualting as to what will happen when Galactus lands on the island. Will he devour the Chapter 2 map? Will we be sent to the old map or to a third version of the world? Will Thor and the other heroes save us in time? We won't know until it happens.
One thing's for sure: Epic are setting us up for one of the best season-ending events of all-time. We expect this one to be up there with some of the greats when it's all said and done.
How to complete Fortnite Birthday Bash challenges & rewards
To celebrate three years since Fortnite Battle Royale was released, back on September 26 2017, Epic Games have started the Birthday Bash event, with new challenges to complete.
In addition to the challenges, there are rewards, some festive changes to the map, the battle bus, and birthday presents dotted around the map.
Epic's announcement says: "During the celebration, you'll notice some festive changes around the Island. The Battle Bus is sporting a fresh new paint job to mark the occasion, and after dropping in, find yourself a Birthday Present and see what's inside."
Birthday Bash Challenges
These challenges will be available from September 26 to October 1, but thankfully most are straightforward.
You can see them all below (via FortniteFevers).
The one challenge that might cause you some trouble though, is dancing in front of different birthday cakes.
To help, here is a map of locations for the birthday cakes on the Fortnite island, via FortniteInsider.
Fortnite Birthday Cake locations
Here's a look at the rewards available.
For creative players, there's also some new content there, with the Princess Castle prefab now available.
You can submit a creation using the Princess Castle by October 6 for a chance to be featured in the first official Box Fight tournament as part of an upcoming Wild Wednesday tournament.
Fortnite's 3rd birthday event leaks: cosmetics, challenges & more
Details of Fortnite's third birthday celebration event have been leaked.
It's crazy to think that we're approaching three full years of Fortnite: Battle Royale. The game has come a long way in that time and is virtually unrecognizable when you compare it to the early days.
Each year that passes, Epic host a birthday event for the player base. Typically, this involves some challenges, free cosmetic rewards, birthday cakes, and a thematic Battle Bus. According to the leaks surrounding the third Fortnite Birthday event, we can expect much of the same this year.
Challenges & rewards
The challenges for Fortnite's third birthday seem nearly identical to the challenges from last year. We'll be dancing in front of cakes, consuming birthday cake for health and shield, and completing general Fortnite tasks over the course of the week.
The challenges are similar to those of past seasons, as well. In fact, two of the rewards have the number 2 on them. These are likely placeholders for future rewards, including the "Take the Cake" emote that we saw leaked.
For now, here are the Fortnite birthday challenges and rewards that we saw leaked. Of course, these are subject to change when birthday event goes live.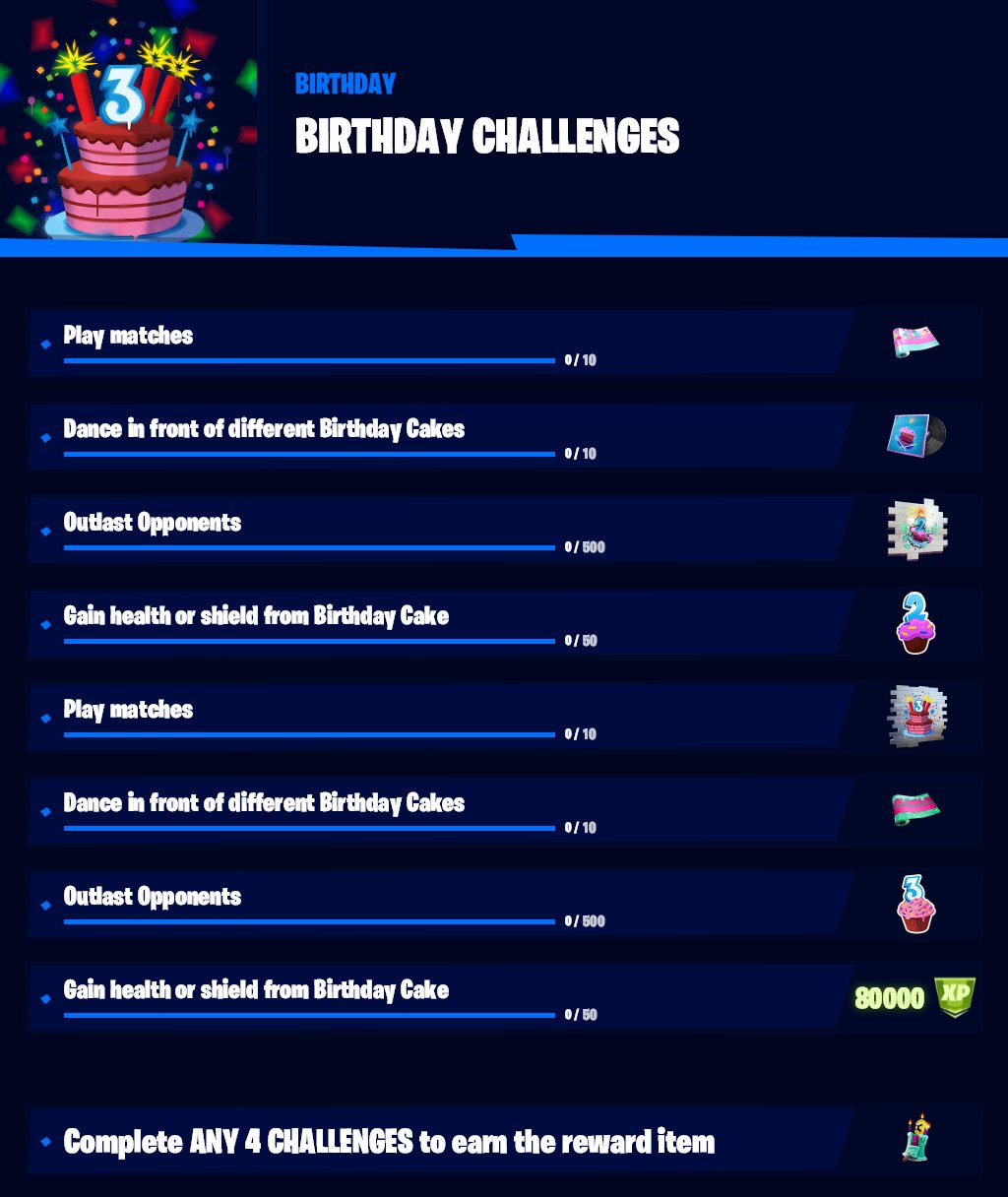 Gift Boxes & Battle Bus
As expected, the Fortnite Birthday Battle Bus will be returning for a third year. Yes, this means the relatively annoying Birthday music will greet us at the beginning of every match for about a week. In our opinion, this is the worst Battle Bus song of them all. With any luck, Epic reworked it this time around.
The birthday Gift Boxes will be returning, as well. Thanks to data miner, Hypex, we also know what they'll contain. We'll be getting some tier-one loot in these boxes. They'll also be one of the two ways to get a Rocket Launcher in Fortnite.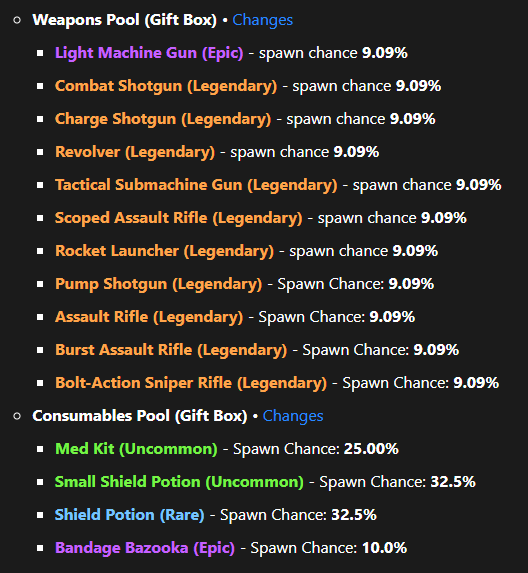 Of course, we're also expecting to see cakes spawn around the map when the event kicks off. We're not sure where these will be, but we'll provide you with a guide to these birthday challenges when they come to Fortnite.
The official Fortnite birthday is on September 26, so we can expect the event to begin on that date – if not a day or two before. It will probably run through the next week and give players plenty of time to complete their challenges.