Courage successfully pranks TimTheTatMan with Build-a-Bear troll
Everybody knows that CourageJD's a prankster, but he evolved to a new level upon successfully trolling TimTheTatMan with a Build-a-Bear.
Practical jokes & pranks bring a smile to our face and when we saw what Courage managed to pull on TimTheTatMan, we simply had to get an article out on this. We guarantee you'll laugh at the clip.
Trolling takes many unfortunate forms on the Internet, but Courage knows how to troll in good taste. The timing, the content material, and his chosen target couldn't have been better planned.
Courage sends TimTheTatMan a troll Build-a-Bear
In a kind gesture, Jack 'CourageJD' Dunlop decided to send his longtime friend's son a gift. Naturally, a great option for a young boy is the treasured delight of a Build-a-Bear Workshop bear.
The gift was so irresistibly kind and cute that TimTheTatMan decided to open the package on stream. The act in itself can be a risky move for influencers because some unsavory 'fans' will try to send in inappropriate materials. But, Tim trusted his buddy and went on ahead with showing off the new bear.
Thing is, Tim, you're dealing with Courage here and that means something's up. Mr. Dunlop never misses a chance to promote the opportunity to subscribe to his channel using Twitch Prime.
As Tim pressed the audio play button on the cuddly companion, he knew he had made a mistake. Jack's voice greeted Tim's son and then promptly began to remind everyone to head to his channel at twitch.tv/couragejd.
The prank is simply beautiful in its design. Who isn't going to open a Build-a-Bear sent to their son by a friend on stream? The outcome was completely inevitable. Honestly, TimTheTatMan should've seen it coming from a mile away, but let his guard down for just a second too long.
Other Internet trolls and pranksters could do well to take note from Courage. Don't be mean or absurd, rather find ways to make people laugh through common interests.
In the end, Tim's son still gets a nice present from his 'Uncle Jack' which we're sure he'll cherish for years to come. The whole situation brings a perfect win-win scernario…as long as we remove TimTheTatMan from equation as he took an 'L' for sure.
The two will most definitely laugh about this exchange when they meet up next time. They both play Fortnite on stream regularly. We may even see them testing out the new Automatic Sniper Rifle which released in the latest content update.
Again, bravo to Courage, the true king of Twitch Prime plugs.
Fortnite leaks reveal free Major Mancake skin coming in Chapter 3 Season 3
Fortnite leakers have just discovered a new Mancake skin in the files called Major Mancake that should be released in Chapter 3 Season 3.
Mancake, who is literally a man with a pancake head, is one of the most popular Fortnite characters. He is about to get a 'Major' upgrade in Chapter 3 Season 3.
Mancake and his unreal adventures in Butter Barn are quite famous among Fortnite players. The character has been on the island since Chapter 2 Season 5 and has played a significant role in the storyline repeatedly.
Here's a preview of the upcoming Major Mancake skin in Fortnite Chapter 3 Season 3.
How to get Major Mancake skin in Fortnite Chapter 3 Season 3
To be fair, the Major Mancake skin isn't a noteworthy upgrade to the original skin. There are minor differences in the the outfit's color scheme and the head is now more pancake-like.
Here's a comparison between the original Mancake skin and the leaked Major Mancake skin:
The decrypted Major Mancake set also has the following items:
Stacked! spray
Sweet Clementine pickaxe
Stacked with Love emoticon
Waffler backbling
Leakers have reported that the emoticon and the spray do not have a source, which hints at Major Mancake being a promotional cosmetic.
Considering that Epic Games is about to announce the Fall Guys crossover in a few hours, it is safe to assume that Major Mancake will be a free reward from the Crown Clash challenges.
There will be five Crown Clash challenges and loopers will have to play a total of 100 Fall Guys shows to avail of all five free rewards.
Why Major Mancake could be a free Fortnite x Fall Guys reward
Leakers have discovered that the upcoming Fall Guys challenge will have five stages and the Major Mancake set comprises five cosmetics. These skins, sprays, and emoticons do not have Item Shop assets, and the pickaxe appears to have a Promo source.
Having said that, it doesn't make a lot of sense for none of the Fall Guys x Fortnite rewards to be Fall Guys themed. Mancake is an original Fortnite character and has no relation with Mediatonic's Battle Royale game.
We'll make sure to update this article when Epic Games officially reveals Major Mancake and the procedure to get the skin.
Fortnite Reality Tree is the 'next threat' according to NPCs
Fortnite Season 3 is all about the Reality Tree and its growing roots. Here's why loopers should be worried about this mysterious flora.
Fortnite players seem delighted with the frequent map changes in Chapter 3 Season 3. The Reality Tree is growing at an unprecedented rate and this is a matter of concern for the residents of the island.
Despite being a Battle Royale title, Fortnite maintains an overly-complicated storyline that includes characters from Marvel, DC, Star Wars, and whatnot. Basically, the Zero Point controls everything, and keeping it stable is the key to normalcy.
Loopers just witnessed a nerve-wracking war between the Imagined Order and The Seven in Fortnite Chapter 3 Season 2. The current season might have a Vibin' theme, but from the looks of it, the party will soon come to an end.
The Scientist expresses concerns regarding Reality Tree in Fortnite Vibin' quests
Fortnite v21.10 introduced a bunch of Vibin' quests in which players help The Scientist in studying the Reality Tree. The member of The Seven is terrified about the Zero Point being exposed. Accordingly, he's trying to warn us that the new flora on the island is a major threat to reality.
Some NPCs (non-playable characters) on the island have similar thoughts:
Kyle– You were right. Some of these trees…I've never seen em' before.
Haven when she talks to The Foundation- Something's not right.
Haven when she talks to The Scientist- Whatever experiments you're doing, run them faster. We're in trouble.
The Origin when he interacts with The Imagined- Any activity on the perimeter? Stay vigilant
The Order when she talks to The Origin- Any news? Are we in the clear?
The Scientist when he is visited by The Origin- Our next threat won't be flying in on an airship.
The Scientist when he interacts with The Paradigm- These calculations aren't looking good.
The Paradigm when she is visited by The Scientist- If you're saying something's up, I believe you.
It is evident that members of The Seven have discovered something unusual. Even though they've successfully eradicated the Imagined Order (for how long, though?), a new threat has emerged in the form of the Reality Tree.
Who controls the Reality Tree in Fortnite Chapter 3 Season 3?
Fan theories suggest that a character named Bloomwatcher (a name given and widely accepted by the community) is controlling Reality Tree. She appeared in this season's story trailer for a second, and one of the skin surveys teased her as well.
The Reality Tree and the brand-new mushroom-themed biome are hoaxes. Loopers are misled to think that they've finally achieved freedom, as the growth of Reality roots is causing unusual events.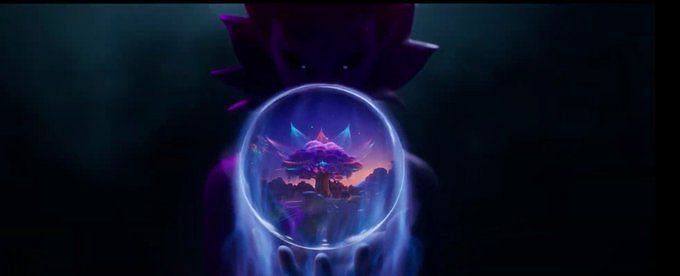 The Reality Tree's spread is similar to the island's contamination by the cubes in Chapter 2 Season 8. Leaks have suggested that in the upcoming weeks, the roots will reach Temple Bloom, Condo Canyon, Daily Bugle, and other prominent locations.
At the same time, Darth Vader is roaming in his shuttle to restore a relic that accidentally reached the island. Loopers can expect more clarity about these storyline developments with the v21.20 update on July 5, 2022.
Subway Surfers officially reacts to crazy Fortnite collab concept
A handful of notable franchises are yet to collaborate with Fortnite including Subway Surfers. Here's why this could finally happen.
Fortnite players love coming up with concepts, especially related to crossovers. A Subway Surfers concept went viral recently and it was good enough to catch the attention of the developers.
It wouldn't be an overstatement to say that Subway Surfers is one of the most ground-breaking games in history. It popularized the endless runner genre and has been downloaded by literally billions of players.
Crossovers now define Fortnite, and here's why a collaboration with Subway Surfers could be closer than ever.
Subway Surfers' concept imagines Tricky as a Fortnite skin
Subway Surfers has introduced a wide range of characters since its launch, and fans love them all for unique reasons. As it turns out, Fortnite artist Anhel admires Tricky and accordingly, he turned her into a skin.
Anhel's Fortnite x Subway Surfers bundle included these items:
Tricky's outfit
Subway Surfers spray
1500 V-Bucks
Subway Surfers' Jetpack back bling
Subway Surfers' theme song album
To be fair, this is a flawless bundle for any Subway Surfers fan. The mobile game has many elements that can be incorporated into Fortnite, and an official crossover is almost guaranteed to be a massive hit.
Subway Surfers' official Twitter account reacted to the aforementioned concept and even tagged Fortnite asking about a collaboration. Naturally, this was enough to ignite the hopes of countless fans who love both franchises.
Subway Surfers' policeman catches Jake with Fortnite's builds in fan-made clip
It is evident that the Fortnite community is eagerly awaiting a Subway Surfers' collab. Popular modder Brux uploaded a clip on YouTube that perfectly blended both the games and it already has over 250k views.
Brux somehow gave the policeman building and editing abilities who then used them to catch Jake within 10 seconds. To say the least, it was the perfect representation of a Fortnite sweat.
Brux is clearly one of the most talented modders out there. It is safe to assume that such content will become more common with Creative 2.0 which should be available before 2023.
Now that Subway Surfers has officially reacted to concepts, it wouldn't be a surprise if the collaboration with Fortnite takes place soon. As of now, the Fall Guys collaboration has been leaked and loopers can look forward to completing Crown Clash challenges for free rewards.