Could the underwater ship wreckage be linked to The Seven?
The reveal of this underwater spaceship mirrors the events of Fortnite Chapter 1 Season and the introduction of The Visitor.
When the Fortnite v13.30 released, players began to notice that there was something under the water at the edge of the map. Those who took a closer look in replay mode could see that this was a wrecked ship.
Much of the aesthetics of the ship resembled the Siona skin. We can see a ship that shares the same colors and characteristics as Siona's base outfit. What's more is that this ship has an occupant. There's a male skin wearing the same outfit as Siona, sitting in one of the seats.
The passenger's side seat is empty, however, which strongly suggests that this is how Siona got to the Fortnite island. She is, after all, the only space-themed skin in the Season 3 battle pass.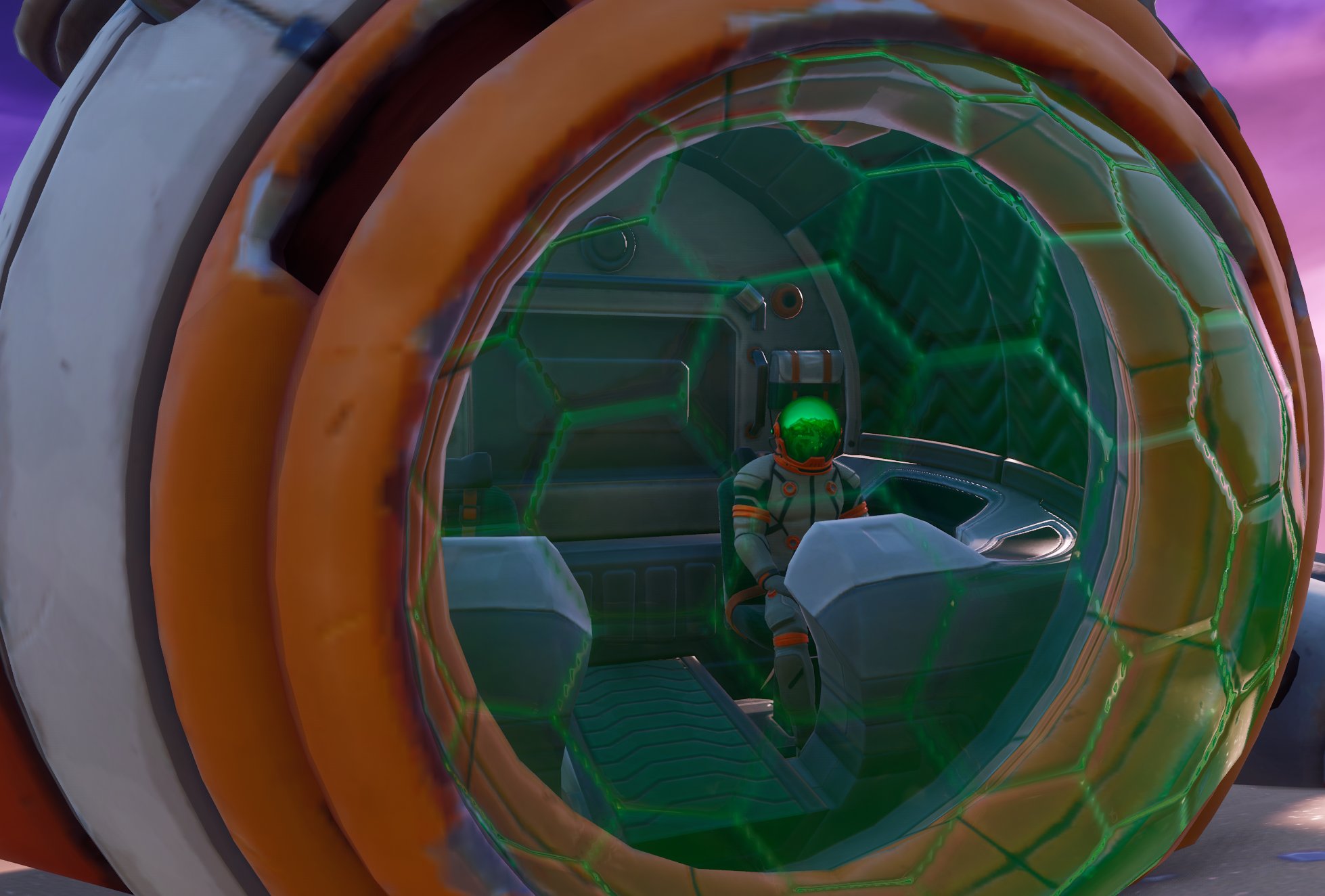 This ship is pretty out-of-place when you consider the surface theme of Season 3. We're looking at a flooded map littered with sharks and watching the water levels go down about once a week. Nothing – apart from, possibly, the Marauders – hint towards outer space playing any role in this season.
Anyone who played Fortnite during Chapter 1 Season 4 remembers that this was the season that started it all when it comes to the lore of the game. The meteor hit the island at the beginning of the season and The Visitor emerged from his pod, within. The season ended with the iconic Rocket Launch – the first-ever in-game Fortnite event.
Could we be seeing something similar in Chapter 2 Season 3? The Visitor was one of The Seven – first introduced in Chapter 1 Season 3. We haven't met any additional members of The Seven since Season X. Could this mystery astronaut be number four? YouTuber Ali-A touched on this theory in one of his recent videos.
(Subject starts at 8:25)
"One of the biggest parts of the Fortnite storyline – The Seven – are all related to futuristic space," Ali-A explained. "To tie it back and to find out more about these characters, space is going to have to revisited at some point; and it looks like it's all starting off right here."
Ali-A went on to theorize that The Marauders could be looking for this myserious character, which could fall in line with a slightly different theory from TheSmithPlays. To summarize, the latter suggests that the Marauders are members of the Save the World universe – sent to Battle Royale for some undisclosed reason. You can take a look at our article on that theory here.
Chapter 2 Season 3 seems like the perfect time for the introduction of a new member of The Seven. It's been a full chapter since we met The Visitor. If Epic are following the road map of Chapter 1 for their Chapter 2 story, then we'll likely be seeing a new member this season. Of course, these are only theories, but we think there are some solid links between the original Visitor and this mysterious astronaut.
Of course, we'll know more when the water levels lower and the ship reaches the surface. If the astronaut leaves his ship, however, we could be in for some déjà vu. After that, he'll be building a rocket at Steam Stacks and trying to make it home.
Fortnite reveals first look at Ant-Man skin coming soon
Epic Games have revealed the first look at what's expected to be an upcoming Ant-Man skin in Fortnite, but you'll have to be looking closely at their teasers to spot him.
The Fortnite developers are continuing their relentless spree of crossovers, especially with superhero skins, and it looks like we're getting another one very soon.
This time around, it's the tiny Ant-Man. On March 6, Epic Games tweeted an image Domino, Cable, and Psylocke, but look closer, and you'll spot someone else there too.
Sitting on Cable's arm, we can make out the tiny hero.
And that's not the only teaser for Ant-Man. In a second image, we can see him standing on the tip of the sword.
We'd assume that Ant-Man will actually be the regular character model size when the skin is playable in game – or else it would be the most powerful skin around (although not sure how he'd hold any weapons).
Unfortunately, we can't make out the finer details of the skin as the images show him so small.
When is the Fortnite Ant-Man skin release date?
We don't have the exact release date for the Ant-Man skin yet unfortunately. But, just based on previous teasers, we wouldn't expect the wait to be too long.
Usually after a new portal is added in-game, and teasers start dropping, it's only a matter of days before we can get our hands of the skin.
How to disable pre-edits in Fortnite
After over a year of fan requests, Epic have added a 'disable pre-edit' option to Fortnite. Here's where you can find it.
In the v15.20 update, Epic Games added a much-requested setting to Fortnite: 'disable pre-edits.' Here's how it works and how to select it.
Finally, after years of Reddit threads, Twitter posts, and pro players begging, Epic added a 'disable pre-edit' setting to Fortnite.
Here's everything you need to know about the new setting, including how it works and where to find it.
What does 'pre-editing' mean?
Pre-editing refers to the ability to edit a structure before placing it. The most popular use of pre-edits throughout Fortnite history was a cone/ramp edit when controller players had to use Combat Pro.
Now, however, very few players use pre-edits. Instead, pre-edits offer an obstacle, as they're almost always completed by mistake. Of course, there are still some niche applications for pre-edits, but most players wanted Epic to add an option to disable these edits.
How to disable pre-edits
You can find the new option under the settings tab (cog wheel) in the start menu. Scroll down to the "Building" section, and you'll see four options. One of them is the new "Disable Pre-Edit Option."
If you turn this off, you'll no longer be able to edit structures before placing them – good news for the bulk of the Fortnite community.
If may have taken Epic years to add this option, but it's finally here. Next stop, an FoV slider!
How to use pre-editing to your advantage in Fortnite
Don't turn off pre-edits so fast! Learn how to make pre-edits work for you in Fortnite with these new competitive strategies.
Learn how to make pre-edits work for you in Fortnite with these competitive strategies.
Pre-edits in Fortnite can be maddening when you're in the middle of a fight. More often than not, the pre-edits will work against you as you accidentally edit a hole in your floor or a window in your wall. Before you know it, you're taking fall damage or getting shot because you hit the wrong button while battling someone.
Epic recently added a lon-requested setting to Fortnite, giving players the ability to toggle pre-edits on and off. Now, with a simple setting change, you'll never need to worry about pre-edits again.
This doesn't mean that pre-edits are entirely useless. In the patch before the setting change was released, pro player Maken used them expertly to outplay his opponent.
Useful pre-edits have also been posted to the r/FortniteCompetitive subreddit in the past. These pre-edits focus on cones, and give players the ability to fake-out opponents and even place their structures through turbo-builds.
The first strategy involves subverting the expectations of your opponent. Most skilled players anticipate edits, but using a pre-edited cone can get you a free shot.
As you can see, all you have to do is edit the wall, place your triangle cone, resent the cone edit, and shoot your opponent. There's hardly anything they can do to prevent this free shot – especially since they aren't going to see it coming.
The above clip from u/DemianNieuwenhuis has a very niche application. After all, using a regular cone is going to be far more useful in most situations. The only time your pre-edited cone will work is when someone is standing outside of your box.
This next clip is more of an exploit than anything. It also requires you to pre-edit your cone; this time in a V shape. You can exploit the new Turbo Building system and place the V-cone under your opponent's ceiling after breaking their cone.
Again – like the other clip – this strategy will only be useful in certain situations. You won't be able to cone-block opponents or even protect yourself from above if you run around with your cones all jacked up like this.
Still, these strategies are worth mentioning – especially if you find yourself in a 1v1. You can surprise your opponent with both of them, and steal some shots without taking damage.