Week 9 of Fortnite Season 7 has arrived, which means a new slate of challenges for players to complete!
The first nine weeks of Season 7 have definitely flown by with Fortnite experiencing a number of major changes throughout its duration.
Week 9 brings a collection of more 'interesting' challenges than weeks prior, meaning that players may need a little bit more guidance on how to complete the tasks.
Luckily, thesquatingdog releases an in-depth 'cheat sheet' that places all the necessary challenge locations on one map and is perfect to have up while trying to find them in-game.
If you need more help, we have a full hub which provides detailed instructions for some of the more difficult Week 9 challenges right here.
The full Season 7, Week 9 cheat sheet can be viewed below.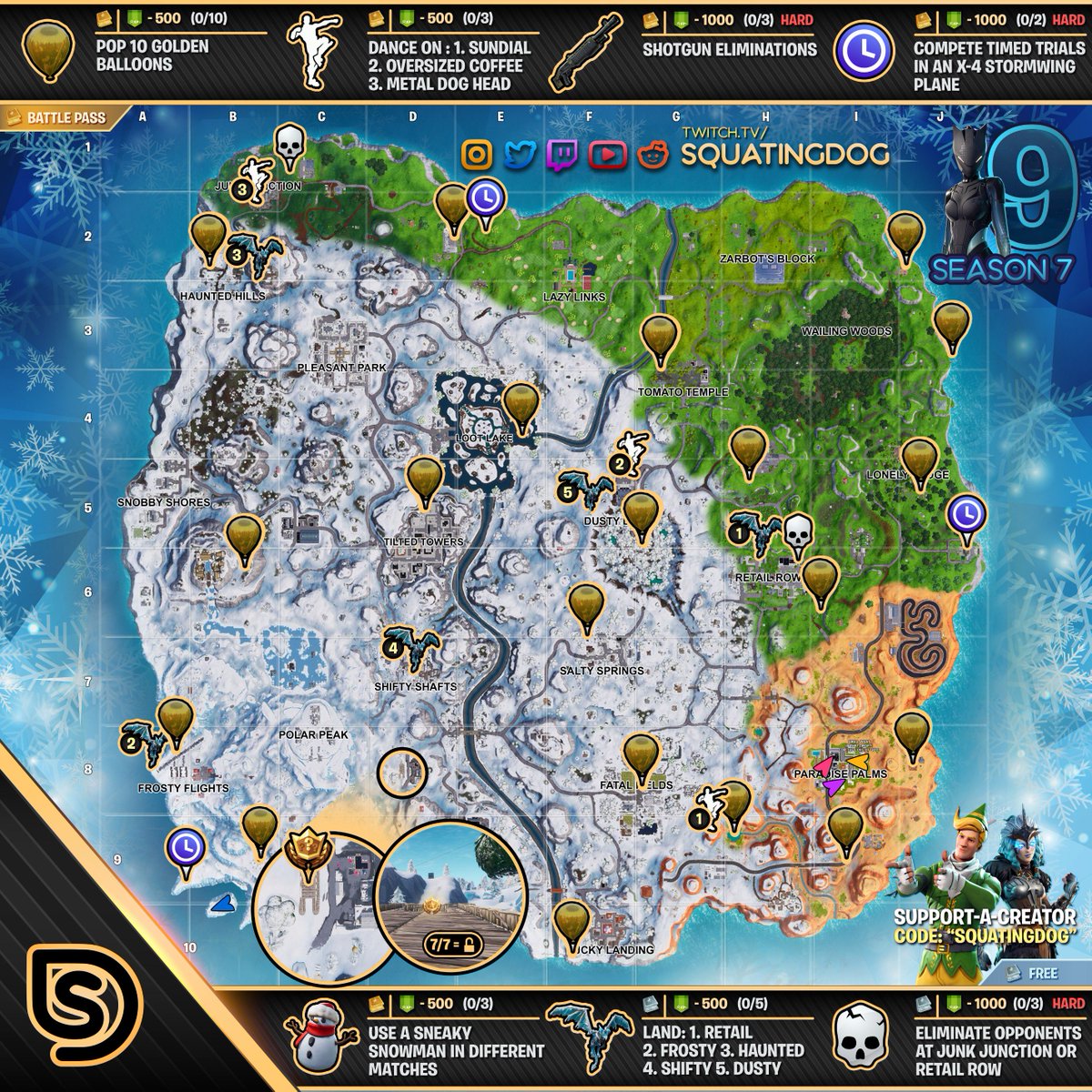 Free Challenges
Use a Sneaky Snowman in (3) different matches – 5 Battle Stars
Stage 1: Land at Retail Row – 1 Battle Star

Stage 2: Land at Frosty Flights – 1 Battle Star
Stage 3: Land at Haunted Hills – 1 Battle Star
Stage 4: Land at Shifty Shafts – 1 Battle Star
Final Stage: Land at Dusty Divot – 1 Battle Star

Eliminate (3) opponents at Junk Junction or Retail Row (HARD) – 10 Battle Stars
Battle Pass Challenges
Pop (10) Golden Balloons – 5 Battle Stars
Stage 1: Dance on a sundial – 1 Battle Star

Stage 2: Dance on an oversized cup of coffee – 1 Battle Star
Final Stage: Dance on a giant metal dog head – 1 Battle Star

(3) Shotgun Eliminations (HARD) – 10 Battle Stars
Complete (2) timed trials in an X-4 Stromwing plane (HARD) – 10 Battle Stars