Week 10 of Fortnite Season 7 has arrived and brings a collection of new challenges for players to enjoy!
Although Week 10 is typically the end of a Fortnite Season, Epic Games extended Season 7 by two extra weeks due to the studio taking a slight break during the 2018 Holiday Season.
Season 7 is now slated to end on February 28, with Season 8 expected to begin on the same day, or March 1.
Week 10 features some challenges which may require a bit more guidance to complete, such as visiting Expedition Outposts or using the Shooting Gallery.
If you still need help completing the Week 10 challenges, we have included a full 'Cheat Sheet' from @thesquatingdog which will point you in the right direction for all the tasks at hand.
The full Season 7, Week 10 cheat sheet can be viewed below.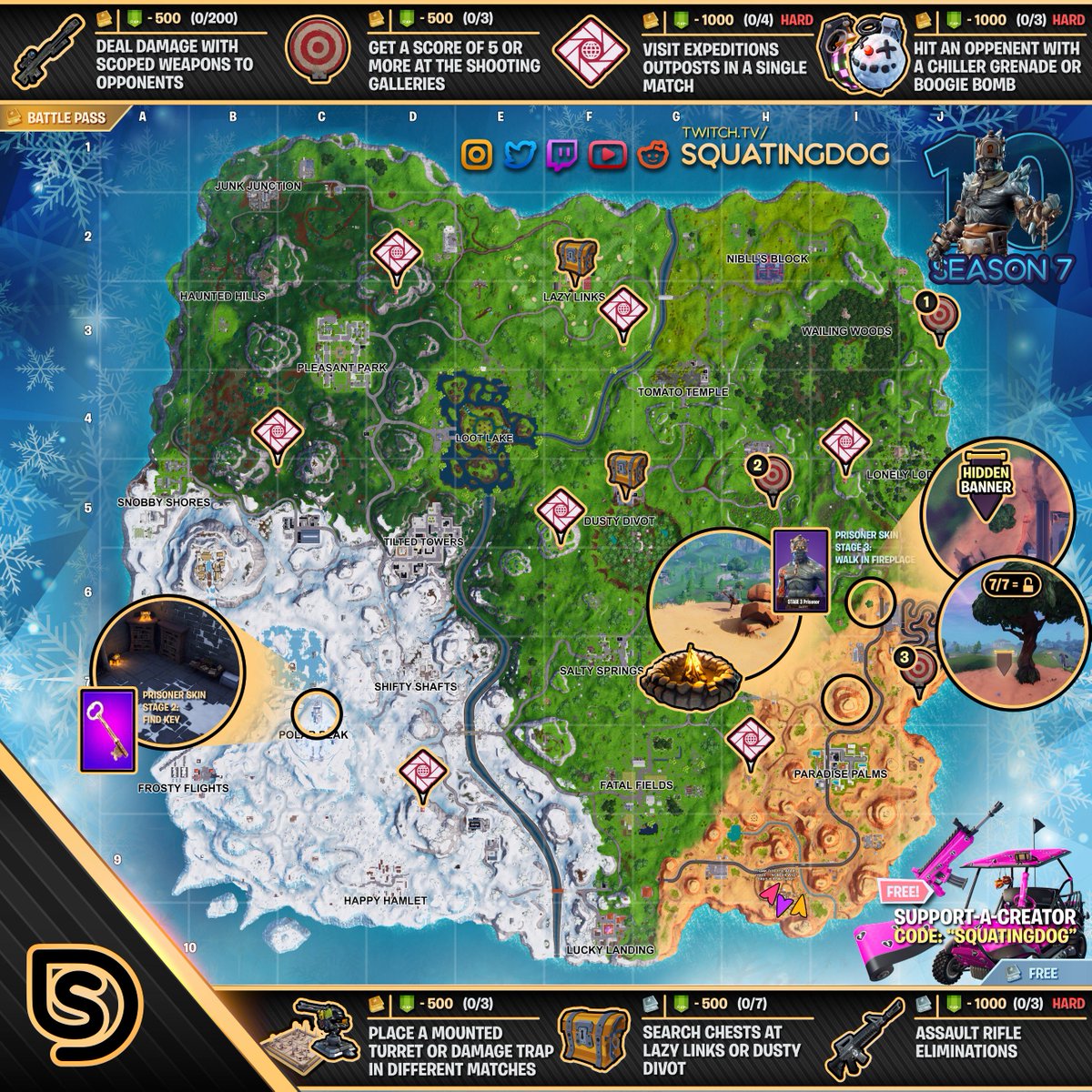 Free Challenges
Place a Mounted Turret or a Damage Trap in (3) different matches – 5 Battle Stars
Search (7) Chests at Lazy Links or Dusty Divot – 5 Battle Stars
Deal (?) damage with Scoped Weapons to opponents – ? Battle Stars
(3) Assault Rifle Eliminations (HARD) – 10 Battle Stars
Battle Pass Challenges
Deal (200) damage with Scoped Weapons to opponents – 5 Battle Stars
Stage 1: Get a score of 5 or more at the Shooting Gallery east of Wailing Woods – 1 Battle Star

Stage 2: Get a score of 5 or more at the Shooting Gallery north of Retail Row – 1 Battle Star
Final Stage: Get a score of 5 or more at the Shooting Gallery east of Paradise Palms – 1 Battle Star

Visit (4) Expedition Outposts in a single match (HARD) – 10 Battle Stars
Hit an opponent with a Chiller Grenade or Boogie Bomb in (3) different matches – 10 Battle Stars