Best & most hilarious responses from CouRage's 100 Thieves AMA
CourageJD recently joined 100 Thieves and held an AMA event on the 100T subreddit. Fans asked him all types of questions and he gave some great responses.
Courage held an AMA event on Reddit on behalf of his new organization, 100 Thieves.
We've collected Mr. Dunlop's best responses from the event into a collection below. We'll keep updating this article as the popular streamer continues to reply to his fans questions.
100 Thieves Courage AMA
AMA with 100T's new THICC content creator, CouRage! from r/100thieves
Courage started the AMA off with a question to himself…because of course he did. He then replied to himself…because of course he did.
---
Big Fan (Physically) & Twitch Prime Plug
Courage (Q): Hey CouRage – big fan (physically)! I've felt this hole in my heart as of late and I'm not sure what it is. Any idea of what it could be?
Courage (A): Hey! Thanks for the kind words! Check to see if you have your free Twitch Prime sub available! There is no more fulfilling feeling than using your free sub on your favorite streamer. Should fix you right up!
---
195 IQ Economical Genius
Cheechers23 (Q): What are your thoughts on the global economic differences between triple A power countries and their massive growing GDP, and those less fortunate maybe in the 3rd world countries where they're struggling to get an economic product thats good enough to be transferred across a positive trade world?
Edit: On a more serious note, Warriors or Raptors?
Courage (A): It's interesting. A rising tide raises all ships. I think the key to a successful global economy comes in products being available across the whole world from any country at any time. In 2012, 87% of exports came from the top 3 countries. I find that terribly flawed. Also, with the lack of Internet in certain parts of the world affecting their business I think it's unfair to the consumer that they may never see the products. Finally, I just made all these stats up and have no clue what I am talking about.
Raptors.
---
On Joining & Leaving OpTic Gaming
Superrickkkk (Q): Did you leave optic because you already knew the situation back then?
Courage (A): When I moved to Texas to join OpTic I got on my plane excited as ever. When I landed, every single member had their Twitter blacked out protesting the decision to drop OpTic Halo. At that exact moment, I knew it was going to be short lived.
---
Most Annoying Thing about Streaming
NebulaiOS (Q): What is the most annoying thing to have happen during stream, like chat or disturbances, etc?
Courage (A): "_____ just went live! Bye!" in chat is always the most annoying
---
Confirmed. CouRage is a Brit.
NickValery1 (Q): Hey, I think we all know the real question here! Tea or Coffee?
Courage (A): Tea. I'm actually not a coffee guy.
---
CouRage discusses his family's support
Will240502 (Q): What/how did your family feel when you started to stream?
Courage (A): Well, when I started to stream for the first time in 2012, I was a full time college student and on my executive board in my Fraternity. I then stopped after a couple months. They have always supported me in whatever I do so they enjoyed watching even with 3 viewers.
Fortnite leaker reveals Temple Bloom POI coming in v21.20 update
The Reality Tree in Fortnite has affected Logjam Lotus and Butter Bloom, and it seems like its next target is the Temple Bloom landmark.
The Fortnite island is literally blooming, all thanks to the Reality Tree. Leakers have revealed that a new Temple Bloom POI will arrive in the next update with a theme similar to Logjam Lotus and Butter Bloom.
Fortnite Chapter 3 Season 3 hasn't been the best in terms of server performance and XP, but the same cannot be said for map changes. A new biome was introduced at the season's launch, and ever since, two locations have already changed significantly.
Here's what we know about the upcoming Temple Bloom/The Tower POI in Fortnite Chapter 3 Season 3.
Fortnite players spot new Reality Root in Temple Bloom landmark
Soon after Butter Barn turned into Butter Bloom, loopers discovered a new Reality Root and a small pink tree in Temple Bloom. The landmark is located west of The Joneses and interestingly, the latest quests accidentally mark it as a named location.
From the looks of it, the Temple Bloom landmark is all set to become a major location. Prominent leaker HYPEX has also talked about a file codenamed The Tower. They first assumed that The Tower will be the new named location, but it is possible that it is just one of the themes that Temple Bloom will cater to.
What to expect from Temple Bloom POI in Fortnite Chapter 3 Season 3?
It is worth noting that the latest POIs in Fortnite have alternating themes such as Roman, Atlantis, and Neo. Classic POIs like Colossal Coliseum, Coral Castle, and Neo Tilted, are the inspiration behind these themes, respectively.
Hence, it wouldn't be a surprise if Temple Bloom also has multiple themes. As of now, there's no information on these themes apart from the fact that there will be a tower.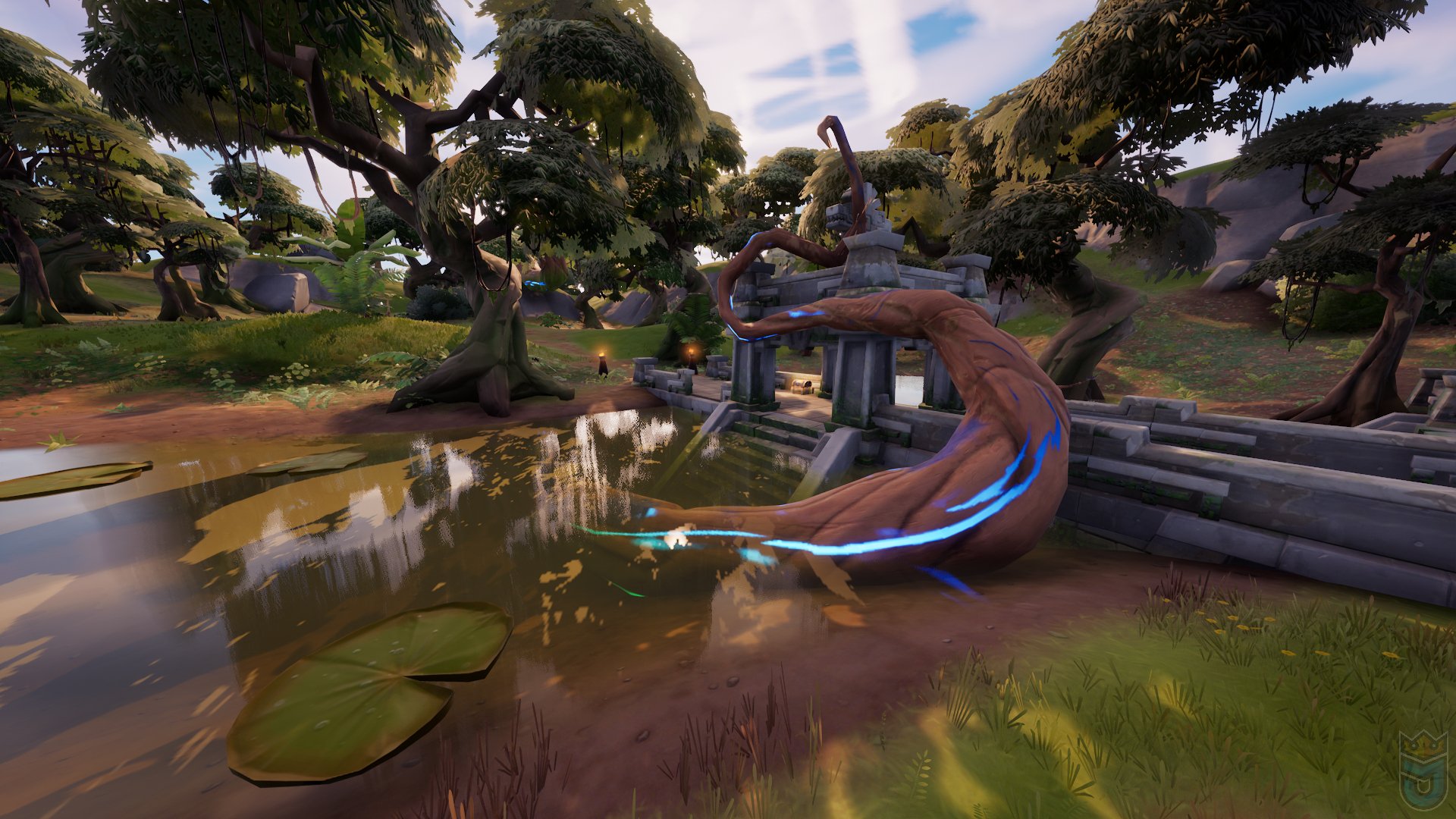 It is safe to assume that the Temple Bloom POI will become official in the v21.20 update that is expected to release on July 5, 2022.
The community, as usual, has already assumed what Temple Bloom will look like. While Fortnite veterans wish to witness the return of the OG Ranger Tower which used to be in Lonely Lodge, others are confident that the upcoming location will be tailor-made for Indiana Jones.
Indiana Jones is the secret skin in Chapter 3 Season 3 Battle Pass. The quests to unlock his cosmetics will be unlocked on July 7, 2022, and it makes sense for him to be a boss in Temple Bloom.
All in all, it is evident that Epic Games is focusing on map changes in Chapter 3 Season 3. The latest hotfix update also added the Firework Flare Gun to the loot poot, and loopers certainly have a ton of new content to explore.
Fortnite adds Firework Flare Gun in latest Hotfix update
A brand new version of the Flare Gun is here in Fortnite Chapter 3 Season 3. Here's how it is the perfect fit for the Vibin' theme.
Fortnite has added the coolest version of the classic Flare Gun in the June 28 hotfix update for Chapter 3 Season 3. From its stats to viability, here's everything to know about the new weapon.
Back when Firefly Jars and Repair Torches weren't a thing, Fortnite players used Flare Guns to cause chaos. The multi-purpose pistol is a fan favorite, and it has finally returned in a new Firework form.
How to use the Firework Flare Gun in Fortnite Chapter 3 Season 3
Just like the OG Flare Gun, the Firework Flare Gun should be available in chests, rare chests, Loot Llamas, Supply Drops, and even floor loot.
It will serve two major purposes:
Scan nearby opponents with the help of fireworks.
Cause a fire when the bullet comes in contact with structure/surfaces. The fire spreads within a fixed AoE (area of impact) that deals continued damage to opponents.
The Flare Gun has the following stats:
DPS– 34
Damage– 60
Reload Time– 1.6 seconds
Mag size– 6
However, as the name suggests, the Firework Flare Gun has a special Firework ability. When loopers shoot towards the sky, the bullet eventually turns into a beautiful firework. Interestingly, this effect also happens when the bullet touches the ground or any other surface.
We already have gameplay footage of the Firework Flare Gun in Fortnite Chapter 3 Season 3:
It is evident that the Firework Flare Gun is a lot goofier than its standard version. This is primarily because of this season's theme, Vibin'.
Fortnite community looks forward to more summer content in Chapter 3 Season 3
The Firework Flare Gun won't be a part of the loot pool permanently. According to leakers, it has been unvaulted for the No Sweat Summer event. This also explains the tropical color theme.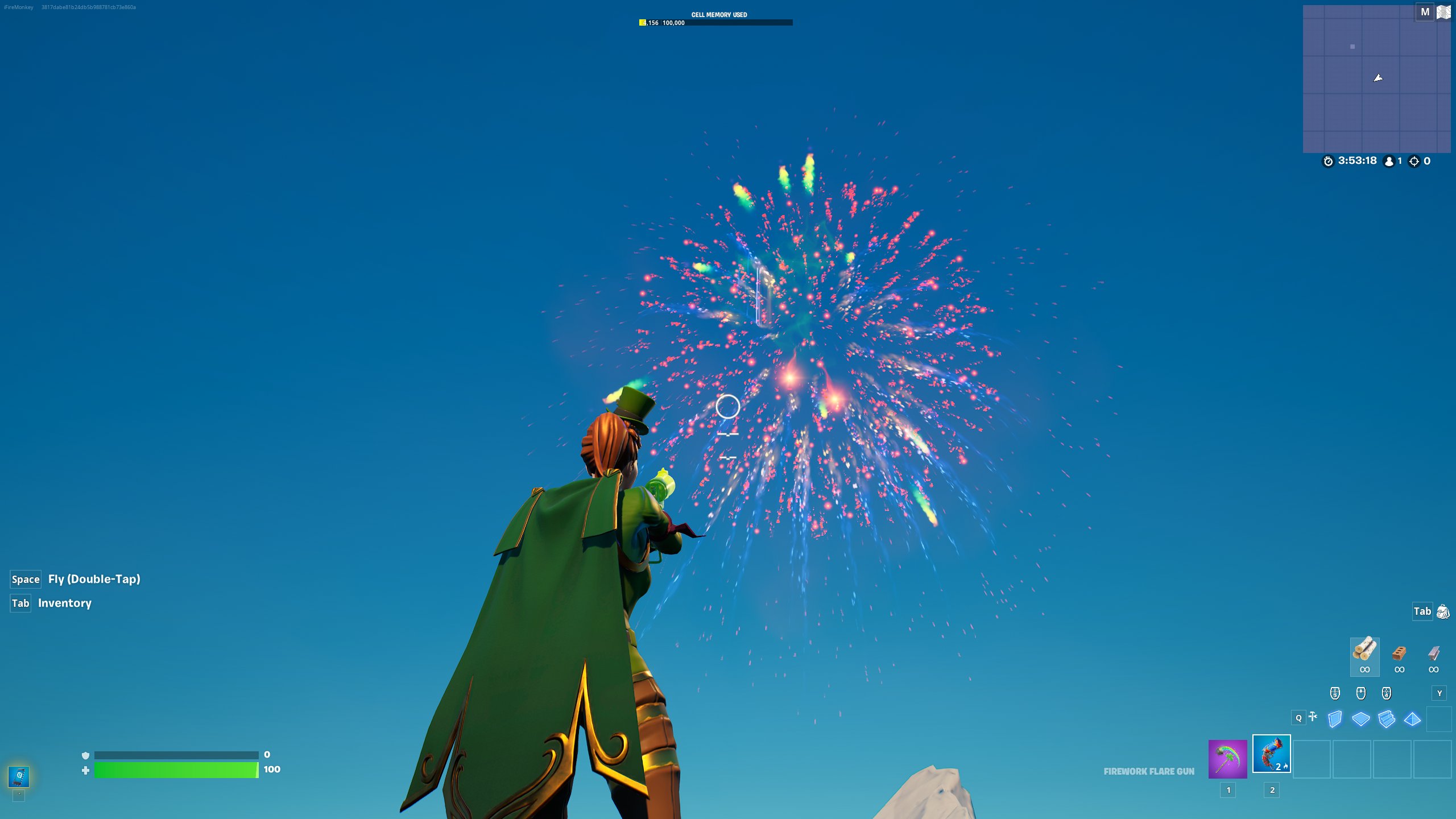 While loopers are excited to see fireworks on the island, they definitely expect more from the No Sweat Summer event. Until now, we've only received some Creative XP challenges and three free cosmetics (back bling and sprays).
Epic Games is yet to add summer-themed elements to the map like Surfboards and NPCs, among other things. The developer can certainly change this narrative with the next major update that should arrive next week.
Fortnite needs to bring back XP Coins in Chapter 3 and here's why
Fortnite Chapter 3 Season 3 has a ton of new features but the community still wants Epic Games to bring back some OG mechanics like XP Coins.
It is evident that the XP system in Fortnite Chapter 3 Season 3 is arduous, to say the least. Amidst the unbearable XP grind, loopers want the developers to bring back XP coins.
Alongside winning games, acquiring XP is one of the primary functions in Fortnite. It simply helps in leveling up the Battle Pass and unlocking new cosmetics.
XP Coins have been one of the most fun methods of XP collection in Fortnite, and here's why the community craves for their return in Chapter 3 Season 3.
Why Fortnite players love XP Coins
Fortnite introduced XP Coins in Chapter 2 Season 1. They were scattered around the map and players gained XP upon finding them. There were different rarities such as:
Uncommon (Green)- granted 5,000 XP in Chapter 2 Season 5
Rare (Blue)– granted 6,5000 XP in Chapter 2 Season 5
Epic (Purple)– granted 10,300 XP in Chapter 2 Season 5
Legendary (Golden)– 15,0000 XP in Chapter 2 Season 5
It is worth noting that the Epic XP Coins were further split into fragments and players had to collect them all to get the desired XP. Even though this is a slightly tedious task, the remaining XP Coins were always desirable.
New XP Coins arrived on the map every week. This was a great incentive for players to explore new locations constantly.
A post on r/FortniteBR looked back at the XP Coins and several players admitted to missing them:
The relevance of XP Coins in Fortnite Chapter 3 Season 3
XP Coins should not replace any of the existing methods that help in gaining XP. Instead, they can act as an additional way for loopers who are struggling to complete the Battle Pass.
The introduction of Vibin' quests and Island Hopper challenges has slightly improved the state of XP in Chapter 3 Season 3. However, reaching Lv. 100 and then unlocking the bonus styles still seems like a far-off possibility for casuals.
Back in May, leakers revealed that Epic Games updated some textures in the files which included the letters X and P, and some circles. These textures might have been used in the Soundwave Series concerts or they hint towards the return of XP Coins.
As of now, Butter Barn has turned into Butter Bloom and it changes themes like Logjam Lotus. Even though there are certain issues related to XP and glitches, the map changes have certainly exceeded expectations in Chapter 3 Season 3.