Ballatw slams professional Fortnite mentality
Ballatw doesn't think that Fortnite pros have the right mentality.
Ballatw doesn't think that Fortnite pros have the right mentality.
Arten 'Ballatw' Esa is one of the most respected analysts and casters in Fortnite. He's done his homework to become one of the most knowledgeable commentators in the game, regularly hosting VoD reviews for his fans and the competitive community.
On February 3, Balla took aim at professional Fortnite players via Twitter. He shared a clip of Thorin discussing the 'Mamba Mentality' during a CSGO cast. Balla claimed that this mentality "seems to be completely missing in Fortnite." The context is that a lot of pro players are skipping DreamHack Anaheim because it's too much of a "risk."
Balla went on to clarify his statements in a follow-up tweet. "This was not referencing people who don't have the financial means. Please don't take stupid risks," he said. "I'm talking about pros who have turned down invites, or clearly have the means to get to tournaments, but choose not to."
"They make up excuses like I listed, they get caught up in the stream numbers, or lose the love to trying to be the BEST," Balla continued. "You unfortunately can't prove you're the best sitting at home. Only people you're proving it to is youtube clickbait, and gullible people."
Fortnite pro Jonathan 'Yung Calculator' Weber played devil's advocate in a response to Balla's first tweet. " You realize how complex bringing your own PC and s*** like that is. I agree some people just aren't grinders but calling people out for not going to DreamHack Anaheim is really dumb," he said.
Balla responded, further clarifying his take on the issue. "Valid excuse for plenty – not the pros who are SIGNED, AND for who the expense would be negligible in comparison to their earnings."
Ballatw continued to like, retweet, and respond to his replies. His opinion is clear: he wants to see professional Fortnite players compete at the highest level.
It appears as though Balla is looking out for the health of Fortnite as an esport while a lot of pro players are looking out for themselves. You can't fault either of them, here. It's just the way things are. Let us know what you think in the comments.
Fortnite Galactus event: Nexus War start date and time
The exact date and time for the Nexus War finale in Fortnite has been confirmed, and there is little time to prepare for the Galactus event.
The event, which will bring Chapter 2, Season 4 to a climax, as Galactus – aka the Devourer of Worlds – is bombing towards the map to, presumably, destroy it all.
The countdown to the event appeared in-game on November 21, and Epic have now confirmed the exact date and time when the Nexus War will commence.
"It was only a matter of time." Epic say in their blog post. "Galactus is closing in on the Island and the fate of all Reality lies in the balance. Join the ultimate fight against Galactus in the one-time-only Nexus War finale event."
When is the Galactus event in Fortnite?
The Nexus War finale event will start on December 1 at 1PM PT / 4PM ET / 9PM GMT.
To make sure you don't miss out, Epic has given some tips to be prepared for the event:
DOWNLOAD THE LATEST UPDATE
If you haven't already downloaded the 14.60 update, load the game on your preferred device and download today.
DOWNLOAD HOUSEPARTY
Fortnite's new integration with Houseparty means you can have live video chat in Fortnite (PC, PS4/PS5) while attending the event.
GET IN EARLY
We've taken measures to ensure more people can attend the event, but we still recommend everyone log into Fortnite at least 60 minutes prior to the event start. The event playlist is expected to go live 30 minutes prior to the start time.
Of course, even if you can't play the game yourself at the time, you'll still be able to catch the action on Twitch and YouTube streams from content creators.
As Epic confirms, this is a one-time-only event, so there won't be any reruns unlike previous end of season events.
All leaked Fortnite skins & cosmetics from v14.60
Fortnite v14.60 brought leaked skins, pickaxes, and more cosmetics to the game.
Fortnite v14.60 is here, and you know what that means: a batch of leaked skins that will be hitting the Item Shop in the upcoming weeks.
Fans are eagerly awaiting the next Fortnite event, which is rumored to be the biggest event in the history of the game. Until then, we can pass the time by drooling over some upcoming skins. The Cob skin is going to be a must-have going into Thanksgiving.
Leaked Skins & Back Bling
Fortnite is bringing a couple of interesting Thanksgiving skins to Fortnite, this year, including a skin concept that has existed for a while. Peely is getting the seasonal treatment and being turned into corn on the cob. This will, reportedly, be a part of a skin bundle with the evil pie-looking skin.
Of course, players will also see Venom enter the game as early as today in the Venom Cup. Winners of the skin will be able to use it this week. Everyone else will have a chance to buy it at a later date – probably this weekend.
The resident witch and wizard – Elmira and Castor – received a Dark variant in this patch, as well. Players who already own these skins will be able to access this new style right away.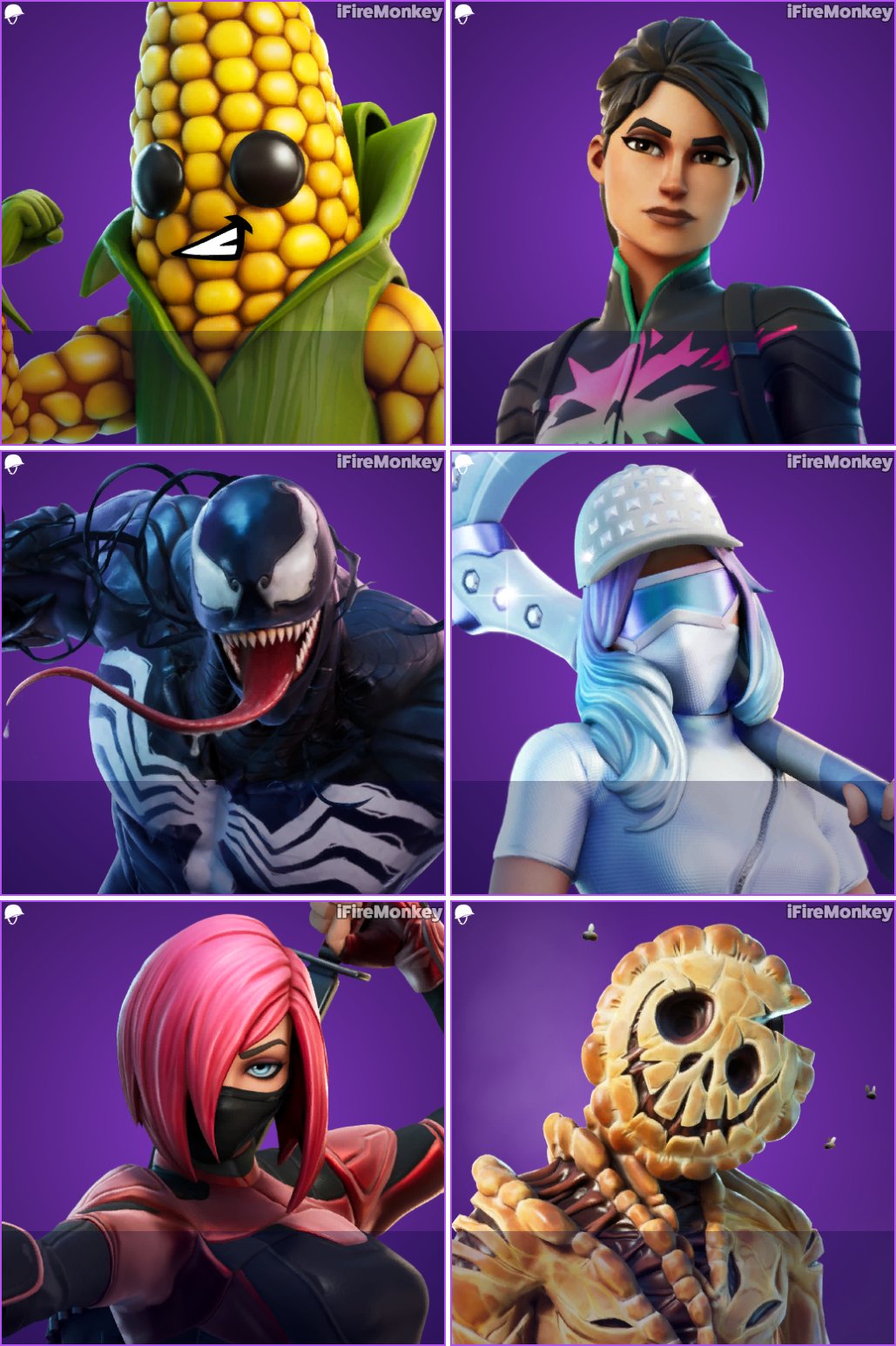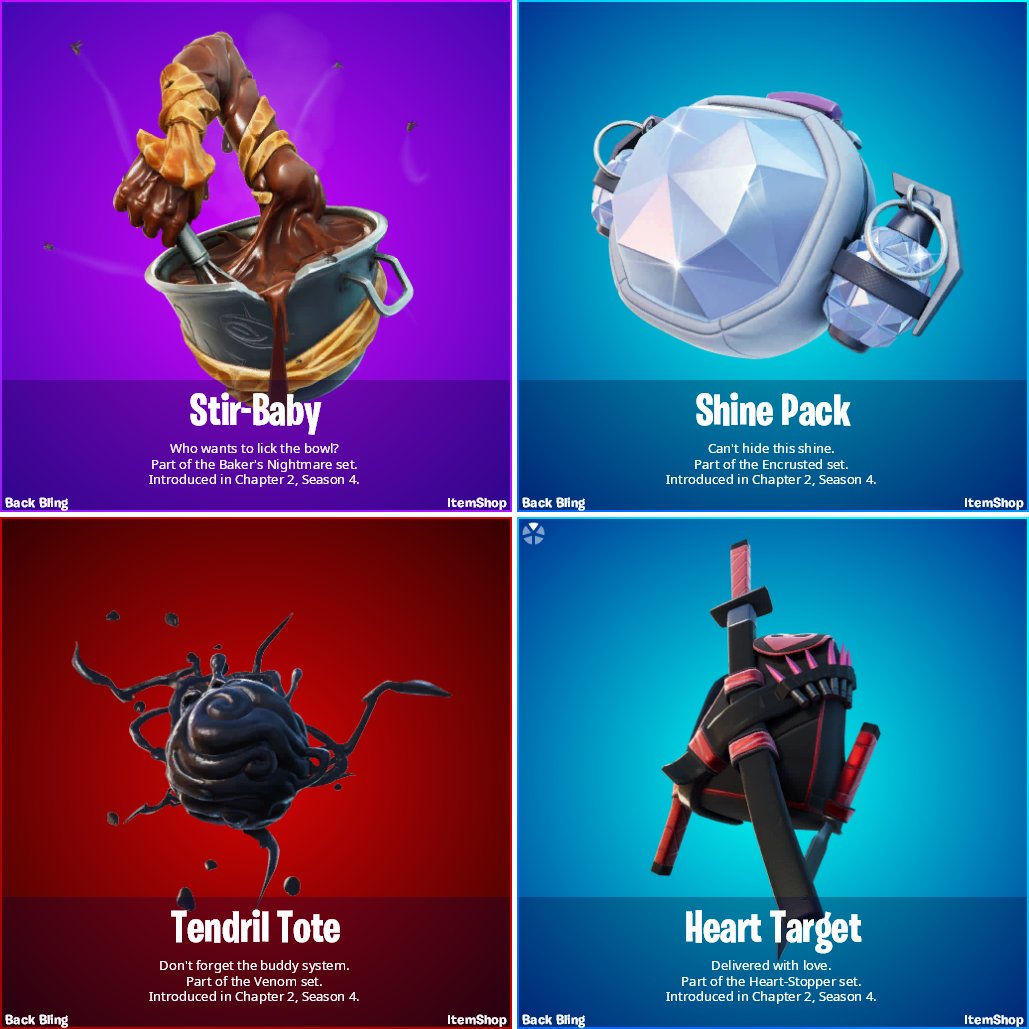 Leaked Pickaxes
The leaked pickaxes in this update aren't much to write home about – all but Venom's pickaxe. We have some bad news about that one, though.
According to Hypex, it will be a built-in pickaxe that we won't be able to use with other skins.
Leaked Wraps
We'll be getting a few wraps to go along with the leaked skins in the section above. The Galaxy Wrap appears to be another style for the female Galaxy skin that we saw a while back.
The Rainbow Fog wrap looks to be a part of the upcoming Fortnite X House Party collaboration, meaning players will probably be able to get it for free.
Misc.
There are a few miscellaneous leaked cosmetics as well, including a Reboot Van emoticon, a Thor music pack, and two sprays that relate to Ghost Rider and Peely.
We don't know whether or not you'll be able to buy these items, but most of the time Epic save these for free challenge rewards.
Cosmetics weren't the only leaks that were a part of the v14.60 update. We also have some information on what we can expect coming out of the next Fortnite event: Devourer of Worlds.
We'll keep you covered with all of the leaks ahead of the update, so make sure to follow us on Twitter @FortniteINTEL.
Fortnite update 14.60 patch notes: Venom Skin, Creative changes & more
Venom joins the fight in Fortnite Battle Royale, and there are lots of changes in Creative in the 14.60 update. There's still no official patch notes from Epic Games, but we've brought together everything you need to know here.
Despite being the final update of Season 4, it looks like the bulk of the new content will be coming at the start of the new season instead.
Although there's no complete patch notes, we can still put together all the changes here, along with the email sent out to content creators with the main features.
Venom
Venom is the highlight of this update. You can play for a chance to earn his skin the Venom cup.
The skin pack includes a Venom emote, symbiote slasher pickaxe, and tendril tote back bling. Check out the skin in-game:
XP Xtravaganza Part Two
XP Xtravaganza Part 2 starts this week: "Get the whole squad together and take on these party-wise challenges to finish out the Battle Pass in style," Epic explain.
Houseparty x Fortnite video chat
Fortnite has teamed up with Houseparty to bring a brand new video chat feature.
Houseparty video chat will be available to Fortnite players on PC, PlayStation 5, and PlayStation 4. Players will also need an iOS or Android mobile device with the Houseparty app installed. With the app installed, connect your Houseparty account to your Epic Games account to get started."
CREATIVE
Taken from an official blog post to the Fortnite website, Epic Games detailed specific changes for Creative mode.
HIGHLIGHTS
You can now hide the Elimination Feed and mute Elimination Audio to encourage sneaky sniping!
ISLANDS
Updated the Hub Island portal layout to accommodate the recent updates to hub creator guidelines.
ISLANDS BUG FIXES
Fixed an issue where the time of day lighting appeared differently on featured islands and personal islands.
GAMEPLAY
Added a new option to My Island > Settings

Player Elimination Audio: Off, On (Default: On) – causes eliminated players to be despawned silently.

Added new options to My Island > UI

Hide Elimination Feed: Yes, No (Default: No) – completely hides the elimination feed during the game.
Hide Party Eliminations: Yes, No (Default: No) – hides the number of eliminations for each party member in the Party UI during the game.
GAMEPLAY BUG FIXES
Fixed an issue where an eliminated player could spectate a player on the enemy team.
Fixed an issue where Team Size did not limit the number of players when Join in Progress was set to 'Spawn Next Round'.
Fixed an issue where the sky would flicker on PS4.
WEAPONS AND ITEMS BUG FIXES
Fixed an issue where the X-4 Stormwing was de-synced after player interaction.
Fixed an issue where husks did not fall off edges to follow players.
CREATIVE TOOLS AND PHONE BUG FIXES
Fixed an issue where players could not open the Creative Inventory after cutting and pasting a device.
Fixed an issue where the Creative Inventory appeared distorted when customizing a device.
PREFABS AND GALLERIES BUG FIXES
Fixed a collision issue with the pillar wall asset from the Princess Castle Wall galleries.
Fixed an issue with the bush from Winter Variant Foliage Gallery A having a yellow glow.
Fixed an issue with a bridge girder asset from the Steel Bridge galleries being difficult to place with the phone.
Fixed an issue with some of the Steel Bridge prefabs & galleries placing outside of the preview boundary.
Fixed an issue with the bridge street asset from the Steel Bridge set having a misaligned grid snap box.
Fixed an issue with assets from the Swamp Cliff Gallery displaying the wrong texture.
DEVICES
Added new options to the Class Selector device.

Activation Audio: On, Off (Default: On) – allows the audio effect played when a player changes class to be muted.
Zone Audio: On,Off (Default: On) – allows the ambient audio effect for the zone and the audio effects for players entering and leaving the zone to be muted.

Added new options to the Mutator Zone device.

Selected Team: None, 1-16 (Default: None)
Affects Team: Selected, All But Selected (Default: All But Selected)

These two options replace the old Safe Team option to allow the zone to affect all teams (Selected Team = None), just the Selected Team, or every team except the Selected Team.

Selected Class: None, Any, 1-16 (Default: None)
Affects Class: Selected, All But Selected (Default: All But Selected)

These two options replace the old Safe Class option to allow the zone to affect all classes (Selected Class = Any), players without a class (Selected Class = None), just the Selected Class, or every class except the Selected Class.

Update Selected Team When Receiving From: No Channel, 1-150 (Default: No Channel) – sets the Selected Team on the device to be the same team as the player who instigated the signal.
Update Selected Class When Receiving From: No Channel, 1-150 (Default: No Channel) – sets the Selected Class on the device to be the same class as the player who instigated the signal.
DEVICES BUG FIXES
Fixed an issue with the Player Spawn Pad's lighting being too bright on PS5 during mixed island filters.
Fixed an issue where the Mutator Zone Class Selected option was offset by 1.
Fortnite 14.60 bug fixes
As per usual, the Fortnite team has also added a number of bugs and issues to their official Trello board. This week's patch actually only has a few fixes included but will cover the battle royale, Creative mode, and even Save the World.
Here is the full list of bug fixes coming in v14.60:
General
Disabled voice chat cannot be re-enabled on Xbox Series X/S.
'Lock Input Method as Mouse' does not lock the input method.
Battle Royale
Doctor Doom's Mystical Bomb disabled in competitive playlists.
Creative Mode
Team Size setting does not properly function when Join In Progress is set to Join Next Round.
Save the World
Wild West Llama not granting Steampunk weapon.