BallaTW on competitive integrity, format changes, org signings & more
We spoke with Ballatw about competitive Fortnite, changes to the arena system, tournament formats, cheating, and a whole lot more.
Competitive Fortnite fans know Arten 'Ballatw' Esa as one of the most accredited analysts in the esport. Over the course of Fortnite's history, Balla has been the most recognizable voice on official Fortnite broadcasts. He also hosts VoD reviews of professional players on his Twitch and YouTube channels.
We sat down with BallaTW ahead of the Season 4 FNCS to get his thoughts on the current state of competitive Fortnite, the new competitive season, the biggest issues in competitive Fortnite, and a lot more.
We began the interview by talking about how Balla got into Fortnite, his early goals, and how he got into the industry. For the sake of length, we're going to skip that and get right to the Fortnite talk.
The first Fortnite question I asked was how many Arena points Balla has. He responded by saying he was only around 5,500.
So, you're not in Champion's League?
No, what's the point of me being in Champ's? I just don't care.
Exactly. That's what I wanted to bring up. Is there anything immediate that Epic can implement to make competitive Fortnite more rewarding for "casual competitive" players like us?
I don't think there's anything that can happen immediately that would do what you want to do. I think that there are things that don't happen immediately that do what we want – like a real ranking system that you can decrease in, that's not linear, that's dependent on the lobby.
There are a lot of changes around that which could work, but immediate changes? The first thing that comes to my mind is a leaderboard. I don't know if there's anything immediate that can happen.
How do you feel about Storm Surge? To me, it's always felt like a Band-Aid for server performance. The Server can't handle so many people, so we need to have Storm Surge.
I think that if it's necessary, it's necessary. I don't think that it's a mechanic that ruins the game by any means. I think with 50% chest spawns it's more rough and random, but both of those things do force the lobby to be more aggressive.
If you're looking for a gameplay solution to make people be more aggressive, I'd rather other things. It definitely is a Band-Aid but I think anything is gonna feel like a Band-Aid in this case.
We've gone through formats that try to incentivize aggressive play – that never works when it comes down to a Grand Finals lobby because the nature of it is that pushing people and playing aggressively is too risky in the grand scheme of things.
I think the best solution that I'd have is try to change that, try to break that risk. Siphon was one that I was pushing for, for a long time and it got added to the game and it did very well at what it was supposed to do.
In this case, Siphon was addressing recovery from fights which is important but still, there is no incentive to go push somebody because you don't gain anything most of the time.
It's a crazy risk and it a grand finals level that will happen only in these very tight circumstances when you know you have a big advantage, so to me I think of an idea like if you get a kill, drop a guaranteed mobility item, like one or two Shockwaves, a launchpad something like that. Just guaranteed.
Or maybe a guaranteed weapon upgrade or something like that. You kill somebody you get an upgrade on your Scar or an upgrade on your shotgun or whatever. I don't know exactly how these things would work out I think that's just an idea like Storm Surge that might help people play a little bit more aggressively.
Let's talk about 50% chest spawn rate. Everyone hates it. Even the most casual player – who knows about it – hates it. It's hard to tell why Epic changed this – maybe to address pacing issues in core game modes?
I think if they were trying to address pacing issues, they would go about it a different way, although I think there might be some validity to that. I think the biggest thing that you touched on is, casuals don't even like it.
And so, that's what I think of when I try to figure out why it went into competitive as well. Is that it's going to be an unpopular change no matter what and if you don't put it in competitive and you do put it in casual, casuals are going to choose to play competitive instead they are going to play arena because it has 100% chest spawn. Which is kind of a similar dilemma to siphon a lot of people don't play pubs.
Ya, we already see that with Siphon
Exactly, so you kind of have to. If there is any reason at all to do 50% chest spawns in casual, then you kind of have to. You are kind of forced to do it in competitive too from their perspective.
I don't agree with it but I think you kind of have to because it's kind of like, 'well this game (Arena) is better, but I still want people to play this game' and to me, its that bad players are better served by a 50% chest spawn, because they get the opportunity to get that dopamine hit of getting a kill because somebody doesn't get a chest.
That's something that a lot of people struggle with. So to me, it's very much that simple. They want that effect for bad players, but if a bad player knew that he had the choice of getting 100% chest spawns, he would rather that even though the other game is better for him.
I'm a huge fan of Ninja Battles. Do you think the 60 player format is the answer to certain Fortnite problems like griefing and server performance?
I've gone back and forth on how I feel about 60 players. I think that we definitely should experiment with fewer people but 60 players is drastic. That's 13 missing teams.
At the same time, I feel like that does devalue players like Chap, players like Arab who hasn't played in a Ninja battle but in any case, these are guys who are very good at not only the early game navigating the early game getting a nice split but also rotating through the mid-game which we kind of miss entirely.
I've been feeling the last couple of weeks that the 20 team format is more like a glorified zone rule scrim than anything else because everyone comes in the end game with full kits, fully upgraded, max metal, all this stuff.
It also gives you the time to fight. If you do fight off spawn you have time to finish without getting third partied.
That's really fun, that's why I think you know maybe remove 5 teams something like that and I mess around with the idea in Elite cup. Well, they used the idea. Let's kick teams out who are playing poorly throughout the tournament after a certain amount of matches. I think that should be experimented with more. Because it gives both the incentive to fight off spawn or not and also reduces the lobby size to make the games more competitive down the line.
We've had a lot of recent org signings in the Fortnite world along with brand-new organizations popping up like Gamma Gaming. It seemed like orgs were divesting in Fortnite early in 2020. Why do you think they're making a comeback?
There are definitely new orgs popping up and to me, Cloud9 getting back in is huge news because they just completely disappeared off the face of the earth at the end of 2018.
I think that just in general, Fortnite did not decline as hard as people thought it was going to. So this return, this resurgence might be a little bit getting back at that. And I think people are also understanding how to actually get value out of orgs in Fortnite.
Things like the NRG guys, things like BBG really strike me as a new understanding of that. Where they are making content, they're promoting their players, they're actually getting people to stream more often not necessarily just tournaments.
I think that there's a new understanding for orgs in Fortnite, I don't think its broadcast returning, to be honest. Even though I alluded people were leaving because broadcasts were gone. I think there was a scare at the beginning of the year because there were no comms for a long time about anything. There was no broadcast where you could get those comms there was nothing so everybody was terrified of what was happening. That's why they left and I think right now they are realizing it was an overreaction.
I loved the days when it was the Liquid boys and the FaZe team and TSM all together, and we don't have that at all anymore. There's no allegiance to an organization and a team – it doesn't mean anything. Do you think they're missing an opportunity there? It sounded like you did.
So, I think that people kind of misunderstood what I was saying about that topic. I mean, I do agree with what you're saying but I was just trying to say that there was no link whatsoever between people, right? People were like, 'Oh. NRG doesn't have any links between their players.' And I come back and I say, 'Yes, they do.' Right?
Unknown is good friends with Clix, Ronaldo is good friends with all of them, like, Edgey has all of a sudden been a really really fun part of that group when they went to the house.
If there are not links, they're making there be links. NRG has done a great job with that to make their team be a little bit more – I don't know – approachable in a sense, because it's not just one-off players, randomly.
So that's why I was confused about Cloud9, like, there's no, you know, similarities between any of these players and they have nothing to do with each other except for Avery and Nosh – now it's Chap and Vivid too – but at the time, Chap wasn't signed.
But, in any case, ya I think there are missed opportunities. I think that's a really easy way to get people to know who your org is. And you brought up the examples of, like, Liquid – the Liquid boys – sure, they weren't necessarily doing many events together but because they were playing multiple duos together, a lot of people wanted – a lot of people loved Liquid, right? The OG Liquid – still, people think about that all the time. OG FaZe, people think about those teams all the time too. Like, even TSM, right?
Daequan. Hamlinz, and Myth. That was – you thought they were gonna rule the world at the time.
Exactly, and so, when you see orgs not have these types of links then you're definitely wondering. You're definitely wondering and I think we're missing an aspect of fandom because of it.
What do you think the biggest problem facing competitive Fortnite is right now?
Competitive integrity, I think is the biggest one. It has to do with Ninja's tweet for example, griefing all those different things. I think that needs to be solved.
I think cheating and I think what happened last season was an absolute abomination. Not necessarily like there was a big problem with hacking but what we did as a community was terrible and it affected the competitive integrity of tournaments. Because when the player base and the community start believing that there is a problem whether there is a problem or not, there is now a problem.
Hacking aside, I think teaming is a problem, I think griefing is a problem, I think agreements and collusion are problems, whether we have found them or not.
Balla is hosting viewing parties for all of the FNCS competitions and is still broadcasting Fortnite with third-party tournament organizers like DreamHack.
You can find Balla on Twitter here, and can catch his weekly FNTASIA podcast on his Twitch and YouTube. He expresses his opinions in written form on his blog, Ballatw.com.
All Fortnite Season 5 Exotic Weapon locations
Fortnite Season 5 brought Exotic weapons to the game to replace Mythics. Here's where to find all of them.
Fortnite Season 5 introduced Exotic weapons to the game instead of Mythics, giving more players access to them. Here's where you can find them.
There's no shortage of new mechanics in Fortnite Season 5, with the addition of NPCs, quests, and a whole lot more.
Mythics have returned to the game in Season 5 but in a limited capacity. The only classic Mythic items in Fortnite Season 5 include The Mandalorian's Jetpack and sniper rifle, both available from the bounty hunter himself.
The other items in the game are classified as Exotics. There's only one of each Mythic item in each game, but can be multiple Exotic weapons.
You can purchase these Exotic weapons from specific NPCs across the map. Of course, this means you'll need to save up your Gold Bars to afford them.
Twitter user @MikeDulaimi created an easy-to-follow guide on how to locate all of the Exotic weapons in Fortnite. You can purchase them from NPCs in the areas surrounding Hunter's Haven, The Zero Point, Dirty Docks, Craggy Cliffs, and Stealthy Stronghold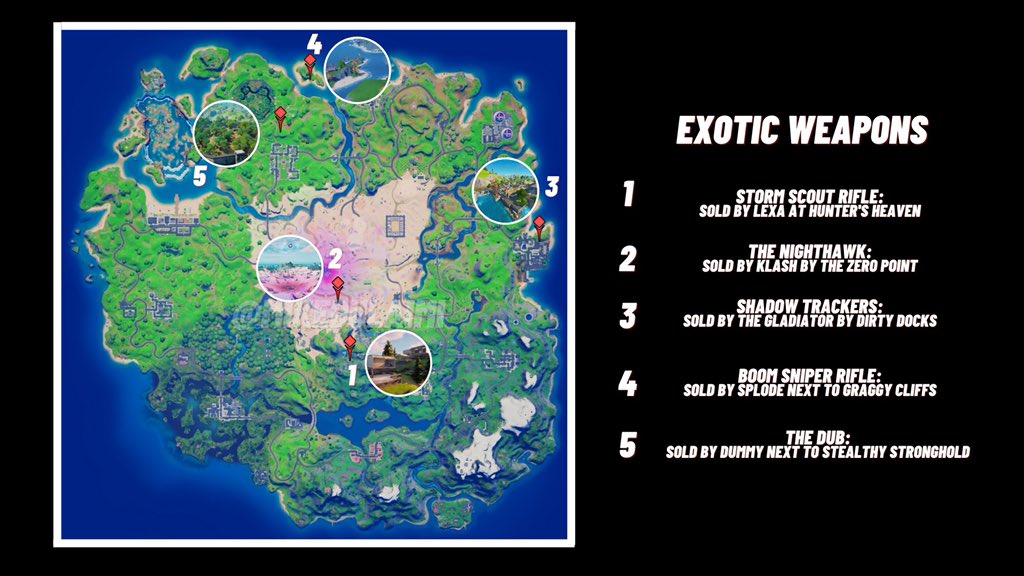 Mythic items were relatively controversial for the past few seasons of Fortnite – especially in competitive modes. Doom's Mystical Bomb and Kit's Shockwave Launcher dominated tournament play for the past two seasons, and the competitive community largely called for them to be removed.
We're curious to see how this community treats Exotic weapons. They're more widely available and aren't as powerful as Mythics, making them more balanced than the latter – that is, until a player eliminates the NPC selling them.
Newly-added Exotics (Update)
February 24 Exotic Shuffle (Update)
On February 24, Epic shuffled some of the original and new Exotic weapon locations, giving them to new NPCs across the Fortnite map. The Storm Scout Sniper, Nighthawk Revolver, and Hop Rock Dualies now have new homes. You can view them on the map, below.
We wouldn't be surprised to see Epic shuffle the locations once again, so we'll update this map and article if we see any more changes.
Image Credit: Epic Games, Fortnite.GG
All love potion locations for Fortnite Season 5 Week 11 challenges
Here are all locations of Grimbles' love potion from Fort Crumpet, Coral Cove, or Stealthy Stronghold for the Fortnite Season 5 challenges.
One Fortnite Season 5 Week 11 challenge requires players to collect Grimbles' love potion from Fort Crumpet, Coral Cove, or Stealthy Stronghold. Here's where you need to go.
This week's Fortnite challenges are a lot more difficult than ones we've seen in the recent past. We have to search several specific locations to help Fishstick find love and, more importantly, earn some XP.
Here are all of the Grimbles love potion locations in Fort Crumpet, Coral Cove, and Stealthy Stronghold. You only need to find one, so this guide should help.
Grimble's love potion locations
You can find one love potion in each Coral Cove, Stealthy Stronghold, and Fort Crumpet.
The first, in Fort Crumpet, can be found on the bottom floor of the fort in a roped-off room. The Coral Cove potion is located behind the main building of the unnamed POI.
In Stealthy Stronghold, the potion is located in the middle of the POI, next to a chest in one of the ruins. Here's a map that should help you out.
Deliver the love potion to Slurpy Swamp or Shanty Town
Once you find the love potion, you need to deliver it to Slurpy Swamp or Shanty Town. The easiest place to visit is Slurpy Swamp.
Here, you'll find the location in that boxed-room that houses slurp barrels and a Teddy bear sitting on a chair. Frequent visitors of Slurpy Swamp should know the location all too well. All you need to do is interact with the love potion and receive your XP.
This is a difficult week of challenges for Fortnite players, but the XP is well worth the grind. You can take a look at the rest of the Fortnite Season 5 Week 11 challenges here.
Image Credit: Epic Games, HarryNinetyFour
Ninja goes off on the Fortnite community after getting stream sniped
Ninja returned to Fortnite to find the same old stream snipers. As expected, he gave them a piece of his mind.
Ninja sounded off on stream snipers in the Fortnite community during one of his recent streams.
Tyler 'Ninja' Blevins is one of the primary streamers who helped Fortnite rise to the height of popularity we see it today. He's stepped away from the game of late but often comes back to play a few rounds between his Valorant streams.
Although Ninja doesn't take Fortnite as seriously as he once did, he still faces a large number of stream snipers who want to eliminate him for clout. Ninja has always been outspoken about stream snipers but went all-in during one of his recent Fortnite streams.
"The community – these little f***ing kids – It's so dumb. It really is," Ninja vented. "And the thing is, these little clout chasing losers have no idea, man. All they're doing is harming the game. Because I'm not gonna play it. I'm not gonna stream it."
(Clip begins at 3:38)
"Good for you, man. Get your f***ing clip, send it to your buddies," Ninja continued. "'We killed Ninja!' I haven't played the game in – ever. I don't play it anymore. I come back and I still almost kill all of you idiots."
Ninja went on to say that it must be far worse for players like Bugha, who won the Fortnite World Cup. If stream sniping is bad for someone like Ninja, then it must be far worse for an actual top competitive Fortnite player.
Ninja has done a lot of good for the Fortnite community, helping it become one of the biggest games of all time. Stream snipers may be a part of the reason he doesn't play as much as he once did.
We don't think Ninja will completely stop playing Fortnite, but the constant stream sniping is clearly getting to him. Hopefully, this doesn't dissuade Ninja from continuing to experience the fun side of Fortnite.